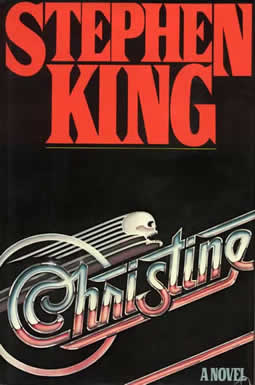 Fan submitted reviews of Christine (Novel):

Posted By: Anonymous

-

January 29th, 2013 7:30:21 pm EST

First off, I'd like to say this book was incredible. One of my favorites, and I am definitely a Constant Reader of the King family. But Sadly, I feel as though the movie was atrocious. In the novel the words flew off the pages; I couldn't put it down. But, the movie even from the opening scene was just terrible. It was pretty awesome to see the characters come to life, but I don't feel like in the movie the story was told how it was intended to be told. They butchered it. I feel like every one of you saying the movie was phenomenal obviously did not read the book. I am a constant visitor to the website.However, I didn't even consider writing this until I read "Everything's Eventual", and figured just maybe I'd get some feed-back on why Mr. King's movies get so butchered? The actual stories are impeccable. I am just wondering what Mr. King's views on the movies are?

Posted By: Anonymous

-

January 9th, 2013 4:33:02 pm EST

i love this movie!!!!

Posted By: Katrina

-

November 10th, 2012 11:43:07 am EST

I loved the movie but the book was very good also.

Posted By: David

-

November 8th, 2012 9:56:00 am EST

I have to say first off, thank you to my mother for putting this book in my hand at age 10. It was my first real novel, and i read a chapter each night aloud to her when she arrived home from work. Even the bad words i could say in front of her, she was cool like that. This book inspired me to want know more about cars, to know that every car has its own personality with its driver. Its not surprising that i now work on cars for a living because of Christine.

Posted By: Mark

-

November 6th, 2012 2:53:23 pm EST

Thought it was pretty good. Not just a good horror novel but a good depiction of teenage American life in the late Seventies. 1978-79, the setting of *Christine*,was my sophomore year in high school, and (for those who don't know) in the 1970s some of the things that happened to Arnie at school, like having a switchblade knife pulled on him and getting beaten up bad enough to keep him out of school for several days, really would be handled in-house. Although by 1978 schools were beginning to respond to such incidents by calling the police, no threats, no discussion, just calling the cops and having the offender hauled off to the pokey in handcuffs, *then* expelling them (after a hearing if they were under 18). I didn't think Cabot was a good choice for Leigh's last name (the White Pages of the Boston phone book would have been useful in finding one, I think), but then again, I didn't write the book. I'd like to see a sequel to this one, too.

Posted By: Anonymous

-

October 15th, 2012 5:52:52 pm EDT

An awesome movie... one of my absolute favorite Stephen King movies/book. When the movie starts- just love to hear that kitty purr!

Posted By: Jeremiah / Miah

-

September 22nd, 2012 10:10:47 pm EDT

awsome book it was awsome it gave me chills

Posted By: BachMan39

-

September 22nd, 2012 3:20:57 pm EDT

Brilliant, scary, original and one of King's best.

Posted By: Christina

-

August 26th, 2012 8:11:13 pm EDT

Honestly, I didn't know how the book would be. I needed a book for class and grabbed Christine because it was close to my name. I ended up loving it! It was a wonderful horror story, maybe one of my favorites. I really enjoyed the book and I'm looking forward to reading more Stephen King books.

Posted By: Alex

-

July 18th, 2012 10:51:27 am EDT

Truly a great book! I'm my favorite, and the movie is great also. As a joke, Amtrak once had a locomotive that had hit so many cars at crossings, some employee stenciled Christine on the front! That engine met the same fate as Christine in the end though.

Posted By: Anonymous

-

July 10th, 2012 12:46:51 am EDT

This is my favorite book ever. I am a junior in high school and when i got this book i would sometimes have the tendency to start reading in the middle of class. I have a first edition and i got it after i found out it was about a possessed 58 Fury and being a car lover, i just had to get it. But i cant get it on kindle and i really want to so i can have it were ever i go.

Posted By: Killer Croc

-

May 19th, 2012 10:11:50 am EDT

This is my number one favorite book. I think this book was the best that Mr. King has done. One day, I'll own a 58 Plymouth fury and call it Christine

Posted By: Killer Croc

-

May 15th, 2012 11:55:42 am EDT

This is my favorite book ever, she has a true taste for death. Once she lures you behind the wheel you will be hers, body and soul

Posted By: Andie

-

April 9th, 2012 4:07:31 am EDT

I love the black convertible jaguar. I wrote about my love of it in a Poem. It's as if you don't need anything if you have her. This movie is very unique. It's as if the car (Christine) has an entity, yet it's a machine. I enjoyed watching this film in the past just as much as I do today. Arnie changes as the car takes control. Kinda reminded me when I visited a junkyard once. You remember the wrecked cars and you wonder what happened. The movie is compelling- but the author more.

Posted By: TuftsAcceptee

-

April 4th, 2012 3:56:36 pm EDT

I recently read this book to celebrate my acceptance to Tufts (I LOVE the university Tufts), and as a high school senior girl, it scared the living hell out of me -- King is the master of horror. He won't let you put any work of his down, and you'll be dying to know what happens next. Christine was one of my favorites -- I empathized with each of the characters, and let me tell you, it kept me up at night. Now, when I look at a car, I sometimes get goosebumps -- And that is how powerful Stephen King really is. I know it's 2012, but SK's books NEVER get old. Thank you, King -- The book was a (Yikes!) great celebration of a college acceptance. Read Christine. Read SK's books. Read his screenplays (Storm of the Century was truly well-done -- I'm thinking of encasing my copy in a gold case, if I ever become a billionare.) Just my 2 cents. But yes, Christine is definitely worth it -- My own car seems creepy sometimes now. The power of Stephen King is limitless.

Posted By: 10 Year Old Fan

-

March 24th, 2012 3:56:48 am EDT

I LOVED the movie, so I am dieing to read the book!

Posted By: Patrick

-

March 9th, 2012 1:34:02 pm EST

This is one of my favorite SK books. I enjoyed the way the story was told and his insight into what it is like to be in high school. He has so many good analogies that really carry the book along. Thanks Stephen!

Posted By: Fen

-

March 7th, 2012 6:36:10 pm EST

This wasn't the first King book I read (that honor goes to Misery) but it was the one that changed my life. I'd expected something great, but I almost literally couldn't put it down. I got a detention for reading instead of working - which was fine with me, since it gave me more time to read. It's one of his scarier works - everything he writes is classified as horror, but not everything is indeed scary, mostly in part to LeBay (especially from about halfway through and on) and Christine herself. Halfway through this, I thought to myself, "It's kind of funny how King's books seem to possess you." I was immediately knocked over, and almost said aloud, "You miserable sh!tter!" I started laughing until I couldn't breathe. Everyone was staring at me, and I didn't care. I knew I'd found the book I'd been looking for all my life.

Posted By: LINOGE

-

March 6th, 2012 7:30:51 am EST

Great Book i'd like mvery reading this amazing book One of the best

Posted By: Longtimehorrorfreak

-

February 29th, 2012 3:17:26 pm EST

uhm hi mr king i loved this novel i couldnt put it down to save my life. longtimehorrorfreak

Posted By: Alex

-

January 18th, 2012 5:48:30 am EST

Christine is my favourite SK novel. If you haven't read SK before, this might be the one to start with. [The film version of the book is also worth a watch too!]

Posted By: Anonymous

-

December 1st, 2011 11:57:05 pm EST

I definitely liked this novel. The book was to read very interesting but when I have seen a film to it... Perfectly well! Ideally! I couldn't tear off eyes from it!

Posted By: Duck

-

December 1st, 2011 11:41:50 pm EST

I just saw an episode of The TwilightZone titled "You Drive" and it was very similar to the base storyline of Christine. Is there any connection?

Posted By: Drkstar

-

October 31st, 2011 2:54:28 am EDT

this book was awsome in that the characters in the movie really realated to the book! Like Darnell, Buddy Reperton, and so forth!!! Arnie's mother is such a bitch and reflects in the book. Really good casting!!

Posted By: Jarvis

-

September 6th, 2011 12:03:26 pm EDT

So far I've enjoyed the book. Very desrciptive and gory. One of Kings best.

Posted By: Kristal

-

August 2nd, 2011 1:24:07 am EDT

I just finished reading this book and I couldn't put it down, I loved it! I'm a big fan of Stephen King and I have many favourites, but this one is right up there.

Posted By: LoveOfChristine

-

July 31st, 2011 6:10:55 pm EDT

I've been a hardcore fan of this book and the movie since I was a kid. Thanks to modern times and the internet, I've learned why Mr. King picked a 58 Plymouth Fury as the vehicle of choice for this story. Which in my opinion is the perfect car for it. With the combination of the front bumper, grill, and headlights, this car does have an evil look. But what I've always wanted to know, is what made him pick the name Christine. That name also fits perfect.

Posted By: Chainsaw

-

July 14th, 2011 3:45:26 am EDT

This book is one of my all time favorite books by King, But then again i love all his work. There is just something about big cars and trucks that get me. I liked the movie okay, but the movie did nothing to show the true sprit of Christine. In the book the car is really a person as well. I must say that King is a master of story telling.

Posted By: TT

-

July 1st, 2011 9:07:07 am EDT

LOVED this book!!! definitely one of my favorites!

Posted By: Anonymous

-

June 6th, 2011 7:24:30 pm EDT

Unbelievable novel and the movie was brilliant. Stephen King is a legend

Posted By: Louise

-

April 27th, 2011 2:19:46 pm EDT

What an awesome book! I watched the film first and read the book. I was hooked from the start.

Posted By: Bguy85

-

February 7th, 2011 11:34:03 am EST

Christine is a fun book to read. I understand that it did not get very good reviews when it came out, but I found it entertaining. On a side note, what is with the Russian book cover image of Christine (pictured above). It shows a girl's face, and a bunch of zombies. What on earth does that have to do with this novel? lol...

Posted By: Brady12

-

January 22nd, 2011 9:48:26 pm EST

Phenominal! It was sad that Dennis wasnt able to save everybody.

Posted By: Jackie

-

December 27th, 2010 12:52:22 pm EST

Christine was one of the best supernatural forces novel he had created and still the best yet

Posted By: Mitch

-

December 26th, 2010 8:49:51 pm EST

i already this book and it's really great to read. so thrilling. it's so scary .... love it.

Posted By: Anonymous

-

November 9th, 2010 12:35:39 am EST

i just got the first edition novel great book for what ive read so far. (13th page)

Posted By: Momnjune

-

November 7th, 2010 10:59:16 am EST

I love this book and have read it probably 4 times. I was in 6th grade when I first read Christine, and then I was hooked on Stephen King books.

Posted By: Bunny

-

July 24th, 2010 9:53:47 pm EDT
Funny how many times I saw "First one I ever read" and I am no different. This was my first book by the master that I read, and he has been my favorite ever since. I think one of the saddest moments in my life was the lose of my Stephan King collection. He is a master at his craft. I am pleased to say I have children now who also enjoy his writing!

Posted By: Svetkovna

-

July 17th, 2010 1:50:09 am EDT
One of the best King's book I quess.

Posted By: Rolanddeschainswoman

-

July 10th, 2010 11:55:21 am EDT
This was the first Stephen King novel I ever read. Now it's my all time favorite. Always been curious why Mr. King chose the 1958 Plymouth Fury over all the other cars of that era.

Posted By: Big Al

-

July 8th, 2010 12:14:03 pm EDT
this book is amazing.Stephen king is a wonderful storyteller.this is one of his greatest novels ever.it truly is an instant classic.

Posted By: Jackie Burgham

-

June 14th, 2010 10:44:13 pm EDT
I loved the book ! I have the hardcover in Russian - read it as a kid , after that I re-read it once in a while in both English and Russia, because the plot is amazing and unusual ! You can't stop reading it once you've started...

Posted By: Joseph Benitez

-

June 10th, 2010 6:44:28 pm EDT
this was the first book of Stephen king I read. it is EXELLENT!

Posted By: 123456789

-

April 27th, 2010 10:30:26 am EDT
The element inside the novel were pured with muteness horror, the life force car - terrified people enough who drive at last day on midnight

Posted By: S.K. Rules

-

February 22nd, 2010 6:41:26 pm EST
You really feel for the characters in this novel. I think its great the killer car and how SK makes it feel real. great book.

Posted By: 58Fury

-

January 25th, 2010 7:05:29 pm EST
Christine is my favorite King book. It is beautifully written and the characters are real. Stephen can take an inanimate object and make it terrifying.

Posted By: Kyle

-

January 18th, 2010 8:06:30 pm EST
This one was pretty decent. I know it's one of SK's most famous works, but it just didn't appeal to me. Although it wasn't my favorite King book, I have to admit that I felt like the ghost of Roland Lebay was sitting next to me when I was driving last week.

Posted By: Christine

-

January 17th, 2010 9:50:19 am EST
hello everyone my name is christine and yes i was named after the beautiful 58 plymouth fury, i am looking for a hard cover book of christine and can not find one anywhere, unless i want to pay onwards of $100 (au) upto $3000 (au) can anyone help me?

Posted By: Mauroleiicus

-

January 3rd, 2010 4:12:14 pm EST
I remember when reading the end of the book, my heart was beating at (I measured it!) 80 beats per minute. It was absolutely thrilling. I read approximately 120 pages that night. Thanks, Steve!

Posted By: Stephen King Rules

-

October 24th, 2009 5:48:24 pm EDT
Christine was the first Stephen King book I bought in hardcover. It took me a couple of weeks cause I was in college at the time. It was worth every cent.

Posted By: JackTalk Thai

-

October 17th, 2009 4:17:47 pm EDT
I first read this as a kid, and it consumed me. I remember feeling so sorry for Arnie, I remember the horror of Christine's victims riding in her afterward. I recently re-read it (along with several other King books from my childhood), and it all came back. This book is second only to The Stand for me.

Posted By: #1 Stephen King Fan

-

September 13th, 2009 4:55:03 pm EDT
this is one of my favorite books and in my opinion one of your very best ones

Posted By: Maria

-

August 20th, 2009 10:42:36 pm EDT
I really like this one, my first King novel also, and it caught me, now I cant stop reading his books haha, congratulations keep the great work!

Posted By: Stephenkinglover!

-

August 19th, 2009 8:40:04 am EDT
Best on yet! SLEEPWALKERS SHOULD BE PUBLISHED!!!!!!

Posted By: Toks

-

August 14th, 2009 2:44:07 pm EDT
its a very great book.one of the best,im a great afan of yours.

Posted By: Lola

-

July 8th, 2009 6:19:08 pm EDT
hi, i love the movie/book cristine! if it wernt for your movie, i wouldnt be dreaming of owning it! i wouldnt even know its real! i found one on google for sale, and they want 32 thousand for it! i hope nobody byes it! i will track them down and kill them if they do! im posessed with it like arnold in the movie! P.S. i am 12 years old. i need the money! P.S.S i have the paperback book of christine aswell! P.S.S.S there should be a part 2 were she come back to life or something. gotta go.

Posted By: Iron

-

May 15th, 2009 4:37:36 pm EDT
My first S.K. book and I loved it. I like when Arnie starts to beat up denis at the end and it switches from the real arnie to Christine.

Posted By: Chris

-

May 8th, 2009 12:43:40 pm EDT
I appreciate the device Mr. King uses in this novel--describing Arnie's transformation and tragic downfall through the eyes of his friend. Christine is both suspenseful and concise, though I don't love it as much as some of his other stories, perhaps because Arnie is an inherently unlikeable character.

Posted By: Mediocre

-

January 28th, 2009 9:02:07 pm EST
Definately one of my favorite books. I love how the ending leaves you thiking. : )

Posted By: Mike Omega

-

December 6th, 2008 9:38:43 am EST
This was my first Stephen King novel and I would like to congratulate him for doing such a good job on this novel. It can be described in only 1 word: Stunning.

Posted By: Esko

-

December 5th, 2008 2:32:47 pm EST
This was also my first Stephen King novel and i could never put it down. I liked how it showed Arnie's transformation. He was a geeky,nerdy kid who eventually came out on top. All because of Christine. I didnt like how Dennis took Leigh from him though. I guess it can relate more to Arnie than Dennis. This was a great book and will remain one of my favorites from Stephen King

Posted By: Racefan

-

November 10th, 2008 12:25:26 am EST
This was my first King novel, and it's still my favorite. I'm very much into cars, and I feel connected to my own, much like Arnie became connected to Christine. Hm, maybe I should be careful, eh?

Posted By: Suresh

-

October 31st, 2008 10:32:55 am EDT
I read it from cover to cover in a single sitting. That too, in the night.Simply unputdownable. Scary, really SCARY.

Posted By: Anonymous

-

October 15th, 2008 9:30:24 pm EDT
i really lovee christine its the besttt book!!!! its a possessed car i mean who doesnt love it!!!!

Posted By: Raven

-

August 7th, 2008 3:56:54 pm EDT
When you love something too much,that something begins to draw every strong emotion that you experience, be it positive or negative, thus giving birth to a new "soul".So I believe that "Christine" is the feminine part of LeBay, the impetuous and possesive, and, being devoid of human sensibility, deadly.

Posted By: Sgonna

-

July 25th, 2008 11:33:37 pm EDT
How is it that Christine became possessed? And by whom? What method?

Posted By: Rjt65

-

July 24th, 2008 5:09:40 pm EDT
Love your first real car, good memories, did you name the car? Another grim tale of normal life with a SK twist added in.