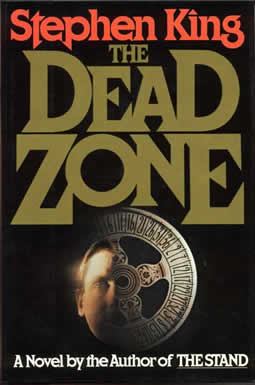 The Dead Zone
Published August 1979
Released as a(n) Movie on 10/21/1983


" "Bless me"? Do you know what God did for me? He threw an 18-wheeled truck at me and bounced me into nowhere for five years! When I woke up, my girl was gone, my job was gone, my legs are just about useless... Blessed me? God's been a real sport to me! - Jonney Smith (The Deadzone Film)
"
The swingin' 70s are winding down as the decadent 80s beckon with promises of fortune and power. Skylab plummets to earth as Sadham Hussein is "elected" to power in Iraq. Margaret Thatcher becomes Britain's first female Prime Minister as Three Mile Island melts down like a fine grilled cheese.

In arts and entertainment, Sid Vicious dies of an overdose at the Hotel Chelsea while Bo Derek struts her stuff in the classic adult comedy 10. Mad Max guns it out with Ridley Scott's Alien while Kramer vs. Kramer makes a run at the Oscars. On TV, Three's Company, Mash and Dallas dominate primetime as the world listens to My Sharona (The Knack) and Bad Girls. (Donna Summer)

It's 1979 and Stephen is about to publish one of his most respected novels to date, The Dead Zone. Considered a personal favorite by Stephen, The Dead Zone was later turned into a faithful film adaptation starring Christopher Walken and was even spoofed on a Night of the Living Tree House of Horror episode of The Simpsons. (a true honor.)

This spring, if you're not reading Full Dark, No Stars, be sure to check out a Classic Stephen offering that has made a true and lasting impression on both Stephen's fans and critics alike. Read The Dead Zone.
> The Dead Zone on Wikipedia
> The Dead Zone on IMDB