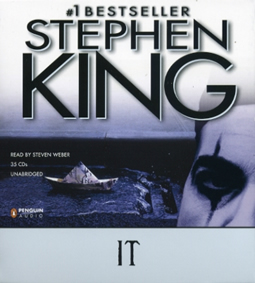 Fan submitted reviews of IT (Audiobook):

Posted By: Name / Nickname

-

February 23rd, 2013 5:59:09 am EST

Love the movie not read the book

Posted By: Izzy

-

February 19th, 2013 11:30:03 am EST

GOOD

Posted By: James

-

January 24th, 2013 1:23:32 pm EST

I love this book and love the audio book almost as much. Stephen Weber (wings, and The Shining miniseries) does an outstanding job!

Posted By: Trinity Makenzie Taylor

-

December 23rd, 2012 10:03:04 pm EST

i love the book so far i watched the movie and it was so good

Posted By: Name / Nickname

-

September 23rd, 2012 6:19:51 pm EDT

Great book

Posted By: Grilou

-

August 26th, 2012 4:28:20 am EDT

A beauty

Posted By: Seth Corriher

-

April 21st, 2012 6:06:07 pm EDT

this looks like the most awesome book made

Posted By: Audie

-

April 18th, 2012 12:02:51 pm EDT

I think it is the scariest movie I Ever saw.

Posted By: Anonymous

-

March 21st, 2012 12:25:39 pm EDT

Why is it so hard to buy this audiobook?... someone is missing out on a lot of money. PUT IT ON AUDIBLE FFS!!! i want to buy it and so do so many others. MAKE IT EASIER! I'm sorry to say it but piracy is only here because you make it viable by making it so damn hard to buy decent audible books at a fair price and readily available at a click of a button. Again please put it on audible. my money is waiting.

Posted By: Toli

-

January 13th, 2012 3:57:33 am EST

it is scary as hell

Posted By: SomeGirl

-

November 28th, 2011 7:09:40 pm EST

I love the book. And I love Steven Weber. Whoever came up with the idea to have my favourite actor read my favourite book, I'm going to go all Richie Tozier on your a**, salaaming all over the place. I remember reading the book (the only time I have) when I was twelve, and I can clearly remember being extremely frightened. I never thought I would feel that way again, but listening to this proved me wrong. The scene at the beginning, when Georgie first meets Pennywise, was chilling; and I found myself in tears whilst listening to the scene in the library when Ben returns to Derry. A triumph.

Posted By: Trollfolk

-

November 21st, 2011 3:56:17 pm EST

love SK

Posted By: Anonymous

-

November 4th, 2011 2:31:53 pm EDT

its so hard to buy a audio book online, im going to have to steal it due to it being easier

Posted By: Kingfan

-

July 14th, 2011 10:49:13 pm EDT

Mr. King!!! i saw this movie for the first time when i was 7 or 8 and it gave me nightmares for 6 months!!! i am reading the book now at age 19 and am now terrified for my life once again, thanks! :)

Posted By: Stevo

-

June 25th, 2011 7:23:13 am EDT

I like Weber's reading, but can be hit and miss. His reading of the Adrian Mellon part was especially good though.

Posted By: Pamela

-

June 14th, 2011 10:34:53 am EDT

IT is one of my favoirite King books...Steven Weber is the best reader of audio books I have ever heard

Posted By: Sheena

-

June 6th, 2011 9:16:14 pm EDT

this is how i "read" it.............the book was so much better than the movie. funny thing is, is im 13 and my mom let me listen to this........... funny.... but i am now watching the movie. mr. king is my insperation, i dont know how he does it. they should TRY ri remake the movie, i would love to see a remake

Posted By: Alicia

-

December 14th, 2010 4:52:14 pm EST

Mr. king, I loved IT. it's a scary as hell story. thank you for writting IT...& the reader of this audio book steven weber, did a fantastic job...again thank you.... take care., Alicia

Posted By: Anonymous

-

December 13th, 2010 5:15:45 am EST

weewew

Posted By: Sharon

-

October 30th, 2010 4:33:48 pm EDT

I read the book IT years ago, and the story is still great after all these years. Just finished listening to the story read by Steven Weber - he did a fabulous job! He made it come to life! Scary.......

Posted By: Anonymous

-

September 13th, 2010 2:30:34 pm EDT
IT inspire me, to write my own book, it is thanks to Stephen King that I have my working title

Posted By: Darth_wise

-

August 1st, 2010 4:11:43 am EDT
a rEALLy gREat bOOk :)

Posted By: Anonymous

-

July 9th, 2010 3:52:58 pm EDT
I'm a man who have studing English language for a short time and I was bought this book from a bookshop in Bulgaria( this is my bornplace) and I had been reading the book. I have can't understand everithing but I can say that it is great story,undependently from what part of earth you are, Mr King can touch you in a way inherent of him. I realy appreciate all of Mr King's works.

Posted By: Beth

-

June 23rd, 2010 10:00:55 pm EDT
This was the best movie for me as a kid, I loved it, read it, then started reading anything you wrote that i could find. Your the man!

Posted By: JKB

-

June 1st, 2010 9:32:05 pm EDT
I just finished this audiobook, and have to say that Steven Weber did an AMAZING job! His voices and emotion really brought me into the story. I loved it!

Posted By: Vinnie

-

May 21st, 2010 9:16:38 am EDT
Woohoo! Almost out! Does anyone know when this will be out in the UK?

Posted By: JoeSherry

-

May 19th, 2010 8:41:47 am EDT
IT is my favorite book, and has been since I read it as a teenager, I wanted a fresh perspective on my old favorite and bought the audio book. Steven Weber, was a fantastic choice and adds a lot of life to the story. His voices are a lot of fun, and my one worry(Bill's stutter)was handled with tact and skill. Highly recommended!

Posted By: Chris

-

May 17th, 2010 10:19:46 pm EDT
I'm excited that this is now an Audiobook. The movie terrified me when I was a kid and then I read the book and discovered the story was even better. These days I love to listen to audiobooks on my commute and I'm going to really enjoy revisiting this story.

Posted By: JOK

-

May 17th, 2010 9:47:42 pm EDT
About time! Classic King on CD! Finally!

Posted By: Shadowtron

-

April 25th, 2010 10:05:48 am EDT
Sounds great. My morning commute will be improving dramatically once this is released.

Posted By: Spatch

-

April 20th, 2010 8:28:26 am EDT
There is an audiobook for the stand, it's old in tape format in our public library. It is awesome!!!

Posted By: Greggie_hurst

-

April 18th, 2010 3:59:12 am EDT
I've anxiously awaited this for many years

Posted By: Nathan

-

April 7th, 2010 5:27:46 pm EDT
This news makes my day. Now there just needs to be an audiobook version of The Stand. I've read It three times now, but being able to listen to it would save my wrists because It and the Stands are cinderblocks.

Posted By: Lisa23

-

April 2nd, 2010 5:00:23 pm EDT
I love it! And I love him.

Posted By: Taura Jones

-

March 17th, 2010 11:30:42 am EDT
love you