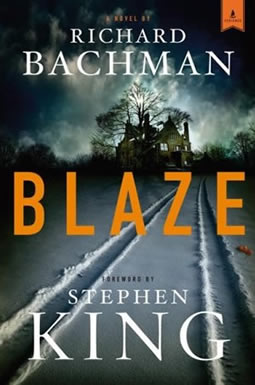 Fan submitted reviews of Blaze (Bachman Novel):

Posted By: Victoria

-

February 16th, 2013 6:49:46 am EST

Loved this book. One of my favorites.

Posted By: Saywer

-

January 27th, 2013 9:52:34 am EST

Good Story by Stephen King Is not a classical horror story like others like Tommyknker,Cujo Is withpout any doubt a good story with some SAD parts

Posted By: Laci

-

August 1st, 2012 5:35:36 pm EDT

First, I was shocked, that there's another Bachman book that I didn't know about when I got this as a christmas present from my younger sister and to be honest, I haven't touched it until last week. Oh boy, thank God, I decided to take this masterpiece with me to our holiday! Even though this book is not a thriller, but a "crime story", I enjoyed it so much, that I finished reading it in two days lying on the sandy beach of Bulgaria... Then I got in the mood and asked my girlfriend to hand me over her book, so I could carry on reading (and this is how I finished Colorado Kid in a day). I'm glad, that Mr. King decided to get this novel released! Thank you Mr. King!

Posted By: Evan Edwards

-

June 29th, 2012 3:48:29 pm EDT

This is a fantastic Novel by Stephen King, but I repeat myself! A truly enthraling tale of a man who's been failed by society at nearly every turn. The story is so exciting that in places I found myself actually gasping out loud at turns in the plot! That's a first for me! I think this would make a most excellent movie.

Posted By: Susanf

-

June 2nd, 2012 12:36:02 pm EDT

Loved this book. I have never felt so sympathetic towards a criminal character in a novel before and to be rooting for someone who has kidnapped a child seems ridiculous but it happened with me. So glad this novel saw the light of day and made it onto my kindle (which weren't even thought of when this novel was first written!)

Posted By: 88HR

-

April 25th, 2012 2:17:05 am EDT

I think this story has very good side of King, sorry Bachman .This was a light entertainment for me.

Posted By: Joey Warren

-

April 18th, 2012 12:48:43 pm EDT

This book is badass, but excuse my french. I dont read books but this one was it.

Posted By: Kastdion

-

March 18th, 2012 1:54:38 pm EDT

I believe that Blaze was a good guy.He wouldn't hurt the baby.The problem is located on his bad childhood.Even he still cares for his dead friend George who in his mind he doeas not do anything else than critisize his methods.

Posted By: Skippy

-

November 17th, 2011 10:05:55 am EST

I have never read this book in my life but after reading this summary i am going to buy it straight away.

Posted By: Cinda

-

October 24th, 2011 1:18:35 pm EDT

i love this book so far i like that the chapters are short cause it makes me feel smart. i have to read this book for english and i thought it was going to be boring but i picked this book to read and now its fun :)

Posted By: Sirocco

-

October 17th, 2011 7:18:44 pm EDT

S.K.'s best writing is done when he uses absolutely true, believable situations. A on Blaze.

Posted By: KAZ

-

October 5th, 2011 2:46:27 pm EDT

Of Mice and Men was the only book I actually read for a high school class and I loved it. This book just blows that away. If you haven't noticed already Blaze mirrors Of Mice and Men very well. As always the books ending made me angry. I never know what's coming and I love Stephen King for that reason.

Posted By: John

-

September 25th, 2011 12:43:03 pm EDT

Why is Stephen King so popular writer? Well, if you read something, anything created by him you'd hooked. The way he presents the world we live in is unique and at the same time so implacably true and cruel that we don't read a book, but we experience and sympathize with the character(s) along the journey into a wondrous land, but not fairy-tale life. Wish you best Mr. King, and I hope you'd be still around for a long time enthralling and making us truer persons...

Posted By: Anonymous

-

September 19th, 2011 5:44:43 pm EDT

the most tragic story ever written. It broke my heart and left there a big, oozing gap. Even the thought of this book makes me feel utterly blue. Unbelievable, King is the master of dreams and emotions, and this book is the peak of his literary career. There are passages, similar to "The Catcher in the Rye", where something so deep inside you, kind of a primal sadness, just overwhelms you. I can't say no more, other than READ. By the way, I think this book would make the perfect movie.

Posted By: FortFortunately28

-

July 31st, 2011 6:52:11 pm EDT

I remember first hearing about this book, when Stephen King mentioned it in the afterword to the 1982 novella-collection, "Different Seasons". Of course, I didn't read it-having been myself born in 1982-until probably 14 years later, in 1996, when I was in the seventh grade. But, when I read about that particular novel, I knew I wanted to read it, I just thought that it had never published. I am glad it finally was, even if it was eleven years after I first heard about it, twenty-five years after it was mentioned, and probably thirty-five years after it was actually written. I hope to actually, finally read this long-rumored, hoped-for novel soon.

Posted By: Anonymous

-

July 10th, 2011 7:05:19 am EDT

Am in the midst of this book - Need to know where Stephen King came up with the name NANCY MOLDOW!!!

Posted By: KKL

-

April 8th, 2011 4:24:31 pm EDT

I couldn't stop tears running from my eyes when I was reading closing chapter. I cannot remember any book I've read thru last years, that could really make me feel like that...

Posted By: Anonymous

-

March 30th, 2011 12:25:09 am EDT

This book makes me feel something that most don't make me feel. Sympathy. I can honesty say that I wish Blaze was still alive.

Posted By: Edwards

-

January 18th, 2011 9:10:16 pm EST

I give this book 3 thumbs up.

Posted By: Rayne

-

October 19th, 2010 1:38:01 pm EDT

This is very unlike anythng King has done It seems like it happens in the 50's and that makes it better. Blaze is kind to the baby and his sense of longing and wanting to keep him is also sad.I just wish we had mor back story from whenhewas a kid at H.H

Posted By: Brandon

-

October 12th, 2010 3:12:49 pm EDT

I'm currently on chapter 10 and i have got to say WOW! This is a book that I will read over and over again. I can't help but to feel sympathy for Blaze. WOW!

Posted By: Jenny

-

September 9th, 2010 4:01:28 pm EDT
Well let me start off with this, Im mainly a hardcore horror fan. In fact im watching The Stand as im writeing this haha. Blaze was a wonderful book. One of my favorites in fact. I am gonna start reading it again when I get it back from my aunt. You are my favorite author and I love all your books! Blaze and The Stand the most. You are an inspiration to me!! You are awesome. keep it up!!

Posted By: Grievergirl

-

July 20th, 2010 6:38:39 pm EDT
I have worked my way through a good portion of Stephen King's books over the last few years as a fan of horror. And nobody does original horror/supernatural stories better than Mr King. But Blaze is not a horror nor does it really verge on the supernatural. I'm not really sure what you would call it. If someone had told me the plot before I had actually read the book I would have said it wasn't my type of story. But I had the book finished within 24 hours - one of the best reads I've had in a long time. You shouldn't want the protagonist to succeed in his task of kidnapping a baby, but despite yourself you do. You hope that he will be ok. No one can make you care about a character like Stephen King can.

Posted By: Gav Worlledge

-

February 24th, 2010 12:00:06 pm EST
My partner bought this book for me for christmas - I had read it by boxing day night, just couldn't put it down! Classic King characterisation once again and what starts as a simple plot from the cover (baby-kidnap, ransom ect ect) develops into so much more as us constant readers have come to expect. Reading about Blaze's childhood enthralled and saddened me and despite what he does throughout the course of the story you can't help but feel compassion towards him. Although I have been a long-time fanatic of Mr king, it is only recently that I have had time to actually start reading any of his novels published under the name of Richard Bachman. Recently I got a copy of The Bachman Books and read "Rage" and "The Long Walk" (Both utterly excellent) and Blaze rates high up there with them as some of my favourite King reads. Maybe the ending seemed a slight predictable but by the time I got to it, it still brought out the emotions I think King was planning us to have. A great book and a worthy read to anybody that enjoys crime, adventure and real character analysis. You do NOT have to just be a Stephen King fan to enjoy this beauty! 10/10

Posted By: Chris

-

January 20th, 2010 3:52:50 am EST
Amazing...couldn't put this book down. Actually, this was the first book I had read in about 5 years...i got it in a bookstore in the airport flying to the florida keys...read half of it on the way there, read the other half on the way back....what a hell of a trip that was...i love the way stephen king crafts his stories...just incredible detail...its like he's telling stories from past experiences...i loved this book....ive since read duma key, cell, and im about to go get a copy of under the dome...sounds like king at his best

Posted By: Malena

-

January 13th, 2010 11:32:59 am EST
AMAZING! I FINISHED IT YESTERDAY, JUST AMAZING.

Posted By: Vare

-

December 6th, 2009 10:01:39 pm EST
king, you're awesome. i'm from argentina, i remeber that when i was going to buy this book y accidentally read,looking for the total page , the end of the book. fortunatly that was a little extract of duma key.love you

Posted By: James

-

November 28th, 2009 9:30:20 pm EST
Only halfway through this book, but I'm thoroughly enjoying it. Quick note to author/editor: A typo on page 147, 2/3 way down, paragraph starting with "Too bad,".

Posted By: Savannah

-

November 5th, 2009 10:07:30 am EST
amazing book,i found myself getting so into the story i became oblivious to everything around me........including my mother in law,trust me i payed for that one lol(but it was worth it)

Posted By: Tweek

-

October 27th, 2009 12:07:24 pm EDT
i read this book over the summer, and i thought it was worth reading. i remember i kept wondering what would happen next. and just when you think you knew, it didn't happen. so if you want to read a book that keeps you guessing........then this is it

Posted By: Dave

-

October 19th, 2009 8:38:14 am EDT
This book is by far one of the gretaest books i have ever read by Stephen King. It is truely an amazing book, i found myself staying up late at night just to keep reading, and when i put it down thats all i thought about.

Posted By: Giuly

-

August 23rd, 2009 10:46:27 am EDT
Very lovely story. I cryed at the end.

Posted By: SFNGTR

-

June 27th, 2009 10:46:53 am EDT
Blaze is the first SK book that I have had trouble sticking with. Maybe because I just came from The Regulators. My brother tells me to keep going and I will be glad I did. To me it lumbers along. Much like Blaze himself. Maybe thats the point. Thanks bro for all the great reads.

Posted By: Anonymous

-

April 28th, 2009 8:54:51 pm EDT
I loved this book. I would stay awake reading this book forever and when I finally put it down I wouldn't be able to get to sleep because I was thinking about it so much. Great work. One of my favorite King books

Posted By: LeoN WiNgsteiN

-

February 21st, 2009 10:50:39 am EST
This was the first book by Stephen King I read. My dad bought it for my mom to read over vacation, and she was reading something else at the time, so I read it. It has a great mixture of deep thought and good characters along with an excellent plot that makes this book a must read.

Posted By: Blaze

-

January 5th, 2009 3:25:38 pm EST
Read books such as IT, Bag Of Bones, Duma Key, Geralds Game, and watched all the films produced, but Blaze is great writing and a great read. Myself is @ college in the UK studying film making and creative writing is part of the course and would like to say that SK is an inspiration to others. Thank-You

Posted By: Blazedale

-

November 6th, 2008 11:42:54 pm EST
This is King at the top of his game. Of course King is always at the top of his game. This is in the top three books i have ever read. By the way all top three are King books. It is absoutly amazing. I recomend getting the audio verson. It adds an extra feeling to it having someone else reading it to you. Kings amazing writing makes you feel like your in a movie. This is one of those ones that you finish all in one sitting because you just cant stop reading.

Posted By: AlwaysSmiling

-

November 6th, 2008 3:29:38 pm EST
He never lied!! This book should have stayed "Hidden". The plot is too long, the story is very uninteresting and it definitely isn't easy reading. He's definitely done better work.

Posted By: Kali

-

September 28th, 2008 1:30:55 pm EDT
VERY GOOD! Srephen King put a new twist on an old favorite. Alas, like many(not all)good tales it has a wretchedly sad ending. This is a must read(sorry for the spoiler!)

Posted By: King Jacob

-

September 28th, 2008 11:54:52 am EDT
I loved this book! I wish there was more available from the late Mr. Bachman, but I still love SK's work.

Posted By: Moonshell

-

September 18th, 2008 5:06:08 pm EDT
Stephen King felt unsure about how this book would come across. I felt it was very good! I was engaged throughout the whole reading. You did it again!

Posted By: Warren Piece

-

August 1st, 2008 6:52:47 pm EDT
Based largely on Of Mice and Men, Blaze is a novel about being in over your head. The main character, Clayton Blaisdell Jr., also known as Blaze, stands about six foot seven and is about as dumb as he is tall. His partner in crime, until recently, has been a small con-man named George, (This should sound pretty familiar by now.) who has died and left Blaze to pull their one final caper on his own. Blaze has all the elements a good crime novel should have: almost fumbled heist...check! daring run from the law....check! cool criminal hide-out...check! The only thing missing was the sultry damsel in distress. Blaze was by no means original and felt ambiguously lost in time, skipping from eighties to nineties while reading like the fifties. Despite this, the book was thoroughly enjoyable and is strongly recommended for anyone looking for a fun, light read.