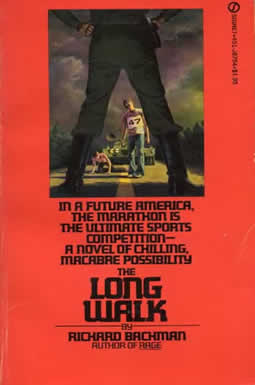 Fan submitted reviews of Long Walk, The (Bachman Novel):

Posted By: Anonymous

-

February 8th, 2013 7:42:14 am EST

Not only is this a great book, it is one of the author's greatest achievements. The way he uses dialouge to make the sotry makes it especially unique. Unlike any of the auhtor's other work's, THE LONG WALK is none the less a must read for any lover of King Fiction or of books in general.

Posted By: DJDirrtyDogg

-

November 15th, 2012 10:33:31 am EST

This was another brilliant book in my opinion. I got fully immersed in the various characters and was hoping some would make it and some others would not haha

Posted By: Mich

-

October 5th, 2012 11:59:12 pm EDT

Fantastic story... I didn't like it though. After reading Needful things, Tommyknockers, Desperation... It was dissapointing to read a book that lacked all the quirky things these books did. HOWEVER... It was a fantastic story, upsetting and disturbing story, beautifully written, and it was also quite shorter compared to some of his other novels which was nice for a change. It just wasn't the type of story I read Stephen King for. I would still highly recommend it though.

Posted By: Aldo La Classe

-

September 28th, 2012 4:59:44 pm EDT

Seldom can one read such poignant illustration of courage, self-determination, friendship and sacrifice. This book shall have a place in schools beside Lord of the flies. A true masterpiece that deeply involves the reader and also describes the anatomy of a ruthless totalitarian regime.

Posted By: Elmarie Santo

-

September 14th, 2012 9:11:18 am EDT

This is my personal favorite from Stephen King. I have never seen an author display such genuine human emotion through his characters. Its amazing and one of the reasons why I love Stephen King('s works) so much - I am his number one fan :)

Posted By: Mauricio

-

September 12th, 2012 3:25:00 pm EDT

I hope they make a movie of this book i read this book in a library i didn't think it would be a good book but stephen King does not dissapoint. HURRY WITH THE MOVIE!!!

Posted By: Cheryl

-

September 1st, 2012 10:25:01 pm EDT

When is this going to be made into a movie? I have been waiting for years...since the 80's. I hope I have not missed it! Rereading the book now. It Needs to be made into a movie!!!!!

Posted By: IGOR

-

August 27th, 2012 4:51:34 pm EDT

Hi Stephen! I am russian and I want to say you are greatest author! Please do not die! Please live forever! Best Wishes Igor Zhirkov

Posted By: Anonymous

-

August 19th, 2012 7:09:41 pm EDT

Honestly, it's a great book overall, I wonder when Frank Darabont is going to make the movie, maybe it's late or he has to wait because the The Hunger Games, anyways I learn about this book when I was doing road marches in the Army, my sargent told me, "Now I know how Garraty felt in the long walk." He told me about the book, and I was hook for years. Before I use to read the book lot, now I listen to the audio. thanks Richard King. LOL!

Posted By: Cannonball

-

August 8th, 2012 6:40:13 pm EDT

This novel, written as Bachman is great. It's probably the best of the Bachman books. King uses a large cast of characters to involve you in this life or death game. It really grasps you and you empathize with the Walkers. The companionship and camaraderie between the caracters is the best part about this novel. I also see a weird parallel between the crowds thirst for violence and death and our modern society's infatuation with reality t.v. game shows. This is an excellent book.

Posted By: Ryan

-

August 4th, 2012 12:23:43 am EDT

I love this book, it's simple and easy reading but extremely entertaining.

Posted By: Rachel

-

July 27th, 2012 6:26:08 pm EDT

I just finished this book and i really didnt like it.. i generally like Kings books because i like the horror in them.. i didnt think this story was much like his others. I didnt like the ending and franking i dont even know how i got through the whole thing

Posted By: Leatherman

-

July 24th, 2012 7:17:04 am EDT

I did read the book a couple of years back , I think it was a story written together with Peter Straub / Richard Bachman . As former infantry soldier you realy can place yourself in the story , but I will never forget Garethy , and amazing story ,

Posted By: Nina

-

June 26th, 2012 2:33:41 pm EDT

Im only 13 and I heard about this book at Kobe Steakhouse from my chef. I totally love this book. Im halfway through and I love it!!!!

Posted By: Anonymous

-

June 14th, 2012 8:00:14 am EDT

I am just beyond the halfway point of The Long Walk. So far, it is the best Stephen King book I've ever read! I'd recommend it to anyone. It is short and without wasted time. The book gets right to the point without unnecessary information

Posted By: Taco

-

May 13th, 2012 11:14:37 am EDT

I think the reason this is one of, if not my favorite King novel, is how it starts out by instantly catapulting the reader into the action, which lasts for the entire book. Most of King's works take a while for the action to be set in place (not always a bad thing) but this one immediately throws you into it and doesn't let up until you close the back cover. I have read this about six times and I have no intent of leaving it at that.

Posted By: Scott

-

May 1st, 2012 3:02:19 pm EDT

This is definitely one of my favorite books of Stephen's ever. There's something about it that is totally brilliant and completely honest.

Posted By: Vince De Borja

-

April 24th, 2012 3:51:24 am EDT

I want to read this book! I cant find this book in some bookstores here in the Philippines :( . The first thing that comes in my mind when they said the story is about a police state i remembered Sgt. Hartman of Full Metal Jacket he can be the Major if ever the long walk will have a movie he fits the character's apperance :D

Posted By: AurorA

-

April 21st, 2012 2:48:29 pm EDT

Probably my favorite book. :)

Posted By: Anonymous

-

April 9th, 2012 11:02:31 am EDT

I can't help but think of this book every time my feet are barking walking anywhere. It surely puts things in perspective!

Posted By: Patti

-

April 3rd, 2012 10:35:40 pm EDT

I was just commenting on this novel on a friends page on facebook. She was talking about seeing the movie "The Hunger Games". I haven't seen the movie yet, but I commented on how the premise reminded me of "The Long Walk".

Posted By: Yucca60

-

April 3rd, 2012 12:27:50 pm EDT

Absolutely amazing work of mind: horrible but fascinating. Pure King.

Posted By: Wendyd

-

March 26th, 2012 8:49:51 am EDT

I am presently reading this again after just finishing the Hunger Games. I have read the Long Walk many times and it always amazes me. I hope it becomes popular again and a movie is made about it. Why do I keep thinking that I have seen a movie or mini-series of this? I can picture all of these characters in my mind. I never realized I had such a vivid imagination. Scary.

Posted By: Quinten

-

March 20th, 2012 7:22:33 pm EDT

best one ive read so far

Posted By: Emily

-

March 5th, 2012 11:30:14 pm EST

I first read this book last year as was immediately captured its complicated, yet simple plot. This was my first Stephen King book and is still my favorite. Being younger that most of its readers, I didn't expect to actually understand what was happening, but I did. I happened to come across this book when I was reading the interview by Stephen King on "The Hunger Games". After reading this and the rest of King's interviews, I realized just how similar the are. Over all, I strongly recommend this book, especially if you happen to like The Hunger Games.

Posted By: Tim

-

February 28th, 2012 5:49:52 pm EST

the long walk is brilliant,, timeless, and a classic piece of modern literature. It's unfortunate not too many people have read it, yet other novels have essentially stolen key ideas from it and watered them down in gen z sugariness (Hunger Games anyone?). It is being made into a movie eventually by the same director. Frank Darabont, who has made many faithful king adaptations. Cannot effin wait for that one.

Posted By: CM Saunders

-

February 19th, 2012 11:54:41 am EST

I first read this as a teenager in the early 90's I guess (wow! Has it really been that long?!) and it had a profound effect on me. I thought about the story a lot over the yaers, and just this month went back and re-read it. The Long walk has lost none of its power or impact, and in my mind is one of SK's finest works. I can't believe he was only a university freshman when he wrote it.

Posted By: Brian

-

February 15th, 2012 9:31:36 pm EST

Excellent work! It is amazing how Bachman (King) hypnotizes you into the mind of Ray Garraty. You feel as if you are on The Walk yourself. Some of the best work, that not just Bachman, but King has ever written.

Posted By: Elaine

-

February 3rd, 2012 8:13:56 pm EST

This was one of my favorite stories, though I can't really say why. I was wondering why it was never chosen for a movie?

Posted By: Mquinn27

-

February 3rd, 2012 2:50:30 pm EST

This is my favorite king book so far. I found it incredible that such a simple plot could keep my interest. I reccomend this book to everyone and have already read it three times!

Posted By: Jodithepirate

-

January 26th, 2012 7:29:26 pm EST

This book is knocking me on my arse! It is twisted! I can't even fathom what it's like for a teenage boy, let alone one that has to do this! Good Job Richard via Stephen! I am half way through and it's freaking me out! I read The shining when I was 11 and was scared out of my head! I am still nervous around closed shower curtains! Now that I am older... these mind twisters are AWESOME!!!!

Posted By: Martygras

-

January 13th, 2012 8:44:17 pm EST

Reading this was excruciating. Brilliant, but hard to swallow. It also reminded me slightly of the Hunger Games, but this is much more a psychological book. Actually, it reminded me of The Stand (even though it's been ages since I last it), for the way it really gets into the crass and hilarious ruminations of boys. My husband actually made an interesting observation, about how this book makes an interesting commentary on why young men in America volunteer to go to war... Great book. Now have morbid thoughts.

Posted By: Rachel

-

December 25th, 2011 11:36:14 pm EST

Right when I heard of this book, I knew I must have it!! So along with 7 other Stephen King/Richard Bachman titles I have recieved for Christmas, the Long Walk was one of them. It reminded me of the Hunger Games, I dont know why, but it did...... My family thinks I am crazy for being a 15 year old girl who loves Stephen King, but they don't mind as long as I don't recreate the horror. Can't wait to read it!!!!!

Posted By: Maddog

-

December 7th, 2011 5:36:20 pm EST

I thought this book, The Long Walk was one of his best. I thoroughly enjoyed this book and I tell everyone about The Long Walk. Do you know how hard it is to maintain four miles per hour? Love it.

Posted By: Megs2956

-

November 4th, 2011 7:08:35 pm EDT

I think that this book was/is AMAZING!! The first time I read it, I read it 2 more times in a row! It should absolutely be made into a movie!!!!

Posted By: Jennifer

-

November 3rd, 2011 5:33:53 pm EDT

Was anyone else immediately reminded of this book when they read "The Hunger Games"? Yet they already made "The Hunger Games" into a movie. Sigh.

Posted By: Dominique Buchanan

-

October 27th, 2011 12:29:17 pm EDT

Absolutely the most interesting book I have ever read. When you read this book you slowly become a part of it. You feel like you are there with the characters. Also when I finished this book I felt a sudden urge to take a long walk...

Posted By: Peter

-

October 8th, 2011 10:27:02 am EDT

I read this book more than 10 years ago(german translation). Iam really thinking that could be great stuff for a movie. For example take 100 guys and make it real on their "walk". With the same rules (except killing). And the winner will get the lead(role).

Posted By: Liesa Clark

-

August 31st, 2011 5:07:50 pm EDT

I read this book a few months ago, & did not expect it to have such an impact on me, so much so that I read it again straight away, something I have never done. I laughed a few times & sobbed towards the end. I felt like I was walking with them & found the story to be a metaphor for life, certainly my own. The only way I could get the depressed withdrawals out of my mind was to capture the feeling in lyrics, which I did & can now look back fondly & grateful for the inspiration. Excellent book.

Posted By: Sapir Asiss Israel

-

August 29th, 2011 10:31:02 am EDT

It's an amazing book, no doubt. One of Mr. King's best and one that I have read many times. I have to agree with all the other fans who said it should be made into a movie. It would be a perfect movie for Afterdark Horrorfest, for example - if made the right way. Stephen King's books are the perfect material for a Black List movie!

Posted By: Andrea

-

August 20th, 2011 9:42:09 pm EDT

This was the first novel that I ever purchased and it started my love for your writings. I've re-read this novel 4 times in the several years that I've had it and I can't seem to get enough. I look at my book shelf right now and all I can see is my Stephen King collection. Thank you for all that you do and please keep it up.

Posted By: Furbee

-

July 25th, 2011 1:36:24 pm EDT

Man i hate reading and this book blew my mind. I mean just increadable it should realy be made into a movie i do belive that anyone with half a brain woould love this book espicaly if they made a movie out of it i would watch 100 times and more not to mention read the book like its a survival guide.

Posted By: Starr Child

-

July 23rd, 2011 3:36:59 am EDT

I have read this book too many times to count and I never get tired of it. It is so well written and really is amazing. I would have to say it is my favorite Stephen King (Richard Bachman) book of all time...or that I have read so far. Two thumbs WAY up!!!

Posted By: Anonymous

-

July 15th, 2011 12:38:45 pm EDT

this book should b made into a movie im positive it will go over very well. this was an amazing story

Posted By: Angella

-

July 15th, 2011 12:31:18 pm EDT

i usually dont read but i was sucked into this book it was great an unbelievably remarkable story i couldnt wait to find out who won. This is my favorite story along with geralds game.

Posted By: Beverly

-

July 10th, 2011 9:35:27 pm EDT

Scary concept and it made my feet ache. Loved the book even though it was sad.

Posted By: Anonymous

-

June 27th, 2011 2:37:55 pm EDT

I'm still wondering what the dark figure at the end is... but I guess that's the great thing about Stephen King, he keeps you guessing!

Posted By: Rubindawg

-

June 23rd, 2011 12:09:27 am EDT

loved this story! this one deffinately sticks out as one of my fav of mr. kings books. plus i went to the university of maine at presque isle and my boyfriend is from van buren so i have a soft spot for this one

Posted By: Anonymous

-

June 20th, 2011 11:43:20 pm EDT

Still hoping for a Long Walk movie. One of my first King books read when I was 10. I pick it up again every two years along with IT.

Posted By: JakeTheSnake

-

June 8th, 2011 9:32:42 pm EDT

This is my favorite book. it is a fabulous, but ultimately disturbing story, like most of Mr. King's work

Posted By: KateLeRoy

-

May 26th, 2011 9:32:34 pm EDT

I read this book in high school; my English class was one with an emphasis on horror and science fiction, with a number of books being written by Stephen King/Richard Bachman. I have never had such an amazing class. Mr. King, you are by far the most incredible and fascinating author I have yet to come across. Thank you for your many contributions to the literary world!!

Posted By: FemaleKingRookie

-

April 25th, 2011 7:59:17 pm EDT

This book and "The Girl Who Loved Tom Gordon" are my two favorite king books so far, I have plenty more to read, but I enjoy more of his creepy other culture suspenseful books more then that flat out horror books. I admit I have not read the shinning but by watching it I can tell I would not enjoy the book the same why I have Long Walk and others. I like the character development he puts in and the details, I like to get lost in the world of the book so the more details about the character the closer I feel to him or her. Wonderful book all in all, still perfectly creepy in a stephen king kinda way.

Posted By: Trayn318

-

March 20th, 2011 5:20:15 pm EDT

I've read this book when I was the main main characters and it was the first king book I've ever read now I'm hook on his books, this one is a great story and a kind what if think, if your a first time king reader or a long time fan look this one up, I have my copy on my Kindle so I can take it everwhere I go and reread my favor parts. RIP Gribble death by Blueballs

Posted By: Guruh09

-

February 9th, 2011 12:03:43 am EST

May I just say that this is the best novel i read ever! I think this story was inspired by the BATAAN DEATH MARCH that happened here in country(Philippines).

Posted By: The Hearsedriver

-

December 6th, 2010 10:16:46 am EST

This book, as well as, "Road Work", are truely my favorite stories from Stephan King. I do not know why, but I have read and re-read them from time to time, just to visit with the charactors of the authors mind. Thank You Mr. King

Posted By: Brett

-

December 4th, 2010 3:44:16 pm EST

This book gave me a love of stephen king a truly horrifying possibility that shows the dark side of the human nature and yes the rights to the movie were sold but i do not know if they have been put into action yet

Posted By: Anonymous

-

December 2nd, 2010 5:38:43 pm EST

my absolute favorite book..I can't even explain what it is about it....maybe the fact that I first read it when I was arounf the age of the main characters, and could relate to them in one way or another....or the fact that intended or not the Long Walk is like a messed up metaphor for the life oh an adolescent male...nonetheless...a definite favorite for me

Posted By: S.K.Rules

-

November 28th, 2010 9:24:48 am EST

I read this and before I did I had heard good reviews about it and thought it would be great. I thought it was good but nothing that great, garraty isn't (to me) that great of a character, but a good story all the same. I wish sk could have put in some more detail about what other people did like when they get water, it made it seem like garraty was being treated kindly by the shooters.

Posted By: Lacey

-

November 13th, 2010 10:37:55 pm EST

I checked this book out of my junior high school library back in the early 80's and was blown away. I was already becoming a huge King fan but had no idea at the time that Bachman was Mr. King's pseudonym. I still have that same copy.....yes I managed to snag and never return it without getting caught. It has become one of my prized possessions. As are all of my Stephen King books. Keep writing Mr. King, I love that I get all twitchy and see things out of the corner of my eye when I'm caught up in one of your stories!

Posted By: RH

-

October 23rd, 2010 5:40:38 pm EDT

I read this book years ago, and recently found out they are thinking about turning it into a made for tv movie, or a film. Are the rumors true? That'd be so awesome if we got to see The Long Walk on the silver screen.

Posted By: Anonymous

-

October 22nd, 2010 9:07:14 pm EDT

truthfully, i think that The Long Walk will make an amazing movie.

Posted By: Fedotdanetot

-

October 18th, 2010 11:19:42 pm EDT

Hi I'm from Russia! I read this book two days ago and i don't want to read anything else at least one more week, to stay with impression of these great story.

Posted By: Booksrkewl

-

October 17th, 2010 11:31:45 pm EDT

I loved this book, it was recommended to me by a friend, once you start reading you won't put it down(I mean it). It shows you the animal listic parts of the human mind and how you can push your self beyond death just to keep alive.

Posted By: Heiz MacAiran

-

October 2nd, 2010 3:44:50 am EDT
a masterpiece! after reading this one, my feet just hurts like hell! it felt like i was in Ray Garrety's shoes the whole time!

Posted By: Anonymous

-

September 28th, 2010 12:29:22 pm EDT
ending could had been better. its unfair to feel the character and u dont know what really happens at the end. simular to the mist. but the director of the mist is going to direct long walk he put a twist on things at the end of the mist film. so we will know what happens to ray hopefully

Posted By: Frazer

-

August 23rd, 2010 9:44:50 pm EDT
im fourteen and this was my first stephen king book i read i did a book report on it and the visule aid was gruesome

Posted By: Baronvonsengir

-

August 18th, 2010 12:52:18 pm EDT
Absolutely one of his best. Riveting, haunting, depressing. Only Stephen King could make a Long Walk spellbinding, can't-put-it-down good. VERY DIFFICULT to make into a movie, because as with so many of King's great works, most of what makes it great occurs in the hearts and minds of the characters... That is extremely difficult to convey on screen. Would have to be done flawlessly to pull it off (think: Peter Jackson, LOtR trilogy). So much has to do with how perfectly King uses characterization to make you feel as though you have known these guys your whole life - and in such a short span (150 pages)? The psychology of the "terminally ill" patient, brought to life in a short story as vividly as though you were part of Crowd yourself.

Posted By: Cheshire Human

-

August 10th, 2010 9:30:21 am EDT
The Bataan Death March (google it), on Steroids, and All Volunteer... Great book.

Posted By: Rachel Peters

-

July 27th, 2010 3:35:55 pm EDT
It couldn't have ended another way.I had nightmares about my son signing up.

Posted By: Krzychu

-

July 24th, 2010 5:12:09 pm EDT
do the movie... come on!

Posted By: Friend

-

July 13th, 2010 9:00:20 am EDT
I think that the figure that comes up at the ending was one of the soldiers going to kill Garraty because like one of his friends said early in the story that they probably will just shoot the last man standing...

Posted By: Israel Smith

-

July 4th, 2010 1:13:57 am EDT
I loved this book. I first read it when i was in 8th grade. i just graduated and ive still yet to read a better book. My copy unfortunately never got returned to me after i let somone read it and i cant afford to get another

Posted By: Asha

-

June 30th, 2010 7:30:00 pm EDT
I can see why someone would think the book is lame based on the description but it's really not. It's very psychological and I loved it, especially the open ending.

Posted By: Ahmed

-

June 23rd, 2010 2:03:35 pm EDT
My favorite characters were Mcvries, Olsen, and Ray. Tremendously Amazing Novel great work Stephen!

Posted By: Lucia

-

June 22nd, 2010 3:25:10 pm EDT
Definently Has The Air Of The Godfather Of Fear's (Stephen King's) Writing Style, I Know That Just By Reading The Synopsis. Sounds Good I'd Love To Read It.

Posted By: Tiffany

-

June 20th, 2010 10:40:45 pm EDT
This is my absolute favorite of Mr. King's works as Richard Bachman, I think that the writing, storyline, each and every macabre little detail are all just amazing. The story just blows your mind, especially the ending..(that is not really an end.)

Posted By: Anonymous

-

May 29th, 2010 9:45:04 pm EDT
I think Ray went mad and was stuck between the worlds of the living and the dead.I don't think the shadow man was his father just because he didn't believe in the walk.Maybe the shadow man was McVries.Maybe Ray was still trying to pay back his debt to him and wanted that second chance to see who the real winner would be,without interference,if it were only him and McVries.Of course only making sense to a madman,as I'm sure he was in the end.

Posted By: John

-

May 28th, 2010 4:15:57 pm EDT
I just love the way King takes a bizarre central plot point...like this Long Walk...and sets in a society that seems almost normal. It's sort of like The Sopranos on HBO. You end up rooting for mafiosi by being involved in their every day lives. Also, just wondering what the heck has gone on in society to get to this "Christians devoured by the Lions" spectacle to be accepted as entertainment. It was really excellent, and could make a tremendous movie, much like "The Shawshank Redemption".

Posted By: Anthony

-

May 4th, 2010 5:42:17 pm EDT
I think in the End the General is actually Rays father and Ray might have died because he runs out the rest of his energy.

Posted By: Michael

-

April 13th, 2010 2:17:34 pm EDT
This novel was very interesting and i was really interested in how the main character Garraty survived that long in the Long Walk and im very confused and I need to know what happened to Garraty in the end of the novel. I would feel upset to if people that I get to know as friends died.

Posted By: Jake

-

March 19th, 2010 3:47:54 pm EDT
I don't know how I missed this one, but it blew my mind as much as 'The Road' did. Heavy, heavy stuff. Freaked me out.

Posted By: Heather

-

February 4th, 2010 10:47:09 pm EST
this story chilled me to the bone especially the end which seems at one point victorious and then switching to tragic. I was mesmerized.

Posted By: Rudolf Niehaus

-

January 22nd, 2010 7:19:09 am EST
Excellent story.

Posted By: Mangan

-

January 11th, 2010 2:04:46 pm EST
I read The Long walk (Swedish translation: "Marathonmarshen") as a child and i remember having a big inpact on me. It was by far the best King book i had ever read. Growing up in secure country of Sweden where nothing horrifying ever happends. Kings books where about the only place u could escape boring reality for a teenager. Also made some special work on Stephen King in School (one of the few good degrees i got that year). After a couple of years i totally forgot about King and The Long Walk. Last summer me and my fiance bought an old wooden house on the countryside and i found my old King books , and i started reading The Long walk again, and it blew my mind. Scary and brilliant. As an adult u see stuff in the plot that u didnt see as a child. Looking forward to see the Movie.

Posted By: Yvette

-

January 10th, 2010 6:57:47 am EST
I've read this book over and over again... read it every once in a while. It's def. one of my favorite books of all time!

Posted By: Rob L. (S. Africa)

-

January 8th, 2010 9:11:50 pm EST
I've read this one two or three times a year for the last 18 years or so. It's like a bit of exercise I simply need to do. Seems to keep things in perspective. Doesn't need the silver screen, but could adapt well. Well done Dick/Steve.

Posted By: XP3AC3MAK3Rx

-

December 22nd, 2009 10:06:13 am EST
Brilliant. Nuff said.

Posted By: Stuart

-

December 19th, 2009 3:07:00 pm EST
this is the 2nd time ive read this book and i loved it even more when i did. It is by far my favourite book of all time. the story is fantastic although darkly disturbing the longer the walk goes on. the relationships formed.particularly Mcvries and Garraty are heartbreaking. i love this book and hope F.B does it justice,unlike The Mist

Posted By: String6

-

December 11th, 2009 1:09:24 pm EST
The book is great. I would love to see this made into a movie, I am surprised that it hasn't been yet.

Posted By: Scottycujo

-

November 18th, 2009 12:28:09 pm EST
This book has one of the most frightening, insane plots of all time. The ending in particular is just wonderfully dark and intense. HIGHLY recommended from my point of view. And I also agree that this could be a movie of epic proportions.

Posted By: Barb

-

November 18th, 2009 6:41:57 am EST
the best SK short story ever. i've been reading this at least 3x a year since i was about 16. if done right, a film version would be breathtaking.

Posted By: Anonymous

-

November 7th, 2009 6:42:14 pm EST
make the long walk in to a movie will be a blockbuster

Posted By: Raju

-

September 26th, 2009 2:06:56 pm EDT
Great book - my favourite of all time. I love it and really recommend!

Posted By: Belinda

-

September 1st, 2009 11:01:46 am EDT
This was the first book I read under his pen name Bachman, and it was really dark and made me sad, thats new territory for me when reading Mr. King.......great book!!

Posted By: Lukas

-

August 10th, 2009 7:24:46 am EDT
Awesome story! My favourite SK so far. I read it in one day, I simply couldn't put it down. I read it on the beach, at the house, in the airport, in the airplane, and after I was finished I thought about it for a week. I still think about it some times.

Posted By: Stephanie

-

August 8th, 2009 11:28:06 am EDT
This novel is asbolutely amazing. The originality of the entire thing is outstanding, and the message behind the story is chilling. Wonderful!

Posted By: Glen Ramsden

-

July 13th, 2009 4:38:45 pm EDT
After Roadwork, this is my favorite King story. Apparently Frank Darabont (of Shawshank and Green Mile fame) has secured the movie rights.

Posted By: Anonymous

-

July 7th, 2009 9:31:34 am EDT
Out of all that I have read by SK, I loved this one and it is my favorite. I have dreams similiar to this story and it reminds me of a particular road march when I was in the Army. Great Story and original....

Posted By: Bruno

-

July 5th, 2009 11:56:15 am EDT
This was my first Stephen King novel and it was great. I read it all in 3 days. I was awake so late and could not put this book down!

Posted By: Suicidal Pare A Shoot

-

May 24th, 2009 12:39:46 am EDT
this book changed my look on humanity it really opened my eyes and saw that there is something more to life than well what you see everyday...i will tell you one more thing though well how should i put this, i will never complain about walking again

Posted By: SquirrelMaster

-

May 20th, 2009 6:45:23 pm EDT
I read it once in middle school and now that i'm in college I decided to give it a go again. I'm very glad i did! I'm barely recalling things from the first time and expecting one thing but they're far more intense and different from how i recalled. Love the book.

Posted By: Warsaz

-

April 22nd, 2009 9:40:51 pm EDT
first book by stephen king i. read it was really good.

Posted By: Blaze

-

April 19th, 2009 4:49:25 pm EDT
Good story..Every page have real thriller

Posted By: Gwallijr

-

April 9th, 2009 3:57:22 pm EDT
This was the first King book I ever read and the first book I remember thinking with reading I can go anywhere. It's an all time favorite.

Posted By: Amanda

-

March 28th, 2009 3:52:30 pm EDT
There is not much more to say except this book is wonderfully written, the characters expertly crafted. This is one of my all time favorite King/Bachman novels. -Amanda,17, NJ

Posted By: MattyGibbs

-

March 22nd, 2009 12:42:24 am EDT
This has to be one of my favorite books ever written, maybe second to IT, but I just love the plot... and Stebbins.



Posted By: Marin

-

March 18th, 2009 2:03:33 am EDT
best among the novels featured in "The Bachman Books". It really pulled me into the story. Love it

Posted By: Samm

-

March 15th, 2009 9:17:12 pm EDT
This is my all time favorite story! I have read this one a hundred times if not more. I feel every aching step all of those boys take.Thank you Mr King for all of the truley enjoyable and frightening works that you have shared with this avid reader.Thank you Thank you

Posted By: Sexkitten

-

March 14th, 2009 11:08:07 pm EDT
This is one of the best stephen king ( Bachman ) books I have ever read, I read it when i was a teenager and have never forgotten it. For anyone who loves a great on the edge of your seat book this one is for you.

Posted By: Sheena

-

February 5th, 2009 1:40:47 pm EST
I have just read this book for the second time. The first time I read it was when I was going through a time where I was a big fan of Takami's 'Battle Royale'. A friend had told me about this book and I had decided to check it out, and enjoyed it throughly. But the second time, the poignancy and camaraderie seemed to hit me deeper. In this book, there is no escape from what they themselves have put themselves in for, there is no real backstories and there is a feeling of being there with them, walking those hundreds of miles and feeling their pain. The ending is one of the best I have ever read in my life. The amount of interpretations is immense. ---SPOILER--- Was Garraty running toward death or not? I guess we'll never know, and the fact that this book can haunt you for many days and weeks after closing the back cover, is what makes it remarkable and one of my favorite books in my 19 years.

Posted By: Anonymous

-

February 2nd, 2009 9:14:22 pm EST
A truly amazing story, and my all time favorite novel. I have had it in my collection for years, and still read it when the mood strikes. I carry it with me where ever I go, and reccomend it to any and everyone I meet.

Posted By: Kristin

-

January 16th, 2009 2:41:39 am EST
this is my all-time favorite King book - not to mention favorite book generally speaking. always has been, always will be. if at all possible, i someday seriously want to get this book adapted into a graphic novel.

Posted By: Mande

-

January 2nd, 2009 7:03:26 am EST
My 2nd favorite story (Talisman is forever #1). This one touched me in a deep place and will always stay with me. Thank you, thank you, thank you.

Posted By: Petia Petkova

-

November 28th, 2008 3:12:00 pm EST
don't offence but this is the best king's book.it is deep and phylosophyc.life and death are all in one beyond the physical.

Posted By: Xuxa

-

November 25th, 2008 9:52:19 pm EST
This is my favourite King story. This is the book that made me want to become a writer. The characters have no interest in each other as they are adversaries, yet bond so deeply despite their individual fates, histories and motivations. Human nature at its best and its worst depicted so graphically.

Posted By: Todd Butler

-

November 16th, 2008 8:48:11 pm EST
Great book, I lost my paperback copy on my way back home from Cancun, I was reading it for the second time

Posted By: Beautiful Scars

-

November 16th, 2008 4:54:20 pm EST
I love this book so much! King is one of my favorite writers. I am doing a book report in school, and this is the book I chose. My teacher thought it different for I am only 13, and this is such a big book. Ever since I read it the first time, I can;t put it down!

Posted By: Mauijim

-

November 12th, 2008 5:40:31 am EST
my feet hurt every time i think about this story.

Posted By: Blazedale

-

November 6th, 2008 11:34:26 pm EST
This is one of my favorite books. It scared the mess out of me. I read it almost all at once and when i finished it all i could think about was how bad i need to get in shape. I have a pretty strong will to survive but Im not sure if my body could hold up to that kind of abuse. I have bad legs, bad knees, a bad back and migranes that could kill a horse. Anyways its a book that i will never forget. If your ghosting around the site Mr. King I just want to say Thank You.

Posted By: Dave

-

October 21st, 2008 11:26:16 pm EDT
This is my favorite book from Bachman and Stephen King! I have read it about ten times and i still cant put it down! This is one of the best.

Posted By: Danag

-

October 17th, 2008 7:34:35 pm EDT
This is by far my favorite of all of Stephen's stories. I remember reading it in middle school back in the 80's, and I have never forgotten it. One night, while driving on the outer loop of Richmond, VA, I was forced to stop and use the side of the road for a restroom, and I thought about that book! If you have read it, you'll understand why.

Posted By: Thegiantcookie

-

September 25th, 2008 1:26:20 pm EDT
seriously these are my favourite type of king books. the more ...'physical' books that are less to do with the whole supernatural thing and more down to earth i loved this and the running man more than any others from the bachman authorage and cujo and desperation (call me a hypocrite for the last one) write more like this :D

Posted By: CatQ

-

September 23rd, 2008 12:15:16 am EDT
I have read a lot of Stephen King,And The Long Walk Is the one that has stuck most in my heart and my mind.The characters become "real" to me every time I read it.They reach out and grab a hold of my soul and don't easily let go.

Posted By: Sthomagu

-

September 21st, 2008 7:17:37 pm EDT
This is my favorite too. I keep re-reading it every five years or so and see it differently each time. It to me is an allegory of life. We are all on the The Long Walk. Dying, wondering what we are doing here, competing against one another, yet trying to hold onto each other even if not in our best interests because deep down we are all lonely and afraid. Ray Garraty, "Maine's Own" will always be in my heart. I wonder that no one has ever said more about this novel. To label it as "horror" is a shame. It is an amazing story full of metaphor. The conversation with Stebbins and the carrot. The mule doesn't like to plow, but he loves carrots. It is about us! I love this book.

Posted By: Ariel

-

September 19th, 2008 8:34:48 pm EDT
This book was incredibly disturbing and amazing. I'm still in awe of the story, and the characters. The Long Walk has been burned into my brain, and continues to haunt and fascinate me long after I've read it.

Posted By: Teash

-

August 29th, 2008 8:24:26 pm EDT
My personal favorite by far. Simple story, but this thing grips me every time I read it. Would be an incredible movie, don't you think?

Posted By: Ty

-

August 27th, 2008 6:18:45 pm EDT
this novel reminds me of the Japanese thriller: Battle Royale. in BR, teens are forced to kill off each other on an island until one remains. it goes really in-depth into each character, and is really brutal. each student is given a "weapon" as lethal as an uzi, to a fork. greatest 500 pages of literature. evar.

Posted By: Jess

-

August 26th, 2008 11:42:56 am EDT
This is truly one of the most amazing books I have ever read.... There are no words to describe how spectacular this novel is.

Posted By: Punkrockmatt

-

August 18th, 2008 8:30:44 pm EDT
im about halfway through this one and like most others, cant seem to put it down once i get started. garaty is such a timeless character, as well as the rest of the long walkers

Posted By: Sanatos

-

August 15th, 2008 12:24:59 am EDT
One of my favorite as well!

Posted By: I

-

August 4th, 2008 1:21:45 pm EDT
Possibly my favourite Stephen King story, I love it! =D