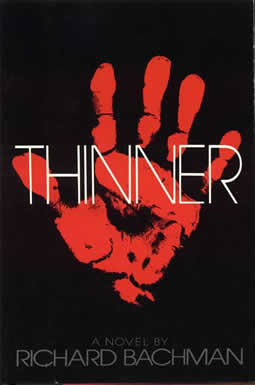 Fan submitted reviews of Thinner (Bachman Novel):

Posted By: Luis

-

November 20th, 2012 9:55:23 am EST

Excellent story, I enjoyed every page of it. I have to say that I didn't expect the conclusion but was perfect and I don't feel bad for Billy.

Posted By: Josh

-

October 4th, 2012 2:08:16 pm EDT

This was one of the best movies I had ever seen in my life, and it teaches a lesson.

Posted By: Terri

-

April 8th, 2012 11:58:47 am EDT

Thinner was original and oh so spooky! It weaves the reader through a culture - gypsies - that has intrigued people for a long time. I loved it and it is one of my favorites by Mr. King.

Posted By: Anonymous

-

February 8th, 2012 3:02:12 am EST

i loved it i saw drag me to hell first which was strongly influenced by this movie, this movie is funny at times, scary and made me think before i do stupid things incase of gypsies curses :) one movie which truly is the best, hard to comeby now a days.

Posted By: Elena_hotina

-

January 11th, 2012 2:20:47 pm EST

cool

Posted By: SnowyTheNerd

-

August 24th, 2011 11:44:53 pm EDT

awsome....this whole year im only going to read stephen king

Posted By: Keith

-

July 10th, 2011 9:57:26 pm EDT

Well, I am back as an official "reader" of this book. Verdict: Great. The Bachman books demonstrate a grim attitude that reveals, sometimes, there is no way out, and things sometimes... just dont get better.

Posted By: Keith

-

July 5th, 2011 12:12:59 pm EDT

This is an incredible, chilling thriller that has me turning page after page. I am not finished reading it, yet, but have to post my thought on it. Chilling is all I can say!

Posted By: Anonymous

-

April 15th, 2011 10:05:58 pm EDT

I find this book incredibly offensive, and even downright racist to the Roma. It portrays gypsies as inhuman and evil, a level i wouldn't expect Stephen King to sink to.

Posted By: Double Douces

-

March 22nd, 2011 12:42:05 pm EDT

i am reading this as an American Gothic Novel and i am trying to relate it to other Gothic novels of early America and i am at a stand still all i can match so far is the horror in it

Posted By: MustReadSK

-

January 22nd, 2011 11:20:47 am EST

I think this is one of the less good SK books. Still awesome of course, but it doesn't get close to, say, The Shining, Pet Sematary or Misery... but still, you should read it.

Posted By: Renfro A

-

November 15th, 2010 12:49:28 pm EST

Well I am reading it and it's slow at first but I bet there will be action for me reading a Stephen King book for the first time it is interesting well bye I want to read it now:)ps: i got it from my school library-checked it out!!!

Posted By: George1947

-

November 12th, 2010 10:25:01 pm EST

i loved thinner i mentioned something about the narrative head down the gypsy and the main character who was cursed were to meet at a park at the corner of union street and westbrioadway and the gypsy would take the curse off oh heavens i lived on west broadway one house down from union street in 1975 oh by the way thereis no park there it is just a novel i got kick out of reading it of course it implies nothing i am from the class of 1970 at u of maine thanks for reading

Posted By: Anonymous

-

October 25th, 2010 3:26:41 pm EDT

I read Thinner when I was either 11 or 12.I'm 13 now.I thought this book was very good,the ending was cool.Lol the pie.This was the first book I read by Stephen King,I just read Misery.I love Misery way more!

Posted By: S.K.Rules

-

October 17th, 2010 3:38:50 pm EDT

Just finished this novel, completely awesome, gave me some horrorific images. I know the Bachman novels have a darker ending to Kings novels, I execpt that (I didn't mind how the regulators ended) but I didn't like the way this one did. -*SPOILERS*- ( DON'T READ ON IF YOU HAVN'T READ THE REGULATORS) It was annoying after all Billy (and we the reader) just for him to kill himself. In the regulators when Seth kills himself is different because nobody in that storie knew he was going to do that and he was more sacrificing himself the killing himself.

Posted By: @mariiaelisa

-

July 19th, 2010 1:55:04 am EDT
I stole this book from the library at my school. :)

Posted By: Noriedette

-

April 9th, 2010 12:24:53 am EDT
I'm currently reading Thinner...and as far as I can tell about the story,it was awesome and fastpaced and a really chilling story...it really got me hooked to it....

Posted By: Clare

-

December 22nd, 2009 9:23:06 pm EST
I agree with Michael. It was a good book, but the ending was really shocking.

Posted By: Michael

-

August 1st, 2009 3:43:41 pm EDT
I just finished this book and to be honest the ending shocked me. I enjoyed reading it but wow. That's all I really have to say.

Posted By: DawnPatrol666

-

February 14th, 2009 8:29:02 pm EST
Totally awesome book I would definateley recomend it for anyone who likes Stephen King.

Posted By: Edwards

-

February 11th, 2009 7:41:22 pm EST
It is a very good book and, I couldn't put it down.

Posted By: Frank

-

February 3rd, 2009 1:24:02 pm EST
good book

Posted By: AmareS

-

November 28th, 2008 9:48:28 pm EST
awesome, i love this bok. really exciting. it's certainly the best bachman book, alhtough the ending was rather disappointing :(

Posted By: El Greco

-

August 7th, 2008 4:57:27 pm EDT
Haven't read the book but seen the movie some years ago. Excellent story althought i do not know if the ending is the same on screen and in the book.