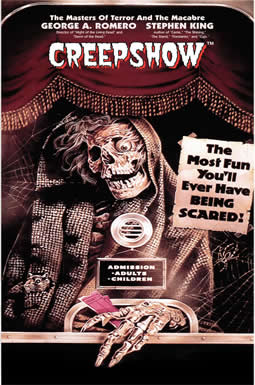 Fan submitted reviews of Creepshow (Movie):

Posted By: Cannonball

-

September 7th, 2012 10:05:23 pm EDT

A true homage to the E.C. Comics of the 1950's, directed by George Romero and a screenplay written by Stephen King. In fact this was King's first screenplay. A great anthology film. This movie has some great little horror stories. Corpses coming back to life, Meteors from outer space, revenge by drowned corpses, a monster locked up in a crate hidden uderneath some stairs, cockroaches getting revenge on a neat freak with a horrible personality and a son getting back at his father using a voodoo doll. This is a fun movie that doesn't take itself too seriously and that in turn makes it an enjoyable film to laugh at and be creeped out by all at the same time. It also features a great cast including Ed Harris, Stephen King, Leslie Nielsen, Ted Danson, Hal Holbrook and Adrienne Barbeau. This is a great film.

Posted By: LeoBowman

-

April 16th, 2012 11:17:27 am EDT

I can't say enough of the assorted chills I received watching this sweet little piece! It was a trick to try to wash away the privious saga and still grasp what was happening in the feature running[?] But, don't worry, because it is just as fun to have an excuse to watch these collections over again too get it right the second time[s] Ha! There's a 3? can't wait!!! Enjoy Kiddiez!!!! aka Miles Walker,Saint Pete

Posted By: Andie

-

December 6th, 2011 6:27:09 pm EST

Just bought this from my local mall- ofcourse I loved it in the 80's. The nag for a wife is too funny but for me it's a toss up between that skit & the roaches. If you've ever lived in a warm climate those critters get into the strangest places. I was making some rice from a box & was ready to service it when I looked (down) to throw away the empty container a baby was in it. Then I opened up the other box inside my cupboard- and low & behold they scurried out after I dumped the contents in a bowl. It makes me laugh like this collection. Lesson learned I buy cereal now & rice in a sealed bag. This collection is classic.

Posted By: Olivia

-

September 29th, 2011 12:53:57 pm EDT

The movie was so awsome but totally terrifying that i could hardly move because i thought someone would grab me.

Posted By: Anonymous

-

September 18th, 2011 9:35:17 am EDT

this movie was great.it was funny as well as scary.stephen should make another movie like this.

Posted By: N Stern

-

July 9th, 2011 3:48:07 pm EDT

Very original. Very King! Great stuff!

Posted By: Angie

-

November 8th, 2010 5:51:24 pm EST

Wow awesome movie!

Posted By: McDave27

-

October 27th, 2010 12:18:35 am EDT

I am an E.C. Fanatic, maybe a term Uncle Stevie would be familiar with, although that was way before my time, and this is one movie that Steve did which was inspired from those old mags of Tales from the Crypt, Haunt of Fear, Vault of Horror, and all the rest of those E.C. titles of so long ago. I got a big kick out of it. My wife tells me to stop with the Stephen King already, but I can't, I'm hooked.

Posted By: Jason

-

May 19th, 2010 10:44:19 pm EDT
Dear Stephen King I just wanted to say i think you are a great person. I love all your books and movies you have made. I hope you bring more books and movies out in the year 2010. You are one of my favorite in my books that i read. Thanks Jason Fennell

Posted By: Carly

-

April 27th, 2010 12:46:01 pm EDT
funny

Posted By: TJK ERNST

-

March 17th, 2010 12:13:45 pm EDT
This movie is pretty dang creepy. It was kind of corny, but still pretty creepy. Stephen King's Jordy Verril part was my favorite but the thing in the crate was the scariest part. I have to give it a good rate because it was made by the two most famous masters of terror: Stephen King and George A. Romero. Both are my role models.

Posted By: CJ

-

August 20th, 2009 11:32:26 pm EDT
The Crate episode was really creepy and scary when I was 12., but now it's just cheesy-cool! Loved seeing King in a longer role, even though he couldn't act his way out of a paper bag. Yea, I don't know what that means either. :) This Constant Reader would give it 4 1/2 stars!

Posted By: Peter Worthers

-

May 23rd, 2009 8:10:46 am EDT
This movie scared the crap out of me as a kid and made me want to read both Mr Kings novels and Tales From The Crypt. Now, a HUGE fan of both!

Posted By: Startelme

-

March 12th, 2009 3:23:04 pm EDT
I have always loved these shows!

Posted By: King Fan

-

October 7th, 2008 7:07:44 pm EDT
A fantastic movie, one of my favorite Stephen King movies with Misery, The Mist and It.

Posted By: The Creepshow Creep (CreepshowCreeps.com)

-

August 15th, 2008 11:56:47 am EDT
The best film ever made!