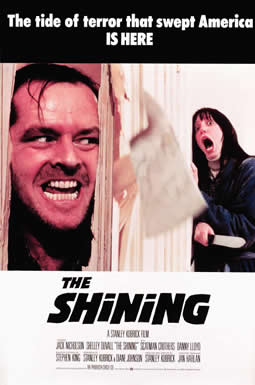 Fan submitted reviews of Shining, The (Movie):

Posted By: Anonymous

-

January 3rd, 2013 6:44:20 pm EST

i liked parts of the book better and parts of the movie better; book was with the overlook being destroyed, the hedge animals, and jack bashng in his face so danny couldn't reconise him as his father; movie heeeeer's johny, the hedge maze, and the whole scene with all work and no play makes jack a dull boy. Either way i think that it is a great story both ways it was told

Posted By: GODOFWAR

-

September 27th, 2012 2:51:22 pm EDT

i have read the book. seen both of the movies. i belive this to be one of the best of Stephen King's books. i LOVE every second of it. i also recomend if you like the Shining to watch or read Misery, the Tommyknockers, Desperation, and The Dark half. i've seen all of those and they are AWSOME!!! Thank you Stephen King for the years of Horror we as people have all been waiting for.

Posted By: Cannonball

-

August 15th, 2012 12:04:22 am EDT

My thoughts on the 1980 film ( not the novel or TV mini series from the 1990's ) . It has a great cast led by Jack Nicholson. The interactions between Danny Lloyd and Scatman Crothers are excellent. The scenes between Nicholson and Philip Stone are great. The hotel itself is the best character in the movie. The camera work is phenomenal. The soundtrack is eerie as hell. This is one of the best horror films of all time. A great film. A true horror classic.

Posted By: Adultswim

-

July 7th, 2012 8:12:57 am EDT

Wasn't it "Room 217" ??? Small but still popped out at me after going through the book.

Posted By: Nikki

-

June 8th, 2012 4:01:06 am EDT

Favorite character would have to be Jack. It's #1 on my favorite psychological horror-novel film adaptions, watch it every month [not kidding]. Jack Nicholson is so convincing. It's insane. I don't think anyone could have ever fit these parts like the cast of this film. I'm glad it exists! But I definitely say read the book before you watch it. It's the first book I've ever read from Stephen King and it's the reason I've become a fan of the film as well.

Posted By: 10 Year Old Fan

-

April 18th, 2012 6:42:16 pm EDT

The goriest SK movie I have ever seen!!! I like the line, " Here's Johnny!" Scared the hell outta me!

Posted By: The Goremet

-

January 3rd, 2012 10:41:28 am EST

Nothing says Happy Holidays like "The Shining". All that snow make sme feel right at home during the holidays. After a recent viewing (my 50th one, by far) I am astounded at how atmospheric and claustrophobic this film feels. Let me interject by saying that this film really holds few hands with the book, but as a movie - if you don't think about the book or the author - is a decent film. I love the music and the tone of the movie. Jack Nicholson's over the top performance does not make me feel sympathy for his character, since he pretty much walks onto the scene a little not right to begin with, but I did appreciate Shelley Duvall. The scene in the bathroom with Jack and the axe... have you ever seen a person look that horrified before. The camera shots and interesting additions to the story - like the blood coming out of the elevator - are cinematic gems. That said, the miniseries is so much closer to the book in character depth and plot - and also a very good film. I love Kubrick's film and sometimes have to remind myself that film is an art form and like any art you take away from it what you want, not always what the creator or writer wanted.

Posted By: Dogsoldier

-

December 7th, 2011 10:48:05 am EST

I was very disappointed seeing this film, especially when you see all the praise it gets. I guess people love Kubrick, but to me this was a bad adaptation of a great novel. It wasn't scary, other than Nicholson the acting wasn't that impressive and some of the things that Kubrick changed... Haven't seen the miniseries yet, but I'd rather stick to the book than watch this one again.

Posted By: Anonymous

-

November 5th, 2011 8:16:54 pm EDT

It is the best movie I ever saw. I like the twist of paranormal and phycology in one great film. I congragulate you on the success of this film.

Posted By: BULL****

-

October 31st, 2011 1:19:47 pm EDT

Movie is amazing, book is alright. But we need 3D motha****er we need it IM OUT!!!!!!!!!!

Posted By: Xxcatyxx

-

October 22nd, 2011 9:10:58 pm EDT

heeeereeeeee's johnny!

Posted By: Anonymous

-

October 16th, 2011 9:26:06 am EDT

red rum red rum red rum... finally figured this is murder backwards. The first time i ever saw this movie was when i was about 15 and it scared the daylights out of me. To me that means I thought it was an excellent film.

Posted By: Holmes

-

September 16th, 2011 10:10:01 pm EDT

You can tell that Stephen King had nothing to do with the making of this movie. Everything that made the book great was left out.

Posted By: Cindy

-

August 2nd, 2011 1:59:01 pm EDT

I didnt like the original. It was supposed to be a 'horror film' and instead it was all predictible. The Overlook Hotel is a replica of The Stanly Hotel in Estes Park, Colorado. Instead it was re-created somewhere in Europe. Thats not OK to me...I can't wait to find the Stephen King version of this movie, I also have the book on hold. Overall...Stanley Kubrick needed some help. And the correct room number is 217.

Posted By: ScooterGirl

-

May 17th, 2011 12:41:21 am EDT

Great movie that has "atmosphere" coming off it in waves. The miniseries may have been more faithful to the written word but it's Overlook Hotel was as scary as a Barbie Dreamhouse. Only a great director like Stanley Kubrick could translate the evil that was the Overlook itself from page to screen. As for the human performances, Nicholson nailed Jack Torrance's downward spiral into homicidal insanity and Duvall truly captured Wendy's terror and vulnerability. Good show all the way around.

Posted By: Louise

-

April 30th, 2011 11:08:26 am EDT

Just watched this last night. AWESOME! Can't wait to read the book.

Posted By: Louise

-

April 30th, 2011 11:08:04 am EDT

Just watched this last night. AWESOME! Can't wait to read the book.

Posted By: Liv

-

April 23rd, 2011 3:50:37 pm EDT

I've only seen a part of this.. and it was creepy nice work!!

Posted By: Colten

-

February 16th, 2011 9:56:09 am EST

that movie is CRAZY!

Posted By: DARLENE

-

November 26th, 2010 1:04:12 pm EST

The book is far far better than the movie. Some parts of the book were left out of the movie. Particularly the part when Danny was in the playground and the playhouse. AWESOME!!!!!! But I have to admit the movie is still besides Gone With the Wind, my favorite movie to date.

Posted By: Johnny

-

October 6th, 2010 8:29:08 am EDT
Great movie, although slightly different from the book. Jack Nicholson is awesome as the man slowly being taken over by the hotel. It seems a bit more pragmatic and less fantasy like though. There are no shrubs coming to life or anything like that. It is more up to the viewer to see the change in Jack Torrance. The music is bone chilling. I loved this movie even though it was different from the book.

Posted By: Anonymous

-

September 4th, 2010 1:52:14 pm EDT
When I read the book, I just couldn't wait to see the movie and let's just say that I was NOT dissapointed!

Posted By: MrsPennywise96

-

September 2nd, 2010 7:05:53 pm EDT
I HATE THIS MOVIE! IT SUCKS BOTH AS A MOVIE AND AS AN ADAPTATION TO KING'S WORK OF ART! Well, I'm glad I got that out. Saw the movie when I was twelve (along with It), then read both books. It, the mini-series, almost did the book justice; The Shining, the movie, was terrible. Why, Kubrick, why?! The mini-series, however, was awesome. Garris: I salute you.

Posted By: S.K.Rules

-

August 22nd, 2010 4:24:05 pm EDT
Even though I don't jump when watching or even get a little creeped out watching this it is a really good movie, really in joyable.

Posted By: Justin

-

June 7th, 2010 11:54:46 pm EDT
i have this movie on dvd. 10/10 stars

Posted By: Wfurmeister

-

April 24th, 2010 2:26:20 pm EDT
the first time i saw the shining was in 1980 when it came out, i thought i was the best horror movie next to phantasm, both scared the hell out of me, now i can sit and watch it, and not even get scared anymore, never read any of his books though. but the shining ranks up there with phantasm and halloween as well as the exorcist.

Posted By: Puddie

-

February 16th, 2010 12:42:18 pm EST
this is my favorite the shining is the best stephen king knows how to keep people on the edge of there seats

Posted By: Anonymous

-

February 10th, 2010 9:26:52 am EST
When I first saw this I have no idea how old I was. I read the book in the 90's when I was on a reading kick in high school; it was chilling! It lead me to King's other well know books (the Stand, Carrie, It & so forth). I have purchased both the box office and the tv version. Both have their merits! The box office version was more the bare bones idea King was trying to get across. Whereas the tv version was more of a book adaption. Nothing would ever could ever compare to Kings writing and one's own imagination. One can leave a theater or walk away from the tv screen if one gets so inclined. Reading scary words in scary plots however tends to come back to you when your trying to get snuggled into a cozy slumber. That's why this book has lasted and why we love to watch the movie, however far from the original text it strayed!

Posted By: Anonymous

-

December 30th, 2009 7:51:30 pm EST
I saw this when I was eleven, a little over two years ago. It became my favorite movie and it introduced me to Stephen King's books. I thought this was an awesome movie! I watch it over and over again, and it just never gets boring. It changed my view on hotels, also. :)

Posted By: Scarlett

-

December 16th, 2009 11:56:37 pm EST
the first tv version was not true to the book, however the second was the best even though Jack was not in it.

Posted By: Carcar

-

November 20th, 2009 9:47:56 am EST
wow i thought i would want to read this just because my dad did but.......it looks pretty scary lol just kiddin i am going to read it.

Posted By: Michael

-

September 24th, 2009 7:19:37 pm EDT
BEST MOVIE BEST BOOK!!!

Posted By: Loading ...

-

September 14th, 2009 6:18:01 am EDT
The movie version of The Shining is legendary, the book will live forever, the TV series however was durge, the whole idea of the Overlook Hotel was that it would be a place of complete total seclusion something so maddening that it would drive a man to insanity and murder, unfortunately it seems that Stephen King concentrated so much on relating the cinematic adaptation to the book, he seemed to leave out the scariness

Posted By: JV

-

September 3rd, 2009 10:28:19 pm EDT
Love the tone of this novel; it's probably my favorite of King's works. One thing the Kubrick adaptation got right was Phillip Stone as Delbert Grady. Absolutely menacing performance.

Posted By: Starbar7

-

July 15th, 2009 2:27:23 am EDT
having watched this movie as a child i read the book and i must say to date it is by far my favorite Stephen King book of what ive read so far.....i re-watched the movie and was disgusted by what i saw!!! when the re-make or made for TV version came out i was delighted as this really did the book some justice...and i was delighted to find out King had some input into this one....it really shows!! Stephen is the King...long live the King! lol

Posted By: Kosta

-

July 14th, 2009 11:40:19 am EDT
I am not the one to compare books and movies, but I believe there is always room for exception. The book is Masterpiece. And the movie... well. I re-watched it once I read the book. I could hardly watch the movie even though I love Jack Nicholson. Kubrick seems to me took out all the important things that were in the book. I couldn't help but take movie back to shop

Posted By: Aaron

-

June 28th, 2009 9:45:25 pm EDT
they should make a remake of this movie with more creepyness

Posted By: Hampe Larsson

-

June 23rd, 2009 8:41:32 pm EDT
I can't keep my mind of this film its just amazing, but i got to agree with Stephen on this one, if you reed the book and watch both movies both had like diffrent things i loved the movie that came out 1990? i think not that i was born at that time but i'm so glad i did find the shining its a movie that everybody should read and watch! Cheers from Sweden.

Posted By: Shadow

-

June 12th, 2009 9:31:30 pm EDT
This is one of my fave movies of all time. I have watched this movie so many times, along with salem's lot which is another of my fave movies. I like to fall asleep to this movie alot i have no idea why. One time i fell asleep to it and i woke up to danny screaming red rum scared the heck out of me.

Posted By: DerekFisher

-

May 8th, 2009 6:30:26 pm EDT
I loved the film, my favorite King adapted film and also one of my favorite directors. A very interesting horror film.

Posted By: Rokom

-

March 25th, 2009 1:46:18 am EDT
awesome Movies !

Posted By: Timmii Z

-

March 1st, 2009 2:26:45 am EST
This has to be one of the scariest movies i have ever seen, and by far the best. All praise to S.K for being awesome

Posted By: Here's Johnnnny

-

February 21st, 2009 1:46:46 pm EST
If you want to see a better version of The Shining watch the remake TV movie. Stephen said he hated the Stanley Kubrick version and from now on he took more control of the movies.

Posted By: Mick

-

February 13th, 2009 2:36:04 pm EST
No it is not the novel, but it is one of the 3 scariest films of all time, and a heck of a insight to a child's view of domestic abuse

Posted By: Bessie

-

February 3rd, 2009 2:47:31 pm EST
This movie was absolutely teriffic......Jack Nicholson was the perfect Jack Torrance.....But, as always, the book was better.

Posted By: Sparky

-

January 14th, 2009 2:23:48 pm EST
The Shining is a true classic! Stanley Kubrick's best directed work of all time...I visited the Stanley Hotel were Stephen King got his inspiration for the book....Loved It!!Estes Park Colorado a must see......M.H. Morganfield, Ky.

Posted By: Jonny

-

January 10th, 2009 7:19:34 pm EST
all i have to say is heres jonny.

Posted By: Barbie

-

November 12th, 2008 8:27:25 pm EST
STEPHEN KING JACK NICHOLSON = THE PERFECT MATCH

Posted By: JenRains

-

November 5th, 2008 7:25:51 pm EST
The Shining just made number one on the scariest movie list I came across on Halloween. Watched it once again the next day on TV. This movie is classic horror in human nature (but the book was better). Still loving 1980 Stephen King.

Posted By: Vassago

-

October 16th, 2008 7:41:52 pm EDT
Mr. Stephen King, I must say that I haven't been much of a Horror fan 'till very recently, but when I first read "The Shining", meaning 1 month ago, I knew then that I'll be reading even more of your creations. Oh, and it all started with the movie "Storm of the Century". :) Thank you for your in-depth knowledge of the human psyche and style in writing such masterpieces. Thank you! 'Vassago' from Romania, 26 / 27 years-old

Posted By: Jen

-

October 14th, 2008 11:47:17 am EDT
I avoided watching this movie for years because the novel scared the life out of me (all three times I read it), but the movie disappointed me beyong belief. The camera work, sound & editing are great, but the story left SO MUCH out that gives the novel its appeal and scare factor.

Posted By: Veronica

-

September 8th, 2008 10:48:08 pm EDT
September 8,2008 The Shining is my favorite S.K. book and the film is my favorite horror film and best one from S.K. books.I love the setting how it takes place in a big old Spooky Hotel in the desolate winter in the mountains. Jack Nicholson was perfect as Jack Torrence and I couldnt imagine anyone else in that role. I love the whole settting in the Shining.

Posted By: Eleanor Rigby

-

August 24th, 2008 11:41:26 am EDT
One of the best movies from King's novels E.R.