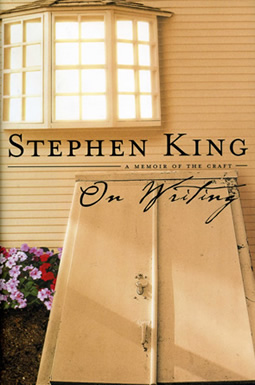 Community Thoughts on On Writing: A Memoir of the Craft (Nonfiction Work):

Posted By: Nailahi

-

April 14th, 2012 8:03:14 pm EDT

Absolutely the best book about the craft of writing I've ever read. I always recommend it to my students & gift it to the special writers in my life.

Posted By: BorysK

-

March 14th, 2012 12:39:29 pm EDT

I thought the book was amazing. I am not a writer, but it is inspiring, full of great anecdotes and packed with knowledge.

Posted By: BDRichardson

-

March 4th, 2012 11:04:20 pm EST

Hello, "Mr. the King!" (quote from CARS) I'll just have you know. You're my muse now. Thanks a lot for that. Or my supervisor. You're pretty mean when it comes to me whining about the difficulty of production in the midst of life's various woes. Plus (as you pointed out) you're not a hot girl. Anyway. On Writing might have changed my (writing) life. Thanks for the permission slip, and lighting my exodus from "politically correct society." I'm sure you've heard it a bunch of times. But I figured I owed you some kudos. Anyway... Thanks, BDR

Posted By: David Hoag

-

February 25th, 2012 5:39:53 pm EST

DEVELOP A STORY HOW TO DEVELOP AND FINISH STORIES Look in your files for a story that seems stuck, a story that has a story block. Next, write at the top of a separate sheet of paper the two words WHAT IF. Now write five ways of continuing the story, not ending the story, but continuing the story to the next event, scene, etc. Let your imagination go wild. Loosen up your thinking about the events in the story. Your what ifs can be as diverse as your imagination can make them. More than likely, and this has proved to be true through years of teaching and writing, one of the what ifs will feel right, organic, to your story and that is the direction in which you should go. Sometimes you will have to do several groups of what ifs per story, but thats OK as long as they keep you moving forward. - From On Writing. by Stephen King, 2000

The whole process of creative writing reminds me of Robert Frosts poem The Road Not Taken. The only given is that a character does SOMETHING, Who the character is, and what the character does, is something that is left entirely up to the writer. That said, it seems to me that the best generator of fiction would consist of a team. The team would be part child-like and preferably young to do the sort of thing that children do all the time dreaming up what-if situations at a moments notice; this team-member, by definition, would be the artist. Part of the team would also have to be well educated in the use of the English language -- knowing the subtleties of meanings, how to change voice and how to change point of view, and when to do it; this part of the team would, by definition, be skilled. The best candidate for this educated part of the team would be an experienced fiction writer. This truth was brought home to me a few years ago as my 12- year- old grandson, Richie, sat at this computer and composed a brief story based on an ancient culture which he was then studying in social studies. The assignment would be judged by both his Social Studies and English teachers. The complexity of the story that he turned out in one evening was something that I marvel at, even now. It would have taken me at least a week to do that. I quote his beginning, The male children came running up the perfectly carved steps of the massive temple. They marched in one by one in a single filed line to their places on the stone ground. The children stared intently at me, ready to begin their lesson of the glorious civilization of the Aztecs. This is how my day goes all week. All year. The lesson today was on the gods, particularly Tlaloc, the god of rain. After the lesson the boys left and my schedule took me down the stairs of the temple. My body bore no shirt, but I was covered with jewelry and a headdress. As soon as my body left the blistering heat of the temple, a new heat source arose. The god of Huitzilopochtli shone down on the city of Tenochitlan like a torch in a black bottomless cave. It was the time of spring. Xipe Totec was working his magic on the land and the city. ` Do you see what I mean? (He went on for about 1650 words in this vein.) A social studies assignment when I went to school might call for some elementary research in the textbook to get the correct spellings of the names of the gods of the Aztecs, but it certainly wouldnt call for any creativity. I understand, though, that his English teacher is now looking for examples of figurative speech. The invention of strings of words takes considerable time, as well as talent. I think that if I went back to the seventh grade now, at age 73, I would flunk it because I wouldnt be able to produce the homework as rapidly as it was demanded. (When I was his age, no works of fiction were demanded of me. It wasnt until I got into high school that essays or descriptions were required, and then, only one per week.) To save the students time and energy, then, it is my contention that most of the writing required of English students Richies age should be descriptive. As far as creative writing goes, one brief short story per week should be plenty. He should be encouraged to keep a fiction-writers notebook or even a diary, though. The ideas that come to him easily now are things that he will find out of reach when he is older, unless he has a resource such as a notebook to help him. The Ages of Man When I was a child, I spake as a child, I understood as a child, I thought as a child: but when I became a man, I put away childish things. These familiar words of Paul, from the New Testament of the Christians Holy Bible, have always implied to me, up to now, that grown-up attitudes are more to be desired than child-like attitudes. But I now strongly believe that some child-like attitudes are something that we grown-ups would be well-advised to emulate. This is the way I see it: Each of us is born, and begins life at age zero. At that time, the normal babys wants are few, his charity non-existent. His cry means that he is hungry, lonely, or wants his diaper changed. Education continues, both at home and at school in the best cases, and time marches on, and the transitory teen or tween years descend. To my way of thinking, that doesnt mean all childlike behavior should disappear -- just become less frequent -- sort of recede into the background. Likewise, adult behavior and mature adult behavior GENERALLY replaces all learned behavior that preceded it, but not ALWAYS. as noted in the ideal make-up of a writing team. David Hoag, 2012

Posted By: Dave1939

-

February 25th, 2012 11:35:14 am EST

I think it is a great book, and have recommended it to the few aspiring writers that I know.

Posted By: Mishel Mtz!!!

-

February 21st, 2012 12:02:51 pm EST

hey stephen my name is mishel, Im mexican and I admire you a lot!! I read to many books about you and now Im reading On writing...

Posted By: Laura

-

February 7th, 2012 12:40:48 pm EST

I loved this book. It inspired me to keep writing, to do it every day, and to remember it is an act of joy.

Posted By: Sonia

-

January 30th, 2012 7:56:53 am EST

I'm an aspiring writer, and I'm a big Stephen King fan, so I was WOWED, for lack of a better word, when I learned he had a nonfiction book about writing. I got it from the library immediately, and read it within a few days. It's a great book, and I learned a lot about Stephen King that I didn't know before. He also taught me a lot about myself as a person and a writer. Well done, Mr. King.

Posted By: Biert

-

January 19th, 2012 4:17:50 pm EST

Joel, my son, got this book for me for Christmas. Haven't touched it until recently. Thoroughly enjoying it. Almost completely read it while yesterday at the hospital for 12 hours. Pam, my wife, was having some Melanoma cut out of her back. Haven't been much of a reader of books, BUT, I certainly plan on doing that. Love to write. Small things published on line but nothing big. Thanx for sharing experiences on how and why you write the way you do. Very inspiring. Take care. -

Posted By: Cody Rea

-

January 12th, 2012 9:38:30 pm EST

Great read. From a filmmaker's point of view, this book is inspiring, hilarious and real. I look forward to putting the advice learned in this book to my next screenwriting adventures. Thanks for surviving 1999 Mr. King. Cody Rea

Posted By: J. C.

-

December 12th, 2011 11:22:14 pm EST

I would love to have this book for I want to a writer Mr. king is the best writer of all times and carrie was one of his best. love jeanette powell

Posted By: Celal

-

November 24th, 2011 9:09:30 am EST

I read this book six or seven times. This book is on writing but in my opinion, its name could also have been On Life and Writing instead of On Writing. It is also about life as well as writing. Thank you Mr King. Celal Istanbul, Turkey

Posted By: Anonymous

-

November 22nd, 2011 1:30:47 pm EST

This is GREAT!!!! I loved this and there is nothing else to be done (Note the Sarcasm) Maybe you could show the book online?

Posted By: Sherry

-

November 16th, 2011 9:45:22 pm EST

This is the best book about writing that I've ever read. It is honest and that's the message I got from reading the book. Write about what you know.

Posted By: Diana

-

November 10th, 2011 8:56:35 am EST

I loved this book so much that I haven given it away to friends 3 times. I had to keep buying another for myself. Thank you so much for this book. I have read (of course) almost all of your work. The Stand was my fave, after this one. I feel very blessed to have lived in the same era as you, because I know your name will forever be in the history books. LOve and God Bless!

Posted By: Fred

-

November 7th, 2011 7:27:39 pm EST

I have a confession to make. I stopped reading your work back in my college days, in part due to time constraints and lack of funds, but also due to my own changing tastes and a perception that your stuff was (in my youthful, hubris-laden opinion) "going downhill". Now, several years later, I'm suddenly getting the itch to try my own hand at storytelling, and "On Writing" was recommended to me by friends and other books on The Craft. I purchased the Kindle edition on Sunday, and finished it that night. I then proceeded to have odd dreams about large rats invading my luggage while stuck in an airport terminal, but that's beside the point... I'm now borrowing a friend's copy of "Everything is Eventual", and I'm looking forward to getting to know your later work, since I've evidently got a lot to catch up on. Thank you for the inspiration, both to read and to write.

Posted By: Tammy

-

November 5th, 2011 10:51:21 am EDT

I just completed the assignment in this book and do not know where to post it. I enjoyed putting it all together and like how it turned out. The twist on the story about Dick and Jane is definately a good one.

Posted By: Silentwriter

-

November 5th, 2011 4:15:28 am EDT

You have always been my favorite writer! I read your book several years ago and am going to re-read it again. I started to write a "Horror" novel in 2007 then got sidetracked. Now I am waiting for my new Macbook Pro to come and I am going to work in a farmhouse on our property, where there is no TV, Phone, Pets, Husband, and/or any other kind of distraction! Thanks for writing this wonderful book for aspiring writers.

Posted By: Worross

-

October 28th, 2011 12:10:18 pm EDT

Dear Mr.King, I wanted to kiss the words on the page! Thamk you

Posted By: Barbara A

-

October 13th, 2011 11:19:36 am EDT

I only felt "that buzz of happiness, that sense of having found the right words" when I wrote poetry and essays. Fiction seemed too long and too difficult. Two things changed my mind: reading in a biography of Hemingway that when he was a young writer, he didn't think he could ever write anything as long as a novel and your memoir "On Writing." The best guidelines I got from your book are don't avoid writing something because it's difficult and let the 1st draft sit for six weeks before going back to it. I've started a novel (somewhat belatedly in my life) and, because of your book, am going to stick to it! Thank you.

Posted By: Keith

-

October 7th, 2011 2:09:09 pm EDT

THANKS, I really appreciate the effort and I hope you aren't in discomfort anymore. Keith. Ballybrack, County Dublin, Ireland.

Posted By: Naomi Gower

-

September 30th, 2011 6:14:17 am EDT

I have bought and read this book. I am a struggling writer and almost gave up up on writing if I didn't buy this. All other writing books are useless to me now.

Posted By: Brendy

-

September 23rd, 2011 3:34:09 pm EDT

I loved reading this book. I gave it to a boyfriend to read, and didn't return with the guy and lost this wonderful, humorous book. I love to laugh, and it sure kept me laughing and held interest word for word.

Posted By: Mariah

-

September 22nd, 2011 6:57:20 pm EDT

Dear Mr. King, I'm almost finished "On Writing" and figured I might as tell you what I think, even though it's probably extremely rare that you ever actually take a look at these comments. In short, I love it. I love the way it's set up and I really feel like I know you so much better after reading--even though I don't know you at all. There are so many things in that book that I'm using these days. Thank you for writing it. Yours truly, Mariah from Philly. P.S. As soon as I'm finished writing about Dick & Jane I promise to drop you a line ;)

Posted By: Alessandra Boschini Piacibello

-

September 8th, 2011 1:26:16 pm EDT

Dear Mr. King, I just finished "On Writing" and I found it fascinating and true. I placed it on the shelf in my living-room, with English/Italian dictionaries, vocabularies, writing guides and all the "stuff" I've been writing for the last 20 years. Before reading YOU, I had already MY corner, so I was pleased to discover that some of your teachings were already part of my writing setting. While I was reading the paperback edition, two curious facts happened: the afternoon I read about Alma Reville sharp-eyed personality, the very morning I was reading about her acute intelligence on one of Donald Spoto's books; when you talked about your accident, I noticed that most of my mom physical accidents have occured on June, 19. Last but not least, while I was concentrated on the last 30 pages, a wasp bit me on the back. I'd love to use the passive form, but SHE did a really good job. Your sincerely, Alessandra.

Posted By: Crfcaio

-

August 1st, 2011 5:48:24 am EDT

I got the luck to find the paperback version of this book for only 25 cents!!! I am so glad that my teacher recommended this book to me. The first time I read I was amazed by The King's history and what he had to go through to be where he is. Now I can read anytime I want this amazing piece of work that is so helpful and inspiring to me. Thank you, Stephen King. A high school Senior from Santa Monica, CA.

Posted By: Creativeminds

-

July 20th, 2011 9:58:14 pm EDT

The last time I read a book with this much excitement was the Harry Potter series. I read it twice and I still want to read it. The memoir gives readers insight on how to write better essays and stories. I like the part of comparing writing's fundamentals to a toolbox. This will be really beneficial for 11th grade English and the SAT.

Posted By: MikeFright

-

July 2nd, 2011 6:47:41 am EDT

i have a love/hate relationship with this book. i chug from it like vitamins from time to time but then i can't put it down and squander my writing time. so i bought the audio book and listen to it when i am supposed to be sleeping instead. but he cracks me up which startles the dog who barks and then takes off downstairs, so i have to get up and go get him and by then i;m awake, and daing it oh nuts. on balance tho i am glad it's there.

Posted By: Chris White

-

June 23rd, 2011 8:15:14 am EDT

Artists of the world rejoice, Stephen King is talking to you, too! Probably 75% of King's advice in the book "On Writing" can easily be translated into our craft. Just substitute painting (or drawing, or sculpting, or digital painting) for the word "writing". The maxims are the same: be serious or be gone; do it for the love; do it whenever and wherever you can; have different "tools" in the "toolbox" depending on the project, and on and on. Thank you Mr. King for an inspirational book on the creative process.

Posted By: Buffy

-

June 20th, 2011 10:00:09 pm EDT

My high-schooler was assigned your book for a summer-reading project, so I read it as well - first actually. I absolutely loved it. (I apologize for the adverb.) I have so many PostIts and margin notes that I no longer trust my 16-year-old with the book. He'll have to get his own.

Posted By: John Harding

-

May 26th, 2011 5:15:55 pm EDT

On Writing is the best book I have ever read on writing.

Posted By: Anonymous

-

May 21st, 2011 4:39:05 am EDT

it was i read many times (softcopy)

Posted By: Mo

-

May 17th, 2011 10:02:33 pm EDT

Don't know if you read these, but thanks Mr. Stephen King for sharing your experiences and wisdom. I just finished reading it and it read a bit like a love story. A love for family, a love of writing and most and best of all the love for your wife. It was humorous, insightful, helpful and inspirational. I appreciate that you took the time to write this book.

Posted By: Sierra

-

April 24th, 2011 11:51:12 am EDT

love it!!!!!!!!!!!!!!!!

Posted By: Sierra

-

April 22nd, 2011 4:51:43 pm EDT

hiiii I love stephen king!!! I am only 11 years old, I have more than 20 storys written and about 16 of them are getting puplish! I learned that if you don't have the time to read than you dont have the tools or the time to write- thank you stephen king my reading grade went up 50% after i'd read your book ! love yha!

Posted By: Anonymous

-

February 28th, 2011 10:44:47 am EST

This book is really good so far, it makes me remember my life and how great it has been so far, I can't wait to read the rest of the book.

Posted By: Anonymous

-

February 28th, 2011 10:42:27 am EST

this book is good so far, but i am only on page 107

Posted By: James Wheat

-

February 24th, 2011 10:10:02 pm EST

as good as it gets. Thank You Mr. King

Posted By: Anonymous

-

February 21st, 2011 9:41:11 am EST

I collect your books from our Goodwill store @ $1.00 each!!! Have MANY.

Posted By: Dan

-

February 12th, 2011 11:59:47 pm EST

After reading this book, I feel as if I'm ready to start writing my own stories. I actually did the assignment that he assigned in the middle of the book (the one that says to write a short story about a wife getting revenge on her husband). I think it's pretty good, although I was kind of disappointed that there isn't anywhere that I found where I can submit it as was advertised in the book.

Posted By: Gabez

-

February 10th, 2011 6:08:37 am EST

I'm just reading this book (in hungarian, little poor country somewhere between Maine and Russia, you know ;); BTW: Hrabowski is NOT a hungarian name), I like it. So you say Lovecraft couldn't write good dialogues? Damn, I hate his books because of this...:) Best Regards, Gabez

Posted By: Galina

-

January 27th, 2011 2:28:47 pm EST

Dear Mr. King, I have just finished reading your book (Russian version) and the fisrt idea I had was to THANK you from bottom of my heart! I'm writing my first novel now, and it is the most exciting process in my life! So many of your words were exactly those I needed to hear. Thank you!

Posted By: Vicky N.

-

December 15th, 2010 3:22:40 pm EST

Just finished On Writing and I've come hear to sing your praises or to thank Tabby, more specifically for she was always there for you and I think she's marvelous. Tabby, I think you are amazing and if I ever get to be half as good as you I shall be forever thankful, you are now my inspiration. Kindest regards, V.

Posted By: Vicky N.

-

December 5th, 2010 9:57:18 pm EST

Dear Mr. King, I'm seventeen year old from a faraway place, currently I'm still reading your book. Actually, I'm in the writing exercise. I could say this is to say thank you or to praise your magnificence, but I won't state that which you already know. I'm hear losing my time when I should not. Now, I shall continue writing and stop procrastinating and then I will return and praise you as properly.

Posted By: Reader

-

November 29th, 2010 1:39:21 pm EST

As a writer i have to say that this book didn't feel like a self-help kind of book. Instead it fealt as if Stephen King himself was teaching and mentoring me. I have written things in the past. An unpublished/unfinished novel, attempts at other novels and short stories and believe it or not, scripts. But after reading this helpful little guide, i must say that may writting has somewhat improved. I have finished writing my short in early November. It was fun, because I didn't have the pressures of writing a full lenght novel. Byt the time i finished reading this book, it was only my third book by the author. I do however plan on reading more. And i wuld like to add, THank you, Mr. King. It was a pleasure reading "On Writing" and i found it to be very helpful.

Posted By: Elbertika

-

November 22nd, 2010 9:55:42 am EST

On Writing is the first book of Stephen's I've read. My boss advised me to do it and now I 'm grateful them both - Stephen and boss. I'm from Russia and I was reading the book translated on my language. While reading I had a feeling that translation covered the true image of author of this book. At the end of book it seems to me that lines almost have gone and through them I saw a Man. A real man with real soul who wrote this book. I still had a feeling that this is the only book I've read was being written by a real man! A man like we, in flesh and blood. Now I have a desire to know this author more and start acquaintance with him through his other books. Thank you, Stephen, for your creation!

Posted By: Rebecca

-

November 21st, 2010 5:39:53 pm EST

Hello Mr. King, After I read your book I trashed my darlings of 65 pages to start fresh. What helped me most was its direct truth on what works and what doesn't work. The organic way you write gave me the permission to throw out plots and outlines. I know that "On the Road," was written on one long pasted page uninterrupted. I feel magic cannot be interrupted either. I humbly see how much toolbox expanding I need. I am not too proud to bring out my high school grammar book. I agree with what you say, any craft must be mastered for a good rhythm and style to come through. I also just finished up breast cancer so I understand how death can kick your butt into extra creativity. A few months ago I moved from NYC to Bartlett New Hampshire. I am loving the mountains who are as mysterious as skyscraper. Perhaps I will see you in town. If you need someone to read your work, I am available. Besides writing, I am a landscape and abstract painter. Both crafts are so similar.

Posted By: Shelly

-

October 1st, 2010 2:39:41 pm EDT
I must admit that I am not a huge fan or horror. However, I admire and like the person you are and your creative abilities. You have proven that hard work and dedication to perfecting the craft can pay off. I am a twice published author of fiction and no where close to the level of success of you. I read and learned a lot from this book and would highly suggest it to anyone who wants to become a better writer. Thank you for a wonderful tool to add to our writing toolboxes.



Posted By: Dr. Robert Whitefield

-

September 20th, 2010 11:50:01 am EDT
Most usable sections were the use (non-use!) of passive verbs, and the toolbox section. Both deserve to be read repeatedly. Also the toolbox section was a great road map for developing the synapse for writing. Peace Dr. W

Posted By: Dpwriter

-

August 27th, 2010 3:03:04 pm EDT
"On Writing" is incredibly informative and has already improved the quality of my writing. Now I question whether a word is necessary or not and I've cut my use of adverbs and those dreaded Swifties almost entirely. His recommendation also pushed me past my resistance to buying Strunk & White's The Elements of Style. For anyone looking to improve their writing or just starting out, this is an essential read.

Posted By: Xocaseylhox

-

August 17th, 2010 4:08:13 pm EDT
i had to read this book for my summer school reading book, and thought it was awesome

Posted By: Kelcat

-

August 6th, 2010 9:15:29 pm EDT
***CELL SPOILER***
Dear Mr. King, Coming to you from the middle of no-where and bum-fuck Greeneville, TN. J I just finished reading your memoir On Writing and I wanted to send you some thanks because out of everything my feverish little mind has absorbed on writing, your words by far have both inspired me and changed the way I approach my craft. Page after page, I could feel myself letting go of the stress and a little of the self- doubt I have felt every time I sit down and put pen to paper or pointer finger to key. Im a 29 year old wife/mother/private-duty nurse/writer and I have been a fan of yours since I was thirteen and stole away with my older sisters copy of Geralds Game. From there I read everything I could get my hands on, mainly your work, as well as anything by Dean Koontz. (Now dont be jealous, he is no Stephen King). J I felt compelled to write to you for more than one reason, though I know the chances of getting a response directly from you are slim to none. Your story, not necessarily your advice on writing, struck a cord with me because there are similarities between your life experiences and mine. I too grew up with little to no contact with my father in a little town with small minded people. My husband Thomas and I also met at a very young age, had two wonderful little boys not too long there after and we too now struggle to make it from day to day, The things we started out wanting and aspirating to have changed to whatever we have to do to stay afloat and provide a decent life for our babies. While I loved your books, most of them anyway, I had never really sat down and delved into your life, and reading On Writing was a breath of fresh air flowing through my somewhat stagnant life. The thing I am struggling with the most right now is my desire, more accurately, my compulsion to write and the inability to get around all the shit thats floating around in my head. Every time I begin a story, I write like a devil for a week or so then all I can think is what a pile. Why am I doing that to myself? Then I hand over whatever I have gotten down to either my husband, my mother or a close friend and watch them like a hawk, reading into every laugh, creased brow or lack of enthusiasm. Even if they tell me its good or they love it, I simply dismiss it with a smile then have an internal argument with the little bitch in my head. All of this comes after the internet searches on how to develop a plot, creating believable characters and some damn snowflake method I came across that gives me a migraine. God, all I really want is to write! I swear thats all I want. Not even to be published, though I would die for it if given the chance, more than anything I want to feel how you say you feel when youre writing a doozey of a novel. I want that. I want what youve found through your writing. The exhilaration, the escape, the journey through a made up reality that I myself have created. Dont get me wrong, I do write. I love it. Im writing a story now. But I cant stop putting myself in my own way. And also, though I hate to admit it, I cant stop hoping to make a career out of it, to provide my boys with a better life, far away from the negativity my family has showered over me my whole life. I need to get them out, away from the things that left scars on my soul. Sometimes I feel suffocated by the need to be what I know I was born to be - a writer. Thank you so much for being you, your stories have carried me up, up and away so many times when I needed it so badly. Your characters are my life-long friends and I turn to them over and over when I cant stand to be myself or deal with the people in my life. They give me an escape and enjoyment that Ive found no where else. Under The Dome was a stocking stuffer this past Christmas and I read it with a fury, finishing it within 2 weeks of cracking the cover. Loved it. Just finished Cell, which I confiscated from my seventeen year old nieces bedroom while she wasnt looking - once again, wonderful. Though I cursed you at first for killing Alice. *insert sigh*. It was a fantastic voyage. Raggedy Man was just creepy enough to give me a disturbing nightmare. And Liseys Story, oh the rambling you weave. J Once again, thank you so much. I hope to be just half the writer you are. (Top half preferably). Sincerely, Kellie

Posted By: Chartoo

-

July 28th, 2010 12:23:00 pm EDT
Best writing book ever. Sadly, it lays unseen in a box somewhere in my bedroom full of boxes not opened in 3 years. It would be easier to go buy another one, I guess. Thanks for all the tips

Posted By: Jenny And Pearl

-

July 20th, 2010 2:03:31 pm EDT
Without a doubt, one of the best books ever written about writing! Doesn't matter if you're a Stephen King fan or not. I need to read this one again, since I've started writing my blog, to reinspire (is that a word?) me.

Posted By: Richard

-

June 28th, 2010 7:35:10 am EDT
Although I have read many so called "Manuals" on the craft of writing. This is the most informative and practical work it has ever been my pleasure to read. It is now my writers bible. Many thanks Richard O'Callaghan England

Posted By: JJ

-

May 28th, 2010 4:36:37 pm EDT
my grampa gave this book to me in paperback. My first Stephen King book. Im not done but it is well written and im looking forward to puchasing and reading more of his books.

Posted By: Waterh2o ( Bronwyn)

-

May 27th, 2010 11:08:04 am EDT
Hey Melani, thank you so very much. I have placed my order and soon I can start reading. Kind regards Waterh2o

Posted By: Melani

-

May 26th, 2010 3:25:55 am EDT
For Waterh2o ( Bronwyn) Have a look at the following link: http://www.loot.co.za/shop/main.jsp?page=detail&id=6272373082928 I am reading this at the moment and am finding it VERY inspiring!! Hope the link helps :) Regards, Melani

Posted By: Waterh2o ( Bronwyn)

-

May 22nd, 2010 5:15:20 am EDT
Good day, I am from South-Africa. I am a huge fan and always have been, I will always be. I wanted to buy this book, but the bookstores in my town don't even know it exists. I was very angry at this, but they told me to get the barcode for this book. I can't see one on this site, could you maybe let me know how to get hold of this book. I really want a copy. Thank you kindly, best Regards Bronwyn.

Posted By: Fossil

-

May 7th, 2010 12:04:30 am EDT
"On writing" is a generous insight into what you pros do,after reading some of this I think I might be able to write. Are you still looking at attempts to tell stories? My fossils need digging up...Bill

Posted By: Cheryle

-

April 25th, 2010 7:19:07 pm EDT
I bought this book on the advice of a fellow "writer's conference" attendee...arguably the most useful information gleaned from that particular experience. This is a thoroughly engaging read; it left me wanting to get to know more about its entirely funny, straight-shooting author. May we expect an outright autobiography, Mr. King? I certainly hope so. The advice to writers is a departure from the usual platitudes we've all heard plenty of times and is delivered with humor and unflinching honesty. If you are truly interested in writing fiction, please give this book a serious read. Thank you for the glimpse inside your imagineering mind and brutal work ethic, Mr. King!

Posted By: Aurore Christheart

-

March 25th, 2010 9:46:10 pm EDT
I enjoyed this book immensely. As the story of King's life unfolds I can almost see myself following the same pathway, except of course the publishing part. It was very amusing, inspiring, and enlightening.

Posted By: Peter

-

March 18th, 2010 9:56:01 pm EDT
Hi Steve, Reading "On Writing" and perfectly fit to my will! Thanks!!! Want to write and know I can do it well (at least best I can do). As soon as I finish your book will start my draft! Its not easy finding well known writers telling about childhood, family, drugs, inspiration and more... As you TRULLY did on "On Writing". Thanks for sharing tools, ideas and best of all: Encourage to telling stories!!! Peter (from Argentina)



Posted By: Garv

-

February 24th, 2010 9:36:43 pm EST
I would have liked for you to describe what changes your editor makes in your manuscripts and how he or she works with you on the final product. Overall I enjoyed the book very much and it gave me some great insights into the novel I am working on. Thanks for sharing.

Posted By: Robert Berdan

-

February 20th, 2010 1:29:39 pm EST
Dear Stephen: Your book "On Writing" was recommended in a photography magazine called Lens Works. The recommendation said you could take most of what you said about writing and change the word to photography. Some of this is true especially those aspects dealing with passion. I really enjoyed how you presented the information and how you held my interest throughout the book. I wish my english teachers were half as interesting and would have stressed how important writing is. I plan to read the 2nd half of the book again. Your description of your car accident made me feel some of your pain. What I liked most about your book is your sense of humour like the sections describing your encounter with poison ivy and super electro-magnets which take me back to the days I was kid working on my own science projects and almost electrocuted myself. :-) As you say in your book writing is a form of telepathy communicating with others across time and space and even though you wrote this book many years ago your message is still being transmitted and will continue to be far into the future. I only aspire to be a competent writer so I can teach better and share my passion about photography. I believe you have given me a few more tools to do this. Thank you. Best wishes and health to you and your wife in the future.

Posted By: Jodi Marie

-

February 4th, 2010 1:44:21 pm EST
What can I say about this book that hasn't already been said? "On Writing" literally changed my life. Before my high school journalism teacher lent me his copy, I never had the motivation to write the story that I had wanted to write for many months. But I have finally started it, and I couldn't be happier. Mr. King, I have you to thank for that... I am an aspiring writer, and at fifteen I never thought I would actually start this novel... but I have!!! If it is ever published, you deserve to have the number one slot in my acknowledgements. with all sincerity, Jodi B.

Posted By: Writer

-

February 2nd, 2010 11:42:25 am EST
i think the book rocks and really gets you going if you wanna be a writer..it sure did that for me and i really cant wait to hit the world of literature out there..!!

Posted By: Rob

-

January 31st, 2010 4:50:01 pm EST
I enjoyed this book very much, and related very strongly to it... as the method that Stephen seems to employ in his writing is very much like my own. I originally thought that my own style was unique, and that something was wrong with my way of thinking when I abandoned plot and allowed my characters to write the story themselves. This was very encouraging to find that you employ the same technique.. however I was disappointed when I found out that the writing assignment could not be turned in any more. I jumped in and worked on the assignment with excitement and anticipation, but the moment I found that I could not send it in was dispiriting to say the least. I should have expected that, you are obviously a very busy man, and I am a small fish in a really big river. Thanks for the encouragement... keep up the good work. I enjoy your imagination almost as much as I enjoy my own.

Posted By: Anonymous

-

December 13th, 2009 9:03:12 am EST
Hahaha, I LOVE STEPHEN KING! Like i love his books, the way he writes, his ideas, everything. Whenever i hear his name or a name of his books my heart starts beating fast, my legs feel weak, as if they are made of cheese, i get crazy XD. I have read some of his books. My favourite one is Salem's Lot. All his books make me scared and maybe even terrified. I often cant go to sleep or leave the book i am reading because i f***g like it. I am just soo inlove with Stephen King. But it is just a dream meeting him - as if wantin to meet the president of the USA. Though Steve is better than him!

Posted By: Sk Fanatic

-

December 5th, 2009 8:17:03 pm EST
this was my first sk book. good job, steve. you gave me sumthin to do. now, i'm readin stephen king 12 hours a day, and failing school yay

Posted By: Xenogeist

-

November 15th, 2009 7:20:01 pm EST
I've been reading Stephen King for many years. On Writing inspired me into becoming an author myself. It's a hard process, but I'm trying. Thank you, Stephen King. You're one of my top influences when it comes to the who's who of horror fiction.

Posted By: Gwyn

-

November 11th, 2009 3:18:49 am EST
Thank you Mr. King. This book gave me the courage to put some fun stories down on paper and they were published (e-book). I've gotten hammered and decent reviews--and I've wanted to pull them off the shelves at times. You let the writer know that writing "failures" are not wasted efforts--so write and hone your craft. I especially liked when you described sitting at your desk and asked the reader where they were at reading On Writing and made the connection through time with me *grin*. You really can get into someone's head! Wishing you and yours all the best! Thank you again for publishing this work!

Posted By: Nevar37

-

November 9th, 2009 10:27:53 pm EST
He is down to earth and one of us! Drops the f bomb and many others which just makes me laugh and chuckle to myself at times. How he sees writing is simply eye opening if not priceless. I have read it 3 times and unearthed many fossils. Some of mine were buried sphincter first but hey. I thought it funny on page 213 or so he said God is the only one who does the first thing right! Sometimes i think. When God made man he got a second chance and creating humans by creating him a mate to curb Adam's loneliness. A woman. Now he made them so perfect that in order to make men less jealous he added in a few flaws. Doosies if you ask me, to make men think how good they got it and not whine like we do. Take for example the bleeding for 5 days and not dying. Or child birth. I am rambling. Thank you for an insight into the mind of the best writers of our time. My daughter is reading it now. I hope to grow a better writer.

Posted By: Bronte

-

September 23rd, 2009 5:23:43 pm EDT
Mr King, This book was a very useful tool. It was recommended to me by my Writer's Craft teacher, and having literally just finished it I feel like I learned a great deal from someone with experience. The most useful thing I read was the reassurance that I don't need to know the entire plot when beginning a story; I have been told otherwise many a time and have subsequently abandoned a few ideas, which I am now considering picking up again to see where they go. I also thought about what you said concerning honesty in dialogue, and it has helped me when writing dialogue that just doesn't sound right. I am very glad you decided to pick the book back up after your accident because it contained lots of good advice and practical tips on writing which will help me with future projects. It felt, in all honesty, like a vote of confidence. That was greatly appreciated! Thanks again for the uncomplicated, honest read - it was refreshing.

Posted By: Horror Whore

-

September 20th, 2009 1:43:40 pm EDT
There isn't much I can say about Stephen King that hasn't been said before concerning his stunning ability to creep out even the most skeptical amongst us, but I will try. I first met up with Stephen's craft through his story, Carrie, which had just been turned into a movie. After that, I went out and purchased anything I could find that he wrote. 'It' screwed with me for months after I read it. Who knew something as mundane as brushing my teeth or washing dishes could forever be changed into something that might turn sinister at a moment's notice--Stephen's notice. I ripped right through Pet Sematary, moving along to a whole host of other horrors by the King, every once in awhile, throwing in something by Clive Barker or one of 'the others' to lighten things up. As I grew through my early twenties, Stephen's influence grew right along with me. Cujo came along and changed my view of those whiskey toting, life-saving dogs forever. Salem's Lot made me buy my first set of mini-blinds and The Shining, well, I live in Oregon, not far from Mt. Hood and Timberline Lodge. The flavor of my stays there definitely changed after seeing Jack's famous "Honey I'm home!" scene. Do I regret it--this loss of innocence and fear of the unknown Stephen's books have instilled in me? Not one iota! No way, no how! In the early nineties, I purchased my first copy of King's masterpiece, 'The Stand.' I say 'first copy' because I currently own four. Why so many? I just can't seem to get past a garage sale, book sale or (creepy) estate sale without purchasing one if I find it. This book is AMAZING! It is also the only book I have ever lent out that comes back to me after being read. I think it is because the reader cannot deny its existence after reading it. I was also able to pick the entire movie up and I have those tapes stashed away with the rest of my dark treasures. Three years ago, just as I was embarking on my own writing career, I had the opportunity to purchase 'Stephen King On Writing, A Memoir of the Craft.' This, I believe, has been the biggest influence in my writing style. I would never be able to thank Mr. King enough, for writing it, and releasing it to DVD, so it could be listened to on those days when sitting down to a book was just not an option. I spent many days, buzzing around my house, managing daily housework and chores with those dvds blasting through the hallways. My teens, who usually don't like anything that isn't part of their i-pod library, actually listened right along with me when they were home. Stephen's stories about growing up had them in giggle fits, but then the under-current about what his younger years were probably really like, would come in and knock us off our feet. Coming from a less than conventional childhood myself, with a abusive alcoholic dad and a mom that died at forty-one, I remembered my ability to make the best of even the worst, and know in my heart, this is the one gift I hold in common, with one of the greatest writers of our time, Stephen King. This small tie gave me the confidence I needed to write, and with the help of his instructional audiobook, I have graduated from 'writer' to 'author'. I have managed, this year alone, to sell nine short stories to five different anthologies, mainly horror. No--not a big publisher, but also not a vanity press or just an e-book release. I can't even describe the thrill of going into someplace like Barnes and Nobles and being able to order a book that I have work in. The bigger thrill will be when I don't have to order it because it is already occupying space on their book shelf! I think the best complement of my life came a few years back, when a writer's critique circle I had joined told me they could tell I had been heavily influenced by writers like Stephen King. They said that my story had actually scared several of them into checking their locks, looking under beds, etc. Hats off--all credit to Stephen. I was and am learning from the best. If you want to write, and write well enough to sell what you write, don't hesitate, go now and get anything and everything Stephen has written, but especially 'On Writing', that one is of the utmost importance in jump-starting your career. A personal note to Mr. King, on the off chance (hey, one never knows) that he would ever have the time or inclination to read things written for and about him; Mr. King, you have been, and continue to be (just purchased Nightmares & Dreamscapes) the largest POSITIVE influence in my writing life. I do idolize you, but not in a stalker type of way,lol. I have lived your advice and pass it on to other perspective writers on their way to the dream of someday being an author. Your influence might just someday drag me out of debt with my own first best-seller, who knows? And I gotta tell you, it couldn't come at a better time. I think my husband and I are at that point in our lives where we need that huge little financial miracle. If I could make that happen--you don't even know. . . but then again, I am sure you do. At any rate, you are helping me get there, one baby step at a time, but I am taking them. You are my mentor and I feel blessed and cursed all at once, when I think of what you have taught me. Blessed, because for a small price, I am learning from the best; cursed because ever since I have taken that first book of yours and curled up to read it, every other author's work seems robotic and lifeless. I can't even count how many books sit unread in my library today because I can't get past the first chapter. I can't live their books like I can live within the pages of yours, running along with those kids in Stand By Me when they are trying to get across those rail-road tracks or trying not to ride the Silver Bullet, while keeping a close eye on Christine, hoping I don't have to camp out in her to escape Cujo. You gave my imagination feet and I run pretty fast when I am scared shitless.

Posted By: Anonymous

-

September 13th, 2009 6:16:11 pm EDT
Hey you, ever et raw meat?

Posted By: Herb

-

September 6th, 2009 1:54:21 am EDT
for many years,i always find myself in every trade books just to find stephen king books,and in 10 years i only found one,your heart of atlantis,which brought myself on the verge of tears,after that i hunt his articles,short stories,essays,etc, in our school lib.He haunt me when i heared his new book,on writing.My God Im in the 3rd world philippines,where do i get it.....

Posted By: Runaway Pastor

-

September 1st, 2009 3:51:12 pm EDT
On Writing is the most encouraging and realistic book on writing I have read. I am about to be published for the first time, and Mr. King's advice led me through the process all the way. I felt like I knew him after the reading, and will always be grateful for the lessons in life and craft. Peace.

Posted By: Taylor

-

August 13th, 2009 2:02:29 pm EDT
Hi, Mr. King. I'm a 16-year-old high-school student that has read almost every book you've ever written, and I love them. You have inspired me greatly to start writing novels, and when I succeed, I will gladly dedicate my first on too you!

Posted By: Ryan Stackhouse

-

August 11th, 2009 3:17:36 pm EDT
This is THE BEST book on wirting ever written. I say this because I have read a lot of them and this is the only one that doesn't say, "In order to write, one must do this and this and this." Mr. King simply states how he goes about writing and suggests it may or may not work for others. One thing he does stress, and i agree with: "If you don't have time to read, you don't have time or the tools to write." And it's just as intense as most of his fiction, too.

Posted By: Prakash

-

July 29th, 2009 9:39:49 pm EDT
On page 215, Alma points out Janet Leigh swallows when she is dead. Maybe Hitchcock corrected the mistake but still left one - Janet's pupils don't dilate. That happens a little earlier before the heart stops.

Posted By: Flickered

-

July 27th, 2009 11:01:10 am EDT
Even though it was required reading for me it was great! Funny and serious, more enjoyable than I thought! First King book I've ever read. This is just a little note on the subject ***My LIttle Nell came to her mother's rescue and stabbed Dick in the leg causing him to fall backwards down the stairs. Let's just say Jane never has to worry again...***

Posted By: Gary Welty

-

July 26th, 2009 8:17:28 pm EDT
Hello Mr. King. My name is Gary Welty, and I have read many of your novels and have seen many of the movies based on your novels. I enjoyed all of them. I am currently reading "On Writing." I am nearly 59 years old. I am a retired chemist, and spent most of my life involved in my chosen career. My wife of 34 years passed away 3 years ago. I now find that I have a vast amount of time on my hands. I also have an outline of a book in my head that needs to be let out! I have only written technical papers (and required English submissions) up to this point in my life. My main concern is that the telling of this story will reveal untold secrects from my past, and will alter certain friendships forever! I am not planning to be a professional writer, but I need to get this tale on paper. It involves romance, hardship, devotion, longing, betrayal, regret, reconcilliation, and loss. I would appreciate any thoughts that you might provide. Best regards, Gary Welty P.S. I did write a unique piece an the "inverted Dick & Jane" assignment!

Posted By: Txmatt

-

July 22nd, 2009 3:21:56 pm EDT
I'm not a writer. I love to read about writing...strange I know. What's even more weird is I have read this book 2 times and picked through a third time??? WTF? It's a really great book.

Posted By: Chopstix

-

July 12th, 2009 10:42:58 pm EDT
While writing a novel in 2006, I stumbled on a practice of writing similar to the one Stephen King describes in On Writing. As the rejection notes piled up, I entertained my friends advice. They all suggested formulaic ways of producing a book. My step son, who now teaches high school English, gave me a copy of On Writing for Christmas. I read On Writing with joy, the joy of a prisoner set free. You can create characters, put them in situations, let them breathe and, with a little effort, craft a story. I dont know if Im a bad writer with oversized ego or a competent writer aspiring to the good status, but the next time some-one insists on story boarding and plot points, I can pull On Writing off the shelf and throw it at them exclaiming There is another way to write and it can be successful. I wrote my version of the writing exercise hoping to post it on this site. It was to be my expression of gratitude. The FAQ informed me that opportunity has passed. Shame. I never thought Stephen King would actually read it, but it would have been nice to share it with other fans of On Writing and perhaps read theirs. Oh, well, I can always post it on writing.com or some other writing site.

Posted By: Nicki

-

July 12th, 2009 9:45:42 pm EDT
I took a Creative Writing class last year to meet a Gen. Ed requirement for my BA of Science in Business. Taking this class reminded at nearly 40 years old that when I was a young girl, I wanted to be a writer when I grow up. That dream was forgotten in the business of my life, motherhood, work...you know, the usual things that side- track people from their real dreams. Since the class and a taste of my forgotten passion, there is no doubt, writing was more in my heart than I realized. But my life is no different with this revelation than it was without, so I did nothing. Reading On Writing this year has made a profound difference in how I see this revelation. I can write for ME. I can improve my writing for ME. My husband (IR) loves my writing and we can enjoy it together. What surprised me is how many story ideas I have that I never gave much thought to until I was in the midst of this book. I couldnt wait to finish the book so I can begin writing! Thank you Mr. King, this book will always be close at hand (and at heart) for me.

Posted By: Jason

-

June 30th, 2009 7:24:56 pm EDT
Aw. Who am I kidding? This book is great. Still...On Story: a Memoir of the Art. Sounds like a bestseller.

Posted By: Anonymous

-

June 30th, 2009 7:07:49 pm EDT
I've heard people say this is the best book for fiction writing. It's not. This book doesn't teach fiction. It doesn't offer insights on storytelling. It's mostly about grammar and the writing life. There's really no insight here on what fiction rules King followed when he wrote his early books. He mentions he used to have new ideas on storytelling everyday. On Story. I'd love to read that book.

Posted By: Amy

-

June 19th, 2009 12:54:00 pm EDT
Thanks Steve for writing this book! Amazing!



Posted By: Duff

-

June 19th, 2009 11:12:49 am EDT
Dear Mr. King, This book has really inspired--not to mention enlightened me. I have only one question. If you think you (as in the general populous) wrote a good chapter of any genre of story, and the critics think it need major work...well does it? I put-forth my own writing style on what i write, but i really don't know if it is well-written or not. What do u suggest me to do? Listen to the critics, leave it as it is, or re-write the story? (also, you rock...)

Posted By: Smartin289

-

April 22nd, 2009 4:03:01 pm EDT
This is a truly great work on the skill of writing, communication- where you are really able to get into someone's head, who feels the same as you and hook neurons together; I loved "...in the same room, ... we are close,"; shakespeare is really in there working on my neurons...wow.

Posted By: -The Road Virus-

-

March 30th, 2009 9:33:33 am EDT
I agree with Don in regards to On Writing, I felt as if someone was speaking the words to me, it's so well written, inspiring and intriguing. I hope Stephen continues writing the type of stories that made him this famous.

Posted By: Hattonator

-

February 28th, 2009 8:04:49 pm EST
Stephen, I'm glad the question about the question came up one day between you and Amy Tan, because you captured what it takes to get the language right, PLUS so much more. I thought a published writer had to put in 8-10 hour days of writing and had to have a plot set in place before starting the novel. No reason, just thought it had to be. Now I have a workable plan and I'm writing and I'm having a blast. Even if I never get published, On Writing changed my life for the better. Thanks for taking the time to write it and please thank Amy Tan for me. Chris Hatton

Posted By: Don

-

February 27th, 2009 10:52:55 pm EST
I was a lukewarm Stephen King fan - I loved The Stand, Cujo, Misery and Different Seasons, but thought some of his other books were boring - until a friend urged me to read On Writing. Now I am a HUGE fan. Thank you, Stephen, for writing such a fantastic book. It is one of the best books I have ever read. I refer to it often; it is encouraging and very inspiring. Crazy as it sounds, it seems like you are "talking" directly to me when I read it. Thanks again, Stephen. You are truly The Master.

Posted By: Bryan

-

February 26th, 2009 1:57:38 pm EST
i haven't read a Stephen King book yet either. My Creative Writing teacher suggested this to me to help me with my writing. I love this book. It is very very well written, not a boring memoir in the slightest. He touches on many key points that I find myself having issues with and he tells me ways he resolves them which has been very helpful.

Posted By: Christine Genovese.

-

February 23rd, 2009 5:30:35 pm EST
I've just finished reading "On Writing" published by Pocket Books. The C.V. part had primed me for the promised telepathic communion. I loved the energy of ch. 1 & 2 of the Toolbox. But I'd only just turned over p.115 of ch.3 when the vibes snapped. Ch.3 of the Toolbox is so full of blatant errors that your credibility in the area of the mechanics of writing collapsed. "THE PASSIVE TENSE"... How could you? The sporadic use of the correct term, "the passive voice", only aggravates the impression of carelessness. It also makes ch.11 of "On Writing" sound false. Such careful labours of editing, revision, redrafting... Double-checked by friends, your wife, copyeditors. And no one noticed the "passive tense" howler? The adverbs too have proliferated worse than dandelions in that chapter. "Usually" being the worst offender. I'll quote just one example (p.118) "the writer usually expresses fear of not being taken seriously." Two -ly adverbs plus the passive voice. If it's a joke, it's a poor one. It's ten years since you wrote that book. It's time to weed out the inconsistencies (euphemism!). Christine Genovese.

Posted By: Don

-

February 23rd, 2009 3:28:00 pm EST
Mr. King. I wanted to thank you for writing this book. I am new to writing and have read several books on writing, but listening to yours I realized that it doesn't have to be scary. I may never sell a book, but I will definetly write a few. Thank You.

Posted By: Hattonator

-

February 22nd, 2009 1:07:14 pm EST
Stephen, My name is Chris Hatton. Thank You for this treasure, and please give my thanks to Amy Tan ( I've done some remodeling work for her, although she probably won't remember me). I was inspired to start writing because you made it simple. I've always thought that writing MUST be a full-time job. Not now. I commit to two hours per day, and I have NOTHING to lose! Writing is a blast! The memoir of your life also inspired me. My wife has encouraged me to write my stories for years. Take Care. I hope you are feeling well.

Posted By: Caitlyn

-

January 29th, 2009 5:44:36 pm EST
Hi, So I'm reading this book for a Writing class at an art school so I don't have any intentions of becoming a writer. The one thing that really bothered me in this book is when you talked about taking away the music lessons from your son. From what I understood, the kid was seven. Most likely he was learning the basics in lessons, and his body isn't even developed enough to play that kind of instrument. You mentioned how he only practiced in his designated time, and didn't experiment with it. I began music lessons at a young age, and was learning violin and viola. There were so many times when I wasn't interested and barely practiced the amount I was supposed to, but I knew I wanted to play the instrument before I began like your son, so I know I was interested. Maybe since he was doing basics and did not have the attention span to experiment, is why he did not practice more than he had to. I just would have really regretted if I quit when I was young, because I fell in love with it as I grew older. I really feel like you took the opportunity away from your son just because he wasn't some instant prodigy. I feel bad for your kid, and you will never know what potential he might have had. Playing a musical instrument is extremely rewarding and enjoyable when you grow old enough to appreciate it. He'll never know. Caitlyn

Posted By: Insomnia

-

January 18th, 2009 4:11:01 am EST
This is not "just" a memoir or musings on the craft. To me, it has all the markings of a solid piece of Literature with a capital "L" - I can't put it down, I cry at all the right parts, there are chunks of it that are both inspired and inspiring - and somehow the weight of it feels good, heavy, solid. I stop every twenty-five pages or so, close the book, look at the cover, hold it in my hands, and I think: This is a good book. Thank you, Stephen King.

Posted By: MJ

-

January 12th, 2009 5:32:13 pm EST
Thanks to Mr. King for writing a wonderful and insightful book. I saved for a long time to make the trip to the city and the B&N book store was like visiting heaven. I was able to pick up this book finally and have read it three times. Thank you so much!

Posted By: Joshua

-

January 10th, 2009 2:49:06 am EST
I'll be honest, I've never read a Stephen King novel in my life--until a theatre friend of mine put his book, On Writing, in my hands. Let's just say I've never been more inspired in my life. This book is so honest and blunt, what's not to love? At first, I thought to myself, "What's the point of all these childhood snippets?" But then when Stephen talks about being FORMED as a writer, not BORN into it, well, it made a lot of sense to me. It encouraged me to write, not for money or fame, but simply for the hell of it. It doesn't matter if anyone reads my childhood snippets, just as long as getting them down on paper helps ME to learn and grow as a writer, that's what truly matters. Well, Mr. King, I hope you get to read my plays, novels, short stories, and "creative nonfiction" on the bookshelves of your local USED bookstore one day (used stores are the best stores). Until then, I can't wait to start reading the rest of your novels. Thank you for being yourself.

Posted By: Mithrandir

-

December 19th, 2008 1:48:32 pm EST
This is an inspiring read. It inspired me to write even more than I do now.

Posted By: AmareS

-

November 28th, 2008 9:42:23 pm EST
great book, i got to know a lot about stephen king. it inspires me to become a writer :D

Posted By: Ed

-

November 24th, 2008 1:15:16 am EST
Simply outstanding scribble. Well worth the read. I was disappointed to find out King doesn't dig up heads from the local cemetery, reanimate them and write down verbatim what croaks from their lips, but that's about the only complaint I have...

Posted By: Patronuz

-

November 12th, 2008 2:10:13 pm EST
I have decided to take the chance and become a writer, something I have wanted to do for years (33yrs old as we speak) and I found this book to hold the keys I needed to get started. I did the exercise listed in the book about Dick and Jane and upon finishing it, I felt liberated in a way I have never felt before. I have been a avid reader since I was a child and I have been a fan almost as long (I read different seasons at 12). Thank you for all the awesome stories along the way, and thank you for this book which has given light onto the road I will now travel...Sarah

Posted By: Mobiusman

-

November 11th, 2008 8:15:51 pm EST
What a great time did I find this book. I was going through stuff and was thinking of my failed attempt at film school then being 1 year into marriage, "what the hell am I going to do?" kept creeping into my head. I loved writing when I was younger. I picked up the book, because of a news report I heard of the accident. I was hit by a car when I was 12. I developed my fractured sense of humor then, but I'm feeling much better now... This book gives me the nuts bolts and a screw to figure out my story. My life story as painful as it is. Thanks little Stevie!

Posted By: Gamma Graecisso

-

November 7th, 2008 11:53:26 am EST
I think this book is fantastic especially for those interesting in writing. It covers everything so completely and the addition of Stephen King's own life into the novel gives you hope that, maybe, some day, you can be like him.

Posted By: Vlad

-

October 3rd, 2008 9:00:10 pm EDT
I think it is a good book because of the experiences and life style you have and you share your life and job experience. So that the readers would get a good picture of what you are trying to say in this book.

Posted By: BDB

-

September 23rd, 2008 7:00:08 pm EDT
If you're thinking about writing a book, you must read this book, it gives you tips about writing, things you might have thought about, but things your english teacher would frown on. I'm currently working on my own book, and with this book, i feel that my piece will be stronger and better when i send it off for publishing consideration.

Posted By: Vane En Cuba

-

September 17th, 2008 10:00:56 pm EDT
I think that it is a fantastic book, it is not a horror o mistery book, but is a mistery to be a good writer, to be a good or a bad writer it up to you, I am a fourt semester student of Social Comunications, I am 18 years old, but I dreams all day to be a good person y tobe an excelent worker , I do not speak and write a good english but I am tring to do it, my native languajes is spanish. Thanks Stephen King for open my eyes to be a good write, and for to share in this book your thinkings, when I write my first book, be sure I will send to you.

Posted By: Sylvanna Rayne

-

September 9th, 2008 10:24:00 pm EDT
What a perfect tool the laws of synchronicity have dropped into my hands! This book is wonderful. Whether or not you've gotten the urge to have faith in yourself and start coming "boldy to the blank page," this book will provide you with a great read. It is entertaining, down to earth, and refreshing. Thanks again, Stephen King. My single regret in reading this book is to find that I am pathetically late for the "drop me a line"/share your story exercise. After the assignment was given, I naively closed the book and wrote 5 pages of story on the spot to test my skill at uncovering a fossil! After squealing with excitement at this opportunity, I popped on here to discover that entries are (reasonably) no longer being accepted. BUMMER- "FUHGEDDABOUDIT!" Still, it was a wonderful and inspiring exercise, and I urge fellow readers to try it out.

Posted By: Anomalia

-

September 8th, 2008 5:13:16 pm EDT
I've only just discovered this book at the local supermarket, but I wish I had earlier. I really enjoy Mr. King's novels, though I cannot say that I am one of the biggest living fans. Still, this book in particular gives me the tools to hope I may actually take up writing myself. By far the best writing course anyone could wish for. And also scaringly complete and easy (I'm still trying to figure out what's wrong in that, because in school they tell you that writing is difficult, it is for the elite, for the chosen ones, it's something to read about and dream about, and all this crap makes you feel like you were born 100 years too late to write anything worth reading). Amazingly enough, although the "course" is clearly intended for the American public, it also applies for the Romanian one. With the right translator, of course. Thank you Stephen King for the vote of confidence and for letting us have a full tour of your toolbox.

Posted By: TIpTOp

-

September 2nd, 2008 7:25:52 am EDT
I think, it's a very complicated book: isn't horror, or scary...but i feel so that's a Stephen King Book. Anyway i try to write a book and this is very helpful me! Thank You STEPHEN KING

Posted By: Sind

-

September 1st, 2008 3:52:49 pm EDT
Great book recommended to me by Margaret Weis. Very down to earth and to the point. Too bad I found it 8 years after the assignment submissions closed.

Posted By: Danilo Ruffo

-

August 27th, 2008 2:46:59 pm EDT
My Bible.

Posted By: Connie Wonnie

-

August 12th, 2008 1:55:14 pm EDT
this is a really good book ,it inspires me to become a writer! i love stephen king!