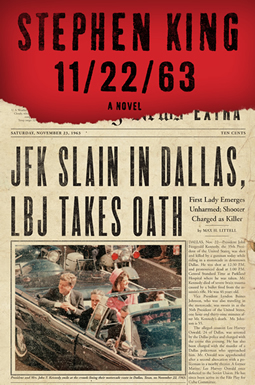 Fan submitted reviews of 11/22/63 (Novel):

Posted By: Donna Wise

-

March 10th, 2013 9:12:45 pm EDT

have read many king books was quite excited to see that from beginning to end held my attention which is a hard thing to do king has the ability to keep u right there with jake wonderful time travel adventure

Posted By: Akallice

-

March 10th, 2013 4:17:20 pm EDT

I loved this book! I've often wondered what the world would be if JFK hadn't been assassination, too. After reading this, you know everything happens for a reason... I thoroughly loved the love story between George/Jake and Sadie. Would I change history if I could, no way! The life lessons I learned have made me the person I am.

Posted By: Vironamas

-

March 10th, 2013 12:30:07 pm EDT

I am 17 years old and I started this book during the end of my summer. For me this book was so amazing I instinctively would pick this book up and read it 3 weeks before school would start. I decided to push off my summer reading for this one book. So amazed by this book it took me about 1 week for me to accomplish reading this novel with other activities in between. In all my life of reading (although it may not have been long) this novel to me is very inspirational and very heart felt. I felt myself become one with the character understanding every move he makes. The story of stopping JFK's assassination, to me, is a very unique story and unlike anything I have ever read. With this story I was able to convince my history teacher to read this book, and he found this novel amazing and stunning.

Posted By: Patricio Gonzlez

-

February 27th, 2013 3:26:47 pm EST

i have not finished it yet but I loved meeting Bev and Richie from It again. it is like seeing old friends after so much time . I am reading it even at work!

Posted By: La'Don Elam

-

February 26th, 2013 12:10:35 am EST

This was my absolute favorite book written by Stephen King! It had action, suspense, and romance. I seriously cried at the end! I was sad that it was over...

Posted By: Birch

-

February 22nd, 2013 5:37:31 pm EST

Incredible. Just finished it about an hour ago. Found the end (when Jake gets back to 2011 the first time to be a little too Back to the Future 2, but just a wee bit and not nearly enough to diminish the overall excellence of the novel. I had heard that there was an alternate ending published at this site. Can't find it. Any help, anyone?

Posted By: Mare

-

February 20th, 2013 6:58:25 pm EST

This is by far one of the Best Stephen King books I have ever read! Having been a fan for the past 25 years with some of my favorite works being IT, The Shining, Delores Claiborne, Pet Semetary, The Green Mile, etc...., . Such an amazing concept with surprises at every turn. Loved It!!!

Posted By: Liz

-

February 20th, 2013 10:31:52 am EST

I am just barely half way through this fascinating book. I am finding it a challenge to put it down but life, mostly work, demands most of my time. As much as I can't wait to find out the ending, I know I will be sad when I'm done reading it. I am confident that Mr. King will not disappoint me with how it turns out even though the assasination is inevitable.

Posted By: David

-

February 18th, 2013 9:37:23 pm EST

This book almost had me in tears. In such a touching and romantic way, the way the characters come together in fashion was incredibly moving. I've never experienced that in a book before. King has reached a new level. This novel has proven that no matter age or experience, its possible to grow and improve. An epic read similar to the Stand or Under the Dome, I found it impossible to put this book down. King has an immense imagination and a talent for bringing characters and places to life. Do yourself a favour and read this book today. You won't be disappointed.

Posted By: Patricia Anne

-

February 18th, 2013 3:44:50 pm EST

I agree with Carla. I read this a few months ago and then insisted that my book club read it. We meet on Feb. 20 and I am so anxious to discuss this book. It was much more than I expected and I think King came up with the perfect ending for a situation that seemed to have an impossible resolution. Love it.

Posted By: Carla

-

February 11th, 2013 11:44:43 am EST

BEST BOOK I've EVER read!! Enjoyed every page and recommend it to all of my friends and family. I also gave it to my brother and brother-in-law for Christmas. I hope to see more books like this from King.

Posted By: Kay K

-

February 9th, 2013 6:10:38 pm EST

I loved this book!! It is elegant. Love the hope & goodness of the main characters. And I'm in love with Jake/George.

Posted By: Anonymous

-

February 8th, 2013 7:43:47 am EST

I found this book compelling and one tht is particuarly interesting. I was surprised to find, and pleased, that it has it's own little story outside of the JFK central plot. Not his best work, but a damn good book.

Posted By: Seabass

-

January 28th, 2013 12:39:03 pm EST

Is it just me, or does anyone else wish that George/Jake just STAYED in Jodie and lived out his life with Sadie? Everytime I get to that point where he leaves....I keep HOPING that this time it will be different....

Posted By: Seabass

-

January 28th, 2013 12:36:53 pm EST

I got this for Christmas/2011. I've read it 3 times now and I think this ranks with IT and The Stand in "stand alone" novels. I absolutely love this book.

Posted By: Giorgos

-

January 23rd, 2013 8:06:27 pm EST

830 pages ( in Greek version ) in just 3 days...Couldn't stop readint till 6 am every night..And almost "in love" with Sadie...hehehehe... Mr King will never run out of ideas Thank God !!

Posted By: Scymoril

-

January 23rd, 2013 1:51:27 pm EST

Just Awesome! Loved it! I was so sad when I was done reading it. I am sure this book will be well worn as I will read it again.

Posted By: Widdershins

-

January 14th, 2013 3:13:44 am EST

First of all, thanks to Joe Hill for the ending suggestion. This would've been a heart-breaker if it wrapped up any other way. I loved revisiting Derry--especially the cameos from Bev and Richie. (Did they win the talent show, I wonder? Probably not, knowing the Derry residents). The book was lyrical, well-structured and prone to fits of outright beauty that made my heart swell. Some of his best stuff as of late.

Posted By: Daytona John

-

January 9th, 2013 12:36:10 pm EST

Just finished 11/22/63 last night. I give it a 10 out of 10. One of the best novels I have ever read!!! Could not put it down. The mingling of accurate historical facts with a great story makes it even more engaging and "believable". I read the original ending on this website, and the ending suggested by Joe Hill really hit the mark. Thank you Mr. King.

Posted By: RRRob

-

January 4th, 2013 8:02:29 pm EST

I received this on Christmas. Just finished it today. Great read that I couldn't put down. Like Roxanne said I couldn't wait to finish it to findout the end and now I am bummed that it is done.

Posted By: Roxanne

-

December 24th, 2012 12:33:49 am EST

Just finished reading and have to say this is one of the best I've read in years. One of those you couldn't wait to finish and sad once it had! It really takes the reader back in time with Jake / George! As good as 'Misery' or 'Dolores Clairborne'.

Posted By: Crimsonslide

-

December 11th, 2012 2:46:03 am EST

Time travel in the future is not only possible but we all do, and have done, it when we flew by airplane. People who travelled to moon and back or to tbd international space stations have done even more. The time amounts are negligible but not zero. I was surprised that someone who wrote a book with the theme of time travel wouldn't have come across this indisputable fact. Of course, to travel way into future, one would have to travel at least a significant fraction of the speed of light in vacuum, the cosmic sped limit of about 186,000 mikes per second.

Posted By: Carlos Lincoln Marks

-

December 9th, 2012 12:29:18 pm EST

According to Stephen King, the idea for " 11/22/63 " came to him in 1971.

Posted By: Anonymous

-

November 28th, 2012 11:47:15 am EST

This makes the 50's and 60's sound better than 2012. I have gained more knowledge and appreciation for the JFK assassination. Great book!!!

Posted By: Andrew

-

November 19th, 2012 11:44:18 pm EST

What a fantastic read and beautiful love story expertly woven into the horrors of November 1963. Nicely done.

Posted By: Jenny

-

November 19th, 2012 3:50:20 pm EST

I have read and enjoyed King's books since I was in the third grade. (I was an advanced reader) That may have been a little young looking back. The writing has definitely framed some of the way my imagination works today and, made me more intelligent a thinker because of it. Of all of Mr Kings books, this has been my favorite to read and share. Funny I find myself saying that about all of them but, I really believe it now! Thank you Mr. King. I hope to one day have the pleasure if meeting you. You have done so much through your writing to help me to think of all the nightmares that have happened to me as an opportunity for an interesting fable of therapeutic possibilities.

Posted By: Luis

-

November 18th, 2012 8:55:53 pm EST

What a wonderful story, I fall in love with all the characters, also the atmosphere was unique and nostalgic; for a moment I felt I was in the 60's.

Posted By: Chris

-

November 15th, 2012 10:38:54 am EST

I just finished this book, which has been a journey. I take so long on novels like this that I get engrossed in the story and it takes over my life! I am a History buff and always in the mood for Historical Fiction! That being said, this was the BEST historical Fiction book I have read! I absolutely loved the book and would really like to see it portrayed on the big screen. This book made me laugh, cry and mad throughout the duration! I often daydream about going back in time and see what all is different and just experience the simpler times...Well, Stephen King does this this very well! He Illustrates the late 50s and early 60s very vividly for me. I didn't have to use my imagination too much while reading this! I would highly recommend this book to anyone who loves to read historical fiction/ sci-fi novels. Thanks for the book Mr. King!

Posted By: Lambros- Greece

-

November 8th, 2012 8:48:17 am EST

would like to congratulate you for the book 11/22/63.I have just read it and i think it is one of the greatest books I have ever read.Very well written but very touching, so much that made me cry at the end.And again my congratulations .

Posted By: Name / Nickname

-

November 1st, 2012 12:31:23 am EDT

I have never read any Stephen King books in the past - not a horror fan, my mother in law recommended this book. I loved it, I could not put it down, I was so sad when I was done and I have recommended it to so many people, all different readers, and all loved it. So well written, wraps you up in the story and the language - Stephen King I am a new member of your fan club - so well done!

Posted By: Tomas LTF

-

October 29th, 2012 4:42:35 am EDT

Scared away from the terror books, including yours. This is the first book I have read by you. Incredibly good story and final discovery. It seems like the author has been involved in physics string theory research, although, at the end of the day, for the author it is not "time" that maters but something else !

Posted By: Anonymous

-

October 24th, 2012 1:03:48 pm EDT

I fell in love with Sadie. And my heart broke. In the end, I was uplifted, but there was still a great sadness as I read the finale for Jake and Sadie. Amazing book. Who knew SK could do a love story.

Posted By: Steps

-

October 19th, 2012 11:04:45 am EDT

I'm a huge fan of Mr. King's work and this piece is an incredible journey full of emotion and an ending that is beyond satisfying. Please do yourself a favor and read this book if you have not already.

Posted By: Anonymous

-

October 11th, 2012 9:46:47 pm EDT

I thought that this book was extremely well written. An A for Stephen King. The book was a little lengthy but it was well worth it. The book provided suspense, romance, and history. 11/22/63 is one of my favorite books.

Posted By: Dickson

-

October 6th, 2012 10:38:08 pm EDT

I wasn't actually a big fan of Stephen King as I wasn't very fond of horror novels. But, a friend of mine recommended me this book. So, I went to read up the plot summary on the net and it seemed interesting. Unfortunately, only the hardback edition was available in stores so I waited for the paperback which was recently released this year. I started reading it and I just can't stop. It just gets interesting and interesting as you flip the pages. I finished this book in just a week, which is quite a short period for me. What makes this book so interesting is that King plots his book ahead of time carefully. This Jake doesn't just go back into the past and save the president. He was socially influenced by the environment he was in and the people he mixed with. He made friends and tried to adapt with the past. King succeeded in that by putting in some emotional moments experienced by Jake while keeping up with his mission. Saving JFK. And it does give us a lesson to not try to change he past. Let it be the way it was meant to be. Things happen for a reason, right?

Posted By: Nelson

-

October 2nd, 2012 11:08:34 am EDT

Thank you ,for writing what has now become one of my all time favorite books.From the first paragraph ,to the last,not a false note,in a book that could have had a million of them ..Thank you again for writing something that will stay with me for the rest of my life

Posted By: Charlie

-

October 2nd, 2012 4:51:49 am EDT

A fantastic, extremely well-written, engaging, utterly brilliant brook. It proves beyond a doubt that Stephen King is a genius of a writer. He steps out of his usual genre and delivers astoundingly. Since horror stories have never been my cup of tea and since I've seen all of the movies based on his other non-horror works, this was the first time that I read a novel of his and I loved it. I hope he writes more like this in the future. Do yourself a favor, read this extraordinary piece of work.

Posted By: Phzs

-

September 30th, 2012 1:41:37 pm EDT

I am in the middle of the book and I am amazed. It was a big surprise that the Dunning family lives on the Kossuth street in Derry. I'm from Hungary and Kossuth was the national hero of 19th century in our country. In fact in every town and village here there is a Kossuth street or Kossuth square and there are many statues of him at public places. I would be curious how Mr King came to this name and if he had any purpose with it. There is Kossuth place in Paris and somewhere in America one can find such places as well.

Posted By: LouieR

-

September 24th, 2012 9:18:34 pm EDT

Perfection!! I didnt want to put the book down and at the same time I didn't want it to end. I have never read a novel in which the characters came to life as much as George Amberson and Sadie Dunhill. Great novel very memorable absolutely loved it. Thank You Stephen King.

Posted By: Will

-

September 18th, 2012 12:40:45 am EDT

I have been reading Mr. King's books since I can remember...but then, how many times have so many of his fans wrote that. I loved this book, granted I didn't read it - listened on the road. I couldn't stop and it reminded me why I loved to write. Thank you Mr. King, for yet another piece of work that sparked my imagination and kept me awake on the road from home to work. Will H. - Portland, OR

Posted By: Flemming

-

September 17th, 2012 4:54:07 pm EDT

What a fantastic story. Just finished a few weeks "romance" with 11.22.63. What wonderful masterpiece of historical detail, vivid characters and page turning suspense. The kind of story one does not want to end.

Posted By: Dave

-

September 16th, 2012 12:38:43 am EDT

Just finished the book, what a good read. I was always interested in the whole Kennedy story but it was never as interesting as King has told it. When Jake meets up with Sadie near the end of the story it was an amazing way to finalize things no other ending would have been as powerful. Can hardly wait for his next novel!

Posted By: Gopher1

-

September 12th, 2012 11:05:41 am EDT

A very enjoyable read. Probably in my top 3 fave's.

Posted By: Will

-

September 10th, 2012 12:31:54 pm EDT

I've been reading Mr. King's works since 7th grade, and I'm glad he wrote a historical-ish novel. I love history, and I was thrilled to see what could have happened had JFK survived (Maine in Canada...OMG!!!) Not the best, but it's up there.

Posted By: Wendy

-

September 9th, 2012 6:27:50 am EDT

I've just finished 11.22.63 and I enjoyed it immensely. The combination of very interesting historical facts & King inspired fiction made this book a damn good read. A nice little tingle of unease when the Jimla appeared. I found the ending really sad, but a price had to be paid to keep things on an even keel. Jake & Sadie paid that price. I liked the little bit of resonating memory that made 80 year old Sadie believe she had met George before. In amongst the events leading up to the JFK assassination attempt, theirs was one of the classic love stories... full of happiness & promise, but in the end... tragic. sigh.

Posted By: Jen

-

September 5th, 2012 9:33:13 am EDT

Wow. How do you do it? Take a subject that is difficult to portray in a "realistic" light and make it so real? I am not quite done with this book, but it is right up there with your best ones. Somehow you can make me read and enjoy things I wouldn't normally enjoy. I don't really get into either sci-fi or fantasy too much, so how is it that this book and The Talisman are two of my very favorite books you have written? You rock!

Posted By: LARRY N. AUSTMAN

-

September 5th, 2012 3:21:21 am EDT

With Mr. King in control of the Screenplay adaptation of this excellent and thought provoking novel-this could be a very fine film. Contrasting the quality and quantity of life and how it was lived in the 1958-1963 period with the present times in America would be a cinematic challenge but one worth persuing. Mr. King I am certain you have some hunches as to how and who you could cast in the various roles. I know I certainly have some. Anyway keep the pop music into the mix as it provides the continuity and milieu in which the characters come to life. Good on you, Mr. King!!

Posted By: Jennifer

-

September 3rd, 2012 9:20:47 pm EDT

My first SK book since Pet Sematary in high school. Although I'm a voracious reader, I was just too scared to do it!!! My book club chose this book and I avoided reading it in August. Then August was cancled and September is at my house so I had to read it!! (Was this an example of harmonizing?) I have to say that I loved it and am sad that it's over!! There were so many layers to the story and I loved them all. I'd REALLY like to know what the original ending was to be. I wonder if it was him meeting someone "like" Sadie,rather than the real thing?

Posted By: Texcap

-

September 2nd, 2012 3:25:50 pm EDT

This is the first Stephen King book that I have read. I am pretty squeamish and not a fan of the "horror" genre. Due to his reputation I have avoided Mr. King's novels. My normal reading is nonfiction or historical fiction. Having grown up in Dallas and Oak Cliff in particular, I was intrigued by the premise of this book. As a first grader at Winnetka Elementary in November 1963 I can remember Miss Story returning from lunch in tears to inform us that JFK has been assassinated not five miles from our school. Obviously I had to read the book. I loved the book and while I have yet to finish many books over the last few years I literally could not put this book down. I stayed up until 4:30 in the morning and finally went to sleep but got up at 9:30 to finish reading. Very well written and researched, although being from the area there were some small mistakes in geography, but nothing that distracts from the story line. Thank you so much for making this book so realistic and bringing back lots of memories from my childhood, some good, some bad, but memories of events that shaped not only my life, but obviously the life of many others, including Mr. King himself.

Posted By: Jason Bourne

-

September 2nd, 2012 3:29:29 am EDT

Besides horror, Stephen King brings you to the past so real and exciting that you will stay up all night to finish it. Besides that, 11/22/63 gives you an experience to be in the past that many cannot. Great novel!!!

Posted By: Andy Conley

-

September 1st, 2012 4:10:53 pm EDT

just finished this, perfect Stephen King, could not put it down. He draws you in to his familiar world and keeps you there til the final page. Always loved King and always loved stories of time travel....just perfect.

Posted By: Rosie

-

August 27th, 2012 9:43:26 am EDT

Jake might not cry tears, but I certainly did and not ashamed to admit it either. An absolutely cracking book. Ta.

Posted By: Peter Preciado

-

August 27th, 2012 6:05:29 am EDT

This book is amazing. It has been a long time since I have read a Stephan King book. I think, Tommyknockers, in high school, was the last time I read him. Stephan King is a great example of a writer coming into his own. Here is a man who has dedicated his life to writing and I can truly see his growth. I wish I could write him directly. But this will have to suffice. Mr. King, this book is beautiful. Above all, I love your use and command of the popular culture, the present time(2011) and the Land of Ago((1958-1963). It is so fun to read this and live in the times. His grasp of the lingo and the culture of the different generations is just exhilarating. I had more fun reading this book than I have reading anything in so so so long. I am a screenwriter/director(aspiring) and a lifelong lover of books. People make fun of me for how many books I have. Especially because I am a slow reader, which somehow makes no sense for a book nerd, but always kept on trying. As of late, I have been trying to be a self-styled lit nerd. I have been trying to read all the greats, or at least the greats of which I aspire to emulate: Kafka, Bolano, Vallejo, Cortazar, Calvino, just to name the Latin Americans, not to mention the great American writers. The thing is, I have not been able to finish a book in years. I start and for some reason, cannot seem to finish, many a book. I love them, but break off and never finish them, for some reason. And so it was, that I was on a bus from Arequipa, Peru to Lima, Peru, with my beautiful and amazing wife(from Lima) when I gave up on my pirated copy of La Ciudad Y Los Perros, by Mario Vargas Llosa and I said, "Baby, can I see your book?" and she passed me 11/22?63. I started reading it and I haven't put it down. I just, finally, put it down. About a month later. and 850 pages? That is a freaking miracle for me. I can't believe it, but it was so engaging I couldn't stop reading. I just want to thank SK for such a great story and something so intriguing that I had to go all the way to the end. You are truly becoming, or maybe have been, a MASTER. Thanks man!!! Peter Preciado

Posted By: Cee

-

August 26th, 2012 2:31:33 pm EDT

Could not put this book down. 11/22/63 might be the most thought-provoking novel I've ever read. And on a more personal note, the question of coincidence or harmony really hit home for me in reference to the 'pay per view' boxing match. I'm not a fan of boxing...could probably count the number of boxers I know the names of on one hand - with a finger or two left over - but Dick Tiger is one of them. I know of this rather obscure boxer because my Great-Uncle was his manager. I was so unnerved when I read that part, I had to put the book down and walk away. I was only able to go back after I convinced myself it was just a coincidence. Or was it? Kudos to Mr. King for forcing me, at the age of 54, to question my own belief system.

Posted By: Alice

-

August 24th, 2012 2:59:34 pm EDT

I am 2/3 of the way through 11/23/63 and loving every page. I can't wait to find out how all the threads resolve: can he kill Oswald? does he get back together with Sadie? can he return to 2011? how does the world change b/c of all Jake does in Jodie? Wish I could stay home to read instead of going to work!! Thanks for the good read! Perfect book for summer reading!!

Posted By: Knockscalbert

-

August 20th, 2012 1:40:57 pm EDT

A fantastic read, Mr King once said he doesn't write love stories after reading this I sincerely disagree!

Posted By: Anonymous

-

August 16th, 2012 7:51:03 pm EDT

Wow! Talk about the law of unintended consequences! Great book and wonderfully complex story. Took me a week of late nights to read it. Thank you, Mr. King.

Posted By: Frank

-

August 16th, 2012 9:42:54 am EDT

I just finished 11/22/63. What a great novel! A masterpiece!!!!

Posted By: Joanie

-

August 14th, 2012 7:21:32 pm EDT

i can't quite find the thread for this topic, but as far as characters for a movie based on 11/22/63, there have been some good suggestions. As for myself, I can't help thinking every time I watch The Mentalist that Owain Yeoman would make the perfect Jake. He's tall, good looking, and plays nice yet tough when he has to be very wel (well, he plays a cop on that show, after all)l. If Laura Dern was younger I'd peg her for Sadie, but I just can't imagine a Sadie quite yet.

Posted By: Anonymous

-

August 14th, 2012 3:53:32 pm EDT

Wow, what a great read! Can't wait to read everything that comes next, but I still have some catching up to do even after at least 30 of your books! Was happily surprised to find this was as much a romance as a political/thriller, in my humble opinion (having been born in '61 it gives me more catching up to do on my history reading). I told my sister I don't often cry at the end of your books, but must admit this one brought some bittersweet tears. Another great read in one of SKs short story collections is Apt Pupil, in case some of you haven't read it. It sticks with me even though I read this years ago. Haunting. Sorry, can't remember the name of the collection just now, but it was probably from about 20 years ago. Enjoy!

Posted By: Chari

-

July 17th, 2012 11:16:28 pm EDT

I am in the process of listening to the audiobook at work. I think this is one of Mr. King's greatest work. I can't wait to get to work to listen to it. It is one of those books you don't want to finish but just keep reading. It is absolutely fantastic & for people born in that era brings back memories. I highly recommend this novel!

Posted By: Barb

-

July 15th, 2012 6:14:12 pm EDT

Loved this book and loved going back to the late 50's. You use obdurate so many times that I am surprised your editor did not change it. That's OK, now I know the meaning. You also used the expression "man up" which is, to my knowledge, an expression popular over the last few years.

Posted By: Ed

-

July 12th, 2012 2:33:17 pm EDT

I loved 11/22/63 and, as a former student of the JFK assassination, feel Mr. King's historical accuracy was as superb as the plot. I was only troubled by his Afterword. Mr. King casts Oswald as the sole assassin of President Kennedy. Mr. King acknowledges throughout the book that Oswald was a Communist, i.e., a leftist. Yet, on page 848, Mr. King castigates Dallas as "a hateful place" in which the liberal Kennedy and more-liberal Stevenson were scorned by presumably "right wing" conservatives. If, as I presume Mr. King believes, the right-wing atmosphere of Dallas somehow led to the political extremism in frame 313 of the Zapruder film, why was his murderer from the left? Edwin Walker did not shoot JFK; no Dallas housewife shot JFK -- a left-wing hater of conservative ideology murdered JFK. Sorry, Mr. King; you are a masterful writer and story teller, but the truth must be told -- Kennedy was killed by leftist hatred, so please don't insinuate that conservatism was to blame.

Posted By: Terence

-

July 11th, 2012 11:26:58 am EDT

Just finished listening to the audio version of 11/22/63. What great story telling! Both my wife and I loved it. It has to be easily in Top SK books. I have all Stephen's books in e-books and audio and I am making it my mission to finish them all. The ending was a great way to round up the story. I hope it becomes a film one day! I thought nothing could top the Dark Tower series...I was wrong!

Posted By: Tricia

-

July 6th, 2012 4:30:52 pm EDT

At the age of 36, this was the first Stephen King novel I have read. I teach school and signed up to read this book for a book club hosted by the school district I work in. Stephen King is an outstanding writer. This book is amazing...job well done! Stephen King writes, therefore he is... AND a fantastic one at that. His creativtiy stretches the boundries like no other. Bravo!

Posted By: Tom

-

July 2nd, 2012 4:43:11 pm EDT

Wow, I just finished this great book. What a read it was. Like the original, The Stand, I did not want it to end. Yet the ending brought tears to my eyes. I especially enjoyed Stephen's last few pages on his research into the topic before he wrote the book. I am taking his advise and am going to read some of them. Thanks Stephen. I have been reading your books since the 70's. The Stand and this one are the best in my humble opinion. When I read you had written a book called The Dome, I thot of the Dome in New Orleans and all that went on there after Katrina. But I see it is not that. However I will be reading it. I am a Cop here in Vancouver Canada, my wife is a Teacher, we have some similar likes in books. I served in Bosnia during the war there in 1993. Research Srebrenica Bosnia if want some ideas for another Story.. Small town Cop from Maine Volunteers for UN Duty in 1993 and what it did to him..Just a thought. Take Care.

Posted By: Old Joe

-

July 1st, 2012 12:41:51 pm EDT

You have done it again. This is an absolutely wonderful story. I personally disagree with the theory that Oswald acted alone but see the necessity for this story line. No one could have done it better.

Posted By: Pam

-

June 25th, 2012 11:00:40 pm EDT

Halfway through and I've only had it for two days!! I literally can't put it down, definately one of my new favorites so far.

Posted By: Ronald

-

June 23rd, 2012 8:57:31 pm EDT

I have heard a lot of talk that SK's best days are behind him; that he could never compete with his novels from the 70's & 80's. I couldn't disagree more. I loved this book! It is my new favorite SK book, just above Salem's Lot and The Stand. I read it in 4 days.

Posted By: Kelly Waterbury

-

June 20th, 2012 7:00:56 pm EDT

I just finished listening to the audiobook version of 11/22/63 and I will have to say it is one of the best books I have ever listened to! The ending was kind of surprising and touched my heart. I enjoy reading (or listening to) science fiction, but I don't care much for horror. This was a very good book and I will be recommending it to quite a few people.

Posted By: Oscar

-

June 17th, 2012 9:49:38 pm EDT

I'm at the 550 page mark and i am loving the story. My favorite part so far has been seeing the perspective of someone from the present, acting calm while everyone else is freaking out about the Cuban missile crisis

Posted By: LostInTheWoods

-

June 16th, 2012 11:29:23 am EDT

I loved 11/22/63 so much. The amount of detail Stephen King put into the book was extrodinary, and incredibly admirable. I never believed that a time travel novel could be so enjoyable. I will definitley be reading 11/22/63 again.

Posted By: Cate

-

June 8th, 2012 2:45:54 pm EDT

Just finished reading "11/22/63" and I LOVED it!! I absolutely could not put it down all week and spent my every waking moment devouring the pages. I also had nightmares every night though, due to the references to that psycho killer clown from Derry, but they were worth putting up with in the end, and this book will definitely go into my top 5 favorites list and also be shared with all my family and friends. Thank you so much Stephen King for writing the way I think, and for starting out my summer reading with a bang!

Posted By: Valerio

-

June 8th, 2012 5:25:28 am EDT

I finished reading it yesterday and I already miss it. If possible, this is one of the best novels of all times. Not just the usual "travelling in time & unforeseen consequences" thing: it's deep and catchy, has a great, unpredictable plot and great characters. And I guess Mr. King was literaly overwhelmed by history books when preparing this one. A great effort that repays: I've never thought he could write anything nearly as great as The Stand.

Posted By: Chris66

-

June 6th, 2012 9:18:29 pm EDT

I was really scared that Mr. King's great story telling was in the past. This book changes that. This is one of the best books he has ever written. An engaging, riveting book from the start. This is up there with The Stand, It, and The Shining. King is still here and he can still spin a excellent yarn.

Posted By: Anonymous

-

June 5th, 2012 11:59:04 am EDT

Loved this book. Luckily I purchised it on my Kindle right before my days off from work and was able to quickly finish it within a day and a half. I loved the characters and found the book moved very quickly. I also thought the ending was just perfect.

Posted By: PMeliPo

-

June 5th, 2012 9:38:35 am EDT

Almost done with this book and I absolutely love it. I used to read constantly, including all SK books, but the last year and a half has been so stressful that I haven't been able to sit still long enough to read. Finally took the plunge and picked up this huge book, and I'm so glad I did. Reading SK again is like re-finding an old friend. And this book rocks!

Posted By: Taffy

-

June 1st, 2012 7:08:03 pm EDT

200 pages left and I don't want it to end. I only got back into reading the masters work recently after gap of nearly 10 years.

Posted By: Colby

-

May 27th, 2012 6:01:58 pm EDT

I'm only 12 years old and i enjoyed this book a lot! It had the best plot, characters etc. I definitely enjoyed this book, in fact its my favorite book by him and its also my favorite book of all time and that probably will never change. I felt like i was in the story and never at one time was i bored or disappointed with it. I felt like i knew everyone in it!! Hands down the best of his books! (:

Posted By: Dutch

-

May 27th, 2012 3:03:16 pm EDT

I have not finished the book. However I am impressed Mr King developed the characters so quick. This book is a page turner. I have read many of his books so far the favorite has been Need full things.

Posted By: Chris

-

May 25th, 2012 8:57:23 am EDT

This story moves to the top of my favorite SK tellings, replacing Bag of Bones. Mike Noonan and Jake Epping ROCK, and SK really can write wonderful love stories. The audio version was wonderful, although I much prefer with Mr. King narrates his own work. Keep up the good work, my list: 1. 11/22/63 2. B o' B 3. Under the Dome 4. The Shining 5. Duma Key

Posted By: Raccoonradio

-

May 25th, 2012 4:56:00 am EDT

Halfway through the audiobook, enjoying! I do have to mention some radio bits: --Jake listens to 60s on 6 on XM... --Jake listens to The Big Jab AM 1440, WJAB; poss. inaccuracy? Wikipedia says the station went on air in the fall of '59, but Jake visits in late '58 and hears them...Harry's sister, after Jake's time trip, winds up as "a DJ who works at WKIT'. Care to guess who owns the real life WKIT? :) (Later Sadie gets suspicious when Jake/George sings Honky Tonk Women and she doesn't believe him when he says he heard the song on KLIF...

Posted By: Sally

-

May 25th, 2012 12:00:35 am EDT

I have to confess that I (a 55 year old woman) used to read all of Stephen Kings books. But then I got to where I didn't want to read the weird stuff anymore. It was too scary. I just happened to read the review in People magazine and purchased it on the Nook app. on my iPad. It is actually the only book I've so far downloaded. I'm about halfway through and love it. I love it to the point that I'm actually going to the authors website to look for any info on it. I'm supposed to be reading another book for my book club but haven't been able to put this one down. It's really long but the writing is so good and the story so good that it holds my interest. I cannot wait to find out how it ends!

Posted By: Donna

-

May 24th, 2012 6:59:55 pm EDT

I love to randomize my reading selection and switch from non-fiction, to fiction, to true crime, to self-help and yada, yada. Yet, when I'm in the mood to be "Wowed" I can pick up any of your books, Mr. King, and get what I'm looking for. 11/22/63 had me rooting for Jake / George from the get-go. I should know better; only pick up one of your books if I have time to not be distracted. I picked up 11/22/63 last week and now I have a gap in my past... missed calls, behind in my work, and even the plants are begging for water. The week I just missed was a well-deserved vacation into the wonderful world of King. Thanks for the read and the vacation. I look forward to visiting again.

Posted By: Gabi

-

May 24th, 2012 5:25:33 am EDT

so far, I am half way and loving it !! Gabi

Posted By: Elton

-

May 22nd, 2012 2:04:41 pm EDT

What a great book.I wish it would have twice as long.

Posted By: Magical1

-

May 21st, 2012 11:53:44 am EDT

I have always enjoyed Stephen's work. But I have to say that 11/22/63 was one of my favorites. The characters were so well-drawn that I really felt that I knew them. I actually missed them after I finished the book. Just great!

Posted By: Stoobie

-

May 20th, 2012 8:21:46 pm EDT

What a wonderful read that was. The characters are still very real to me and I want to know what happens next with Jake and Sadie. Stephen has the gift of creating a complete person from a few lines - the housekeeper who saves the day on the Number 3 bus surely deserves a book to herself. This is a book shouting out to be made into a film. Well done, Mr King, you left me in tears thinking about what might have been and whether changing the past is worth the loss of those present/future friends and lovers.

Posted By: Joe A. Wilson

-

May 20th, 2012 2:34:54 pm EDT

I truly enjoyed the subtle references to other books written by Stephen King in this book - notably It and Cujo. How could you misspell Caroline Kennedy's name, though? :-)

Posted By: ChristineW

-

May 16th, 2012 3:43:11 pm EDT

This is one of my favorite books of yours. I absolutely loved it!!

Posted By: Dellboy

-

May 14th, 2012 7:20:16 pm EDT

Dear Stephen, I really enjoyed your latest novel 11/22/63, the end brought tears to my eyes as i was hoping that jake & sadie would be together . But it was not to happen (sigh) best book for a long time so sad.

Posted By: Salvatore Aversa

-

May 12th, 2012 2:05:26 pm EDT

This was my first Stephen King book, and I thought it was fantastic. Maybe a little too jumpy at times, but absolutely wonderful.

Posted By: MonicaF

-

May 11th, 2012 8:08:52 pm EDT

Mr. King, thank you! Thank you for such a delightful and moving story. I finished the book yesterday and I can honestly tell you - I MISS THEM! To this day I still remember the feeling I had when I finished reading IT, the feeling that the story was reality and everything around me was strange. That's how submersed I was in it. With 11/22/63 the feeling was different, it was a feeling of familiarity, of reading about folks you know and love. Everyone in it was absolutely believable! I followed Jake and Sadies'story hoping against hope that you'd find a way for them to be together. I cried at their last dance and loved it that you never once had him think anything negative at her being so old at the end. I loved Deke and the HS kids. I loved how true it all sounded. Now, that you actually wrote about time travel, my absolute favorite subject - oh, I love that!!! It was a beautiful story! I miss them!

Posted By: Anonymous

-

May 9th, 2012 3:02:36 pm EDT

Great book. A couple of things I haven't seen discussed yet: 1) Was everyone else speculating throughout that Sadie would become pregnant, what with here insatiable appetite for sex? This would have introduced yet another paradox to consider (my future son is 10 years older than me) ... 2) Why did Jake and Sadie just assume that it would be OK to bring her back through the portal into the future once the deed was done? Nobody had brought a "land of ago" human to the diner yet, correct? Not that they wouldn't do this, I'm just surprised that they didn't even consider that it might kill her / age her or something.

Posted By: Wouter

-

May 8th, 2012 10:41:04 am EDT

Dear Mr. King, I really enjoyed your book. It has the strong power of being thrilling, romantic and enjoyable all at the same time. By far my most favorite book. Wouter, 13 years old

Posted By: Mothercat

-

May 5th, 2012 6:49:34 pm EDT

My favorite books ever were the Dark Tower books. Stephen King has outdone himself with this one though!! I couldn't put it down. Amazing story!!! Probably my favorite book ever written now. Really enjoyed this one...

Posted By: Al

-

May 1st, 2012 9:08:02 am EDT

Mr. King, You were right. This book did attract someone who is not a fan of horror. I look forward to other books from you in this genre. As a person who lived through the events of 11/22/63, I had always assumed that the world would have been a better place had JFK lived. I wept through the last part of the book and at the courage shown by the strong, scarred women of your novel. I found it hard to put the book down. The only horror in this book is the projection of George Wallace as President. Perhaps now I can put the assassination behind me, although I will continue to measure the intelligence, wit, and charm of our presidential stock against JFK. Few compare... I'm not a conspiracy theorist but I have yet to hear an explanation as to why JFK's head was blown backward by the third shot rather than forward as physics would ordinarily suggest. Thanks for taking me back to my youth. With one, obvious exception it brought back wonderful memories. Al

Posted By: Andy

-

April 30th, 2012 3:54:12 pm EDT

Fantastic read from the start it takes you through so many different emotions.A gripping story as if you were Jake( george) at times you feel high and go through the lows with the story.I can only say that when the book was finished I had a hole for a few days I almost wished that there was another story with george. Do anything include read this book Fantastic

Posted By: Bill915

-

April 28th, 2012 5:45:22 am EDT

I really enjoyed this book. The characters and story both.

Posted By: Emma

-

April 20th, 2012 6:28:33 am EDT

I enjoyed reading this book, although I found the middle to be rather dull at times. But the ending made up for it.

Posted By: Jim

-

April 18th, 2012 12:10:33 pm EDT

I finally finished reading this book last night. First and foremost, it was an excellent story. Period. I think this is a story that almost anyone can enjoy. Well written, well thought out. Props to you, Mr. King, you deserve them. Secondly, this story stirred some ... urecognizable emotions in me. I was born 20 years (almost exactly) after the assassination, so I didn't have an emotional attachment to the times or events, but i'll be honest, this story really brought it home for me. And Mr. King, I DID go look at the Zapruder film as you suggested. I'm not ashamed to say that, unlike Jake, I DID shed a tear. I could go on, but I won't. BRAVO, Mr. King, BRAVO!! This is, to me, one of your best books ever. Thank you for sharing it with us all.

Posted By: Sywren

-

April 15th, 2012 11:02:58 pm EDT

Thank you for this wonderful trip into then. I can't remember crying while reading a King book but I certainly did this time...not only for the lovers but all over again for the Kennedys. It's ironic that only last week I happened on "The Kennedy Movies" which I recommend to anyone who reads your book to bring even more life to your vivid portrayal.

Posted By: Susan

-

April 14th, 2012 8:50:47 pm EDT

This book was awesome. It has been a while that a book has kept me that captivated.... I didnt want it to end.

Posted By: JohnnyB

-

April 13th, 2012 11:29:12 am EDT

Dear Mr. King; I know you can't read many, if any letters. However, I wanted to say i had no intention of reading 11/22/63. I didn't like the premise-going back in time and all. Then my son gave it to me for Christmas. So I read on. I am glad things turned out that way. Sir, you made a great story. I felt you created a love story. I hope that is not an insult, but it seems to me that was so much a part of the events in the book. Then you created an ending I also felt was possible. Had JFK lived, would things be so different? Maybe Vietnam would have been put off. Even so, each President only gets 8 years max. Thank you for a great story and a well thought out perspective.

Posted By: MXWLL

-

April 12th, 2012 4:16:26 pm EDT

This book was just 19, man...19.

Posted By: Smich

-

April 9th, 2012 6:03:24 pm EDT

While reading 11-22-63, I kept thinking about the conspiracy theories that have intrigued me most of my life. (Born in 1960) I also thought of Johnny Smith and his "mission" back in 1970-something. Then I thought of Thad Beaumont and George Stark. Then I thought of Jack Sawyer and his predicament and odyssey. I had been using a few too many Ativan (not my fault; I had sweaty palms and a few sort of stuck to my hand as I poured out the pills. I didn't want to put sweaty pills back into the bottle.) Frack it to Hades! I forgot the plot of 11-22-63. But praise be to the Gods! I was traveling in Tonga (the island, not the African tribe dwelling in parts of Malawi, Tanzania, and Zambia. Why was my travel locale so serendipitous? Well, I picked up the "Twinner" of 11-22-63, titled 22-11-1963. What a joy. What rapture. It all came back to me sort of. I felt more proper, proud and privileged whilst reading it. Dash it all, I thoroughly aroused myself in its Verne-ian, Americana. I say King, you've done it again!

Posted By: Anonymous

-

April 6th, 2012 3:15:12 am EDT

I just want to say thank you for having Ritchie and Beverly dance...it made me cry and it said so much with so little-keep it simple right. Much love.

Posted By: Ricky

-

April 1st, 2012 5:10:21 pm EDT

what a fantastic moving story,one of the finest books everty written

Posted By: Nick

-

April 1st, 2012 3:27:18 am EDT

Probably one of the best of King's work in years. Stephen King has never failed to surprise me, being not just an excellent horror fiction writer but one who has mastered the art of storytelling. With this book, King did something very different than his other work and did indeed write a masterpiece. It's not just a novel, it's a work of art that once again proves King as one of the greatest storytellers of all time. If your a Stephen King fan, this is his best yet and you must read it.

Posted By: Mozzy

-

March 29th, 2012 6:18:49 am EDT

Thanks for a GREAT book. I am 67yrs old and read about 2 books a week and 11/22/63 has to be one of the best stories I have read. Thank Mozzy

Posted By: Shample

-

March 27th, 2012 11:38:15 am EDT

Spoiler

Just finished listening to 11/22/63. Wonderful book. Many people think about the possibility of going back in time to correct past mistakes. It really makes one think about the consequences of the "butterfly effect" if we really could have gone nack in time to change our life for the better. We all are familar with the "It" reference. But did anyone catch the reference to "Christine" as well. Wasn't that the car John Clayton was driving in Jodie?

Posted By: Eric

-

March 18th, 2012 10:53:33 pm EDT

This was the best book I ever read till I got to the end.. I can't help myself. I wanted something different for Jake. I won't say more than that because I don't want to ruin it for anyone else.

Posted By: John

-

March 15th, 2012 8:19:08 pm EDT

This book is a true masterpiece, it has amazing historical accuracy, a great story, etc etc. If you love anything Stepehn King AND/OR History, do yourself a favor and go buy this book now.

Posted By: Bret K

-

March 15th, 2012 5:49:06 pm EDT

***SPOILERS***

I finished the book last night and since then I can think of nothing except how Jake and Sadie never got to be together. I loved this book for it's setting in a time period I never got live in but love. EXCELLENT BOOK. The bittersweet ending is what makes us remember it very much like Titanic. A great love story that could never be.

Posted By: Fast Eddie

-

March 13th, 2012 11:06:41 pm EDT

It, was a pleasure to read something new,cant wait for the movie.

Posted By: Herb

-

March 13th, 2012 2:33:25 pm EDT

I am happy and sad at the same time. Happy: I am happy that there are plans in the works for an 11/22/63 movie for 2013. Previously, I expressed dismay that we would never know what Sadie Dunhill looked like. Now we will! I hope they consider casting Christina Hendricks for her part--I think she'd be perfect! Sad: I am sad that Stephen King thinks there is a 99% chance that LHO was the sole assassin of JFK. With all due respect, you have read the wrong books on the assassination, Mr. King. In fact, I would love to buy lunch for you and Mrs. King at Three Buoys Seafood Shanty in York, ME. I guarantee that I will convince you to change your mind, Mr. King. If I fail to convince you, I will treat you to their special 3.5 lb. lobster roll, which goes for $75 and which no one has ordered yet at the Shanty since it opened last year!

Posted By: Shiela Watson White

-

March 10th, 2012 8:22:16 am EST

I have just finished reading this intriguing book. Having lived through that time, it was fascinating to go back in time and see how well researched this book is. Sad though the death was, I wouldn't change anything. What is, is. I have a bit of a problem with the time-travel aspect of the book, but it is fun once one gets used to it. I'm so glad the end was changed and that you waited this long to write it. There are some really excellent quotes from it : one in particular on "home" on page 399. My only criticism is that it was too long, but being verbose myself, that, perhaps, is not a legitimate criticism. Sincerely, Shiela Watson White

Posted By: Aeltari

-

March 10th, 2012 12:23:38 am EST

***SPOILERS***



Oh my word, Stephen, you have taken me on a ride I will never forget. I was expecting a twist into the macabre as so often happens in your stories, keeping an eye on the "yellow card man" as such...but it never materialized. I was glad of that! Like many others I'm sure, I yearn for simpler days. I spend more then enough time letting my mind wander through the past and what it would have been like to live back then. It truly seemed like a much easier life. Our technology and progress has not made life easier, on the contrary it has made it harder and far more angsty. Survival now is a roll of the dice...I always felt that in days gone by survival was assured if you worked hard. Following Jake's passage through the story made me very aware of how even what we perceive as a positive change can have negative connotations as the ripples of our deeds spread. The same works vice versa. I cried at the end when Jake had to make the sacrifice of his beloved Sadie. When she was shot by LHO my heart sank...I figured he would just go back and do it all again. Even once he saw how horrific his "good deed" had made the world I figured he would simply go through all the steps omitting saving Kennedy and just live out his life with his precious lady. My heart was torn asunder when he danced with her that last time. I am still unable to pick up a new book until my heart and mind has calmed down from this unforgettable adventure. I do wonder what the original ending was. Perhaps one day you will tell us, yes?

Posted By: Monty

-

March 8th, 2012 8:09:32 am EST

This story holds a special place in my heart. My mother has read King's works since before I was born, and the months leading up to this one's realease, she couldn't stop talking about it. When it finally came out, I decided to get a copy a read it for myself. About when I got to the part where Jake kills Harry's father the first time around, my mother lost someone very special to her. It was a shock to the whole family, but mom and I used the book as a way to cope with our grief. "Everything happens for a reason," Jake tells us, "even if you don't like the reason."

Posted By: Kimber

-

March 7th, 2012 4:06:32 pm EST

I loved this book. I enjoy all of King's books, but have never experienced a "love story" amongst them. Sobbed throughout! Listened to it on CD...would be late from lunch, because I just couldn't quit listening! Good job!!

Posted By: Herb

-

March 3rd, 2012 7:11:51 pm EST

Wondering what (or who) Sadie Dunhill looks like. I'm imagining she might look like Joanie on Mad Men, played by Christina Hendricks. Wondering how Stephen King himself imagined her to look. We may never know unless they make an 11/22/63 movie, which I doubt. She will remain a figure (I mean figment) of our imaginations.

Posted By: Bud

-

February 29th, 2012 8:39:22 pm EST

Loved the book, but found one glaring error. When Jake collects on his bet on the prize fight the bookie asks if he wants to bet on the Bears winning the NFC. In 1963 there was only the NFL & the AFL. The NFC did not yet exist.

Posted By: Joan

-

February 22nd, 2012 11:37:31 am EST

I was in 8th grade 11/22/63 and remember it well. It was a terrible time that was hard to recover from. It would have been wonderful to change that day, this book almost completely did it. But I guess he's right, unfortunately, cannot change the past.

Posted By: Crystal

-

February 22nd, 2012 10:09:01 am EST

Can't.wait.to.read.this.one.Almost.done.with.The.Dome.Stephen.King.is.my.hero.

Posted By: Old Ricardo

-

February 18th, 2012 4:57:14 pm EST

A brilliant story, read it in on holday,on completion had to retreat to the room for a sob. it took over my life for a week, ive read everthing hes written and i would rate this in the top 5 Hes getting better with age !

Posted By: GeorgeLookN4Sadie

-

February 16th, 2012 6:51:30 pm EST

1000 characters could never describe the impact this novel has had on me. The Kennedy assasination serves as a backdrop to an even bigger story of love, morals, and finding your true self as a person. Though I am nearly a 26 year old man I couldn't help but weep like an infant whose toy was taken away when the pages began to dwindle down. Best piece of fiction I have ever read.

Posted By: Zach R

-

February 12th, 2012 1:48:26 am EST

Literally just finished the final words of this masterpiece and its hard to even express how moving the book is. I think its certainly the best book I have read in a long time. Incredibly poignant, an absolute masterpiece.

Posted By: Christie

-

February 10th, 2012 7:26:34 pm EST

I just finished reading this and just have to say I LOVED it! I didn't think I would like it initially, it seemed so different than what you usually write. But I love most everything you write so decided to give it a try. I'm SO glad I did. Keep em coming! xoxo

Posted By: Jkohlo

-

February 9th, 2012 7:10:38 pm EST

WOW! This book is AMAZING! It was my first Stephen King book, but surely not my last. Thank you for giving us this unforgettable work of art!

Posted By: Garyj4

-

February 7th, 2012 5:04:40 pm EST

Probably the best book I've read (or in this case listened to) in years. King does it again. Has to be one of the top 3 King books and I have been reading King since 1978 or 1979.

Posted By: Alessandro Tinchini

-

February 6th, 2012 5:12:25 am EST

I have no words except for this: life. That's what I found in this new work. And when I saw the day you finished it, being it December 18 2010, my heart missed a beat: that's the day I told my fiance I loved her for the first time! How's that for a harmony?

Posted By: Beverly

-

February 5th, 2012 5:48:55 pm EST

To tell you the truth I haven't read a Stephen King novel since Misery came out and it was Misery that made me quit reading King. The "Misery" story was more than I could handle and because King writes so evocatively, the torture in that book was too real to me. I couldn't read past the first few chapters. I heard Stephen King interviewed on CBC Radio about 11/22/63 and decided to give it a go. I loved it. Very captivating and thought inspiring.

Posted By: Anonymous

-

February 4th, 2012 7:24:57 am EST

I very much want to read, but in Ukraine it is very difficult to buy (

Posted By: Jude

-

February 3rd, 2012 7:12:14 pm EST

I just finished 11/22/63. Brilliant! Been reading Stephen King since he first published. This book has to be made into a movie. Please, please, please?

Posted By: Marob

-

January 30th, 2012 12:39:56 pm EST

I absolutely loved this book. I couldn't put it down. I am a history teacher and an assassination buff. This was a perfect blend of all elements of storytelling. It was a splendid piece of writing.

Posted By: Ted

-

January 29th, 2012 8:28:48 pm EST

Awesome Book. I couldn't put it down. I read it in one week!!!!

Posted By: Danielle

-

January 28th, 2012 7:50:35 pm EST

I loved this book. The premise of the book is so unique and the characters could be real people. I have recommended it to friends, family, and students.

Posted By: Dee

-

January 23rd, 2012 11:37:19 pm EST

i am almost finished with 11/22/63 and like it better then most recent King books. I only found one 60's catch phrase that stuck in my mental craw--page 705 paragraph three: "mix-nox." The correct term is "Mox-nix" An American spelling of the German expression "macht nichts" which means roughly, "it makes no difference." Mary: "Do you want ice cream or pie for dessert?" Joe: "Mox nix. Just surprise me." Dee

Posted By: Anonymous

-

January 23rd, 2012 4:02:39 pm EST

Incredible book. I couldn't put it down. As an English teacher (like Jake) I love clever novels and this was one of the best books I have ever read. Although a young child at the time of Kennedy's assassination even I have wondered what the world would be like if he had not been killed. In addition, as someone whose father died too soon I had always hoped I could go back in time and change the circumstances of his death. But the past is obdurate. I don't think I will ever forget this book. A small side note: There was a continuity mistake on page 229 - Al is looking for his laptop and them it say "Harry's MacBook." - I believe that isn't correct unless I missed something.

Posted By: Rob H.

-

January 21st, 2012 7:26:52 pm EST

I'm a conservative lawyer.. Some might call me a cynic. As a former English major and avid reader, I've probably read a thousand books. And two stories have literally brought me to tears. The first was The Body, which touched me deeply following the death of my best friend at 19... Reminding me both of the innocence of youth, and the harsh reality of our mortality. The second, today, was 11/22/63.. Which so poignantly reminded me of how lucky I am on this day, and at this time, to have been so fortunate to have found the love of my life. This could be Mr. King's "Great Gatsby"... Wonderful pace, fascinating story.. with beautiful soul. Well done. And I'm not a crying man.

Posted By: HUFEE

-

January 20th, 2012 6:18:40 am EST

Tears ,laughter and the need to keep reading. This was my first Stephen King book, many to follow.

Posted By: Trojanik

-

January 18th, 2012 11:47:28 pm EST

Bravo! Bravo! The Kennedy assassination and time travel, two of my favorite topics. I loved going back to late fifties Derry and seeing Dallas through the eyes of somebody from the early sixties. Once again Ive been welcomed into a world thats not my own by characters that seem too real to be just characters in a novel. Of course not ALL of these characters are fictional which, in my view, just strengthens the ones that are. Great read, great subject matter, and yummy food for thought. Can Jake Epping find a new bubble and go back to Whitechapel, London circa 1888 and tell me who Jack The Ripper was?

Posted By: Anonymous

-

January 17th, 2012 9:59:25 am EST

I have read just about every one of Stephen King's books and this one is by far his best work. I was on the edge of my seat through the entire book. I had to fight reading ahead just to see what would happen. I would love to see him use Time Travel again. Stephen, thanks for the ride!

Posted By: Vpazmino

-

January 16th, 2012 7:28:36 pm EST

Could Stephen's writing and creativity get any better. I wasn't quite sure about picking up this book and reading it. Been there, done that, the whole conspiracy thing, but what a joy it was as i turned from page to page and couldn't wait to find out what happened next. The anticipation was so exhilarating--its why we read. To become captured by the storyline, to try as futily as we might to anticpate what happens next, but to unveil another twist in the plot that we didn't imagine. I absolutely loved it. I hope they make a movie of it so other nonreaders can experience your great storytelling. And if they do, I hope it comes close to the movie version of The Green Mile. History has shown, there are few of King's Novels that make it to screen and keep their essence. Job well done Stephen.

Posted By: Mark

-

January 16th, 2012 5:55:34 pm EST

If you enjoy well researched history blended with an imaginative storyline - I would highly recommend it. It's a thrilling tale. I'll be thinking about it for months. Congratulations to Mr. King!

Posted By: SeNoRu

-

January 16th, 2012 1:26:40 am EST

It is really the best book of King (and I have read many). I never want this book to have its end. When I was a couple of chapters before the end of it I thought what the conclusion could be. And finally I have got to the world without their normal love but the parallel virtual love. I cried when it happened, and I'm not a "crying man". Great, glorious, wondrous!

Posted By: JLMC

-

January 15th, 2012 9:05:59 pm EST

This is my first King Novel.. and so far its the greatsest book ever, suspese, action, humor, and history. oh it is bueatiful. Stephen King has not failed, and is on my number one list.

Posted By: Rfuller4

-

January 14th, 2012 11:15:49 am EST

I've always enjoyed Stephen King, but he's never been my favorite author. In fact, some of his stuff I hate. But this is an amazing book! Mr. King moves to the top of my list!

Posted By: Anonymous

-

January 12th, 2012 11:42:04 pm EST

I love this book. I couldn't put it down. Having lived in West Texas and visiting Dallas I appreciated being able to visualize exactly where this book takes place. Thank you Stephen for writing this book so perfectly.

Posted By: Edna Whetstone

-

January 12th, 2012 6:32:57 pm EST

I am 71 years old and a retired high school English teacher. I have always been a fan of JFK and a voracious reader. When I finished this book I found myself doing something I have never done before - I started over from page 1. The second reading is just as enjoyable as the first.

Posted By: Rowan

-

January 12th, 2012 3:41:54 pm EST

I thoroughly enjoyed the book. Got it for Christmas and could not put it down until I finished it. Was a bit disappointed with the ending. The romantic in me wanted Sadie to be happy! So...if I could go back in time and persuade the writer to change the end, would I do it? Hmmm...

Posted By: Shanda

-

January 11th, 2012 10:36:14 am EST

This book was amazing... I couldn't put it down. I would often find myself reading well into the morning hours. This made for some long and tiring days at work, but well worth it!

Posted By: Browniiz

-

January 10th, 2012 6:24:55 pm EST

I liked this book so much. It brought many good memories of days gone by. By far one of the best Stephen King books, not just in recent years but ever. I read the last part as slowly as I could not wanting it to end.

Posted By: Pablo

-

January 10th, 2012 5:26:07 pm EST

Combines the brilliance of your early work with the supernatural ideas found in "Insomnia"....I love the idea of normal people messing around with the space time continuum. Felt that this book meant something to you as it came across as something you put everything into. Totally loved it! Will now have to buy all your books again on kindle.

Posted By: Bekahbay

-

January 9th, 2012 3:28:49 pm EST

Wonderful! Stephen King is my absolute favorite author and he has, once again, met expectations in this heart warming, thrilling and compelling novel. Now...what to read of his next... hmm... lol

Posted By: Broomie

-

January 6th, 2012 2:37:07 pm EST

I have read maybe 4 of Kings novels, and this by far is the best novel I have ever read! Could not put this book down even though it was so freakin heavy to hold on to! Loved every page!

Posted By: BennyNYC

-

January 6th, 2012 2:25:45 am EST

He's still got it, folks! Way too quick of a read, though... Also very much enjoyed the little film that came with the eBook. Bravo, Mr. King! And now the insanely difficult task of finding a follow-up book. Sigh.

Posted By: The Goremet

-

January 3rd, 2012 10:33:01 am EST

Where were you when 9/11 happened? Were you personally affected by this tragedy? What if you could go back and change it? Would you, or better yet, should you? Well, in Stephen King's giant novel 11/22/63 he asks this type of question, but instead of 9/11 he tackles the Kennedy assassination. Whatever the horror is it in the best interest to change the past? It seems like an honorable endeavor, one filled with ideas about making things better and changing the course of history - preferably changing bad things to good. King's tale warns about messing too often with the past as it creates roadblocks and recreates in different forms changes you have already made. In the end of King's book things are not for the better, regardless of the seemingly positive changes Jake Epping made; saving Dunning, saving Sadie and of course, saving Kennedy. I ask about 9/11 since this is the most recent event to happen to us, one that we are remembering daily and scarred by whether or not you were at the center of the tragedy. what would the world be like if someone went back and changes that event?? What events in your life would you like to go back and alter and if so, how would that affect your here and now? King taught me to be wary of wishing for a different today. If I went back in time and decided to go to college instead of running a bookstore and becoming a writer I might (and I stress might) have more money, but I would not have met my wife and had a beautiful boy. Would I risk all that? I think not. Would I love to see the world in a better state, less economic struggle and see the word war become something out of a sci-fi or historical novel? Is any of that truly achievable? Jake Epping - our wonderful hero - tackles personal and worldly questions throughout the novel, but none so much as the personal one he makes in the books ending pages. Choosing to sacrifice the live of his life and leave events as they were played out is a decision no one should have to make. He decides to not go back again and try to save the world all over again, because what did he truly accomplish? Early in the novel, readers will be reintroduced to a place called Derry - fans will shutter with glee, and it is this portion of the book that gives it its color. Epping has work to do here and the whole course of the novel is supported on the Dunning story and Jake's watershed moment. In a beautiful scene Jake meets up with Beverly Marsh and Richie Tozier, from IT. Not too long after the 1958 events of IT Jake enter the picture. Now, what if he had been brought back only months earlier?? Interesting idea. Not since DUMA KEY have I loved a King book as much and moved it into my TOP 10. Bear in mind that I love all King's work and find this no easy task to change my favs, but every once in a while I am truly blown away by the brilliance King has. 11/22/63 is such a book. CRitics and reviewers say this is a departure for King, a genre shift and that comment makes me ache. King has never been a genre writer or a writer whose books feel repetitive or stale. 11/22/63 is made of the same cloth as all of King's work and the interconnecting layers make it all the more realistic to this reader. The ending of 11/22/63 reminds me of the film version of THE MIST. Our efforts to do the right thing are what get us in the most trouble. For our own decisions are small shifts in the universe's gears and if we put too much pressure and try to alter who we are then the gears break. Good or bad we are both and make mistakes - people make horrible mistakes, but it is for us to look to the future and learn than go back and fix them. Poor MISERY now falls off the Top 10, but sitting pretty in its place is 11/22/63.

Posted By: Gina

-

January 3rd, 2012 10:14:41 am EST

The Book was awsom. Very good writting as always, however I wanted to see jake and sadie be together. I was sad that he didnt go back for her. But still it was a totally awsom book because i read it in 4 days and wake up still thinking about the characters and the simple erra.

Posted By: Andrea Ceregini

-

January 2nd, 2012 7:04:54 pm EST

Thank you, mr. King.

Posted By: Vicster27

-

December 30th, 2011 2:44:47 pm EST

I got this for christmas, i started it 26th Dec and finished it 29th Dec. Oh how i couldnt put this down! I have to say, King gets better with every book. I couldnt wait to tell people about this book. 5 stars :)

Posted By: Inyo55

-

December 30th, 2011 1:49:09 am EST

A great book, hard to put down, and I've read many books. Once in many years you find a landmark book like this one. Wondering what-if if JFK had not been assassinated has been the question of many people. The author lays it to rest once and for all. Recommended!!!

Posted By: Joey321

-

December 28th, 2011 3:08:33 am EST

By far one of the bests... cannot put it down... LOVE LOVE LOVE it... Long live the KING!!!

Posted By: Anonymous

-

December 27th, 2011 2:04:37 pm EST

I have read all but a handfull of Kings novels , This is by far his best . I loved everything about it , at the end I myself actualy cried when Jake and Sadie had their laast dance . Great story . Long live the King

Posted By: Flash Gordon

-

December 24th, 2011 1:48:01 am EST

This book is not fair. I have things to do. I have a life. It's Christmas for crying out loud and that's a crazy-making enough time as it is. But all I can think of is picking up that damn book again and continuing to do little else. Bravo, and I hate you for this !

Posted By: Shady

-

December 17th, 2011 2:27:24 pm EST

I've been trying to read all of your books. This one is one of my favorites right up there with the dark tower series!

Posted By: Reader

-

December 17th, 2011 3:26:52 am EST

This ranks right with The Stand as one of my all time favorites and will be read time and time again.

Posted By: Bguy85

-

December 13th, 2011 8:58:15 pm EST

I have about fifty pages left in this novel, and i don't want it to end! I can honestly say that this is my favorite book Stephen King has written in the past thirty years.

Posted By: Smitch

-

December 10th, 2011 6:06:46 pm EST

What if I opened up a information mobile near the portal. I would then drag a cat V or T-1 cable through the portal with me and sell internet information, betting analysis, stock analysis to the locals. I'd probably need a few dudes with tazers to come down with me to keep away the constable. BTW, I googled "11 - 26 - 63" and came up with -78. Oh my god! That's the inverse of the year I graduated from HS with a 2.03 GPA. Wooo-eeee-oooo!

Posted By: Doubledtx

-

December 10th, 2011 11:06:52 am EST

I have read every book out there by Stephen King since I was 12 and this is his best book yet! I was captured on page 1. I have been recommending it to everyone and when they say "Really? Stephen King, aren't his books scary?" I tell them, this is not one of those. I love the real romace story between Sadie & Jake/George. I live in Texas & could "see" and "feel" everything he wrote. Thank you Mr. King.

Posted By: Anonymous

-

December 8th, 2011 5:49:56 am EST

this is is the best of your works stephen king

Posted By: Cinnamongirl

-

December 5th, 2011 10:23:45 pm EST

Loved, loved, loved it. Could not put it down--read it in one day. For me it's up there with The Stand. Did I mention that I loved it?

Posted By: Snaps

-

December 5th, 2011 8:48:31 pm EST

Best book I ever read ...period. Even though I read the book on my Ipad2 last week and finished it , I am still back in the past trying to figure out all the other options and paths Jake could have taken to prevent the assassination of JFK . Thank you Steve.

Posted By: Scarlett

-

December 3rd, 2011 12:35:59 am EST

My husband and I each read it, and honestly, we could not put it down!! It was fantastic!!! What a great read!!

Posted By: Sherrel

-

November 29th, 2011 11:27:29 am EST

I very much enjoyed this book of Stephen King's as usual. It's like pulling on a old comfy sweater, completely engulfed. This book is no different. I like the way it pulls the reader into Al's diner, not willingly late at night, but dutifully, and then takes you from there. Thank you Mr. King, another wonderful read. I am never disappointed in your work.

Posted By: Amitchell

-

November 28th, 2011 10:15:13 pm EST

Incredible, I am breathless and hungry for more. There is no more, perhaps soon harmony will present itself.

Posted By: Starkweather

-

November 27th, 2011 1:59:08 pm EST

Since The Stand and MAYBE a couple of other books, 11/22/63 has most definitely been the most fun to read. It mesmerized me completely. I went back with Jake. Isn't that what's supposed to happen? And yes, I would have done the same as my friend, Jake. I am a LCR and am so excited about this book. It is one of Mr. kings best by far and that is saying a lot. Pure Geinus. Mr. King makes me want to write but at the same time.......how could anyone come close to talent like his. In the end all we can do is just hang around and wait for the next ride. Thanks man, for all the fun and adventure through the years. You made me love to read and for that I a m forever grateful.. I do wonder about the Timex the Feds brought back late....maybe a little something for later

Posted By: Danguie Mosca

-

November 26th, 2011 9:26:15 pm EST

Great novel by S.K. and one of his strongest recent works, IMO. Solid plot and identified, likable characters. This book has me plastered to its pages for straight hours. I was satisfied when reading the tiny spinoff of the encounter with Richie, Beverly and other characters from Derry. Another soon to be classic, this one.

Posted By: Immsm

-

November 26th, 2011 8:41:41 pm EST

This was an amazing book. I couldn't stop reading it but at the same time didn't want it to end. Stephen King has always been one of my favourite authors and this one is one of his best.

Posted By: Amandab

-

November 25th, 2011 12:34:21 am EST

This is one of my all time favorite books. I didn't want to put it down for a minute

Posted By: Anonymous

-

November 17th, 2011 2:43:49 pm EST

I thought this was a terrific read! I was enthralled from page 1, to page 849 and couldn't put it down! Jake is such a cool character and could totally relate! The action was instense, and the stress level high. I've read a very large section of his books, and this one ranks high on the list of my favs! "The past is obdurate!"

Posted By: Els

-

November 15th, 2011 2:24:14 pm EST

I just finished the book this morning; it ended perfectly, even as I was reluctant to part with the characters (especially the ones in Jodie.) For me, that's where the real story is; that the story just needed the JFK assassination as a catalyst to get the characters together where they belonged. I wonder if Mr. King misses teaching sometimes. There's a certain rightness about how he writes about it; it rings so completely true. Which makes sense: You write what you know. I would speculate that in his teaching years King was a good one. Of the same breed as the Jake Eppings and the Johnny Smiths he has brought to literary life. Thank you, Mr. King, for sharing yet another story with us.

Posted By: Anonymous

-

November 13th, 2011 11:41:15 pm EST

I have been reading Stephen King since I was kid. This is the best book I have ever read by any author. It took my less than a day to read it and I plan on reading it again soon.

Posted By: Anonymous

-

November 12th, 2011 8:47:01 pm EST

I just bought this book today. I am 57 pages in, and I love it!! Amazing job Mr.King!!

Posted By: Mat

-

November 11th, 2011 6:11:52 am EST

***SPOILERS***



Thanks Stephen... 11/22/63 part II is amazing! Derry, Richie, Bev - 1958! THANKS, THANKS, THANKS! I'm from Poland

Posted By: Apples42

-

November 10th, 2011 9:26:54 pm EST

CAN'T WAIT!

Posted By: Gelious

-

November 10th, 2011 7:38:45 pm EST

***SPOILERS***



1) It was very interesting to read the description of american life in 60-s. Even for me, who has nothing to do with USA and was born a long way after. 2) I was glad to visit Derry again. Seeing familiar faces and places was good, especially Ritchie Tosier and Beverly Marsh. Just as Jake himself I am wondering where are they now. Also... that short meeting between Jake and It was awesome and creepy. IMHO It is fascinating monster. I feel sorry for those readers of the novel who didn't read "It" (if there are any) - they won't be affected by Derry's chapters as much as those who did. 3)Romance was well done and includes all the most touching and heartwarming moments of the book. Mr King, you did a great job! Not to mention the whole "dancing is life" stuff. Very convincing. 4) Ending was brilliant and bittersweet. Although I myself was for several pages sure that Jake will choose a 100% happy one. What makes the matter more interesting, King himself wrote that it was his son who invented this new and better ending . Makes me wonder what was the original one. I liked how Jake was mindful about the butterfly effect. 5) Bits of alternative history were interesting and well done, And sure creepy. 6) And as someone (not me xD) at the boards already pointed out - there is no such Russian word as "Pokhoda". We have "pogoda" which is a noun and means "weather" The closest thing to both "pokhoda" and "walk" would be "prohodi" ("move along") I know, no one actually cares, but I just can't help it))

Posted By: Bishop3529

-

November 9th, 2011 11:27:06 pm EST

This book looks & reads very well...

Posted By: Doc

-

November 9th, 2011 11:20:18 am EST

***SPOILERS***



I loved this book. I am so glad King revisits Derry in this one and even gives us a glimpse of Beverly and Richie from "It" in the year 1958 not long after they 'destroyed' the clown in the sewers. I thought Jake Epping was a great character and you simply cannot stop turning the pages. Very fun read. I look forward to reading "Doctor Sleep" and I hope maybe the gang one day returns to Derry for another reunion. They'd be what, fifty something?

Posted By: Rambo

-

October 31st, 2011 3:01:30 pm EDT

I would like to read this book

Posted By: Twila

-

October 27th, 2011 6:03:33 am EDT

As always, I am looking forward to your beautifully gruesome and captivating works. At this moment, I even happen to be watching 'Silver Bullet'. You're quite the inspiration, even going as far to inspire someone as young as myself to begin writing in hopes of becoming a novelist. Keep up the enthralling work.

Posted By:

-

October 20th, 2011 6:18:57 pm EDT

First off GMatt, Stephen King said in many interviews and I'm pretty sure even on this website that the inspiration/writing for UNDER THE DOME took over 12 years to write and finally finish. It's just a coincidence that SIMPSONS MOVIE did the same thing. Could he be lying? Yes, but Stephen King is such a good writer (not to mention how successful he is) why would he wreck that up with copying someone's idea? The publishers wouldn't publish it if it were too much like the Simpons like you and many people say U.T.D. is. S.K. says he has proof of documents dated back to ten to 12 years ago of ideas and small chapters and snippets of this thick novel (and holy chizz it is thick lol) and, if im not mistake, one of them has to do with the color yellow as it's original title? Like the Yellow Morning or something like that. I remember seeing it somewhere but then it had something to do with tennis? It's been a while but S.K. would NEVER do that. Why would he risk his writing career in copying some FOX TV event ? It would make no sense

Posted By: Writerpal

-

October 20th, 2011 5:59:28 pm EDT

I'am itching like i've been bitten by hundreds of masqueto's for this book. I haven't read all of Stephen's books yet, but i've know the storylines of most...and this book--this idea--is one that will grip anyone, and put them on the edge

Posted By: Debbles

-

October 19th, 2011 4:16:39 pm EDT

this should be an interesting book.I look forward to reading it as i do all of your books Mr.King!!

Posted By: Chris Hatter

-

October 18th, 2011 9:10:48 am EDT

I have to say, that this is brilliant. I don't think time travel has ever been touched upon much in your work (except the langoliers, maybe) so it's fresh, and interesting. I wonder if it'll subvert expectations and totally curve ball me into left field like Duma Key and Under The Dome did so wonderfully. Well, cheers from an aspiring writer to a legendary one.

Posted By: Gelious

-

October 17th, 2011 4:52:32 pm EDT

Well... I read almost all King's works, and I don't remember that he ever wrote about timetravel - except for Dark Tower - but even there it was more about jumping between worlds. Would be very interesting to see how he will handle this stuff. I am not from U.S.A. therefore I don't care much about J.F.K, but I look forward to see what King will make of reasons for his murder. P.S. GMatt, if you think "Stephen King has lost his edge" than go and read "1922", I dare you.

Posted By: GMatt

-

October 13th, 2011 3:36:24 am EDT

Stephen King has been one of my idols ever since I started reading his works at the young age of 11. But ever since the release of The Dark Tower's amazing conclusion, Stephen King has lost his edge. Duma Key, Lisey's Story, and Under the Dome were all ridiculous. The only reason they sold at all is because King's name was on the cover. For god's sakes , the entire plot of U.T.D was ripped off the Simpsons movie. I believe it's time for the King to retire.

Posted By: Joel

-

October 11th, 2011 8:16:55 pm EDT

Mixing JFK lore, time travel, King and book... Will there be a better novel written ever again? I doubt it.

Posted By: Anonymous

-

September 26th, 2011 6:48:25 pm EDT

hhey well i just want to say this page is awsome and that u should put morrrrrrrrrrrrrrrrrrrreeeeeeeeeeeeeeeeeeeeee scary stories well bye

Posted By: Slammingrose06

-

September 16th, 2011 2:37:48 am EDT

Time travel is my most favorite and as usual I foresee this one creating a riptide in the portals of the future, one with most severe consequences. You can't mess with the past and not expect a even worse outcome in the future, this should be very interesting, to say the least.

Posted By: Beached70

-

August 25th, 2011 10:52:24 am EDT

Oh, time travel - my favorite! Looking foward to this one!

Posted By: Jason M.

-

August 22nd, 2011 12:09:28 pm EDT

Marrying the tragedies of the JFK assassination and 9/11...certainly a marketing coup, but I expect the greatest author of our time will indeed make it live up to that expectation and more.

Posted By: Stephen King's Number One Fan

-

August 18th, 2011 2:10:40 pm EDT

I want...no, I NEED this book!

Posted By: Jaadeey

-

August 11th, 2011 12:12:54 pm EDT

So cannot wait for it to be published if its anything like his other books it will be immense counting down till November now love Stephen King will always be a legend :-)

Posted By: Fish

-

July 30th, 2011 12:36:27 am EDT

Im pretty curious of the Jake character in this one, and if it has any relations to the Dark Tower series.

Posted By: Thousandtower

-

July 22nd, 2011 1:47:25 am EDT

Great Stephen! I'm waiting for this novel about JFK.

Posted By: Anonymous

-

July 6th, 2011 10:15:06 am EDT

I know this is going to be great, the assassination of JFK is always a fascinating subject/context. Im really curious what Stephen will do with it.

Posted By: Dmack67

-

June 28th, 2011 1:10:40 am EDT

I like the synopsis of this book.

Posted By: Larry

-

June 26th, 2011 4:01:51 pm EDT

i started reading sk books about two years ago. he is the best at giving me the willies. looking forward to 11/22/63

Posted By: Dylan

-

June 24th, 2011 12:59:35 am EDT

I am anticipating this novel the same as other Stephen King fans will be, his books have never disapointed me as of yet. And about a futuaristic English teacher back in 1958 whom is going to try and stop the Kennedy assasination... gosh! There's going to be many twists and turns, I can see it happening. Stephen King = extrodanairy

Posted By: Bigbadcuda

-

June 22nd, 2011 9:21:56 pm EDT

I can hardly wait to read this book! It sounds like classic Stephen King material, the kind of stuff that makes us all diehard fans for life from best author that has ever lived! I Love You Stephen King, thanks for all your good books. (and they're ALL good!)

Posted By: Kimmer

-

June 10th, 2011 2:36:46 pm EDT

Absolutely cannot wait until this comes out! Countdown to November!!

Posted By: Frank

-

June 10th, 2011 11:56:43 am EDT

Another written work by Stephen King....a no-brainer as far as I'm concerned! :-) I'm trying to own all his written works (probably won't be able to do it though) .. up to 71 so far... needless to say, I've already pre-ordered this one! :-) Stephen King = the best!

Posted By: Victor

-

June 8th, 2011 11:13:49 pm EDT

My birthday is a couple of days after this book comes out so Im asking for it. Can't wiat it will probaly top the stand I think King likes writing when its back in the older days like he did in full dark,no stars(1922) and no he will be going back in the past again. I don't blame him things aren't the same when King talks about people having Ipods and cell phones maybe thats why he wrote cell.

Posted By: Joe

-

June 8th, 2011 8:56:43 pm EDT

another master piece from a true and unmatched horror genius cant wait to read it

Posted By: Rushin

-

June 4th, 2011 2:49:18 am EDT

I think this will be another block buster

Posted By: Tiggi

-

May 22nd, 2011 10:22:56 am EDT

Cannot wait for this to be published

Posted By: Morganti

-

May 20th, 2011 1:39:15 pm EDT

Awesome!! But just about everything that King does I think is Awesome. Can't wait for November. I think he needs to write more, his novels don't last me from one to another. :)

Posted By: Trav01

-

May 16th, 2011 1:32:31 pm EDT

can't wait also for the novel to come out

Posted By: Jonny

-

May 14th, 2011 11:24:02 am EDT

I'm interested to see if this ties in at all with the thoughts of time travel Stephen King had in The Langoliers, probably not because in The Langoliers traveling back in time would just leave yourself stranded in a empty, dying world. At least in the movie, I apologize if the book is different. Anyway, I'm excited for this one.

Posted By: DebK

-

May 7th, 2011 9:05:52 am EDT

Can't wait! Can't wait! Can't wait!

Posted By: ZidBHX

-

May 5th, 2011 6:47:47 am EDT

Covertly poking about someone elses past feels like an invasion..the curiosity is overwhelming (for me at least!). Reading the progress of Jake's and George's travel through these archived times will be an intimate experience I'm very much looking forward to.

Posted By: Ereck01

-

May 4th, 2011 11:11:02 pm EDT

The master at his best. Cant wait.

Posted By: Missy

-

April 27th, 2011 12:36:10 pm EDT

This sounds like it's going to be great, I can't wait!

Posted By: Clunker429

-

April 25th, 2011 3:39:36 pm EDT

damn, i can already depict a whole mess that could evolve from this! cant wait for it to come out!

Posted By: Jenna

-

April 24th, 2011 12:15:57 pm EDT

im kind of excited for this book :)

Posted By: Hillary

-

April 20th, 2011 10:54:06 am EDT

This book looks like a fanastic read. I'm truly interested when it comes to anything time travel related. It gets me thinking...how could our lives change if we are able to alter a small part of the past? And if we were able to alter a major event...will it change or does fate always leave the end result the same? An example is when John Smith made the Hitler comment in "The Dead Zone" about killing Hitler. Oh, how that would have changed much of history...And I contemplate the question that if we changed it with Hitler, would someone else have done what he had? Topics like these make me really think...anyway, I'm very excited about this book!

Posted By: Chie Chi

-

April 12th, 2011 6:47:52 am EDT

excited for this.!!

Posted By: Carl Hungus

-

April 7th, 2011 9:26:21 am EDT

This will obviously be a great story. I loved Full Dark No Stars and regardless of what people say, Under the Dome was an amazing novel comparable to his earlier works. Stephen King still has it! I am curious what his students story has to do with the rest of the novel...

Posted By: Teenage Girl

-

April 5th, 2011 10:10:29 am EDT

This looks like an interesting read..

Posted By: Heather

-

March 31st, 2011 8:13:06 pm EDT

Can't wait to read this! Is sounds really good, but then again what book of Stephen King's sound bad? None, he is very good at what he does. Keep it coming when is the next one due to come out?

Posted By: Elliot Man

-

March 18th, 2011 2:50:08 pm EDT

I can't wait for this to come out it sounds so good!

Posted By: Carrottop

-

March 18th, 2011 1:08:56 pm EDT

I'm very excited to read this. I can't wait till it comes out.

Posted By: Roberto

-

March 15th, 2011 5:48:54 pm EDT

There are no words to say...an extremely important piece of american history reproposed by the greatest author of our time is something wonderful...I am sure it will be just amazing and I am really happy for this new work...thank you Mr. King. A Constant Reader from Italy.

Posted By: CCTheBishop

-

March 9th, 2011 2:04:35 pm EST

Sounds interesting; I enjoy time travel novels. I am curious to see how Mr. King tackles the many problems associated with time travel.

Posted By: Anonymous

-

March 7th, 2011 9:32:23 am EST

I cannot wait to read this, I know it is going to be another great novel.

Posted By: Quietrobert209

-

March 5th, 2011 6:03:52 pm EST

I can't wait!!!!

Posted By: Jakeb86

-

March 4th, 2011 7:39:52 pm EST

Im going crazy waiting for this to come out! I love Steves' long novels and I have a feeling this is going to be a great book and have an even better plot than "The Dead Zone"....and thats sayinn something there!

Posted By: TC

-

March 4th, 2011 12:38:23 pm EST

WoW!! Can't wait, any way to get a prerelease readers copy? Always been interested in the JFK Assassination, this is going to be great! Thanks Stephen!!!!