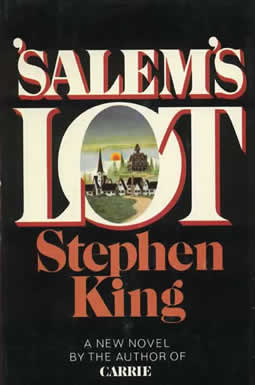 Fan submitted reviews of 'Salem's Lot (Novel):

Posted By: Krystle

-

February 25th, 2013 7:29:45 pm EST

I really liked King's view of vampires. He doesn't romanticize them like so many stories these days. There were many characters, but the main ones were very likable. I was very sad to read of some of their fates. I didn't like the ending, but I would agree that it was the most "realistic" choice.

Posted By: Patrick V.

-

December 23rd, 2012 5:17:55 pm EST

Book scared the hell out of me when I was a kid. I'm 37 now and just finished reading Night shift's "One for the road & Jerusalem's Lot in preparation to re read this classic. One of the stories which inspired me to write. Thanks Stephen. this book still rocks.

Posted By: Mike

-

December 14th, 2012 2:26:20 pm EST

Watched the 1979 movie Salem's Lot when I was 13 years old, couldn't sleep for a month, I expected Kurt Barlow everywhere. Ever since, Stephen King remains the master of horror to me, no storyteller ever scared me more. I'm 40 years old now, and reading the book for the first time. The story keeps obsessing me.

Posted By: Arizonalady

-

November 9th, 2012 10:35:41 pm EST

Salem's lot was the one of the best movies.

Posted By: Anonymous

-

November 3rd, 2012 4:40:14 am EDT

hello Mr King! this is the first Stephen King novel I have read.... at first, I was curious about the content, and reading the epilogue... so I grab and purchased this pocket sized edition in an affordable bookstore... I found it hard from the very start, I'm from the Philippines and the places are foreign to me.... this novel kept me awake reading until 5am! and I really loved this book. My most memorable line is "Tom, let me in!"

Posted By: DJDirrtyDogg

-

September 26th, 2012 6:21:04 am EDT

Bought alot of Stephen King books after watching the film The Green Mile and then buying the book. I then decided i enjoyed both so much i would buy his books and read in order of published date according to this website. I really got into this book and couldnt put it down. King has a unique way of writing that no other author seems to have. On to the next book...

Posted By: Manooo

-

August 20th, 2012 6:23:42 am EDT

First King's novel I ever read. Absolutely amazing and terrifying!

Posted By: Name / Nickname

-

August 16th, 2012 10:29:11 am EDT

OH boy, this is one of my absolute favorite books from Stephen Kings collection. Its one of my 5 top favorites; (in order); Black House, Misery,The Dead Zone, Salems Lot, The Mist. Im reading Bag of Bones now and so far i LOVE IT!

Posted By: Jdsnana

-

June 15th, 2012 12:57:40 am EDT

This was the first King book I ever read...I was 12. I am 48 now and I re-read it ocasionally, I still have to leave the lights on I get so freaked when I get to the part where they put Barlow's coffin down in the cellar... .

Posted By: Cannonball

-

June 8th, 2012 2:18:58 pm EDT

One of King's top 5 books of all time. A great Vampire novel. Barlow is one of King's more memorable villains. The description of Jerusalem's Lot really captures small town rural America. Also, the Marsten House is the quintessential haunted house. This is a story you will want to revisit again and again.

Posted By: Thearthking

-

May 16th, 2012 2:01:43 pm EDT

The best horror I've ever read really felt like it was happening to me!

Posted By: Deb

-

May 7th, 2012 4:16:52 am EDT

Frightening and brilliantly written. On par with Bram Stoker's Dracula.

Posted By: Jose Julio

-

March 22nd, 2012 2:43:04 pm EDT

Salem's Lot has an open end. Why not Salem's Lot forty years later Mr. King?

Posted By: John

-

March 15th, 2012 8:00:18 pm EDT

'Salems Lot is a great vampire novel, in the days of "Twilight" and "Vampire diaries", this is a great look at what a "Real Vampire" should be like.

Posted By: Sam Kilgore

-

February 29th, 2012 10:59:40 pm EST

Not even close to "bad trash". Well done.

Posted By: Sam

-

February 29th, 2012 10:57:07 pm EST

Amazing read. I, like so many people today had been desensitized by pop culture and was hesitant to read anything dealing with vampires. This book brought it back from sexy to scary. Thank you, sir.

Posted By: Me

-

February 29th, 2012 10:00:46 pm EST

This is one of my favorite books of all time. Thank you for going thrrough it all... Been rereading over and over, A wonderful vampire telling, with a cool and awsome keep you on your seat and ever great King ending.........

Posted By: Anonymous

-

February 25th, 2012 8:53:00 am EST

This is the first book i have read by stephen king since my last bout of depression and i was hooked.

Posted By: Christian

-

February 13th, 2012 12:08:12 am EST

This is a great Stephen King book. If you are interested in reading a King novel but are having troubles finding one to read because of the vast amount of books Stephen King has wrote start with this one. Salem's Lot is a easy book to comprehend and has a great story. This is the book that will spark your intrest in King novels.

Posted By: Blueboy

-

February 9th, 2012 9:05:44 am EST

salems lot is the next book im anticipating i just cherish reading horror novels. im a fan.

Posted By: Bruce

-

February 5th, 2012 2:38:22 pm EST

I first read this book in the optimum setting; night time, by myself, cold and windy outside. This was in 1976 and, from that moment on, I was a ardent Stephen King fan. This is still my favorite book and it still, to this day, scares me. You can't recreate on film the true horror of the scratching at the windows asking to be let in. I shiver as I think of that. In fact, I think I'll reread it. Just have to wait until the right setting. A fan for life, Bruce Stratton McKinney, Texas

Posted By: Kingfan496

-

January 15th, 2012 3:18:35 pm EST

I like the book and the movie. i like the book better

Posted By: Kingfan145

-

January 3rd, 2012 6:52:08 pm EST

I like the book and the movie i like the book better. Im a Stephen King fan.

Posted By: Andrew Dilbeck

-

January 3rd, 2012 12:10:25 am EST

I read the book and watch the movie i thick it's a great book. I love your books. im a fan

Posted By: Kaitlin

-

December 9th, 2011 9:54:12 pm EST

It's not only the vampires that scared me, it was the unsettling feeling I got long before any hint of vampires. This is a deeply thought out story that pulls you as if you're looking into the vampires' eyes but also gives you strength and hope.

Posted By: Bryan

-

December 3rd, 2011 8:50:08 pm EST

My mom made me a Stephen King fan with this book. I am now in the process of hunting down as many first editions of all of his works that I can find. Thanks Mr. King for bringing such wonderful worlds of imagination in to my life.

Posted By: Anonymous

-

November 28th, 2011 2:31:07 pm EST

I think "good vampires," such as twilight and things like that are over used..... That's why I love these kinds of book, I love this book and other evil vampires like Dracula.... Great job Mr.King, you never cease to amaze me.

Posted By: ShelleyD

-

November 26th, 2011 4:14:42 pm EST

This book was either the first or second I read by Mr. King in my teens-- 30 years later am still loving it! It ranks in the top 5 probably of all that I have read by the author for giving me the "heebie geebies".

Posted By: Kittie

-

November 19th, 2011 1:39:42 am EST

THIS is what vampiers are really like. Not "Twilight" I personally, hate those series and movies, never read or watched any of them. Heard alot, seen many pictures. ENOUGH. Vampires are disturbing undead creatures, that of course are powerful, they're from hell. Many creatures from hell are powerful sadly. This is a scary, yet very accurate story of vampires and people together and what vamps are really like.

Posted By: AG

-

November 14th, 2011 12:33:24 am EST

I loved the book. The description of the vampires are very scary.

Posted By: Edge

-

October 23rd, 2011 2:03:45 pm EDT

I am so much in love this book. When I had bought the book, I had thought that it would totally sucks (sorry)! When I have started to read the entire thing, it had taken me about 2 and a half weeks just to read. That is a huge record for myself other than reading my books about wrestlers. So, right I am now have started reading The Gunslinger. Than I do hope to read The Green Mile, Duma's Key, and whatever I do have by you Mr. King

Posted By: Weedon Scott

-

October 19th, 2011 11:28:05 pm EDT

This book made me fall in love with reading again. I am currently re-reading it and am still utterly infatuated with it.

Posted By: Justin Shanahan Santos

-

September 19th, 2011 8:14:07 am EDT

This is a fantastic scary vampire story. I'm glad this was written. I seen both the original and remade movie. Fantastic.

Posted By: Tzaz

-

August 30th, 2011 1:15:04 am EDT

Liked it ok.........it was scarey. Not as scarey as Christine that made me sleep with the lights on for several days, but scarey enough.

Posted By: Ash

-

August 25th, 2011 2:29:58 pm EDT

I loved 'Salem's Lot. It made me want to read even more than I've ever done before!!! But I wasn't able to watch the movie. :(

Posted By: Tigerfeet73

-

August 1st, 2011 4:53:21 pm EDT

This was my first book i read of his back when i was 10 im 36 now and still hooked super book a well must read :-)

Posted By: Samynator

-

July 29th, 2011 7:03:43 pm EDT

I had a wonderful time reading this story. It was extraordinary yet terrifying. It shows the original vampire; the one who hides from the sunlight, drinks human blood with fangs and doesn't sparkle.

Posted By: Anonymous

-

July 11th, 2011 8:46:07 pm EDT

Could be interesting....

Posted By: Oana

-

June 20th, 2011 4:22:56 pm EDT

oh...is one of the best books I've ever read since I started to love this "sport".And yes,it's an amazing book.My first book written by Mr.King was Shinig...now I read Lisey's story and this is not the end.Respect,Mr.King.

Posted By: Prospero

-

June 18th, 2011 8:37:34 pm EDT

This is the first King novel I read, and I think it bids fair to be (A.) one of his best novels, (B.) one of the best horror novels ever written, and (C.) one of the best vampire novels ever written. The plot and pacing are spellbinding. The characters are believable and compelling. This is so much more than even the sum of it's wonderful parts! For a long time I resisted reading King's books. I thought I was too into "good" literature. I was so wrong. This is truly GOOD literature written by a master at the top of his form. Salem's Lot is more than genre fiction, it's an American classic, a worthy successor to "The Haunting of Hill House" by Shirley Jackson and "The Fall of the House of Usher" by Poe. It's even better than it's source, "Dracula." I recently re-read the book, my third time through it, and found it just as wonderful as I did the first time. King's evocation of the dying town is brilliant, and the feel of the 1970's, when it was first published, gives the book a wonderful patina of nostalgia. This is one of the greatest works of gothic fiction ever produced!

Posted By: Mulder

-

June 1st, 2011 12:33:17 pm EDT

this is my favorite book

Posted By: Anonymous

-

May 30th, 2011 8:15:12 pm EDT

First book I ever read by Mr.King and I was hooked in 1975. Have been an avid reader since.

Posted By: Anonymous

-

May 29th, 2011 1:10:36 pm EDT

I literally just finished the book. This book came highly recommended from my friends that are King fans. I'm a newer King fan, having read a couple of his books along with the DT series. Loved DT. Being that this had a character from DT, I was interested. As I got to reading this book I became VERY board. The story is too drawn out. By the time I vampires are actually introduced I had almost lost complete interest in the book. I know I'm in the minority on this. I'm still a King fan, I was just disappointed with this. Onto The Stand...

Posted By: ScooterGirl

-

May 16th, 2011 11:57:44 pm EDT

I read 'Salems Lot when I was very young (probably too young) and afterward I promised myself that I would never, ever look out a window once the sun went down. Well, I naturally broke that promise but I have never pulled back a curtain or raised a shade without steeling my nerves first, fearing that there would be more than darkness pressing against the other side of that thin sheet of glass. Did this book scare me? I should say so.

Posted By: Pasco

-

May 16th, 2011 2:10:43 pm EDT

the best stephen king book in my opinion

Posted By: VICTOR

-

May 10th, 2011 7:00:55 pm EDT

I JUST RECENTLY STARTED READING MY STEPHEN KING BOOKS IN THE ORDER THEY CAME OUT I READ A FEW BEFORE I HAD THE IDEA ( CUJO,CARRIE,AND DESPERATION) RIGHT WHEN I FINISHED THE SHINING ( AWESOME BOOK) I PICKED UP MY PAPER BACK OF SALEMS LOT AND WAS REELED IN LIKE A FISH! SUSPENCE IN EVERY CHAPTER. THE ONLY THING I DIDN'T LIKE WAS IN THE FIRST FEW CHAPTERS***SPOILERS*** IT ALWAYS HAS THE PERSON NOT ATTACKED WHEN YOU THINK THEY WILL BE AND IT WAS GETTING A LITTLE BIT ANNOYING. AND BEN WOULD HAVE TOTALLY BEEN TURNED INTO A VAMPIRE WHEN SUSAN WAS TURNED INTO ONE. THAT WOULD BE THE FIRST PERSON I WOULD HAVE KILLED IF I WAS A VAMPIRE. NOT THAT I HAVE ANY THING AGAINST HIM BUT YOUD GO AFTER YOUR BOY FRIEND OR GIRL FRIEND IF YOU A VAMPIRE EASY WAY TO FOOL THEM. RIGHT?

Posted By: Alex

-

April 15th, 2011 4:01:13 pm EDT

Before salems lot the last books i read were all Twilight related. I didn't know that salems lot was about vampires, so i thought to myself not again. It was nice to be scared for a change. Salems lot awakened my need for fear and suspence, i can't wait to pick up another king book.

Posted By: Anonymous

-

April 4th, 2011 7:15:56 pm EDT

this is a classic book and one of my favourites in fact most of my favourites are by Stephen King you are a genius

Posted By: Jackie

-

December 27th, 2010 12:41:13 pm EST

Salem's Lot was differed from any others Dracula novel - it contain a pure recipes of great horror novels and correct tricked of writing - nor either it stick within a few moment which dropped by a sweat to sweat.

Posted By: Bguy85

-

December 22nd, 2010 11:44:56 am EST

This is one of my favorite Stephen King novels. I am a big fan of his earlier novels, from Carrie to The Dead Zone. 'Salem's Lot is a fun and terrifying read.

Posted By: Bickleej

-

December 9th, 2010 1:17:10 pm EST

I'm currently on a mission, which I started Oct 2009, to read all of Stephen Kings books in chronological order by date of publication. This was book two, and what a page turner. Now if I ever hear scratching on the window, I think there might be a vampire wanting to come in. Thank goodness I live in a one story house. A phenomenal work of fiction.

Posted By: Anonymous

-

December 2nd, 2010 5:40:05 pm EST

another one of my favorite King novels....I am a big fan of vampire stories, and this is my favorite in that genre

Posted By: Anonymous

-

November 10th, 2010 7:45:24 pm EST

I love this story

Posted By: Anonymous

-

October 20th, 2010 3:05:56 pm EDT

I've read many of Stephen King's Novels and short stories and declare "Salem's Lot," along with "The Stand" to be my favorites. Salem's Lot stands out, however. Why? Using the multiple viewpoints of the town members to craft the tale, yet maintaining the parallelism of Ben Mear's experience with Mark Petrie's was genius. The extraordinary man and the extraordinary boy who beat the monster down together, because through their imaginations they were allowed the amazing perception to see the evil that others couldn't or wouldn't see. The structure is flawless. That's why you can read it over and over again, and it still retains its resonance.

Posted By: Mr.b

-

October 1st, 2010 2:05:14 pm EDT
An exiting vampire horror novel,35 years old now.Movie,although dated now is OK,but the book is way better.It's got great characters,small town in maine(King's setting),and scary moments and atmosphere.

Posted By: SPIELBERGUK

-

August 20th, 2010 4:16:47 pm EDT
In 1979, being four years old, the original miniseries based on this novel was aired and, even at that age, I knew it was special to me. Years later, at twelve, I revisited the show on video and my heart fell for SALEM'S LOT, in a more profound manner. I immediately bought a used copy of the novel, and read it over a week. The book has always been a treasure to me and I have always sought a new copy when the copy I had was tattered or I liked the cover design. Normally, I would wish that this town and these characters could be revisited, but I believe that sometimes you can't fix what ain't broken. Well done, Mr King...you've made me a Constant Reader! I have been writing short stories since the age of 12, and my vocabulary has multiplied exponentially because of reading this level of literature. Thanks for making me a better reader/writer and for writing a classic novel. I am off to watch the 1979 miniseries on youtube.

Posted By: Amoneda

-

June 27th, 2010 11:26:12 pm EDT
I have read several of Stephen Kings novels, most of them during class :D, however, this is by far one of my favorites due to the interesting plot and the way he developed the characters to rivet and thrill you to the very end. P.S. I bought this book on my Kindle and didn't read any reviews before hand so I had know idea there would be vampires, it was the surly a great twist and made the story shine.

Posted By: A.G.Wooding

-

June 7th, 2010 10:35:13 am EDT
I saw the first miniseries before I got around to reading this book and I feared that it would affect my enjoyment of it. However from beginning to end I was hooked and it was the first time in a long time that the need to finish a book has grabbed me so insanely. Barlow is so much better in the book and despite what Tobe Hooper says, King doesn't let the talkative and seductive vampire get boring. I wish the Barlow of the miniseries could have resembled the one in the book.

Posted By: Joelcmj

-

May 30th, 2010 4:34:00 pm EDT
I would recommend this book to anyone. It is creepy at points and really get to know the characters. Awesome vampire book!

Posted By: Chovita

-

May 25th, 2010 1:14:12 am EDT
I think it's one of the best King's novels. Not very scary, but so interesting and thrilling plot.

Posted By: Schaz42

-

May 23rd, 2010 8:53:56 pm EDT
Simply amazing!! One of my favorite of your works, thank you for writing this!!

Posted By: Skikid

-

May 13th, 2010 12:23:00 am EDT
I read this book last year and was thrilled. It was one of the best books that I have ever read. I have also read The Dark Half, one of the less known King novels. I loved it. I wonder how to say Stephen King. Stephen with a V sound as Steven or F sound as in Stefen? P.S. I am 11! I love the books and want to read more of King's novels.

"v"

Posted By: Brady12

-

April 19th, 2010 11:51:34 am EDT
Im really having trouble describing just how great these novels are. All I can say is that 'Salem's Lot i awesome!

Posted By: Hellsing

-

April 14th, 2010 3:39:08 am EDT
the character of Ben Mears didn't exatcly active even though he's the major apearances, but this bloodgushing novel, suceed to scare me out. I love this novel, stunning and trembling my soul

Posted By: Sayia

-

April 8th, 2010 11:24:40 am EDT
i think tis book was awsome and it was very interesting

Posted By: Freak

-

March 26th, 2010 10:31:48 am EDT
super awesome book by my second favorite author EVER!!!

Posted By: Sean

-

March 3rd, 2010 5:03:05 am EST
I loved this book. First Stephen King book I have ever read and i was hooked.This is the only book that i have read, that i actually connected with the characters. The only character i felt bad for was Eva though. I dont know why but i really liked her. Moving on to IT now. Loved the mini-series, watched it when i was like 4 and been terrified of clowns since.

Posted By: S.K. Rules

-

February 22nd, 2010 6:26:26 pm EST
I love vampire stories and this one had me from the first few pages, I thought I knew what was going to happen next but never got it right. I truly great story.

Posted By: Anonymous

-

February 17th, 2010 12:57:32 am EST
I got this book for Christmas in the early 80's...I think I was 15 or 16. Started reading it early in the day & couldn't put it down. I finished it about 3AM the next morning and was so freaked out (the cover was black and had the outline of a girl with a drop of blood on the corner of her mouth) that I couldn't have the book in my room. I opened my parents attic door and threw the book (attic is huge, the full length of the house) as far across the attic as I could, never to be seen again. To my knowledge it is still there waiting to freak out the next person who finds it. It was the scariest novel I've ever read and certain scenes still disturb me to this day.

Posted By: Lexington

-

February 16th, 2010 3:51:05 pm EST
I read Jerusalem's lot in The Night Shift when i was on holiday not too long ago. It's is following the same story, yes?

Posted By: Adriana

-

February 15th, 2010 3:12:59 pm EST
I'm reading this book right now and I think it's awesome. My goal is to read as many books as I can By Stephen King. And it's very easy because his books are so good, it's hard to put them down once you start reading them.

Posted By: Ally

-

January 31st, 2010 6:02:20 pm EST
I grabbed this book from my dad's bookshelf when I was twelve and have been terrified of vampires ever since. I still get nervous when I glance out a window in the middle of the night, worried that Danny Glick's piercing eyes will be there to greet me (I'm 26 years old). The passages about the seasons changing in New England are breathtakingly poetic and realistic. Hands down, one of the most chilling and beautifully written books I've ever read.

Posted By: GinaGina

-

January 29th, 2010 11:02:58 pm EST
I have read a lot of Stephen Kings books, this was my first, I was in junior high and it scared the hell out of me, but I couldn't put it down.

Posted By: OneShot

-

January 4th, 2010 5:20:53 pm EST
I read this novel at the age of 15. It was the first book I had ever read that captured my full attention and filled me with absolute terror. Thirty-five years later and I still see his friend floating at the window, asking to come in. I have never looked at a window in the dark the same way since.

Posted By: Anonymous

-

January 1st, 2010 5:06:04 am EST
This book is seriously scary...couldn't sleep for weeks after reading it...

Posted By: Jerusalem's Lot

-

December 5th, 2009 8:12:38 pm EST
scarier then twilight (ooo... twilight was vewy scawy. wawr.)

Posted By: Sandy

-

December 4th, 2009 1:46:29 pm EST
I just finished this book, reading it for the first time. It was really good and not boring at all. This book gave me weird nightmare which has never happened to me before while reading a book, so it was a nice change.

Posted By: Garren

-

November 25th, 2009 2:47:27 am EST
I just finished the book last night and it is one of hte best books I have ever read. I am looking forward to reading Under The Dome this christmas.

Posted By: Anniereegins

-

November 16th, 2009 3:07:00 pm EST
This is such a wonderful book. It built and built and built until I was so nervous I couldn't stand it. I didn't put it down, then, and have reread it many times. Still get the same chills. Thank you for one of my top 5 favorite books.

Posted By: Jack

-

October 26th, 2009 10:06:35 am EDT
I read Salem's Lot for a long time and this novel absolutely a heart stopping novel . I still remember where the kidz floating on the window and scratching just to get in . You novel was unstoppable

Posted By: The Sarahnator

-

October 5th, 2009 5:27:12 pm EDT
i read this book and i loved it! it is my absolute favorite. i didnt find it scary enough to keep me up at night, but i thought it was a great action thriller. amazin!

Posted By: Mr Mulliner

-

September 11th, 2009 8:29:59 pm EDT
I first read this book 30 years (30 YEARS!!!) ago and it gave me the shivers. I read it again last week, and it still works. You may not be the greatest stylist of modern American letters, but you can sure tell a story!

Posted By: Samgoody

-

September 10th, 2009 9:48:33 am EDT
This book is amazing! But I guess so is Stephen King! lmao keep up the good work! Big fan!

Posted By: Ryno

-

August 12th, 2009 8:32:20 am EDT
I read this book about 19 years ago. My girlfriend at the time told me to read this book, because I was going on about how horror books will never scare me. Well I read it and It scared the living daylights out of me. Up till this day it is the yardstick I measure all horror books with. Unfortunately, I can't get myself to read it again. I read some other horror works from SK , but none of them compare to this book when it comes to scaring someone.

Posted By: Ryan Stackhouse

-

August 11th, 2009 3:05:16 pm EDT
I have to say that this is one of the scariest novels I've ever read. It's in my Top Ten favorites of all time.

Posted By: XoxVikkixox

-

August 10th, 2009 3:07:55 pm EDT
Wow... I'm only fifteen and I havn't finished the book yet but I had a really weird experience that inspired me to read this book... I had a dream about it and I'd never heard about it before in my life. I asked my mom later if there was actually a book like that and she sad yes so I found it (took me months, but I was determined) and I just started reading it...so far it's enthralling. I love the way it captures the reader's attention with the smallest of occurences such as a light being turned on or a door being locked. Simply terrific :)

Posted By: Allie

-

August 4th, 2009 9:41:40 pm EDT
I'm watching Salems Lot right now, (on the 2nd part). Really good. What inspired you to write it?

Posted By: Descry113

-

July 17th, 2009 7:44:51 pm EDT
It was around 1982 & my family & me had went camping. My mother being a big Stephen King fan was reading this at the time & decided to read it aloud while we (my brothers & I) were all huddled together in one big tent. It scared the life out of me, I was 9 years old & I couldn't even walk through the woods to go to the bathroom by myself ...lol...

Posted By: Birdsong1954

-

July 17th, 2009 1:48:18 pm EDT
I first read this book in 1976. It was my first Stephen King novel and I was immediately hooked. This was absolutely the BEST contemporary vampire novel I have read, second only to Bram Stoker's original. The only other book to scare me as much as 'Salem's Lot was Shirley Jackson's The Haunting of Hill House. Over the past 30 years, I've re-read 'Salem's Lot over 20 times and it never loses it's ability to send chills down my spine. I've read almost all of Stephen King's published works and am a great fan of his, but the story of The Lot will always rank in the top 3 or 4.

Posted By: MJR

-

July 3rd, 2009 5:08:39 pm EDT
Awsome!



Posted By: MacOlzu

-

June 25th, 2009 7:41:31 am EDT
This was one of the first Stephen King-books i read, might of have been the first, i am not sure. I think the book was great, and i couldn't stopr reading it (afterwards I noticed that was the case with almost all of his books). The villagers are all very real, and i saw many similarities with my own hometown here in Finland. That is probably the biggest strenght in Kings books, the way the characters are real and absolutely believable. That makes the books so much more scary and facinating. I definetly advice you to read this, though it isn't his best book, but still it is an awesome peace of writing that will surely keep you up at night!

Posted By: Danniella

-

June 21st, 2009 6:05:20 pm EDT
This, I think, was the fourth Stephen King novel that I read and I fell in love with it! Every chapter, every page was just breath taking. Stephen King is my hero and my grades in English increased dramaticly when I came across his novels; each one is a masterpiece!

Posted By: Movieman

-

June 6th, 2009 11:35:52 am EDT
Hi Mr King. I reckon this was my second favourite book you have written. Definetly one of the scariest. I have recently read for the third time on the Illustrated version. Will definetly read it again. When first reading it, I heard noises behind my window, I'll never forget that. Awesome job again Stephen.

Posted By: Ariadne

-

June 4th, 2009 10:53:14 pm EDT
I read this book when I was a kid and it scared the hell out of me. After reading this book, one night as night was falling, I found myself walking into the woods on this dirt road where my friends and I used to hang around. There were no street lamps, no houses and no people. The darkness on the road was completely blinding as I came to the place where there was normally a fire, music and my friends. I was all by myself in the dark on this isolated wooded area and all I could think about was vampires swooping down on me! Great book!

Posted By: Talon

-

May 30th, 2009 1:09:39 am EDT
I would just like to say that i hated books. Key word being 'hated'. I would be bored with every book i tryed and every think i tryed to read. But i realised that i dident hate books, i only hadent found the right book for me. Salams Lot was the first [what i consider] book i had ever read (i was 16 when i had read Salam's Lot) And it was AMAZEING! It was By Far the best thing i had ever read! i thought it would hold my interest because, maybe there would be some interesting mythic creatures in it. But the parts about this book i liked the best was learning about all there lives, and what they did every day. This book made me realise that i dont hate books, but hadent found the right book for me. Sence then i have read Everythings Eventual, and Just after sunset, and am in the prosess of reading IT. I would just like to say Thank you! Because i LOVE reading now! I have a full list of King books on my B-day list and i know i will love them all!

Posted By: Khemm153

-

May 4th, 2009 4:05:38 pm EDT
This was the first King novel I read way back in high school, I've read it 4 times since. This is still my favorite of his, it just has this aura and atmosphere unlike any other of his works. Amazing!!!

Posted By: Tania

-

May 3rd, 2009 6:52:06 am EDT
"Salems lot" is the best one and my alltime favourite. I read it almost every year in summer. I find it most thrilling at this time, because the atmosphere of late summer fits to the books atmosphere perfectly. I simply LOVE it!

Posted By: Derek

-

April 17th, 2009 9:24:55 pm EDT
I just finished the book, and I will say, it was mesmerizing. The only disappointing thing was having to finish it. I am equally fascinated knowing that this was only King's second novel...WOW! My next quest is to re-watch the original mini-series, and read a lot more of his books.

Posted By: Peter

-

April 14th, 2009 9:19:40 am EDT
A story I have read and re-read since my early teens,(I'm now 36). Unique in the fact that every time you read it you get something new from the story. Very much of its time as the author says in his introduction, however this is the appeal of the novel. Like an old friend you visit from time to time it encapsulates everything that is Small-Town -American for us non Americans. Without doubt the authors best novel despite much close competition.

Posted By: Amanda

-

March 28th, 2009 4:19:31 pm EDT
Fantastic. One of the best King novels and one of my favorites. -Amanda, 17, NJ

Posted By: Slim

-

March 25th, 2009 5:30:47 am EDT
A good book loved the way the book flowed smoothly.

Posted By: Anonymous

-

March 17th, 2009 2:42:57 pm EDT
I read this book a few years ago when I was twenty three, powerful stuff, I was turning the lights on to check all the rooms in the house before going to bed, my wife thought i was nuts. I've read all your books so perhaps...

Posted By: Youngwriter

-

February 5th, 2009 6:36:56 am EST
I loved watching the 1979 movie version of this and this is what really got me into Stephen King. I read this book immediatly after IT and could not believe how short of time it took me to read this. It is certainly one of his best and for such an early attempt, it is flawless. Ben mears and Mr Barlow are two of King's best creations.

Posted By: Twist

-

January 31st, 2009 12:06:12 pm EST
I love this book like a child love's his blanky. This was the first novel I read.

Posted By: Eddy

-

January 28th, 2009 6:54:40 pm EST
I finished this book a couple of weeks ago. OH my God!!! Stephen King rulz!!!! Ive also read It and The Green Mile. Now, one of my goals is to read every single book stephen king has written. he is just so cool!!

Posted By: Clemwell

-

December 30th, 2008 10:43:02 pm EST
i've just finished it...and i'm mesmerized! wow..stephen king rocks! and i agree, a want a sequel, right now! whatever happened to father callahan? oh well..

Posted By: Matthew_D

-

December 26th, 2008 6:42:43 am EST
This was the first King novel that i read and because of it, Stephen King is now my favourite writer, so i thank him for that.

Posted By: HLowell

-

December 25th, 2008 11:24:14 pm EST
I am reading this book for the second time, and I have been and still am hoping that Mr. King will write a follow up to the first Salem's Lot book. I love the book, as it scares the bejeekers out of me every time, and the movie REALLY did the trick.

Posted By: HLowell

-

December 25th, 2008 11:20:30 pm EST
I LOVED this Book and the Movie...Cool!!!! As a huge horror fan, I am hoping that Mr. King will write a follow up to the first Salem's Lot Book.

Posted By: Scott

-

December 6th, 2008 3:59:41 pm EST
***SPOILER***
I loved it. This was the second Stephen King book i read. I finished it last month. I want to know how Mr. King felt when he wrote the part when Jimmy died. I was upset about that, but i wish i could know how he felt about it.

Posted By: BeamishlyMe

-

November 18th, 2008 7:42:18 pm EST
I read this book in paperback when I was 17 years old and I was mesmerized. Mr. Kings imagination has always fascinated me and I shall never hope to be without at least one of his books at all times.

Posted By: AmareS

-

November 17th, 2008 4:03:31 am EST
Awesome.. it starts out so normal, and then becomes very interesting and scary!! i love it

Posted By: Sciamannikoo

-

October 28th, 2008 7:11:40 am EDT
Someone might be helpful here. I'm looking to the original excerpt (I'm Italian and I've read the italian translation) of this book. Is the part, if I'm not wrong, where the doctor, when he's hospitalized, says "I've never seen an atheist dying without praying God" ... well, something like that. Thanks, Andrea

Posted By: Tony

-

October 26th, 2008 12:58:40 pm EDT
love it

Posted By: Grimmwood

-

October 12th, 2008 2:07:59 am EDT
This was the first movie I remember seeing when I was 5. Man the lil ralphie Glick floating and scratching at the window scene scared me so deliciously, I wa hooked right then and there on vampires. I have read the book, no lies, 25 times, and will probly read it 25 more times, lol. thank you for this great story.

Posted By: Kiki

-

October 8th, 2008 10:12:27 am EDT
i love this book...i think it is one of his best. it is thirillin and mystifying and i can and love to read it over and over agein.

Posted By: Anonymous

-

September 16th, 2008 2:26:02 am EDT
The only book that has ever truly terrified me.

Posted By: Sylvanna Rayne

-

August 18th, 2008 12:07:25 am EDT
A smart and morbid book! The vampires in this book aren't your typical, modern day, 'I'm cool' 19 year olds. Instead, they are more akin to the Bram Stoker version, and disgust as well as surprise you. Several well developed characters become close to you through the novel, and I found myself reading just a page more, a page more.... to find out what happened to them next. Its a classic, but don't forget to check out Jerusalem's Lot as well, which appears to take place before this....and I think is referred to in the beginning of 'Salem's Lot. It adds to the atmosphere to read both!

Posted By: El Greco

-

August 7th, 2008 5:21:46 pm EDT
Seen the movie, read the book. A must read for all vampire fans. Great story and parts of it appear in The Dark Tower books.

Posted By: Kyang

-

August 4th, 2008 10:22:43 pm EDT
I have read and re-read the book, watch and re-watch the TV mini-series VCDs and the Movie, and I still can't get enough... 'Salem's Lot is simply the BEST!!

Posted By: Anonymous

-

August 1st, 2008 12:16:33 am EDT
This is King's greatest novel. 'Salems Lot had me up past midnight on plenty of nights. This is not only King's best novel, it is the best vampire novel ever written.

Posted By: Dave S.

-

July 31st, 2008 5:33:06 pm EDT
When I went to bed every night I was reading this I had to leave it downstairs because I felt if I brought it up with me I was not only bringing the book, but everything inside it.

Posted By: Wayne H.

-

July 26th, 2008 2:14:13 pm EDT
This one remains my favorite even after all these years. I still read it at least once a year. I'd still like to have a better idea of the Lot's location in Cumberland county. I place it along Tuttle Rd. proximate to Cumberland Center.

Posted By: Rjt65

-

July 24th, 2008 11:30:33 am EDT
The new Dracula crossed with Nosferatu. A must for King fans and vampire fanatics. Excellent story.