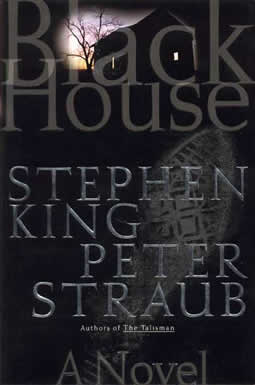 Fan submitted reviews of Black House (Novel):

Posted By: Bloozewulf

-

January 12th, 2013 12:01:40 pm EST

I wondered why, after having read Full Dark, No Stars so voraciously, and then jumped into Black House, my mind kept wandering and I thought I needed to read a different author for a while. I thought that this was odd for a King work, normally, no matter what, I can't put them down. I thought King was off his game. Now I know why. No disrespect to Mr. Straub, but Mr. King weaves a tale like no other.

Posted By: Name / Nickname

-

December 21st, 2012 6:44:49 pm EST

Imagine my frustration when I realized that pages 709-740 were missing from the book I purchased. Over 700 pages into a novel and suddenly what? What? How could you, Simon and Schuster allow a book to go to marketplace missing 30 pages? I will now have to return this copy and then search all over town to find a copy that has all the proper pages. How am I to ever trust another book from tyhis publisher or Mr. King? Do I need to count all the pages of their books before I leave the store? Not acceptable.

Posted By: Fiber Optic Marine

-

November 9th, 2012 11:22:11 pm EST

This was a fantastic peice of literature!!! It kept me reading when I should be sleeping and completing other tasks... all to find out as much as I could about this 'dark house'. The depth these two authors share in a combined story telling is amazing, and a great tie in to other Stephen King novels 'Dark Tower' is superb!

Posted By: Anonymous

-

October 27th, 2012 1:42:24 am EDT

I have to say this is a very boring book. I blame Straub not King. Oh hell, I couldn't even finish half of it. So...boring. King, you make solos! That's what you're good at.

Posted By: Name / Nickname

-

August 16th, 2012 10:36:55 am EDT

This is my favorite King book of all time...then comes Misery, The Dead Zone, Salems Lot and The Mist. But Black House will always be in my mind and heart. Loved it so much. It surprises me that i havent got to The Talisman yet because i been reading other Kings books but i cant wait to read that one next when i finish bag of Bones. All hail the King

Posted By: The Bishop

-

August 14th, 2012 10:40:13 pm EDT

I read more then 20 of Stephen kings novels and this is my absolute favoite. Jack is my favoite charactor ever. This story will always be in my heart. FANTASTIC . Other recommendations are salems lot, misery, eyes of the dragon and the dead zone.

Posted By: Erin

-

August 11th, 2012 6:59:42 pm EDT

I have just finished reading black house, and it was fantastic! However, now I am wondering if the dark tower series is the sequel to black house?

Posted By: Anonymous

-

June 30th, 2012 2:57:47 pm EDT

well, I have not read the talisman but this book sort of drags a bit in places and the ending was not as ogasmic as some of the scenes in book.

Posted By: Heidi

-

June 26th, 2012 7:13:34 am EDT

Just finished reading Black House and I LOVED it!! It was even better than The Talisman. I'm not ready for Jack's story to end though any chance of another sequel maybe Jack and Ty's story.

Posted By: Miss Miasma

-

June 23rd, 2012 4:49:44 pm EDT

Freakin unbelievable. Your books are a joy, (for the lack of a better word), and never a disappointment. Very cool.

Posted By: K

-

June 18th, 2012 1:25:06 pm EDT

Dark Tower Vol 7 Pg 183 Blue Heaven/Ch III The Wather (Hard Cover edition) Refering to Randal Flagg/Walter's "Thinking Cap": "But this particualr lid (borrowed from a certain deserted house in the town of French Landing, Wisconsin) had done him no good at all, had it? See this very well yon "Webslingers"

Posted By: Ka-Mai

-

June 12th, 2012 2:22:30 pm EDT

In Wolves of the Calla Eddie Dean has a vision from the rose of 4 men with baseball bats saving a young boy from a monster whos face is "almost one gigantic eye"...Need I say more? Not 100% on that quote but its close enough for government work.

Posted By: Pato

-

June 4th, 2012 11:42:34 am EDT

One of my all time fav. I really enjoyed it.

Posted By: Tracy

-

May 26th, 2012 10:41:24 pm EDT

Very interesting, don't have this one in my collection!

Posted By: SueK

-

March 26th, 2012 8:10:10 pm EDT

The Talisman is my favorite SK book of all time. When he made this, I was overwhelmed. It gave the reader closure to Jack's saga. It was like knowing the boy down the street and not knowing how he turned out, only to see he became something.

Posted By: Chooselife

-

January 26th, 2012 12:12:05 am EST

Absolutely fantastic story. I loved it!

Posted By: Legaltidbits

-

January 21st, 2012 4:09:18 pm EST

My thoughts are I never new this book was even published! I am so ashamed as being an avid reader.. Stephen I wrote you once and ask if you had been in the Deli of a local supermarket asking if the ice cream was quarantined, and to my shock you wrote me back personally. I will never forget that, although you denied all involvement (I still swear it was you)! You constant reader me!!!

Posted By: Anonymous

-

October 3rd, 2011 12:09:59 am EDT

abbalah-doon. Gorg!

Posted By: Tim

-

September 22nd, 2011 12:38:59 am EDT

I read this book at a resort in Mexico when I was there, alone, between Christmas and New Year's Eve. As soon as King described the "World's Largest 6-Pack" I knew he was talking about LaCrosse, WI, a town in which I did my first radio gig. Reading it was like going back home to an era that helped shape me. I had read The Talisman in a hotel in Rochester, MN under some not-so-great circumstances, and it remains my favorite King novel. Black House is a great sequel!

Posted By: Anonymous

-

June 20th, 2011 12:12:18 am EDT

Black House was the first Stephen King novel that I ever read. The plot was so captivating that I spent an entire weekend reading it. I have been a faithful Stephen King fan since then.

Posted By: Village Idiot Savant

-

February 2nd, 2011 2:08:49 pm EST

This is the first book I've ever read by Stephen King. I've been hooked ever since.

Posted By: Casmie

-

January 3rd, 2011 9:06:56 pm EST

I am sorry to say that I have yet to read The Talisman. However, Black House is exceptional and certainly worth reading. Jack is an interesting character and the story is VERY well-constructed. I LOVE it!!!

Posted By: Jackie

-

December 27th, 2010 12:45:22 pm EST

When reading this book in the mid-year of 2004 in the late December in a freezing snow-surrounding with a snow-flakes that appeared right through my skin ... and even after - the fisherman do really made me burn with a creepiest story he had wrote with Peter Straub

Posted By: Klox.

-

October 24th, 2010 3:24:21 am EDT

" Black House"........is a good book. " Talisman".......was a great book. I have The Gunslinger on audio....all of it. As well as all of the books. I know the" Ka-tet"....like the back of my hand....as well as jack, richard and wolf. This book is a twist of both the Gunslinger and The Talisman....with a little more of a "non-fiction" feeling...but not much. Its a well written book with some excellent twist. Its hard to put a category on this one. It seems to be a twist of almost all...but mostly horror I guess. But when it all comes down to it, its a book thats well worth reading. If ya dont know the Talisman...read it first. Its almost a must.So read it........its Ka maggot.

Posted By: The Wiz

-

October 19th, 2010 2:55:09 pm EDT

love this book is there going to be a third chapter to this story

Posted By: Anonymous

-

September 22nd, 2010 6:15:39 pm EDT
As a reader of Stephen King for 25 years, I, too re-read the Talisman almost every year - for those of you who haven't yet gotten into Black House, you must read this book - a completely different experience but a continuation of the characters you loved so dearly in Talisman - "Laws, yes", you'll be introduced to another wolfman character! ...and a lovely queen in distress...and a certain unlikely father figure complete with guitar. And a fine fitting end for our beloved Travelin' Jack. Give yourself over to this experience. And I highly recommend King's Latest, Under the Dome. My two cents...

Posted By: Amylynn78

-

August 23rd, 2010 8:38:43 pm EDT
I have to say that I agree with KeithinCurrituck. I just finished my 4th or 5th read of the Talisman and will attempt (for the second time) to get started on Black House. It's hard to imagine Jack as a man. His simple and honest ways are sure to be lost as he has grown up and forgotten everything..

Posted By: KeithinCurrituck

-

July 25th, 2010 9:33:54 pm EDT
I am honestly on my 13th read of The Talisman, and have to admit I am scared to death to read Black House. Sounds silly probably, but I have this image of Jack in my mind, and his first adventure has moved me in many ways.....does that sound crazy?

Posted By: Lui

-

July 25th, 2010 1:49:03 pm EDT
This was my first horror novel ever and I loved Charles Burnside's destiny, it was amazing and funny.

Posted By: Hdale04

-

May 17th, 2010 6:35:24 pm EDT
a perfect and brilliant ending to the saga of jack sawyer, the memories stay ripe long after the last sentence....it's a reading experience i love repeating from time-to-time :)

Posted By: Mike

-

April 27th, 2010 9:48:46 am EDT
loved this book took a bit to get into but was really good and i hope to see more of jack

Posted By: Hellsing

-

April 14th, 2010 3:47:11 am EDT
some sort of wonderful novel by both available, great book but not my choosen

Posted By: Kurry

-

March 7th, 2010 11:55:15 pm EST
just started it and already amazed and told my class a little about it and my teacher was disgusted

Posted By: Theductchess

-

March 4th, 2010 10:41:10 pm EST
i absolutely love this book, ive actually read it twice and recommended it to all my friends. definately worth it. i have been an avid king follower for years.ive read almost every book by him. and peter straub's lost boy/lost girl was awesome as well.

Posted By: Puck288

-

February 5th, 2010 4:43:55 pm EST
this was a great book i find myself wanting to know more of jacks story, what happens after while in the territories hope you can put him in one of the dark tower books with roland somehow

Posted By: A Dizzle

-

December 1st, 2009 2:04:54 pm EST
what u have 2 do to understand the book is read the stand then the talisman then black house then u will kno what will

Posted By: Mateo The Monster

-

November 29th, 2009 3:29:53 pm EST
I hated this book at first because it took so long to get to know all of the characters but it was difinately worth reading, im glad King did what he did with getting to know them because it all makes sence in the end. Great book but read the Talisman first

Posted By: Ronniemick

-

November 25th, 2009 7:59:24 pm EST
I read Black House about two months ago. It's now easily one of my favourite King books...ever. Now, the long wait begins for part three! P.S. Thanks for coming to Toronto! It was awe-inspiring to hear you talk about your work.

Posted By: Kingnothing81

-

November 8th, 2009 3:56:32 am EST
i thought that this was a really good book, it had everything you look for in a "king book." truely a master of his craft.

Posted By: Babygirl#1

-

June 10th, 2009 9:58:54 pm EDT
i have not yet read this one but it sound's wonderful i have almost all stephen kings books and if you like reading his work i recomend the ones who don't know Dean Koontz,Dan Simmons,and Richard Laymond.

Posted By: MrsCoffey

-

April 29th, 2009 5:33:19 pm EDT
I agree that this was a wothy sequel to the Talisman. As a teenager I read the talisman and absolutley adored it. I fell in love with Jack Sawyer. I fell in love with Wolf! I fell in love with the queen of the b's! And I just finished re-reading Black House (it's been a good 5 years since I read it first) and fell in love with Jack Sawyer all over again. I fell in love with the Territories. I fell in love with the Thunder 5! I cried when Parkus spoke of Roland and his new made gunslingers. I believe this to be a worthy sequal to Talisman and a beautiful addition to the works that surround the Dark Tower. I really hope there will be a sequel to Black House and would enjoy every word if it were written!

Posted By: Jonny

-

March 10th, 2009 12:59:19 pm EDT
To the person who said that it was an unworthy sequel to the Talisman...I believe you are wrong, and that Black House was just the beginning of the twisting of The Dark Tower Series and this set of books. He alluded at the end of Black House of a possible third book, which would be completely awesome.

Posted By: Richal

-

March 9th, 2009 11:32:33 am EDT
I had no idea this was a sequel to the talisman. I haven't actually read that but Black House was brilliant. Quite possibly my favourite book. Now I need to read the Talisman. Hahah

Posted By: SchmuckOnWheels

-

October 22nd, 2008 8:00:02 pm EDT
Sweet Christ this was a page-turner if I ever read one. I'm 18 years of age and have been a fan of Mr. King's work since I could read above a first grade level. Although I owned The Talisman for many years (among others, duh) I have not yet had the chance to read it. I picked this one off my shelf not knowing when I came into possession of it, and instantly became fixated on finishing it(while at the same time dreading the inevitable truth that it would in fact end). Not having ever read Peter Straub before, it wasn't hard for me to distinguish between his alien personality and King's. I can say now I'm going to seek out Straub's work as I am thrilled to see what he's capable of on his own, ha. I kind of got lost in though here... read this book. I'm snagging The Talisman in about twenty minutes after I shower, and you too sir or ma'am better be on your way out the door, don't forget your keys, to head over to your nearest bookstore and pick up a copy. Should you read this Mr. King, I want to sincerely thank you for producing such interesting and lovable stories and characters- I very much admire your work.

Posted By: Joyjoyg

-

September 22nd, 2008 11:33:57 pm EDT
This was an amazing book! Your books have been there for me since I was twelve. Thank you for the last 17 years of amazing reading. You are amazing!!!!

Posted By: Dar8888

-

September 17th, 2008 1:42:23 pm EDT
An unworthy sequel to "The Talisman". It's a blatant (and failed) attempt to combine the mythos of "the Talisman" with that of "The Dark Tower" series.

Posted By: Jwilliams

-

August 21st, 2008 3:05:38 pm EDT
where can I buy an audi Cd of the black house? i have the tailman, can't find black house.

Posted By: El Greco

-

August 7th, 2008 5:27:01 pm EDT
The continuing of the Talisman. A great book to read. Make sure you read it after reading the Talisman (to know the past)

Posted By: Casey Rae

-

July 23rd, 2008 9:39:18 am EDT
The "Black house" was an interesting book! I just got done reading it 30 minutes ago. It took me about 2 weeks on and off. Characters were great and believable. One certain thing is that you may need to read "The Talisman" before, which i did not do. All in all it was a 'hooking' book.