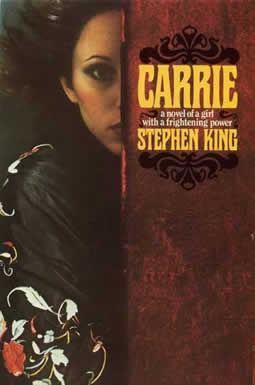 Fan submitted reviews of Carrie (Novel):

Posted By: Anonymous

-

February 26th, 2013 1:38:19 pm EST

I read carrie after seeing the movie and I loved it. I could honestly relate to Carrie, even though I am a guy and I don't have any "Powers", I was bullied throughout my school career by my peers. Unfortunately, I never got my revenge, I had to switch schools but I read Carrie and for some reason it stuck with me. Keep up the good work!

Posted By: Shane C

-

February 13th, 2013 2:32:52 pm EST

This book will always be definitive King for me, because its the first work of his I read. Wandering the stacks of my high school library as a freshman, I picked this one because I'd heard it was good from somewhere. I couldn't put it down and got in trouble twice for reading "unassigned material" in classes. The characters are realistic and compelling, and everyone knows that religious zealot around town, the one you wonder about...whether or not their weirdness is more intense behind closed doors. Carrie's mom is that person, and poor Carrie suffers for it. A great story of revenge and the ramifications of picking on "the weird girl."

Posted By: IsabelMedel15

-

February 8th, 2013 10:26:12 am EST

I want to read this so bad but i have never read one of his books

Posted By: Abby S.

-

January 30th, 2013 7:34:16 am EST

I'm doing a book report on this book in my french class (yep, i'm readng the french one) and i love it. but, one small point i'd like to make is that there are a few errors as far as grammar and everything else goes. I was born and raised into a purely bilingual family so, i'm pretty convinced I know what i'm saying... but, overall, its a great book! probably gonna watch the film later on... so, on a scale of 1-10 i'd give the french version about 9.5. the engish one, i don't know; i'd have to go get it at a bookstore or something.

Posted By: Anonymous

-

December 12th, 2012 2:16:43 pm EST

i love that movie it is cool. i can't stop watching your movies. now i am reading your books it that bad or not bad. i think it is good.

Posted By: Shirley Ann Gault

-

December 10th, 2012 3:14:17 pm EST

i those books i am a big fan of stephen king he has awesome books.

Posted By: Lexxxiiiii

-

December 6th, 2012 3:04:16 pm EST

THIS IS THE BEST BOOK IVE EVER READ. ITS SO DELICIOUSLY ACTION PACKED! IT MAKES MY HEART RACE WITH FEAR AND AGONY. LOVE, THE PRINCE OF INDONESIA :)

Posted By: Noah

-

November 14th, 2012 8:27:18 pm EST

i cant put that book down

Posted By: Bre

-

October 26th, 2012 10:39:34 am EDT

The novel Carrie written by Stephen King is a very good book. Carrie is usually character for most people because most people would think that a girl of her age would know what their period is and many other things The girl that are mean to Carrie are the same type of girls students deal with now just in lesser forms than the ones in this novel.

Posted By: CiCi

-

October 23rd, 2012 5:29:16 pm EDT

This was such a good book.! I finished it in 2 days because I couldn't put it down.!

Posted By: Flippy

-

October 22nd, 2012 9:42:33 pm EDT

I.LOVED.THE.BOOK. Simply amazing.this could actually happen if teleckenisis was real.

Posted By: DJDirrtyDogg

-

September 26th, 2012 6:15:19 am EDT

Bought alot of Stephen King books after watching the film The Green Mile and then buying the book. I then decided i enjoyed both so much i would buy his books and read in order of published date according to this website. I really loved this one as you really get into the whole rollercoaster ride of the book and its 1 that you have in your head even when your not reading it. On to the next book...

Posted By: Kastdion

-

August 27th, 2012 7:09:50 am EDT

i have not read this book since a week ago i was triggured by the up coming film carrie i have seen brina de palma's film which was excellent but i have to admit the book had more clues for carrie and many interesting plots about the prom scene great book i cannot wait to see the new version of carrie white

Posted By: Andrew Saiz

-

August 26th, 2012 11:47:41 pm EDT

I felt that what happened in the end was sad, and the feeling only applies to Carrie and Sue. I feel as if Carrie got the raw end of the deal, and I hope she didn't go to hell. In my opinion the book has hidden meanings because bullying can put you on the edge, and having a great power and the will to use it in that kind of situation makes it even more realistic. Great read.

Posted By: Andrew Saiz

-

August 26th, 2012 11:43:08 pm EDT

This book was the first SK book I read, and it scared the crap out of me. It was really disturbing and dark: I guess that was because of the point of views, with everyone being disturbed. I thought I was unsettled now, but it must've been worse when it was first published.

Posted By: Joseph Molina

-

July 30th, 2012 6:54:54 pm EDT

This is the novel that introduced me to Stephen King, and sure enough the first novel you published. I watched the 1970 movie adaptation, and I loved it. I wanted to see what the book was like, and it was too excellent! It's a little short compared to your later works, but it was a great read! Now my sister is reading it, and she's starting to like it too. An awesome start that'll launch to a great career. Thanks King.

Posted By: James_1001

-

July 10th, 2012 1:38:18 am EDT

This book was amazing. It was more than a horror story, it was truly emotional. I really felt for the characters, not only Carrie, but Sue as well. Fantastic book. Highly recommend.

Posted By: Cannonball

-

June 2nd, 2012 6:04:54 pm EDT

This book is more like a novella than a full length novel. I think it is far superior than the 1976 film by Brian De Palma. It is a quick read that will keep you interested throughout. The religious fanaticism of Margaret White and the American high school caste system make this book eerily authentic. A decent opening to a prolific career.

Posted By: Anonymous

-

May 12th, 2012 4:39:32 pm EDT

The story of Carrie White has connected with Me on so many levels. I was badly teased and taunted in Jr.High School and Early High School and kids can be just plain cruel and evil! They don't even understand what their doing is actually having an affect on the tortured soul that it's happening to! My heart goes out to ALL the Carrie Whites in the world! I often had dreams of being her and watching the school go up in flames with everyone in it,getting back at all who tormented Me. Thankfully I grew up with grace and got through it! And there REALLY IS hope for all who are out there, that violence is NOT the answer, and that you CAN get the help that you need, and you won't be a victim like Carry White.

Posted By: Anonymous

-

April 20th, 2012 6:34:20 am EDT

Carrie was very refreshing to read, it was different and I liked the layout.

Posted By: Sharman

-

April 14th, 2012 11:29:23 am EDT

I love a good tragedy and this is one of my favourite Stephen King books. It's interesting to note that there are minor differences between the US and UK editions - for example Mr Allison (Margaret White's step-father) is spelt with only one 'L' in the UK editions and some lines are omitted.

Posted By: Leon

-

April 9th, 2012 9:36:38 am EDT

This had to be the earliest experience I had at appreciating the motion picture adaptation of the Authors' Notes! Carrie was exciting, spell-binding, educational and what a shame it is to think some one out there is still being bullied?! God be with all of you 'Carries' in th world and if you have not watched [or read] Carrie-DO SO! I or we insist.

Posted By: IHopp

-

April 4th, 2012 3:13:30 pm EDT

When I first read this novel, I was 20 years old. I go hooked on Stephen King as a result! I jusst finished rereading the book and I am confused. This recently published book is NOT the book I read almost 40 years ago. Maybe it is my age, but I was NOT horrified with the events as written. I remember being far more horrified by the descriptions of the destruction at the prom and later that night. I also remember that the book closely went along with the book except for some few minor changes. (Believe me..I am outraged when the movie doesn't follow the book). I really wish I still owned that old paperback to check if my memory is right or wrong. I can't help but shake the feeling that this book was rewritten.

Posted By: Agent Augment

-

March 30th, 2012 10:53:43 pm EDT

I LOVE how King revisits the prom scene, as I felt a little cheated the first time around. But then again we don't always get everything the first time around do we? GENIUS.

Posted By: Shia

-

March 24th, 2012 2:53:41 am EDT

Never have read the book, only seen the movie. I liked the movie so I plan to read the book someday.

Posted By: Anonymous

-

March 19th, 2012 5:07:22 pm EDT

I would not consider this book to be one of King's finestworks and his inexperience at the time of writing this book does show through quite often. However, putting that aside, the story was very clever and original and very engaging, without giving too much away I though it was a good model for his future in writing, it is not a King novel I would recommend to read first though, something like IT or Misery might be more appropriate.

Posted By: John

-

March 15th, 2012 7:57:31 pm EDT

Great read. It pulls you in to the life of such a troubleded and bullied main character, and really makes you think about maybe how much of an emotional impact you may have had on someone in your high school days, whether knowingly or unknowingly.

Posted By: Cole

-

March 2nd, 2012 3:36:05 pm EST

Great story & well written. Some of us read it while others have actually lived it.

Posted By: Anonymous

-

March 2nd, 2012 8:02:39 am EST

I LOVE this book

Posted By: Tiffany Stivers

-

February 27th, 2012 8:20:28 pm EST

This was one of the first chapter books I read. The first time I read Carrie I was 9 years old. It has always been one of my favorite books because it shows people should not bully others because bad things can happen to them. It has taught me that hurting others is not right.

Posted By: Kim

-

February 6th, 2012 8:23:39 pm EST

I just finished reading this. I literally stayed up during night reading this because I was so hooked. The characters are all well developed. It was interesting how different parts of the story is told in different view points. The scary part is how it is so realistic. I can actually picture this. This is absolutely my favorite book.

Posted By: Cheyenne

-

February 1st, 2012 2:14:23 pm EST

I just read this book again for probably the hundredth time. It's still one of my favorites! As someone else mentioned, it's almost like you've never read it before, you'll always find something new that you missed or didn't pay attention to before. That's what I love most about Stephen King books. They can be read multiple times without becoming bored with them. I've been reading Mr. King's books since I was about 15. I am 40 now and still a huge fan. His books are what began my love of reading. I'd like to say thank you for so many hours of entertainment, thought, and knowledge. You were absolutely correct in your FAQs; you were clearly born to write and very blessed to have such talent.

Posted By: Tommy

-

January 26th, 2012 6:41:17 pm EST

Just read the book for the first time, having only ever watched the movie from the seventies. I enjoyed it very much and inspires myself as a writer. Now on to Misery......

Posted By: Anonymous

-

January 25th, 2012 8:23:47 pm EST

I got this book for Christmas and it is the first Stephen king book I've ever read and I think it is amazing and I will never be mean to a human being ever. Ever.

Posted By: Anonymous

-

January 5th, 2012 2:31:21 pm EST

i love the book carrie. i had to read it for a project in english and i finished it before the deadline. i suggest this book for people who love weird things.

Posted By: Camilla Cruz

-

December 6th, 2011 4:54:11 pm EST

I simply love Stephen's work! All his books are amazing! Right now I'm just reading The Shining for the thrird time, and it's seems that I've never read it before! Congratulations Stephen King! I wish someday I Could be just like you, afterall all I want in my life is being a sucessful writer, exactly like Stephen are!

Posted By: Anonymous

-

November 14th, 2011 9:31:27 am EST

my mother wouldnt let me read it when i was ten so she read it herself and she found nothing really wrong with it! so i got to read it and i got my own copy when i was eleven

Posted By: Azcdf

-

October 14th, 2011 1:56:04 pm EDT

This is my all time favorite Stephen King book! I had to read it in high school and finished it in two days! I couldn't stop reading it until I was done!

Posted By: Justin Shanahan Santos

-

September 19th, 2011 8:21:40 am EDT

This was a fantastic story! This one didn't terrify me but it was really entertaining. Thanks Stephen.

Posted By: Cece

-

September 12th, 2011 3:38:21 pm EDT

Hi, My name Cicare. I love your books and movies. I hope you meet me one day. I wrote over 5 horror movies, I think you might like it.

Posted By: Andie

-

August 20th, 2011 2:34:39 pm EDT

Mr King, I love this movie. Sorry to say have not read it yet. I live in California & just finished the Grapes of Wrath suggested by my Mother. My love of writing began as a little girl when my Mother would leave me. I later in Portland Oregon studied it in College. It was on Belmont I wrote a poem that materialized a decade later. I struggled to find an answer if it was coincidence or like what my 1st rejection letter regarding my book said,"' Especially given your very unique premise.'" I wrote the book to try to understand what happened to me. I tasted my 1st premonition after my big brother "Uncle Bob" died in High School and thereafter it repeated when I'd gotten sick. Mr King you wrote about Carrie but do you really believe something like this could happen to an ordinary girl? Andrea Papke

Posted By: Kimmy

-

August 9th, 2011 1:20:41 pm EDT

Mr. king this book i did read and i thought it was amazing. u really portrayed highschool the way it really is when grown ups are not their i felt bad for carrie because all she really wanted was to be normal. i can relate to her in some ways i was a jock in high school but i didnt really fit in and iwasnt popular but i had friends but i also knew wat it was to be made fun of .its not easy being a girl in highschool. well what i was really getting at is if i can make a suggestion . i think it would be real cool if u could write another carrie story but in stead of it being a girl may be tell the story from a guys point of veiw . that would be intresting.

Posted By: Under The Shining Dome

-

July 1st, 2011 6:50:36 pm EDT

My 8th King book (maybe I should've started with it, but what the hell), and so far not my favorite (Misery still takes that place) but genius nonetheless. I really like how he keeps referring to the 'horrific conclusion' in the paragraphs from 'other books' that cover half the book. It just makes you want to get to the end so you know how the horrific conclusion plays out. Luckily with SK books the climax often covers half the book like in (Pet Sematary or Under The Dome, which is kind of one big climax with a bigger climax at the end), so you don't have to wait too long. A hell of a debut novel. Hats off to Stephen King, the master of horror. Love ya man.

Posted By: Anonymous

-

June 28th, 2011 12:11:37 am EDT

I'm 15 and just started reading Stephen King and my mom recommended starting with Carrie and I read it in a day. It was so good. I've read it almost 8 times and it just keeps getting better and better.

Posted By: Comyluv

-

May 29th, 2011 6:12:29 pm EDT

that book is awesome

Posted By: Anonymous

-

May 15th, 2011 8:44:31 pm EDT

I am pretty sure she was 16, I don't know what they said her birthday was but they mention her being 16. The book is fantastic of course but the whole time I read it all I could think was "it's all just too horrible." I mean they treat her sadistically and her mother was (in my opinion) the real villain. But she massacres the WHOLE friggin' town! It was like a series of awful events. But I love the way it is filled with like snippets from fake books written about the final event...soooo awesome and well planned.

Posted By: EchoKinshu

-

May 13th, 2011 9:35:03 pm EDT

I loved this one. A unique idea, and a very catching read. Very, very impressive work, as always.

Posted By: CrimsonPortugal

-

May 11th, 2011 6:32:41 pm EDT

The first book King published and the first King novel I read. The power of the novel comes from it's protagonist. Carrie is a great book for anyone who wants to begin reading Stephen King books. Not bad for your first one Mr. King. 8/10

Posted By: Thelastsurvivor

-

March 31st, 2011 11:07:30 am EDT

This book was great i loved it, it is like a mix btween harry potter and nightmare on elm st. man she really showed those bullies!!!

Posted By: Bradster67

-

March 21st, 2011 11:15:31 pm EDT

This is such a great and creative story. My only issue with the book is: Carrie was born Sept. 21, 1963 and dies May 28, 1979. This makes Carrie 15 years old, which, in my opinion, was a bit too young...she should have been older. Nevertheless I love this book, and praise Mr. King for this amazing, tragic, and frightening story. The 1976 film "Carrie" is my favorite film.

Posted By: Jrok

-

February 14th, 2011 9:07:08 pm EST

Great book, I only wish it were longer. I finished it within a day :/

Posted By: ThatGuyOverThere

-

February 4th, 2011 9:57:58 pm EST

Great story, and a pretty clever ending. I think Carrie's mother scared me more than anything else.

Posted By: VICTOR

-

February 1st, 2011 7:44:08 pm EST

CARRIE WAS MY SECOND SK BOOK AND I DEVOURED IT IN THREE DAYS! I LOVE MY BREAKS FROM SCHOOL SINCE I CANT READ SK BOOKS IN 5TH GRADE BUT THAT DOESNT STOP ME.

Posted By: Trina

-

January 21st, 2011 7:26:33 pm EST

I knew that this was surely a great book from a lot of my friends and finally read it over Christmas break. I started reading it around 5 o'clock one day, was soon forced to go to bed, and finished it early the next morning. It was incredibly chilling and really got to me with the characters' thoughts and their part in the story. The articles really make it seem more real, too. Can't say any more but it's an amazing read.

Posted By: SE7EN-B-C-13

-

January 6th, 2011 12:29:52 pm EST

in my opinion this book is prolly the greatest book that stephen king has ever written. the way he set everything up is great and very detailed. i like how they made the movie exactly like the book. it makes it soo much better. most people dont make movies just like the book, but im glad they did with this one....

Posted By: Smartical Partical

-

January 3rd, 2011 7:43:17 pm EST

I am going to get it on friday

Posted By: Jackie

-

December 27th, 2010 12:47:50 pm EST

Every year prom night are held across the America and no matter in what dimensions we are - after the queen and king of prom had been exposes - I read Carrie as a appreciation to the story that haunted millions of Prom with Telekinesis.

Posted By: Anonymous

-

December 15th, 2010 6:35:10 pm EST

My favorite book of all time! I've had it a month and have read it 3 times! I think the reason I liked it so much ws because I can sorta relate to Carrie. Of course I have a wonderful home and school life, but some kids make life a living hell. Wish I could have the power. Of coures I wouldn't kill people, but i would definetly "teach them a thing or two" *Like i said, my faverite book, but chris should of had a WAAAAY worse and cruel death. Why couldn't she electrocute her instead of most of the others. I also wish the movie wouldn't of made everyone die, and atleast had some kids live. They also should have made Carrie destroy the town, to. But who cares. Still a classic

Posted By: S.K.Rules

-

November 6th, 2010 2:32:33 pm EDT

First off I would like to say I thought this book was amazing, could not put it down. And second I would like it if Steve would write more books like this, like a novel made from newspaper clippings and diary entries etc. and a novel that he could write but not long (I'm not saying I hate his long novels no but on his short novels like gerald's game and the girl who loved Tom gordon were short but over written) I read I comment someone made and said he would have liked it a 100 pages more (that's what I mean nobody said about 100 pages more for tgwltg or gerald's game.) And I would like toread more novels about TK (not bothered if it's not by king or not along as it's about someone with Telekinesis) but can't seem to find any. (maybe that's why it made king famous)

Posted By: Angie

-

September 26th, 2010 1:12:09 pm EDT
i just finished reading this amazing book and i can honestly say that i have never been engrossed as i was with this book.

Posted By: Cole

-

September 25th, 2010 10:56:15 pm EDT
This book was perfect in every way! The first book I've read in my high school career that didn't bore me. I loved it so much that I couldn't put it down and finished it three weeks before I was supposed to! Amazing book!

Posted By: Geet

-

August 28th, 2010 4:35:34 am EDT
first book I ever read but didn't scare me too much because I felt Carrie had every right to burn the town down....

Posted By: Scotty

-

August 2nd, 2010 3:52:43 pm EDT
Sir,First I love your work...all of it. Carrie was the first of your works I ever read.After that I just couldn't get enough.Sorry to say I'm behind on my reading but working to catch up. Thank you for all the trills and chills...Scotty

Posted By: GMan

-

July 26th, 2010 4:37:54 am EDT
I read this book and was shocked by how well written it was. The ending was ok but I hope the movie version has a better ending because I have not seen it.

Posted By: Tina

-

June 18th, 2010 1:41:06 pm EDT
growing up can be the most scariest time of some ones life especially if the person is taunted and bullied daily . that person can become withdrawn and shy and like carrie secretly revengefull. although none of us ( i hope) do not possess tk how many kids after reading carrie stared at glass ball to try to make them roll?? .brilliantly written and carefull with emotions id say that is kings best books on human emotions and will be read well into the future by teens and maybe they might test to see if they have tk although i dont recomend themsetting fire to a school !!! happy reading and no to bullies!!!!

Posted By: Dopey#5

-

June 17th, 2010 3:40:35 am EDT
Glad your wife pulled the manuscript out of the trash . . . and the movie is great. But I gotta tell ya, sometimes . . . I feel like I might go batshit crazy on everyone in a telekinetic way but on a global scale.

Posted By: Hannah

-

June 15th, 2010 12:34:08 pm EDT
The writing is fabulous and the story is really captivating, I loved the book.

Posted By: Anonymous

-

June 11th, 2010 3:50:31 pm EDT
Read it in one day. Couldn't put it down

Posted By: GreekJonathan

-

May 5th, 2010 3:30:11 pm EDT
Great!

Posted By: Tamra

-

April 19th, 2010 1:28:20 pm EDT
Awesome book, very good movie as well

Posted By: Anonymous

-

April 19th, 2010 11:53:23 am EDT
..My friend kate recommended this book to me and i'm glad i took her advice on it. i love how stephen king has kind of put himself in teenagers shoes in this novel. growing up can be a hard time, i would know. im only 15 :/ and bullying is always quite strong in my school. at a time, it was stronger then the happenings in 'carrie'. Another great novel king, hoping you get new ones out, if you have retired.. im so gutted your an inspiration to me :).

Posted By: Hellsing

-

April 13th, 2010 1:44:44 pm EDT
this book was great and the last scene is the great one, most epistolary novel ignored myself for reading but not this telekinesis rushing novels, wonderful and great

Posted By: Brady12

-

April 10th, 2010 5:38:38 pm EDT
A short one, but awhole lotta juice was packed into it. The only thing I would have changed is Carrie's mom and Chris Hargenson having more painful deaths. Morbid, right?

Posted By: Anonymous

-

April 8th, 2010 12:50:19 pm EDT
i own a copy of this from 75 and i got it with about 20 other books for 5 dollars at a garage sale. I was definatly worth it because this is one of the neatest books i've ever read and it inspirered me to start writing.

Posted By: Aurore Christheart

-

March 25th, 2010 9:52:47 pm EDT
The movies that it inspired were okay, but the book is clearly better... very different too. I wonder why hollywood had to change the plot so much.

Posted By: $t. Michael

-

February 28th, 2010 8:14:28 pm EST
Bizzare,but in a good way.

Posted By: Bickleej

-

February 24th, 2010 2:11:14 pm EST
I loved this book. Stephen King is, hands down, one of my favorite authors. The thing that makes this book so brilliant is that Mr. King makes you feel fear Carrie, but feel sorry for her at the same time. It just goes to show you, be very careful who you pick on.

Posted By: Anonymous

-

January 16th, 2010 3:16:32 am EST
omg i terribly liked this!

Posted By: Dana Hill

-

January 14th, 2010 12:27:28 am EST
Carrie, wow. this one was awesome. the was the 2nd novel of kings that i have read. awesome, must read for everyone!

Posted By: A 13 Year Old Fan

-

December 17th, 2009 11:25:22 am EST
This is the saddest novel I've ever read. (Spoiler alert!) When Carrie died I felt so sorry for her, and I pictured everything so clearly. I know I'm only 13 years old, but Carrie is a must for all horror lovers, and people who don't really like horror as well

Posted By: Kyle

-

December 13th, 2009 11:23:49 pm EST
This is the first Stephen King book I read. I thought it was pretty good and worth the read, but not quite good enough to get me addicted to his writing.

Posted By: Alex

-

December 12th, 2009 12:00:16 am EST
I think stephen king is hands down the single most influential (and scariest) literary figure of the past 40 years. Carrie may have been one of his earlier works and 1st publishe book but it is still so powerful, one of my favs.

Posted By: Sandy

-

December 4th, 2009 1:49:21 pm EST
I liked this book because it was such a quick read. This book never became boring or dragged on. I really liked the thoughts of the people in the brackets...it was diffrent.

Posted By: JRM

-

November 27th, 2009 1:35:10 am EST
A very good and brisk read. What King was able to accomplish in less than 200 pages is a testament to his talent. Not his best book by any means, but a glimpse at better things to come. Check it out.

Posted By: The Man With The Fro

-

November 10th, 2009 8:21:03 pm EST
I've trying to read Stephen king for half a year, tried PET SEMETARY (page 165), tried to read THE STAND (page 372) THE GUNSLINGER (page 50) THE TOMMYKNOCKER'S (page 180) and BAG OF BONES (page 220) and couldn't finish any of them. Then I picked up CARRIE and read it and was outstanded, and I've finished every Stephen King book I read since.

Posted By: Alphonse

-

October 28th, 2009 9:13:34 am EDT
CARRIE is great! Stephen King should write a sequel

Posted By: Anthany

-

October 7th, 2009 1:58:59 pm EDT
I read carrie and it wus dark i loved it (pig blood for a pig) lol ( i am 13) carrie is my frst one of your books im reading misery now its one i think you shud read........NO!!! MOMMU!!! NO!!! ill bring the rocks agen .p.s i suck at righting

Posted By: Aidanl

-

September 15th, 2009 2:13:49 pm EDT
Carrie is the first Sephen King book I read. And the book that got me interested in reading in general. Now i'm hooked and SK remains my favourite author. Truly great.

Posted By: Jawad

-

September 9th, 2009 1:58:47 am EDT
this is my first of King's novel this is great i think carrie was not villian she actually was too hert and anybody being in her place would do the same

Posted By: Technomad

-

August 20th, 2009 2:03:55 am EDT
Since Margaret White was apparently worshipping Nyarlathotep (she referred in her prayers at one point to "the three-lobed burning eye," one of the names of Nyarlathotep) was it really surprising that she was screwed up? Those who worship the Great Old Ones tend not to do well.

Posted By: Frank

-

August 1st, 2009 9:21:02 am EDT
The thrid King novel i read, after the shining and cell. INCREDIBLE!!

Posted By: Joey

-

July 28th, 2009 9:11:17 am EDT
This was only the second SK book I read. I had just finished with Lisey's Story, which by the way I absolutely loved, and decided I'd read this one next since it's supposed to be one of his classics. Well, for one, my expectations were probably too high off to start with. I thought it was good, but not as good as I had heard. Now, if you've never read any SK novels, this would a good one to start with. It's a quick read, very dark and you get a glimpse of SK's talents as a writer. 4/5

Posted By: Anonymous

-

July 8th, 2009 12:56:54 pm EDT
AMAZING book! I reread this recently and it still amazed me! It's a great horror novel. I'm looking forward to reading more of your books Mr. King!

Posted By: HalloweenB*

-

July 7th, 2009 10:57:03 am EDT
Carrie is just... AMAZING! i read the book and then saw the movie, the book is much better without doubt

Posted By: Danniella

-

June 21st, 2009 6:09:58 pm EDT
I love Carrie; this story never fails to break me heart (not that that is a bad thing!) I will never forget when we studied the book in English class and almost everybody was in tears!

Posted By: Matt

-

June 8th, 2009 9:00:17 am EDT
carrie was great! I love how he makes this phyco mom so religous, that made me chill my blood! I kinda fell bad for Carrie though.

Posted By: StephenKingFan

-

June 6th, 2009 2:11:41 pm EDT
I finished the book ,Carrie, last week and I loved it so much! I couldn't put the book down!

Posted By: Anonymous

-

May 21st, 2009 2:52:29 pm EDT
Im half way though this book and have only been reading it since yesterday so far i love it. This is the first stephen king book ive read and ive im all ready planning on reading I.T. next.

Posted By: Edwards

-

May 16th, 2009 9:40:13 am EDT
I liked the story but, I didn't care for the way it was written.

Posted By: Dan

-

May 2nd, 2009 11:00:20 pm EDT
This is the first and only Stephen King book I've read. It certainly won't be my last though. It is well-written, and has great ideas. l'm looking forward to reading more Stephen King books :D

Posted By: Ashleybunny

-

April 15th, 2009 8:42:22 am EDT
carrie is awesome

Posted By: Anonymous

-

April 14th, 2009 11:00:02 am EDT
This book is well written, but I really wasn't keen on it. It's probably because of the fact that books affect me and Carrie is too much dark, too much full of misery and evil from the side of other people. And the worst was bigotry of Carrie's mother (I think it's the most terrifying kind of fanaticism). So therefore I say, it's quite well written for those who like horrors, but I need a little bit of happiness or love or hope to feel fine. And that's what I want when I am reading. I wrote this just because there are only excited comments. I though you could need something different...

Posted By: Anette

-

March 9th, 2009 9:50:34 am EDT
This is an amazing book! I read it for my English research paper and fell in love with the book. This is the first book I've read by Stephen King but it certainly won't be the last!

Posted By: Anonymous

-

March 1st, 2009 12:15:44 pm EST
I loved this book. I think that's it's one of his best. Being his first makes it more impressive. The book got to me so much because I felt so bad for her character. It was sad.

Posted By: Simon

-

February 5th, 2009 6:29:56 am EST
This was the first book I actually read by Stephen King, and even today it still delights and surprises me. While it could never be called King's best work, it is certainly one of his most famous and beloved. It is a great read that can be read in a single day and no matter how many times you read it, you are still shocked and surprised by the outcome.

Posted By: Lugg

-

January 22nd, 2009 7:28:30 am EST
A great read, and considering it was hi first novel, a bona- fide spine chiller

Posted By: Val*

-

December 27th, 2008 6:07:20 pm EST
A great first work... I've loved Carrie, I think that, even if this is not his best book, is still amazing...

Posted By: Nick F

-

December 27th, 2008 2:05:37 pm EST
This was the fisrt stephen king book that i read and it is my all time favorite! I think how that this is his fisrt novel, he did an amazing job!

Posted By: AmareS

-

November 17th, 2008 4:08:03 am EST
Nice book although its not his best book, its certainly a memorable one

Posted By: Sianna

-

November 3rd, 2008 8:00:44 pm EST
***spoilers*** OMG amazing book... there's a King special going on at my library and this was the first one I read. Kept me burning the midnight oil. Though the end left a lot to be desired. Wasn't as disturbing as it could've been.

Posted By: Ed Molda

-

October 29th, 2008 10:49:07 pm EDT
Fantastic. Is there any more I can express about this book?

Posted By: Angel

-

October 18th, 2008 2:09:06 pm EDT
this is ONE of the best that i have read.

Posted By: Nico Pliskin

-

October 14th, 2008 5:55:11 pm EDT
i love this book. this was one of the first books where i learned that stories could be as violent as the movies and still have the same affect if not more of one.

Posted By: Ellen

-

October 2nd, 2008 7:02:20 pm EDT
I am 13 and this is my first Stephen King book. I have just started reading it and im already hooked! Nice job! I will definately be reading more of your books. does anyone have any reccomendations on other good stephen king novels?

Posted By: Nivrag59

-

September 23rd, 2008 9:04:40 pm EDT
Bought this book Carrie back in '74 at age 13, been a King constant reader ever since!! Still have it in my collection, and just found out its a first edition. Cool!

Posted By: Anonymous

-

September 18th, 2008 12:19:23 pm EDT
I am a big fan I luv ur movies and books and u. At the time I am reading Carrie right now and then i am going to a new book and of course it will be by u. I also just saw Carrie on T.V on a lifetime show and plus i watched Misery where the writer gets into a reck.......but just wanted to let u no bout another fan of urs ....

Posted By: Orligirl

-

September 12th, 2008 11:47:50 am EDT
I love this book. I got it almost a year ago, and have read it 6 times!

Posted By: Melissa

-

September 2nd, 2008 9:47:19 pm EDT
I loved the novel, it was both frightening and hear-wrenching. Saw the movie on telly when I was twelve - scared the crap out of me! I've tried to watch it through to the end many times since - still can't manage it at the tender age of 36!!!

Posted By: CLARK

-

August 15th, 2008 4:39:20 pm EDT
Carrie was down-to-earth but still very entertaining. This is definitely one of S.K. most brilliant novels. Carrie is the sort of book you can't put down; It's the kind of book you stay up an extra hour to read at night. It was not intensely scary like his other works but it didn't get boring even once. I was very disappointed when it was over though. I really wish it could have had another 100 pages. The only thing that could have been better in my opinion is the way that Carrie dies. I like the very ending to the remake of the movie.

Posted By: LYNNSiE

-

August 13th, 2008 11:46:44 am EDT
carrie is AWESOME POSSUM

Posted By: Warren Piece

-

August 1st, 2008 6:51:33 pm EDT
Carrie was Stephen King's first published novel and introduced many concepts that would reappear in many of his later works: bullied outcasts, telepathy, abusive parents and religious psychos. The combination makes for a really suspenseful story. I can see why the paperback version of the book made King an overnight success. It is a short, scary novel about things anyone who attended an american high school in the last fifty years can relate to. It is filled with instantly recognizable images that stay with you long after you put down the book. Who could forget Carrie standing in front of the school prom, drenched in blood, tiara and all? Or Margaret White, in her rimless glasses, screaming and howling to the sky in repentance? Carrie also works because King, from the start, introduces clearly who the sympathetic character is, and leads the reader along anxious for the moment of revenge, reminding me of the Count of Monte Cristo. The most interesting part of the book though is the excerpts from various fictitious text books, news articles, and court transcripts King places throughout the novel. I especially liked the one that discussed how Telekinesis is passed as a genetically recessive gene, similar to hemophilia. On the whole, Carrie is a good read but has little re-read value. It is definitely interesting to see how Stephen King became the world's most best-selling author, but Carrie is not the best of King's work.

Posted By: Puddintain

-

July 30th, 2008 8:51:32 pm EDT
A splended and down-to-earth novel. Stephen King shocks me with his incredible ability to be able to depict such a horrific event happening to a gender different of his own. This was one of the most entertaining novels that I have ever enjoyed. If Carrie were a real person, she would most likely be a close friend of mine.

Posted By: CannibalsOnCannabis

-

July 24th, 2008 7:36:04 pm EDT
Takes many of King's most recognizable elements--small town life, the bitterest aspects of growing up--and drenching them in more blood than is usual. A horror novel that is truly frightening, and also infinitely sad. Succeeds in the genre, succeeds outside of the genre.

Posted By: Rjt65

-

July 24th, 2008 11:25:29 am EDT
The first book for your collection from the best writer ever!