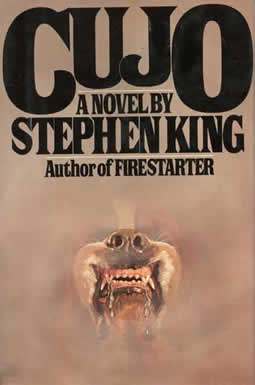 Fan submitted reviews of Cujo (Novel):

Posted By: Anonymous

-

February 26th, 2013 12:02:23 pm EST

I'm looking for a copy of this edition, because I can hear it on a site of audiobooks at the same time I'm reading, but I don't know the ISBN number that would make me easier for me to find it... If you can help me, thanks. (I've already had read this book long time ago, but in my native tongue : surely that would make it much easier for me to understand it in the original text)

Posted By: KrisGrim

-

February 4th, 2013 11:58:25 pm EST

My mother had purchased a copy from the grocery checkout in 1983 and, as a child, the paperback's cover (that snout poking through the blackness) was the cause of endless fascination that continues to this day. So I bought that particular edition from a Half-Price Books while living in Dallas. While devouring the first 140 pages or so, I began to have a recurring nightmare about being stalked by Cujo... only to realize that in my dreams the dog in question was really my own. After the dream played itself out three times in one week (the conclusion always the same, always ending with my having to shoot my pal schnauzer in the face) I was forced to put "Cujo" on the shelf... where it has remained ever since. Personally one of the most disturbing stories that I have ever read.

Posted By: Widdershins

-

January 14th, 2013 3:09:18 am EST

Cujo is, ultimately, a better film than its novel might suggest. What works in this book really cooks. King's insights into the what drives his characters is still great reading (especially in the case of the two central female characters--Charity and Donna). Ultimately, though, the book's too long--King's writng is fine, but his editor must've been asleep at the wheel here.

Posted By: Todd

-

December 12th, 2012 2:39:12 pm EST

Hey "Jack" thats your opinion on the book. There are more good reviews than bad on that book!

Posted By: Bill

-

November 27th, 2012 11:59:57 am EST

This is probably my all-time favourite Stephen King book! What makes it so gripping is that, unlike many of his other great books, this one (along with Misery and Dolores Claiborne) is closer to reality. The whole scenario of a rabid dog trapping people in their car is true horror. His fantasy horror is great, but the psychological thrillers are un-beatable!

Posted By: Jack

-

November 5th, 2012 9:12:40 pm EST

This book is absolute garbage, I have never read a more boring book in my life, the grammar is terrible and painful to read. The book does not deserve anymore than a 2 out of 10. DONT WASTE YOUR MONEY ON THIS!

Posted By: Cannonball

-

September 24th, 2012 1:10:23 pm EDT

This novel is great. It's a downbeat story, which reminds me more of King's work written under the Bachman pseudonym than most of his other work. It shows that real life circumstances, such as adultery, business failure, and wanting your children to have better oppurtunities in life than yourself , can be worse than any supernatural horror. A lot of elements create the perfect scenario of terror for Donna and Tad. Vic being out of town to save his business. The Cambers winning the lottery and going on vacation. The Kemp vandalism putting Vic and the police off the trail long enough for the terror to continue. All of these elements combine to stretch out this horrific ordeal. I also think this novel has one of the most downbeat endings of all of King's work.

Posted By: Kayla

-

September 6th, 2012 3:57:00 pm EDT

although ive just started reading (kinda) im already finding he book an amazing book o read. though dogs in the same stage as cujo kinda scares me but with his point of view you cant help but love him as a friendly dog in the begening. just awesome!

Posted By: Chelsea

-

August 16th, 2012 2:03:59 pm EDT

When I first started reading it I never thought it would be good,but as I read on I couldnt put it down. I absolutely fell in love with the book.

Posted By: Ononga

-

July 24th, 2012 7:00:35 am EDT

King! Nomen est omen!

Posted By: Anonymous

-

April 20th, 2012 6:38:38 am EDT

This book was amazing to read. I don't think it could have had a better ending, as it almost me cry. I loved how there was Cujo's perspective too, it made me feel sorry for him.

Posted By: 10 Year Old Fan

-

March 24th, 2012 4:14:00 am EDT

When I watched this movie, I knew right away that I wanted to read the book.

Posted By: Laura

-

March 23rd, 2012 1:06:07 am EDT

I just love this book, like all of his books :) But I think that the end in the movie should have been like in the book. Anyway, changing the subject, one of my goals and dreams is to read all his books :) Sorry for my english

Posted By: Wicked

-

February 3rd, 2012 11:21:03 am EST

no one can describe the story line better then stephen king so i want to finish all of his books

Posted By: James

-

December 2nd, 2011 1:52:33 pm EST

Cujo was one of the best books I've ever read.

Posted By: MYonny

-

October 26th, 2011 9:26:25 pm EDT

I loved this story as a teenager and listened to the audiobook recently with my own two teenagers. I found it just as interesting as I did way back. My kids, however, felt strongly the climax of the whole book is now irrevelant with the invention of the cell phone. Sad. But true.

Posted By: B. J.

-

October 16th, 2011 2:56:59 am EDT

I really love the way the novel ends. Its something heartbreaking about the dissolution of a marriage in both sets of families. Plus, I believe the real ending of the book should have been incorporated into the movie. I just felt it would've been more authentic. But I'm glad I watched the movie first before reading it because it gave me quite the surprise!

Posted By: Drkstar

-

October 16th, 2011 12:51:09 am EDT

book was awsome!!! Especially cause alot of the book is from Cujo's point of view!

Posted By: Drkstar

-

October 16th, 2011 12:38:52 am EDT

Thought the story was bad ass cause alot of the story is told from Cujo's point of view. That was really unique!!

Posted By: Justin Shanahan Santos

-

September 19th, 2011 8:20:09 am EDT

This got me terrified of Dogs... Stephen King knows how to scare people but yet entertain them at the same time!

Posted By: Anonymous

-

September 6th, 2011 1:47:50 pm EDT

I really like this book because it is very suspenseful, like most of them. And it's amazing the creativity he has... with all these crazy things. But some of them can actually happen.

Posted By: Opal

-

July 19th, 2011 11:18:22 pm EDT

cujo is a story of a monster who was on the closet of the little boy,,,and stare at the boy every night

Posted By: Noel

-

July 7th, 2011 10:40:41 am EDT

The best book I have ever read. A masterpiece.

Posted By: VICTOR

-

July 2nd, 2011 7:52:16 pm EDT

This was my first Stephen King novel(I read the mist first) wasn't my favorite but it was still good. So far i've read The Mist, Cujo, Carrie, Desperation, The Shining, 'Salems Lot, Night Shift, The Dark Tower I The Gunslinger, and The Girl Who Loved Tom Gordon. I am now reading Pet Sematary.

Posted By: ScooterGirl

-

May 17th, 2011 12:10:25 am EDT

I truly love "Cujo". I love that it is one of the few Stephen King books that could actually happen but most of all I love that it has a villain that is also impossible to hate. As Mr. King points out in the final pages, Cujo wasn't evil; he was a good dog with a terrible disease, a disease that was just as terrible for him as it was for anyone who encountered him after he contracted it. I ask you, how easy is it to write a horror novel with a sympathetic antagonist? IMO, not easy at all. Brilliant work.

Posted By: CrimsonPortugal

-

May 11th, 2011 6:38:44 pm EDT

Cujo is a great suspenseful and terrifying novel that just keeps you turning pages. The ending is quite unpredictable. Good Job!! 8/10

Posted By: Wes

-

May 10th, 2011 11:27:40 am EDT

this was a good book... but it talks about the mother and child trapped in the car for to much of the story.

Posted By: Christian Aguayo

-

March 22nd, 2011 12:35:33 am EDT

I bought the book this past Christmas along with Salems Lot. When I purchased these two books I was currently reading IT(the book took me 3 Three months to read) another amazing book by king. When I finished IT I started reading Salems Lot, as soon as I am done with Salems Lot I intend on reading Cujo. All I know for now is that I'm hooked on Stephen King. Mr. King I don't know if you read these but your in my opinion you are one of Americas greatest authors.

Posted By: Blueboy

-

February 28th, 2011 2:37:52 pm EST

creepy! A very vicious pageturner. cujo kept me reading minute by minute. Again, another fascinating book to read.

Posted By: Rayne

-

October 23rd, 2010 7:21:53 pm EDT

This one is great it starts slow then builds and builds and locks you in just like Tad and Donna you wait and wait hopeing they get out ok! And I love what happens to joe

Posted By: Shakey

-

October 9th, 2010 10:01:56 pm EDT
less scary than it is sad. good book anyhow. as a dog lover, it broke my heart to see that dog turn so badly. Stephen King truly has a gift.

Posted By: Scotty

-

September 30th, 2010 12:52:03 pm EDT
Great Book! Unlike most Stephen Kings theres no Direct link to the the supernatural; OR IS THERE! What about that latch on the closet vic saw fly open and never spoke of again. Also love the way all the characters dreams were linked in one way or another to the current circumstances. FATE. Cuuuuuujoo.

Posted By: Charlie

-

September 15th, 2010 12:59:31 am EDT
the first time i saw the movie i was so amazed at what rabies could do to such a beautiful dog....made me cry but now i have a better understanding about the whole concept of rabies...thanks king

Posted By: Stephen

-

August 10th, 2010 7:25:41 pm EDT
Cujo is a good book. The way stephen delves into the mind of the physchotic beast is truly great. I find the concept of the story to be intriguing as I do with plenty of his other novels. Cujo is a good-enough novel to devote yourself to.

Posted By: The Doctor

-

May 24th, 2010 10:52:46 pm EDT
This was my first King book. I read it around 7th grade and haven't stopped since!

Posted By: Ben

-

April 9th, 2010 4:55:04 am EDT
Spolier***** Loved this book until the boy's death, which was pointless.

Posted By: Yellowwedge

-

April 5th, 2010 7:11:05 am EDT
A really well-written novel and interesting in several ways. Firstly, the plot: the idea of a killer dog is hardly original, but Stephen King's usage of rabies, and the (hinted-at) possibility of posession makes for a clever plot-device. Secondly, it is one of very few S.K books which do not have an obvious supernatural theme to them.

Posted By: Anonymous

-

April 2nd, 2010 9:56:16 pm EDT
I am a 14 year old girl and I love how when I'm reading in class, my teachers say how they're suprised I'm reading this. This is my favorite book so far, I actually finished it in a week :)

Posted By: BIOHAZARD

-

March 24th, 2010 2:02:18 pm EDT
I loved it. I completely loved it. The part where Cujo was in the mist and staring at the boy was chilling.

Posted By: Grant Flashman

-

March 19th, 2010 9:03:23 am EDT
I've read every Stephen king Novel From Carrie to the Dome. Cujo was the first S.K book i had read, it is without doubt one of the best reads and the reason i'm an constant reader! This is so reccomended, in fact i might blow of the dust and re-read it ;)

Posted By: Draco Frindick

-

March 5th, 2010 12:21:06 pm EST
best book ever. i own it and it gave me nightmares for a week after that a dog down the street went rabid as well in less then nine days after

Posted By: Brady12

-

January 19th, 2010 11:31:19 pm EST
Awesome book! (DONT READ AHEAD IF YOU HAVNT READ THE BOOK YET) I just am bummed that Donna through hell and still lost Tadder.

Posted By: Anonymous

-

January 1st, 2010 10:04:36 pm EST
Just for starters, I have to admit, I never liked big dogs. So when I read this, it didn't change my view on them. I really enjoyed the book though, and I watched the movie as soon as I finished it. They don't lie when they say the movie is never as good as the book. I definetly recommend it, especially to first time SK readers.

Posted By: Courtney

-

December 24th, 2009 11:19:34 pm EST
this was my favorite stephen king book that i have ever read, its suspensful and it is very scary, and the funny thing is, is that the book is even a little sad for the dog because it tells what his poor body is going through and it made me want to cry.

Posted By: Angelo

-

December 12th, 2009 3:42:36 pm EST
One of Stephen King's best books. I have been done reading it a week ago, and I loved it. Just the ending though... the ending is really good except Tad's demise. I love this book so much. I love dogs, and Cujo somewhat surprised me because he was very tantalizing and in fact very bloodcurdling. I am a huge fan of Stephen King, and this is the first novel I've read of his. I definitely recommend this book. Angelo (7th grader)

Posted By: Hala

-

December 7th, 2009 7:58:10 pm EST
Well, im working on a book, report on this book right now, I must say this is one of Stephen's best books. I personaly love dogs and realizing that a dog could do most to all of what Cujo does made the book very interesting and somewhat scary. I would definatly recommend this book to my friends! I didnt think the reason he got rabies would turn out the way it did... but ya never know what may happen! ~Hala (7th Grader)

Posted By: LAYZHAR

-

December 5th, 2009 8:19:48 pm EST
i might not read this book cuz i love dogs

Posted By: S.K. Rules

-

December 3rd, 2009 6:46:05 pm EST
by far to me the best Stephen King book he has written (that i have read) so far. It really surpised me because I like dogs and I knew straight away somthing bad would happen to Cujo, but I really injoyed it.

Posted By: Rudolf Niehaus

-

November 25th, 2009 5:53:46 am EST
***SPOILERS***

Book is ok. Do not like the end, maybe because of the boy's death.

Posted By: Tom

-

November 13th, 2009 2:16:31 pm EST
Hello!First pleas escuse my english I'm not a native speaker(I'm from Romania).For me the books are everything and yours are in the top.I'm 42 years old and some (long) years here we can"t find yours books(the comunist party don"t agree) and now are verry rare and expensive.However I buyit soon as I findit because they are realy extraordinary! I wish you all the happiness and the best of the world because I spend many many houres reeding yours books and every minute it was a delight for me.Thank you verry much for that!

Posted By: Breeskiee

-

November 13th, 2009 11:55:38 am EST
I havent read the book actually, but my prediction is that it is good.

Posted By: Thedarkprincess

-

November 12th, 2009 1:18:57 pm EST
one of my favorites

Posted By: Tyler McAlister

-

September 28th, 2009 5:49:42 pm EDT
im glad to say that this book makes me afraid of my dog and all dogs for that matter

Posted By: Anonymous

-

August 12th, 2009 3:48:46 pm EDT
This is the first book that I read at the age of 3 years old. I grew up watching this movie and my parents thought that I would read the book. I love dogs, and this stuff can and will happen. Thanks for the good reading.

Posted By: Jack

-

July 15th, 2009 3:28:17 am EDT
Cujo was one of the first King novels I read, after The Dark Half and The Shining, I believe, but this is honestly the scariest book I have ever read simply because this could happen. I grew up in the country, and when I was young I refused to goutside for a week one summer because I was convinced there was a wolf out there. This book brought that all back, ten years later, and it was QUITE a while before I was comfortable outside alone at night. Dogs get rabies every day...this is only a matter of time.

Posted By: Wayne

-

July 11th, 2009 12:19:48 pm EDT
Finally sat down and watched the movie, Great film and I have already looked and what is different with the movie and Book. Only thing I personally would have changed if I wrote this was having the young kid who owned Cujo to kill him. Because really in the end Cujo was the only real lovable character before he became this monster which was not his fault. So having that young kid could have been a great and sad way to end it, But thats me and why I am no a well known writer :(

Posted By: Rex13

-

June 27th, 2009 12:33:27 pm EDT
I loved this book! It is probably one of King's darkest novels and the ending was deeply depressing I liked the way he depicted the dog as an actual character with a personality of his own great book!

Posted By: Rachel

-

June 14th, 2009 12:43:17 pm EDT
Loved Cujo!!!! Awesome book...my first time through a King novel. Loved the short stories & saw a couple King movies & had to read it. Loved the conflict with having to choose...stay or go? Brilliant ending. One of my favorite books!

Posted By: Stephenmaster

-

June 8th, 2009 8:55:21 am EDT
i haven't read it but i think i will but right now i'm reading cell.

Posted By: DOE

-

March 8th, 2009 7:52:41 pm EDT
Cujo is awesome even though I'm only on pg 4 its so cool i also saw the movie (I'm only 10)

Posted By: Zeph

-

March 8th, 2009 4:01:28 am EDT
I simply adored this book! Very discriptive, and I was drawn into it the whole time! I have watched the move to, and it was quite good. I am honestly glad that you wrote Cujo. Its my favorite book/movie of all time. And it has been for 8 years.

Posted By: Stephane Omaley

-

January 29th, 2009 1:09:52 pm EST
Great book!!! Really couldnt stop reading it!!!!!!However it was quite a disturbing book but so thrilling to read!!

Posted By: Anonymous

-

January 28th, 2009 10:59:12 am EST
i just finished this novel a couple days ago...i loved it, this is the first novel i have read by stephen king. i want to watch the movie, but i have to figure out where to find it first. this is easily the best book i have read ever. if i had to rate it i'd give it a 9.0 out of 10.

Posted By: Nahyan

-

January 14th, 2009 3:05:44 am EST
Intense, gluing and shocking. The struggles a human is capable of when required are beautifully highlighted. A great read

Posted By: Val*

-

December 27th, 2008 6:14:09 pm EST
This book is amazing. I've loved it! And I also saw the movie, but it was terrible. The dog was the only character I liked and the story was completely different... The book is sooo great!!

Posted By: BA2 A.K.a Rodin

-

December 4th, 2008 4:31:51 pm EST
Cujo is the best book that 've ever seen..

Posted By: AmareS

-

November 28th, 2008 9:31:48 pm EST
a pretty good book it really raised my blood pressure :D

Posted By: Sylvanna Rayne

-

September 28th, 2008 2:47:47 am EDT
Man's best friend turned devourer of that forbidden flesh. Cujo is a great read. The characters are true to life and have depth. I love the subtle insights into various classes and ways of life that appear through the dynamic between characters. Its sad in a way, but life can be too. Whats comforting for most readers is being able to read something that evidences that there is another out there who 'knows' about that kind of thing. King's writing has that 'familiar' touch to it for a lot of us, I think.

Posted By: Puppy24

-

September 19th, 2008 6:14:32 pm EDT
i feel bad for the cute doggy i love those types of dogs! i think the book was good

Posted By: Metalshark

-

September 14th, 2008 1:08:12 pm EDT
This was an excellent book! The movie, not so great, but the book itself had a great plot.



Posted By: Kittenprincez94

-

September 10th, 2008 8:49:53 pm EDT
i didnt really like cujo, the book i mean, and i never got around to the ending, i just read it online

Posted By: SOL

-

September 8th, 2008 11:00:34 pm EDT
THIS WAS MY FIRST STEPHEN KING BO0K AND AFTER READING THIS I FELL IN LOVE WITH THE KINGS WAY OF WORDS... THIS BOOK IS GUD. I WOULDNT STOP READING IT FOR ANYTHING !!

Posted By: Eleanor Rigby

-

August 24th, 2008 11:58:46 am EDT
Remember I cried while reading about Cujo in 1987 : I love too much dogs and I can't accept it turns into a killer. I wrote a letter to Mr. King and he announced me the protagonist of the next novel was a very bad Nurse! E.R.

Posted By: Person :)

-

August 13th, 2008 11:25:38 pm EDT
This is my first Stephen King novel that I just finished reading and I loved it! It had so much suspense I didn't want to put it down. The ending I never saw coming, but I won't say anymore because I don't want to be a spoiler. I'm also trying to find the next book from him to read. I also saw his house when I was on vacation in Maine. The folk song in the book talking about the dog "Old Blue", I really want to hear all of it, so does anyone have any info about who sings it would you please leave a comment about it please! Thank you. :) I have to see the movie now. I love this book!

Posted By: CannibalsOnCannabis

-

July 24th, 2008 7:38:46 pm EDT
A sad and vicious novel, unrelenting in its bleakness and realistic to a point that is almost painful. While some could argue that King is a fun read, there is no fun in this; just darkness; and that is why it stands out among King's bibliography as one of the best.

Posted By: Rjt65

-

July 24th, 2008 11:33:55 am EDT
We all have at some point as kids,and even still some adults been afraid of big dogs. Here is a novel where that is taken to the nth level. Simply superb!