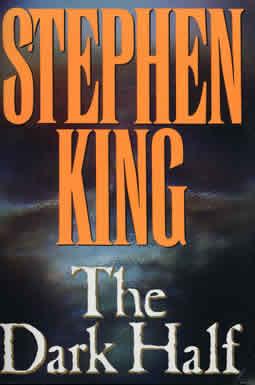 Fan submitted reviews of Dark Half, The (Novel):

Posted By: Topher

-

November 6th, 2012 9:27:39 pm EST

I also thought that this was an awesome story, I don't read many books each year but this one had me dip into the " reading coma" like that.... I also thought that the movie was great to, it did it justice love you SK

Posted By: Name / Nickname

-

July 26th, 2012 7:39:01 pm EDT

its good

Posted By: Bc

-

May 14th, 2012 3:09:33 pm EDT

the best moive ever

Posted By: Dee

-

January 31st, 2012 11:43:59 pm EST

I found the book readable, but not believable. I think King is a great writer and has oodles of imagination and talent, but I like a book, even fantasy fiction, to have an element of credibility. I was tired of the flocks of sparrows long before the ending, and because I found it a bit tiresome and improbable, I didnot find it chilling at all.

Posted By: Floxy

-

January 19th, 2012 10:31:26 am EST

when i read the book Dark Half i thought it the most wonderful work of art I've ever come across, and immediately i made up my mind to become a writer and i would be so honored to meet Stephen King in person because i see him as a literary legend. Florence, Nigeria.

Posted By: ThatGuyOverThere

-

November 10th, 2011 6:48:40 am EST

Beyond great! It was very different from the movie, I must say, but that wasn't really something I didn't see coming. I felt guilty on occasions while reading this novel because I actually liked Stark. He straddled the border that separated the outrageously evil from the pure, 100% evil, but it was all too easy to respect the guy, all too easy to know exactly how Thad felt about a part of him liking his dark half. I suppose that's what makes King such a great writer.

Posted By: Twila

-

October 27th, 2011 6:10:46 am EDT

This was the first book I had read in about grade seven or so by Stephen King, and I absolutely adored it. To this day it is my favourite, and George Stark is forever a sexy beast in my eyes.

Posted By: Donna

-

September 3rd, 2011 1:35:43 pm EDT

Great story! I was surprised that I had not read this book. It was wonderful!

Posted By: Guruh09

-

June 14th, 2011 4:53:16 am EDT

the man in the suit who dug himself out of his grave scared the hell out of me.

Posted By: Marie

-

April 14th, 2011 2:33:13 pm EDT

*SPOILER* My first Stephen-King-book and I love it. The words are pictures... Especially I like the description of the found of the first body (ill but awesome; even if I wonder if it this with the tounge and the pin really works???) and this funny thing with the shit and the sauce. I also think the end was epic and I wouldn't have such a cool idea. Somehow I was a little bit sad Stark died... I know he is a cold killer and Thad is the nice guy and all but I still liked Stark. Yes, he was cold but he also was damned awesome... a great killer and a human with feelings any way. I mean he just wanted to live, an usual feeling from a human, or? I'm sure many people would kill other ones for their one life so I don't think Stark is that a monster. Humans often do revange... No, Stark is the cooler guy and I was sad about his dead. By the other hand I also wouldn't really like if Thad died so... Awesome idea, awesome end, awesome word-pictures, awesome conflict in it.

Posted By: Anonymous

-

March 4th, 2011 1:21:32 pm EST

That was really sick. I read every book that Stephen King wrote up until 1984. I liked every book written especially the Dark Towers Trilogy. I also liked his autobiography on his life and how it was related to the book he wrote on Carrie.

Posted By: Jason

-

January 1st, 2011 7:21:05 pm EST

Great book...hoss!

Posted By: Fred

-

December 7th, 2010 10:59:12 am EST

@spoiler: I've always assumed when King does that he is referencing the dates of beginning and completeing the book. As I recall there is usually a location mentioned too. The Dark Half is certainly one of my favorite King novels. It seems to me it is writen in an homage to the gritty post WWII detective pulps. I never cared much for those or when King has affected that style but in this case it is so appropriate as it is self-referencial to the character of Stark. The story seems to skirt with being a parody of itself. Great read!

Posted By: Samantha

-

August 26th, 2010 6:08:03 am EDT
This is a fantastic book I could not put it down, I have been talking to friends and family about it and now they all want to read it as well.

Posted By: Booklover1214

-

July 23rd, 2010 7:36:26 pm EDT
***SPOILER***
So, I loved the dark half very much. I have read this book three times now and will read it again. I don't get the ending of the Epilogue when it says "November 3, 1987-March 16, 1989". Does any one know what that means and also I have no read Bag of Bones but I know that Thad kills himself.. That's a sad ending to that story. I also love how King keeps his books connected at times. Go King!

Posted By: Anonymous

-

June 2nd, 2010 6:49:38 am EDT
Absolutely my all-time favorite Stephen King book! I read it in a day and a half, literally could not put it down!

Posted By: Jonesy

-

April 28th, 2010 11:12:59 am EDT
This novel kept myself away from a dark half room - my light room always open and usually, my lights will off and my door curved open a little - leaving me with THE DARK HALF

Posted By: TheStand04

-

February 14th, 2010 2:09:50 pm EST
Gory but epic. One of his best novels, in my opinion.

Posted By: Orochirel

-

January 31st, 2010 11:17:00 pm EST
I was so sad when I knew the destiny of Thad in Bag of bones

Posted By: Truefan

-

December 24th, 2009 7:59:53 am EST
I first read "The Dark Half" when I was 15 and it was the first SK book I ever read. I was instantly drawn into his universe! I'm 31 now and I've read every work of fiction SK has written more then once and own about 97% of his books in hardcover and paperback as well as several movies. Mr. King, your imagination and storytelling prowess are one of a kind. Thank you for sharing your gift with the world.

Posted By: Brady12

-

October 17th, 2009 8:38:51 pm EDT
Literally just got done reading this one. One word to describe... mindblowing! (SPOILER ALERT!!!) My favorite part was the end when Thad's sparrows ate Stark alive and carried/flew him back to the land of the dead. Stephen your books are addicting, I cant wait to start another.

Posted By: Jennifer J

-

October 1st, 2009 11:15:27 am EDT
This was the 2nd Stephen King book I read (my first being Four Past Midnight; which was awesome, by the way), and I was not disappointed. I love anything written by Stephen King, I have a huge collection of his books, and my bookshelf is devoted to King only. The Dark Half was entertaining from start to finish. Everything about George Stark was creepy. This was a very well written book, and I love how King writes in such detail. IMO He is the Best Author Ever!!

Posted By: Sspade

-

September 19th, 2009 1:36:51 am EDT
A very good book and an OK movie. King's best book, I believe, (perhaps because it was my first SK book) was The Stand. A true classic.

Posted By: Deadhead4evr

-

August 11th, 2009 11:37:11 pm EDT
loved the dark towers series think it would b awesome if it were made into a film it would be long or mayb into a series of films somebody should look into that

Posted By: Invisiblewounds

-

August 5th, 2009 6:31:40 am EDT
Dark half is the darkest novel Stephen King has ever written.One of the reason is Its written by two authors Richard bachman and Steven King

Posted By: Char80

-

June 24th, 2009 8:29:09 am EDT
This was the second SK book I read and thought is was fantastic!

Posted By: Tim

-

March 12th, 2009 11:56:52 am EDT
best book i'v ever read

Posted By: Rafael

-

February 7th, 2009 1:58:07 pm EST
this was the first novel of stephen king that i read, and it was so amazing and visual that make me look forward to his other novels and discover the joing of reading and writing that i have, this is a masterpiece that inspired me to write and want to tell histories. thakns forever rafael

Posted By: Nahyan

-

January 14th, 2009 3:07:17 am EST
A good read but not in the same league as other works by King.

Posted By: Val*

-

December 27th, 2008 6:15:09 pm EST
A great book. That's it. An amazing novel. I love it.

Posted By: King Jacob

-

October 10th, 2008 5:24:08 pm EDT
I absolutely loved this novel. I read it last year sometime, and it's had such a lasting impact on me. I actually read Needful Things before because I didn't know they were related. I loved the inclusion of Pangborn! Since reading that novel, both George Stark and Thad Beaumont have gained a soft if not disturbing place in my heart. Stark is as awesome as Randall Flagg in my opinion.

Posted By: Sylvanna Rayne

-

September 19th, 2008 1:38:53 am EDT
I'm sure that most of us work very hard at getting by. We work hard, we tire ourselves out, we miss our loved ones because life is short, and we still try to be patient when another wrench comes flying into the gears of our humble hopes. The bottom line? We've learned, for the sake of the greater good and all society, how to quiet the id and subdue the animal in us all. In 'The Dark Half,' that sociopathic id-animal comes to life, with no pesky empathy to hinder him. The world becomes his playhouse. Oh what a fun, fun read. Whether intended to or not, this story speaks of the duality in human nature. ...and Pangborn rules! So do the Psychopomps!

Posted By: Nate

-

September 18th, 2008 4:45:58 pm EDT
Its funny my old school's gym had a mural painted in ti that was by a certain "George Stark.

Posted By: Nathaniel Richards

-

September 18th, 2008 4:43:35 pm EDT
Excellent book.

Posted By: Dom

-

September 1st, 2008 3:19:06 am EDT
Glorious

Posted By: Jewel

-

August 21st, 2008 1:17:42 pm EDT
Thank you for this wonderful book which I had read many years ago and somehow forgot. It will always be my favorite~I believe~unless I discover one I have not read yet. ~ Jewel

Posted By: Mrs H

-

August 1st, 2008 4:02:45 pm EDT
I thought this was an awesome book. The movie did it some justice but the book is the absolute best of the two!

Posted By: Doc

-

July 31st, 2008 12:12:48 am EDT
George Stark is one of the most chilling creations besides Annie Wilkes that you will ever meet. I love the fast pace and the way your heart beats harder with every turned page. King makes these characters come to life and you feel like you know them. I can still see Thad and Stark in that lake house with the sparrows invading them. I love how King also places footnotes in "Needful Things" and "Bag of Bones" about these characters.

Posted By: Bahamut

-

July 27th, 2008 8:16:12 pm EDT
The best book I've ever read.Read it three times but I think it will not be enough.

Posted By: CannibalsOnCannabis

-

July 24th, 2008 7:42:14 pm EDT
A pure, undiluted shudderfest, moving at the speed of sound. As always, the characters are so real you can almost touch them (though there are a few instances where that it'd be quite the bad idea), and they are the driving force. A great look at the background of a famous writer and his demons, fictional or not.

Posted By: Rjt65

-

July 24th, 2008 5:11:53 pm EDT
Beware the Birds! Another story where SK must have thought of himself as a writer and what if....? As usual an excellent book!