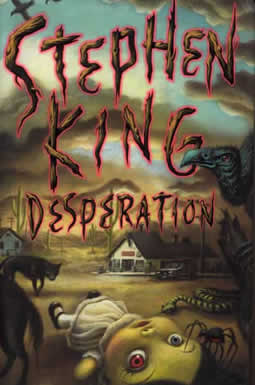 Fan submitted reviews of Desperation (Novel):

Posted By: Me.

-

December 10th, 2012 11:50:31 am EST

yeah i was definatley creeped out by the book and movie. classic king and what was most odd about watching this movie is that every time mr. jail man sai " Tak ah wan. Tak ah la" my dog barked at the screen. But thats norma right??

Posted By: Anonymous

-

October 24th, 2012 6:00:46 am EDT

This is a great movie, I like it and the best part is that it is true - Stephen King's Desperation - How true - having Faith in God is not easy, so many times when we think of God we think of sunshine and flowers, a life of ease. But when met face to face with life where God is a part - should things not turn out the way we think it should - we blame God. However, God's only promise is that He will see us through and He promises us He will be with us through it all. True faith comes through acceptance of God's will. We do have free will, we can go off on our own, but we have to accept what happens, with no one else to blame. We accept God's will plus love, honor and accept Him for who he is, we will be blessed, and wiser - many of us are so willing to gamble on life, but so unwilling to take a gamble with God, which would be our best bet.

Posted By: Mich

-

October 6th, 2012 12:12:07 am EDT

Oh my god, this book is definitely fighting for number 1 spot in my list. Such a fantastic story, I have read it multple times. I was a bit wary when I read that one of the main characters speaks to god (no offence but I am just not religeous), but it fit the story perfectly. Never will you read a story like this. HIGHLY RECOMMENDED!!!! And when you've finished make sure you have a copy of The Regulators ready to start. It was odd reading about characters from another story, especially when they are independent of each other, but it really worked. The best part was when I saw the original cover... My search was on and now I proudly own the originals of both novels(for those who don't know, both books join together to make one picture - it looks fantastic). Anyway, dont think - just read it!!! You will not be disappointed!!!!!

Posted By: Nelson

-

September 7th, 2012 5:31:06 pm EDT

I read this book when I was 20. I'm 36 now. Every once in a while, for no apparent reason, the phrase, "Tak ah wan, Tak ah lah, Mi hem in tow.." pops in my head. I LOVE THIS BOOK! Out-Damn-Standing!! I wish Hollywood would give this story the proper budget, cast, and director and remake this!

Posted By: Clayton

-

August 29th, 2012 12:19:02 pm EDT

One of the most important things about this novel is its ability to make you question fate and faith. This is not only apparent in the novel itself but in all aspects of life. There is no greater debate than the ones we have in our own heads. Stephen King entertains you; as well as opens the soul to the possibility of there being more than the eyes can see. Having characters from The Regulators in this second chilling tale really took me for a nostalgic spin. This being said, the changes in their persona were welcoming. Steve and Cynthia will always have a place in my literary heart.

Posted By: Kristina

-

July 22nd, 2012 8:54:47 pm EDT

One of my all time favorite book's by King..

Posted By: Chopstickstheclown

-

February 7th, 2012 12:42:16 pm EST

yo Dee the book youre thinking of is called Regulators, writen under Richard Bachman But this book is one of my favorites ever, good combo of dark and positive

Posted By: Dee

-

January 19th, 2012 10:11:36 am EST

i read the book and loved it i remeber there being an another novel that goes with it though and cant remeber what it is or where to find it. i have read a great deal of your work and love them all.

Posted By: Mwarby

-

January 14th, 2012 2:05:18 pm EST

My son Jeremy Kye Gibson was murdered July 6, 2011 and he had given a friend a note about this book. He quoted the prayer as his favorite prayer so I want to thank you for that. It seamed to have meant a lot to him.

Posted By: Tori

-

November 21st, 2011 6:15:43 pm EST

To be quite honest, this is the most amazing book I have ever read, and I have read a lot of books. To make me stop reading someone would have to tear it out of my hands!!

Posted By: BJ

-

August 15th, 2011 10:22:27 am EDT

I've had to put this book down twice, now! It is one of the most scarey books I have read in a long time. Beware...don't read this alone late at night!

Posted By: JoeT

-

August 14th, 2011 7:10:42 pm EDT

Reading the book...it is great...got to page 498,then it skipped to 467-498...then skipped to 531. i am missing about 30 pages and want to know what happened. Thank you!

Posted By: Nanie

-

August 5th, 2011 9:33:31 pm EDT

this book seems interestings and i might enjoy reading it!!!!!!i feel very intreged by the title and it is making me want to just jump in to this book

Posted By: DvSLoser

-

August 4th, 2011 1:35:43 pm EDT

I am a reader/listener and collector of your work Mr. King. I love this novel and its companion novel The Regulators. I have read both and listened to both unabridged recordings. I wonder if the unabridged versions of Desperation narrated by Mr. King could be re-released in a digital format, it is truly one of my favorite narrations of his. I also would like to see all of Mr. Frank Muller's recordings re-released especially those narrating Mr. King's Books such as The Regulators and The Gunslinger..

Posted By: John

-

July 16th, 2011 10:06:40 pm EDT

This is a book of purest evil inhabiting the ones you trust, the ones you love, the things that slither and slithe amoungst the desert. If there is any book that will scare you into leaving the lights on, this is it

Posted By: Shadow

-

April 13th, 2011 7:42:34 pm EDT

I absolutely hart desperation! my friends call me collie sometimes because they say i have a rage not to be reacond with.

Posted By: Caveman

-

March 31st, 2011 8:43:56 am EDT

read the book,grabed the movie loved them both... TAK!

Posted By: Someone

-

March 15th, 2011 12:20:05 pm EDT

Tak ah lah1

Posted By: Anonymous

-

February 17th, 2011 7:01:28 pm EST

Feb 17 11 I'm going to pick it up tommororow on Friday! Will I love it? It sounds pretty intresting........ *I will post again after I read this "good sounding`` book*

Posted By: CiRcLeK84

-

February 1st, 2011 3:45:32 pm EST

TAK!!!!!!!!!!!!!!!

Posted By: Bguy85

-

January 22nd, 2011 8:00:57 pm EST

I finally reread Desperation, finishing the whole book this time, and I loved it. It reminded me of The Stand, but the plot was just as original. This is one of my favorite Stephen King novels

Posted By: Bguy85

-

December 22nd, 2010 11:53:35 am EST

At about five hundred pages into this book, I had to put it down. It was too nightmarish for me to make it to the end. If you are looking for a book to have a strong impact on your mind, than this is the book for you!

Posted By: Pablo G

-

December 8th, 2010 6:14:49 pm EST

Finally I found that book in other country and I read it. I just can say, Desperation is perfect. Is my fevourite book of King. I love him books.... He is the master!!!! I am from Chile :D

Posted By: Exodustormz

-

December 8th, 2010 3:15:34 am EST

great book. ending wasn't as good as I had anticipated. but really enjoyed reading it. I just got a copy of "the regulators" from the library and so far I'm impressed as well. I'm a little concerned with the fact that only Stephen King novels interest me. I wonder if maybe Mr. King can suggest a similar author I might enjoy, maybe in the FAQs? Thank you and please keep up the good work!

Posted By: Jason

-

December 4th, 2010 2:23:49 pm EST

Very nice. I'm interested to see how the movie is. From what I read it is no where near as good and that's probably true.

Posted By: Riddell

-

September 11th, 2010 12:25:44 pm EDT
This book is amazing. One of the best King books out there. Right next to The Stnd.

Posted By: Marman

-

July 29th, 2010 6:39:49 am EDT
I read Desperation last year, when I bought it from a kiosk in Paros-Greece, in order to have something to read during my boat trip!I was really amazed....I didn't want to stop reading it and I didn't want it to be finished!Great book, I saw the movie after I read the book and it really seamed funny to me!Nothing to compare with the book!!!Really scary!As it was supposed to be....

Posted By: Matias

-

July 18th, 2010 10:31:07 pm EDT
Great book! I love it! Amazing!

Posted By: Darius

-

June 29th, 2010 11:53:17 am EDT
Desperation. I finished it yesterday and feel like I want to read it again. No words too really describe stephen King

Posted By: Topey(:

-

June 13th, 2010 2:38:40 pm EDT
I'm thirteen years young and I've read a great deal of Stephen King's novels and short stories and this is by far his best work of art! I finished the book in a day because I just couldn't put it down! I've lent my copy to so many of my friends and with almost all of them, it became their favorite book! Stephen King is an extraordinary author and I can't wait to get my hands on some more of his books! (:

Posted By: S.K.Rules

-

June 12th, 2010 8:18:36 am EDT
This novel (like most of S.K.s Novels) had me from the first page a real page turner.

Posted By: Cwycyshyn

-

June 9th, 2010 6:06:25 pm EDT
this is stephen king at his best! i was 11 when i read this, and i had to put the book down sometimes it creeped me out so much! i highly recomend this

Posted By: Kurd

-

May 23rd, 2010 7:28:24 pm EDT
b tru to urslf

Posted By: Torijac

-

May 10th, 2010 5:18:53 pm EDT
i loved this book i thought it was great and im not even done reading it i would recommend it to anyone so read it now!!!! see the movie too :)

Posted By: Emovempiress12

-

May 6th, 2010 5:21:32 pm EDT
this book totally got me like sooooooo hocked. dude im 12 and i wuv it soooo it must be awesomeness....

Posted By: Rainbowbraintransplant

-

April 13th, 2010 8:21:28 pm EDT
I had such a hard time putting this book down! I absolutely loved this book, and the movie was pretty good too. I'm going to read "The Regulators", as soon as I get my hands on one lol. :)

Posted By: Anonymous

-

April 6th, 2010 6:29:54 pm EDT
I saw the movie - and that's how I got hooked on Stephen King. The movie was amazing, and I think I'm going to actually read the book, after seeing the movie, just because I love it so much. And I'm only 11!

Posted By: Evra Von

-

April 4th, 2010 12:52:24 pm EDT
WOW! This was the first book i read by Steven King and i fell in love...I'm only 15 and i was scrambling on to read another one of his works...i'm now reading Misery and i can't put it down! Amazing.

Posted By: Amy

-

April 4th, 2010 9:17:06 am EDT
My second Stephen King book and I have to say it was bloody brilliant. I read it all over a single weekend and then watched the film a few hours ago. Simply amazing.

Posted By: Kyle

-

March 13th, 2010 2:13:30 am EST
Very intense. Tak is at it again as one of my favorite King bad guys. I felt abandoned and hopeless when I read this. It's a one of a kind page-turner. Just as good as Regulators!

Posted By: Anonymous

-

March 11th, 2010 2:25:15 pm EST
Totally reading this

Posted By: Vir*

-

February 14th, 2010 10:28:49 am EST
this book is very good, it's one of my favorite, i was 16 years old when i read it for the first time, and i can remenber if it was yesterday!! Great book for great KING!! Thank's u sir!!

Posted By: Vir*

-

February 14th, 2010 10:26:48 am EST
this book is very good, it's one of my favorite, i was 16 years old when i read it for the first time, and i can remenber if it was yesterday!! Great book for great KING!! Thank's u sir!!

Posted By: Sadee

-

January 21st, 2010 12:44:56 pm EST
I like this book/movie. Gonna get it :)= Sincerely Sadee'

Posted By: Joey

-

January 17th, 2010 6:14:45 am EST
I was a little hesitant of reading this after seeing the mediocre movie but once I picked it up I was addicted. I would put this in my top 3 King novels. On to regulators tomorrow then UTD. Very excite.

Posted By: Anonymous

-

December 13th, 2009 7:15:18 pm EST
this has been a good book but i havent finished it yet. and cell was good



Posted By: Juana

-

November 2nd, 2009 11:45:43 am EST
i love ur books (*.*)

Posted By: Jesse

-

October 28th, 2009 6:52:18 pm EDT
while reading about stephen kings new book under the dome i came across this... So the question on everyones minds is: Will Under the Dome hold our attention like the early classics, or does it wither and die like Desperation and Insomnia? I thought that desperation was a great book in fact the best book i ever read so it made me kind of mad to read

Posted By: JRM

-

October 28th, 2009 5:24:47 pm EDT
I just finished this book yesterday and I absolutely loved it! I did have a few minor -- very minor -- problems (I found it difficult to picture more than a few scenes, and I was at times confused), but the book was entertaining from the get-go. That's really what I appreciated about this book; how easy and fast it was to get into it, without sacrificing characterization (unlike "CELL"). And it maintained the appropriate pace throughout. LOVED it.

Posted By: Norman

-

October 25th, 2009 1:41:27 am EDT
This book is good...really good...but i think this is the only few novels by Stephen King that isn't set in Maine..lol Its great!!

Posted By: Black Orchid

-

October 10th, 2009 7:07:40 pm EDT
I got this book earlier in the year, and within minutes, and even the first pages, I was hooked. Read it in 3 days, and have re-read it since then. I love this book, as I love all the other works of Stephen King. This book, though, is one of my all time favorites. Hope that the future works are just as good. Keep up the excellent work, Stephen.

Posted By: Lucas Teng (im A Rapist)

-

September 29th, 2009 11:34:18 am EDT
I thought your book was incredible i love the sex scenes

Posted By: Nik

-

September 11th, 2009 9:35:44 am EDT
this is the first stephen king book i ever read it is great ive read a bunch of his books and this is by far the best ever!

Posted By: Lawngnome

-

September 10th, 2009 2:37:16 pm EDT
this book was great, i mean its stephen king man

Posted By: Brian Carroll

-

September 8th, 2009 12:23:58 pm EDT
i am currently on page 578. this is my first stephen king book and t is really good. for me it is not a book that i can't put down but i am reading it alot, in small dose and i am really enjoying it.

Posted By: Quackshoe

-

September 2nd, 2009 9:35:42 pm EDT
Desperation is I think Stephen King's BEST writing. He doesn't go too much into character back-story except when necessary, the story is solid, the plot is quick and keeps everything going... his character point of views are interesting... King's voice isn't omniscient, we are told only what the particular character knows and thinks... we look through the characters' eyes and those separate views give us the whole picture... it's actually a really smart way to do it instead of having that know-it-all narrative voice that I hate so much in novels... my favorite Stephen King Novel.

Posted By: Joycie

-

September 1st, 2009 4:39:39 pm EDT
totally unexpected, this is probably one of king's best novels yet

Posted By: Orca

-

July 24th, 2009 6:45:57 pm EDT
One of the greatest Stephen King novels ever. The novel is a real master piece sending a chill down my spine with every chapter. i recommend it to any horror fan. Start reading and your hooked from page one. Excellent

Posted By: BLARGEN69

-

June 22nd, 2009 9:56:01 pm EDT
I very much enjoyed this book.... It's not King's best writing but I must say it's the book of his that I got the most pulled into. Seriously I mean it when I say I could not put the dang thing down. Desperation's a somewhat underrated one of his works... Which is sad because it truly is a wonderful piece of literature. Excellent horror, from the always excelling, King of Horror.

Posted By: -The Road Virus-

-

May 2nd, 2009 7:21:40 pm EDT
This is one of Mr. King's most underrated books. This should go down as one of his Epics also. I hope Under the Dome is something comparable to Desperation or Needful Things.

Posted By: Evilmonkl

-

March 23rd, 2009 7:29:00 pm EDT
This is my Favorite Novel from Mr. King. I like how he reuses the characters in The Regulators. My Mother and I would often call eachother up and just start talking about this book. She recently passed away, So this book means more to me than just another great story from Stephen King. Thanks for the memories S.K.

Posted By: Anonymous

-

March 20th, 2009 8:35:49 pm EDT
oh my gosh i just started this............. my friend was reading it first but she let me read it............ it is so freakin creepy............... i love it so much, right now i'm on chapter 4...................

Posted By: Corey

-

February 21st, 2009 8:53:56 am EST
This was the last of the classic Stephen King's books before the accident and his writing style changed.

Posted By: Brady12

-

January 29th, 2009 4:48:24 pm EST
What the hell are you talking about Britt this book was awesome! This book just reinforces the book/movie rule of thumb that the book is always better than the movie. But not to sound like Im falling into the "Everybody is critic" cliche'... in the movie there was a plot line that involved Pie guiding David, I think that would have been great to be included in the book. Other than that the book was great. Im reading the Green Mile next.

Posted By: Britt

-

January 2nd, 2009 5:10:23 pm EST
I think Mr. King can and has done much better. It ties into a lot of other books of his, but i still could have did without.

Posted By: Beast

-

December 16th, 2008 5:54:56 pm EST
I'm lovin' this book and I'm not even through with it yet this is so great!

Posted By: Erin

-

December 16th, 2008 4:26:01 pm EST
This book is what made me feel the LOVE for reading. Wonderful. Now I am giving it to my sister to read!

Posted By: Kayra_golden

-

December 7th, 2008 2:35:31 am EST
This book was so amazing, and god was in it. And that was kinda comforting sometimes...!!

Posted By: Harleyachick

-

November 28th, 2008 3:53:31 pm EST
wow everyone of your books are amazing yea i no i probley sound just like your other fans but because of you i am working on being a author as well. hope to be just as good as you... i am 13years old 1-18-95 and you are what im tryin to be... no pressure though i only wish i had someone like you to be around so i could tell them my thoughts... remember this name Harley Anne Puckett it soon will just as famous as yours:)

Posted By: Ryan

-

November 18th, 2008 3:50:58 pm EST
Reminds me of American Gods

Posted By: Rich

-

October 25th, 2008 1:01:32 am EDT
When will this be released in ebook format? I have all of your books in hardcover, but I'd really like to repurchase and read this on my e-reader.

Posted By: ScKarr

-

October 9th, 2008 3:05:32 pm EDT
This book had me scared for weeks... I LOVED IT. It's one of the books I most talk about and refer to when conversating with friends.

Posted By: Iian123

-

September 21st, 2008 9:30:37 am EDT
Stephen, if you are reading this, I want to say this briefly to YOU. DEPERATION is the best novel I have read in a LLLOOONNNGG time. I loved how you brought God into the story, and my entire family were really hoping if you had plans to do it again sometime. (You know, write a story with God in it). If you have, can anybody please point it out? Thanks, I really appreciate it and Stephen I read THE LONG WALK a couple days ago and IT. WAS. FREAKIN. AWESOME. Keep up the awesome work, man.

Posted By: Sylvanna Rayne

-

September 19th, 2008 1:05:54 am EDT
One of my King favorites. The tale of an ancient evil pitted against free-will acts of faith. If you're concerned about the representation of God in the book, don't fret. It is done in a respectful and unassuming way, and King doesn't try to show you what God "looks" like or what bluejeans He's wearing. I LOVE that. On the other island, if you're concerned about it being too Christian/Faith based, have no fear, you are apt to still find it a great read just for the exploration of human nature that it offers, and it does not 'preach,' just reveals. It includes a good amount of characters that each develop.

Posted By: Seb.S

-

September 13th, 2008 1:28:44 pm EDT
It's the second time I read this magnificent novel now. I first read "Desperation" when I was only 11 years old - I'm 16 now - in Swedish. Now I'm reading it in English, which is a lot more comfortable than Swedish. I think this is the 10th Stephen King novel I'm reading in English, and it's definitely one of my favorite King-novels, if not one of the best novels ever written. What I love about this book is that there's so many people in it - the depiction of all the characters is, as always, simply amazing - and it's exciting all the time, you just can't put the book down. Thank you Stephen! Love you man!

Posted By: Sojourno

-

September 5th, 2008 2:57:49 pm EDT
I read alot of horror and have read all of Stephen's books. Very few novels are able to truly scare me and I mean piss in my pants scare me. Desperation is one of the creepiest, mindf*cks i've ever read and i Loved it.

Posted By: Kira

-

September 2nd, 2008 11:23:03 pm EDT
This is one of my favorite books of all time. I had a few plane rides last weekend that I had been trying to save the last hundred pages for, but this book was so good I had to start reading something else to ration this book to last that much longer! This book was full of dread, lucid terror and violence. Gruesome, but tragic enough to make me cry and funny enough to make me laugh aloud. It is not for the faint of heart, but an excellent read!

Posted By: Blueyes66

-

August 15th, 2008 11:46:30 pm EDT
This book is pure excitement from the get go... I absolutely love it. I lived off Highway 50 some time ago and reading it was like being there all over again. Do yourself a favor... READ THIS BOOK

Posted By: Reader

-

August 14th, 2008 5:06:18 pm EDT
Desperation was my favorite Stephen book, but now I'm reading IT, snd I think it could replace it.

Posted By: Mitch9752

-

August 4th, 2008 8:38:04 pm EDT
I just read this book. Lucid. I got nervous just putting down the book to let the characters fend for themselves.

Posted By: Kedo

-

July 29th, 2008 1:40:42 am EDT
This is my favorite book... in general.

Posted By: Chad

-

July 24th, 2008 8:07:48 am EDT
My favorite stephen king book.