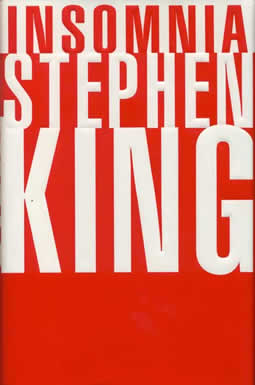 Fan submitted reviews of Insomnia (Novel):

Posted By: Dani

-

November 20th, 2012 7:46:35 am EST

This book is my very favorite book overall. I was drawn in by the colors of the cover, and took it out from a library, only to find that once I read it I needed to own it, so I could read it again and again. It made me feel, which is exactly what I look for in a book. If it can bring tears to my eyes, fear to my heart or a laugh to my lips, it's (in my opinion) a great book. I then spent 3 months of my life hunting down a copy of the First Edition Hardcover printing, to sit on my bookshelf well loved and much leafed through, read aloud, and silently in quiet places, held by small hands and large, until I pass my books down to my children when my eyesight fails and my life fades. Thank you to the author for tearing this story out of himself and laying it on paper with type for all to experience.

Posted By: Mich

-

October 6th, 2012 12:23:08 am EDT

So quirky!! Again, it's one of those stories that is hard to explain to other people when they ask what it is about - you just have to trust that Stephen King will never disappoint and read it! Another odd concept, but unlike others I've read, this one is also beautiful and sad, which aren't things I usually feel while reading his books (not a bad thing, but not a bad change either). Very worth reading

Posted By: Clarence1

-

August 31st, 2012 3:40:01 pm EDT

I read this many years ago and loved it. At Christmas, my brother was diagnosed with a terminal brain tumour. Shortly afterward, I re-read this book and can honestly say that the opening page or two, describing the experience of dealing with a terminal cancer diagnosis, is one of the most heartfelt and poignant pieces of writing I have ever come across. To all those who dismiss Stephen King as pulp horror rubbish - walk in my shoes and then read these words - and you will reconsider.

Posted By: Angelina305

-

August 18th, 2012 6:07:43 pm EDT

I read Insomnia ten or more years ago and I still think of this book as one of my favorite reads. I believe I finished this book in a few days and couldn't put it down. I am a Stephen King fan and it seems rare to me that an author can really "get" people the way Mr. King does. I also loved the references from his other books within the story. Made me want to read Pet Cemetery, which I did after this one. From all the reviews looks like I need to start The Dark Tower series.

Posted By: Handknit

-

July 16th, 2012 5:48:36 am EDT

Just finished reading this again. Sometimes Stephen King writes such a bittersweet ending that makes you hope for something better in this dark world of ours. If this doesn't touch your heart and make you cry I feel sorry for you.

Posted By: DJBoobytrap

-

June 29th, 2012 4:42:42 pm EDT

just finished insomnia and although it wasn't my favorite King book i still thoroughly enjoyed it especially the links with It and The Dark Tower.

Posted By: Bailey

-

June 14th, 2012 8:08:20 am EDT

I read the book, but I didn't really like it. It's the only Stephen King book I ever attempted to read and didn't enjoy. Left it and read The Long Walk (much better). Next is Bag of Bones

Posted By: Dhalia

-

June 1st, 2012 4:10:47 pm EDT

I finished this book before beginning to read the Dark Tower series and am amazed at the way King intertwines the story lines of a number of his books with recurring towns and themes which are relevant, not just lazy or coincidental. Thoroughly recommend reading this before the Dark Tower series

Posted By: Anonymous Is Here

-

April 17th, 2012 6:11:42 pm EDT

BEST BOOK EVER!!!!!!!!!!!!!!!!!!!!!!!!!!!!!!!!!!!!! I also liked Dreamcatcher.

Posted By: Mac

-

April 6th, 2012 3:56:04 pm EDT

I am absolutely amazed at the way King can weave his characters into other stories with, what seems like, no effort: Patrick Danville, Randall Flagg, Ted Brautigan, Gage Creed(although only his shoe), Reverend Callahan, Pennywise the Clown. In some cases it is only the mention, in others they are taking part in new stories. Keep up the phenomenal work. Impatiently waiting the arrival of The Wind Through The Keyhole.

Posted By: John

-

March 15th, 2012 8:17:31 pm EDT

Eh...its okay just because its a Stephen King book, but I really had to struggle to get through it.

Posted By: Cliffcarr

-

March 2nd, 2012 10:24:33 am EST

a really good book loved it took me bout 4 days to finish it and if u read "IT" before u read this one u will get even more addicted seeing how the ralph lived in the same time period and in derry he remembers things that also happened in "IT"

Posted By: Kensey

-

March 1st, 2012 4:22:54 pm EST

Not my favorite King book, but it was still an amazing read :) But then again what King book isn't?

Posted By: Skenpo

-

February 3rd, 2012 4:28:56 am EST

I'm still reading the book and now im addicted to kings books.

Posted By: MrAmphetamine

-

January 26th, 2012 3:02:00 pm EST

I checked this book out of my high-school's library when I was still attending about 2 years ago. Once I started reading I couldn't put it down; it took me about 17 hours to read the entire thing, and since then I have re-read it a countless amount of times.

Posted By: Iwannabemary

-

January 19th, 2012 9:14:00 pm EST

It's sadly relevant, almost 20 years after the original publication. We're still stuck at pro-choice vs. pro-life and men are still beating on their wives. Almost as if the country hasn't progressed at all.

Posted By: YoungKing

-

December 13th, 2011 10:32:30 am EST

I am in the midst of reading this book, it's very intriguing so far. It may take me a while to finish but a stephen king book is worth the finishing!!

Posted By: Anonymous

-

December 12th, 2011 8:51:15 pm EST

omg this is such a good book i love stephen kings books im reading the dome next

Posted By: Mr.m

-

November 28th, 2011 9:43:51 pm EST

i think that this website is good for all the persons who wants to read a great book

Posted By: Caty

-

November 13th, 2011 8:24:15 pm EST

I loved this book. One of SK's best books, in my opinion.

Posted By: Ichachan

-

October 24th, 2011 9:02:04 pm EDT

I'm currently reading this book :) enjoying it very much!

Posted By: Anonymous

-

October 9th, 2011 7:18:33 pm EDT

I love you, Stephen King! I grew up reading your books, and still re-read them every chance I get. I'm reading Insomnia again right now, and I love it even more the second time. Your books always completely engross me...thank you for sharing your phenomenal gift with us!

Posted By: Kiki Reina

-

September 14th, 2011 1:39:55 pm EDT

This book is one of the best books ive EVER read by Stephen King ... i read it over 10 years ago and i STILL miss Ralph :)

Posted By: Nicholas

-

August 22nd, 2011 4:11:17 pm EDT

I really enjoyed this book, and its presumed place in the Dark Tower story. I was very disappointed that Mr. King has gone on to repudiate this book as an aberration.

Posted By: Kristian

-

August 20th, 2011 2:37:15 pm EDT

This book was absolutely amazing, and at certain points, beautiful. Stephen King makes you want to believe that the auras do exist! Incredible book.

Posted By: Karin

-

August 18th, 2011 9:43:27 am EDT

One of my favorites !

Posted By: Keith

-

August 9th, 2011 4:47:32 pm EDT

If you liked "It", then "Insomnia" will NOT dissapoint. This book picks up on what "It" left off. The town of Derry is an extremely powerful town with powerful stories- written and created by a legend.

Posted By: Tigerfeet73 Woreast

-

August 1st, 2011 4:56:03 pm EDT

just love this book,so much i read it twice :-) Thanks Mr king for a super read

Posted By: Adrian Z.

-

July 31st, 2011 1:57:55 pm EDT

I read this book a long time ago and thought it was just meh. I was very busy back then and I don't think I gave the book enough time to soak in. Maybe I didn't read it carefully enough either. So I decided to read it again. And now, on my second reading, it's absolutely amazing. I think this book might take a second reading to really get the feel for it. Another thing I really love about this book is the building up, it takes a couple hundred pages to really start to pick up and I like that, I like longer, slower books for some reason, not really slow, more like they take their time. I guess I'm also reading it for inspiration for a book i'm writing. Thank you Mr. King for this book, your underated masterpiece. I highly suggest for those who have read this and didn't like it to read it again.

Posted By: Keith

-

July 14th, 2011 8:50:00 pm EDT

I am just over 100 pages and I am so-so on the story. I really love how the story is set in the spooky town of Derry, 6 or seven years after the grat flood of the canal. simply awesome. And Im sure everybody caught an old character from "It" referring a couple books to Ralph, right? Well, for those who didnt, good ol Mike Hanlon is in their. Cant wait to get deeper in the book, hopefully it gets a wee-bit better, but so far it is okay...

Posted By: Dwitb

-

May 20th, 2011 4:11:49 am EDT

Just finished it 10 minutes ago. I'm not jumping up and down over it, but it was good. I loved that it allowed me to leave my own reality and step into something more.

Posted By: Mr. Pettus

-

February 20th, 2011 2:42:00 pm EST

Within the last year I just began reading the Dark Tower series and have become heavily addicted. My method of reading the series is a little different. In between each dark tower book I read another Novel of Mr. Kings work that shows some importance to the story, and so far I have to say that Insomnia is one of my favorites that I have read off to the side. Great Job Mr. King, I look forward to your later works

Posted By: LitlBuddie

-

February 5th, 2011 12:16:19 pm EST

THIS BOOK IS AWESOME!!!!!!!! It is seriously the best book that was ever written

Posted By: LitlBuddie

-

January 23rd, 2011 2:47:04 pm EST

This book is awesome. its my favorite book.

Posted By: Blyan85

-

January 1st, 2011 4:36:01 pm EST

Insomnia was a very good novel. it was somewhat spoiled for me because i listened to it on audio, and the person narrating it got on my nerves. to fully enjoy this book, i recommend that you should find a hard copy of it.

Posted By: Ray

-

December 25th, 2010 11:57:16 pm EST

This is an amazing book...I was having some sleep problems but now im not and to read such an interresting book....I loved this book....Thanks Stephen King!

Posted By: Anonymous

-

December 23rd, 2010 1:14:46 pm EST

I enjoyed the book. BUT, I also enjoyed trying to find all the hidden pictures in the cover art of the paperback. Anyone ever count them and/or is there any way to find out?

Posted By: Juli

-

December 21st, 2010 12:48:39 am EST

This is one of my favorite books by Stephrn King right next to Rose Madder! I loved it n i would read it again!! I have to say Stephen King u r the best author that i have came across keep writing craziness its what keeps me intrested!! _juli

Posted By: King Fanatic

-

December 19th, 2010 12:37:33 pm EST

Insomnia is King's greatest work to date. I loved the plot, the characters and the whole story. It's brilliant. I could not put it down. I think I've read it 6 times now, and each time I love it more. Go Ralph!!

Posted By: Billyhalleck

-

November 28th, 2010 5:00:09 am EST

i could finished on four months. This book was very hard for a reader. But i liked very much the final of book. The appointed hour of death of Roberth was perfect. I think, Stephen thought to write the appointed hour of death of himself. I thought to read the appointed hour of death of myself, too.

Posted By: Libbiee

-

November 16th, 2010 2:10:10 pm EST

I am 12 and i've just got halfway through this book, sometimes, though, it's a hard read.. with some of the words I to enquire about. Other than this, I have found this book - so far - a gripping, thrilling and a pretty awesome read. Thank-you Stephen King, you've produced a brilliant book!! Libbiee

Posted By: Anonymous

-

November 9th, 2010 3:05:17 pm EST

***SPOILER***



Did anybody catch the Pet Sematary refference. While louis and Ralph are Searching through Atropos' lair , They stumble upon a sneaker. A sneaker that belonged to a boy named Gage Creed.

Posted By: Rayne

-

October 18th, 2010 7:07:29 pm EDT

After rereading this one I'd have to say it's in the top five.With all the links t the Dark Tower,it just adds to Roland's world

Posted By: John Lee

-

September 10th, 2010 11:32:30 am EDT
a great novel like the dead zone i did not want to see it end. great job mr.king

Posted By: Heaven

-

September 5th, 2010 2:47:20 am EDT
This is one of my favorite books by King. I haven't been able to put it down.

Posted By: Patch9

-

August 27th, 2010 8:47:07 pm EDT
World of auras - High reality - It is not mindreading, it is aurareading .

Posted By: McMorbid

-

August 19th, 2010 10:13:03 pm EDT
To be totally honest, this did go awful slow at moments, and I had a hard time going back to read the rest, but in the end it was worth it. A pretty good novel.

Posted By: Debrag49

-

July 7th, 2010 12:13:03 am EDT
I loved this book. I read it in 2 days. It was great. I've read most of King's book and liked them all.

Posted By: S.K.Rules

-

July 3rd, 2010 9:30:10 am EDT
I thought this was a good story when I was able to finnish it, but to me it was slow at moments. but in the end it was worth it.

Posted By: Armando

-

June 22nd, 2010 5:59:58 pm EDT
It took me a week to read it, thanks, I totally liked the book. I dont know how you do it, but, I could feel I was on Derry

Posted By: Feldev

-

May 28th, 2010 10:16:11 am EDT
awesome story

Posted By: MickyB

-

May 12th, 2010 8:43:51 am EDT
Next to the Dark Tower series, this is my favourite SK novel. It has so many links to Dark Tower, which you won't understand if you haven't read it. It also blends in very naturally with DT's final plot. The characters were believable. What I also love about this story is SK's view on death, I found it both very beautiful & terrifying. SK might be one of the most clearminded people in this world. Keep writing them!

Posted By: Katiegirl1975

-

April 10th, 2010 11:12:57 pm EDT
This is amazing well written hands down a great read!!!

Posted By: Melanie

-

April 7th, 2010 4:16:07 pm EDT
Two years ago I spent the whole year reading S.king books,partly on the recomendation of my 19 year old daughter.Before that I had only read "The Stand"."Insomnia" was very inspirational to me to carry on and read The Dark Tower novels.Roland is a hard master but understands KA

Posted By: Mcleahy

-

March 28th, 2010 3:54:12 pm EDT
I love this book. I've always had strange dreams, but this one really brought the good ones out of my head.



Posted By: Kyle_Hruska

-

January 30th, 2010 3:58:15 pm EST
Dear Mr. King, love this book!!! I read this book so many times it broke the spine of the book. i need to rebuy it to enjoy this amazing book once again!!

Posted By: Nicky_Mail

-

December 26th, 2009 7:07:28 pm EST
I am 13 and have read many of your awe-inspiring books. I am reading the book Blaze now, but this was the best book I have ever read that was written bt you.

Posted By: Brady12

-

December 5th, 2009 10:59:03 pm EST
Awesome novel it was a little slow in the beginning but when the little blad doctors entered the picture it was a real page turner.

Posted By: Roger

-

October 26th, 2009 11:14:30 am EDT
Dear Steve, I just re-read Insomnia. I loved it the first time and enjoyed it even more the second. Its a truly wonderful book and I want to say thanks for all the great reads. This one is close to my heart. As I enter the time in my life when I wake at 3:00am and read until dawn, I am very glad indeed there are so many wonderful books in your library.

Posted By: Masep

-

October 18th, 2009 12:06:56 am EDT
loved it

Posted By: Sherif

-

September 29th, 2009 5:52:38 pm EDT
This is one of the best novels I have ever read it not only is a good book but also its has alot of great vocabulary that improved my English , it's the kind of book that should be treasured. Thanks alot mr. King and I'm looking forward to reading more of your novels.

Posted By: Avidreader1999

-

September 13th, 2009 3:39:17 pm EDT
This is one of my favorite Stephen King books and sadly enough very unrecognized. I'm embarrassed to admit that I even forgot the title of the book after a couple years and just recently remembered it when my daughter and I were talking about sleep deprivation. great book! I'm going to Amazon.com now to order it!!!!

Posted By: The Nobody

-

August 18th, 2009 12:36:55 pm EDT
I first read Insomnia over ten years ago and immediately regarded the book as my favorite Stephen King novel. I recently reread the book (and with myself an author) and I came away with the same decision. No one writes people better than King and Insomnia is his best example of characterization. Ralph, Lois and all the rest of the Derry Old Crocks are so vivid and alive that it feels more like a biography than fiction. If you want to learn how to write use this book as an example; from page one King charts and perfectly renders all the actions so wonderfully. The story is 100% great and with the tie-ins to The Dark Tower it brings all King's books together like never before. Now over 15 years have passed, but Insomnia is a remarkable journey into the heart of humanity.

Posted By: Kelly T

-

August 7th, 2009 8:58:26 am EDT
My all time favourite book, when I read it again (read it about 10 times now) it feels like going home. Surprising as the first time I tried to read it I put it down for around 2 years unfinished.

Posted By: JRM

-

August 3rd, 2009 3:24:30 am EDT
I'm almost done with this book. I have less than 100 pages to go (it's almost an 800 page book). While I have enjoyed it overall and I like that it's very original and imaginative, it's hard to get into and I also didn't expect the plot to turn out the way it has. But I'm sticking with it. It's a good read, but I'm sure he has better books. I read "Bag of Bones" and that one was amazing, so I'm a little surprised at how this one's turning out. However, I have enjoyed it overall.

Posted By: Michael

-

August 1st, 2009 3:22:24 pm EDT
Wow this book became part of my life because I read it while I was in school and I was reading this on top of other books so it took me a few months to be able to finish this book. When I did finally finish it I was sad because I wanted to keep going on, but nothing last for ever.

Posted By: Serge P Soucy

-

August 1st, 2009 8:18:42 am EDT
Some incredible moments throughout, some others not so much but the matters with hyper reality, the agents and of course all the wonderful connections to other books, I felt no regrets finishing it shortly after midnight. There's a theory around that an all out epic may be written, one which concerns evil and the universe, a final story of Derry and Evil. Maybe? good book

Posted By: Andrew

-

July 17th, 2009 1:44:17 am EDT
At first I had my doubts about this book, but then I realized I was crazy, it has to be good because it's a King book. I read it and was amazed at how amazing it was. It wasn't scary that much, but it was one of the best written books I've read, and I will never look at seniors the same way again. This is in my top 5 books that I've read. I will keep reading King until the day I die. I LOVE his work.

Posted By: Sam

-

June 14th, 2009 6:09:35 pm EDT
As much as I love this book, it is really really hard to follow

Posted By: Shadow

-

June 12th, 2009 9:25:15 pm EDT
Another great book. I got freaked out every time the scary doctor showed up in the book, especially when he had an item of one of ralph's friends in his hands. i felt really bad about the dog rosalie.

Posted By: Adam

-

June 7th, 2009 3:20:51 am EDT
Good book loved the story yet another joy ride for your thoughts. Read it

Posted By: Jacksta

-

June 4th, 2009 5:29:11 am EDT
wow, wow, awesome book... thats all i have to say lol

Posted By: Jordy-Pord

-

June 3rd, 2009 10:24:44 pm EDT
I truly enjoyed this book. In fact I enjoy any books witten by Stephen King. He is truly an amazing writer and I hope some day that I can be half as good as him.

Posted By: Death27

-

May 6th, 2009 8:08:40 am EDT
I don't know yet what it is

Posted By: David

-

April 30th, 2009 5:40:32 pm EDT
Reading this now and loving it. I love how we see characters from It as it was the first stephen king book i ever read. Everytime I notice something from it I get a big smile on my face and occasionaly scream something like ''Hurray its ben hanscom, I remember him''. I occasionaly get funny looks for that

Posted By: Eduardo Ramos

-

April 21st, 2009 4:02:08 pm EDT
this is one of my favorites since i read it i cannot stop dreaming of crimson kings things

Posted By: Eric

-

April 13th, 2009 10:21:35 pm EDT
What I love about this is the parallels drawn between this and another book set in Derry: IT. The subtle references to the book which occured before this are like easter eggs! Also, there was a very strong connection between the Crimson King and Pennywise. Would love another Derry-centric epic like these!

Posted By: Brandy

-

February 2nd, 2009 2:04:42 pm EST
I am listening to this on my mp3 player and it's hard to stop, I love all King's books but the ones I can't put down I truly cherish.

Posted By: Gen

-

January 30th, 2009 11:57:44 pm EST
I haven't finished it yet either, but so far I have come to the conclusion that it's one of the best written stories I have ever read, giving each character such an in depth description and creating an atmosphere more like a movie than a book. It's easy to get lost in the book's words.

Posted By: Krista Khaos

-

January 26th, 2009 9:34:56 am EST
I love this book. I just started reading it and I can't put it down. Insomnia is an amazing book and Stephen King is an amazing author. If this is a movie, I am totally going to get it!

Posted By: Nahyan

-

January 14th, 2009 3:31:01 am EST
The first long novel by King which I read. I had read shorter works before but was uneasy by the length of this one. But once I started it I just could not put it down. Scary, inspiring, motivating and mind opening. I almost believe in the Crimson King and the tower. I have read insomnia repeatedly over the years and it still manages to captivate me.

Posted By: B.

-

November 19th, 2008 3:53:31 pm EST
"Insomnia" is pretty much the best book ever. I'm reading it for the third time right now. Its amazing.

Posted By: Char

-

November 18th, 2008 9:39:04 pm EST
Oh! I totally loved 'Insomnia', brilliant.

Posted By: Tessasorensen

-

November 6th, 2008 7:27:36 pm EST
This one was so awesomely terrifying... I had nightmares about Atropos. I've NEVER had nightmares from a book before. It was awesome!

Posted By: Iris

-

November 5th, 2008 12:35:46 pm EST
i have not finish reading it, but i cannot wait to do it...I really like it

Posted By: Anonymous

-

November 4th, 2008 1:52:19 pm EST
Insomnia by Stephen King was a great novel. It was inspiring in many varieties of ways. I think that it was very entertaining and thrilling in a scary way. I say congratulations to this Title.

Posted By: Max

-

October 29th, 2008 12:11:54 pm EDT
insomnia is a novel like no other, it is like a joy ride without the troublesome risk taking friends. the first novel of many, for a non-fictional fact.

Posted By: Sheila

-

October 21st, 2008 3:22:16 pm EDT
The theory of "the vibration of each demension" in this book is very interesting. Does anyone know where this idea came from. Is there anyone out there that has came across this theory in any religions or cultural beliefs. i would like to read more about it.

Posted By: Brenda

-

October 9th, 2008 3:09:12 pm EDT
I've been your "Number One Fan" for years and don't know how I missed Insomnia but just finished it recently and...WOW! Just when I think I have you figured out you come at me from a slightly different angle and surprise the ca ca outta me. I could blather on and on but you get the gist. You rock, man! :)

Posted By: Mitch

-

October 2nd, 2008 3:10:30 pm EDT
I have read or listened to many of Stephen's books and this is one of the finest. The story starts off slow and builds from there. By the end, I was practically in tears. Stephen can scare the pants off of you, but he builds such great characters and relationships. I highly recommend this book.

Posted By: Will

-

September 17th, 2008 2:07:41 am EDT
I love this book. It starts out so normal, so ordinary and just keeps building and building to what is probably the craziest, most chaotic finale I've ever read. I think about the first moment Ralph sees the little doctor every time I stare out my window at night.

Posted By: Roro

-

September 11th, 2008 3:02:37 pm EDT
this book was a great work of art there needs to be a 2nd installment in this series

Posted By: GCSOCSI171

-

July 25th, 2008 10:59:31 pm EDT
This was the first King novel I read, and it turned me into a fan for life. Everytime you think you have it figured out, you soon find out you don't have a clue. Recommended to anyone.

Posted By: Kale Drost

-

July 25th, 2008 1:59:12 pm EDT
Hey i just finished this book and it was AH-SOME. It really makes you think about whats going on in life. Makes me want to keep reading your stories. Great Job