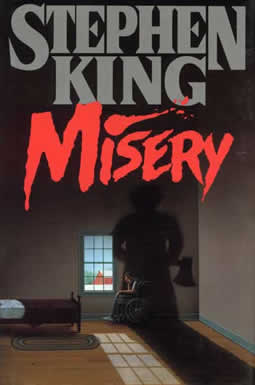 Fan submitted reviews of Misery (Novel):

Posted By: NoahWP

-

December 13th, 2012 10:03:54 am EST

I respect you for the work and effort you put into all your books but I have to say that Misery is my favourite

Posted By: Maddog

-

December 6th, 2012 9:09:34 pm EST

Great book. Great movie. Annie Wilkes is one of the best Stephen King creations EVER. Keep it going, Steve old pal :)

Posted By: Trevloon

-

November 27th, 2012 8:05:34 pm EST

amazing book thorougly intoxicated by the sheer addiction of a read,,well done on awriti g a splendid book.mr king.x

Posted By: Topher

-

November 6th, 2012 9:23:19 pm EST

This is my altime favorite Sk book. I don't read a tonne maybe 5-6 books a year and this one was the greatest, couldn't put it down. The movie was just as top shelf as the book.

Posted By: Andrea Baxcy

-

November 6th, 2012 4:52:49 pm EST

Stehpen King I love all your books and misery is greatest! To carrie which is number one.

Posted By: Bubba

-

October 22nd, 2012 9:15:39 pm EDT

Misery is such a thrilling story its almost like it actually happened in real life.

Posted By: Anonymous

-

October 20th, 2012 11:23:27 pm EDT

Amazing novel, I've watched the movie 3 times already.The best novel you will ever read. I highly recommend this to anyone who isn't afraid to read a little bit of horror. Let alone watch it too.

Posted By: JVod

-

September 28th, 2012 6:36:04 pm EDT

Sad story I read, though i feel her in my mind...

Posted By: Man14

-

September 11th, 2012 2:54:24 pm EDT

This was the first novel by Stephen King I ever read, way back in 1990. I know it's a cliche, but there's no other way to say it: I simply couldn't put it down. It was one of the very few times I read a book non stop, from cover to cover. I've read it 3 more times, since, and it always surprises me - that's how well writen it is. It's the one that got me addicted to Stephen King's writing, and I've been reading him ever since. Thank you, Mr.King, if you're reading this, for all the memorable moments you've given me through your amazing writing. May you continue to do so for a long, long time! All the best, Manuel Nogueira, O'Porto, Portugal.

Posted By: Anonymous

-

July 19th, 2012 9:41:32 am EDT

wannna read this so bad

Posted By: Jay

-

June 24th, 2012 3:34:31 pm EDT

I never tire of Misery. I read it again every five years or so.

Posted By: Church_came_back

-

June 11th, 2012 9:21:44 pm EDT

one of his best

Posted By: Kenyon

-

April 19th, 2012 3:07:22 pm EDT

i LOVE this movie but i have never read the book, even though it is probably way better

Posted By: Leon

-

April 2nd, 2012 2:46:28 pm EDT

I am sure I had recieved this through the mail as a participant in the SK Library in '86/'87[?] But one would have to be pretty sharp to even Begin to hold a candle to Kathy Bates in this Creepy Little Number!! Whoa leon PS Thanx Kat &S,T,&O King!!!!

Posted By: I Da Ca$hman

-

March 25th, 2012 3:48:54 pm EDT

A book that will never leave you. Possibly King's best work ever published.

Posted By: John

-

March 15th, 2012 8:20:07 pm EDT

A great story but its almost too good..why you ask? It literally made me feel so sorry for the character that i was miserable. haha

Posted By: Killer_Kid101

-

February 17th, 2012 4:26:00 am EST

I read misery a few days ago, because my dad recommended it. One word; Amazing. The best, most well written horror story I've ever read, and I even found myself at some points felling like I needed to put the book down because of the horror I was reading. Great work!

Posted By: Tay

-

February 10th, 2012 1:04:21 pm EST

i love this book its soooo amazing and such a great book. if someone comes up to me and they ask me what book they should read im goin to say Misery

Posted By: Hunter Hume

-

February 3rd, 2012 12:08:49 am EST

i love this book so much i can't even give it a number, It's so complicatedly horrific if that makes sense.

Posted By: Crazy_mary

-

January 21st, 2012 4:10:49 am EST

this book is so good,,loved it,,the movie sucked,,cathy bates so could have acted more crazier like in the book!

Posted By: Anonymous

-

December 21st, 2011 6:54:33 pm EST

This book was terrifying but thrilling at the same time.

Posted By: Kittykat999

-

December 4th, 2011 4:26:54 pm EST

I'm not finished with this book yet but I love it.

Posted By: Ayman

-

December 4th, 2011 2:33:46 pm EST

i love your novels

Posted By: Drkstar8

-

November 25th, 2011 4:18:13 am EST

love stephen king, endings of his stories are great!!

Posted By: Anonymous

-

November 21st, 2011 12:48:01 pm EST

This novel is excellent i many ways, but the film does not live up to its full potential, as in the novel Annie Wilkes seems like she was about to kill Paul Sheldon at stages and feed his remains to her pig but in the film she is not even half as bad as she is in the book. Therefor I give the book at 10 out of 10 rating. It lives up to my standards....

Posted By: Kephen Sting

-

November 14th, 2011 9:27:45 am EST

i love it i am a queasy fan of stephen king

Posted By: Anonymous

-

October 28th, 2011 3:11:40 pm EDT

she is a crazy bitch

Posted By: Anonymous

-

October 28th, 2011 9:36:38 am EDT

i LOVE the film annie is a killer i didn't like the bit where one of the infamous scenes where annie bashed paul's legs with a sledgehammer and broke his legs so he can't escape so he had to make the book to bring one of the character misery in one of his books but if he didn't write the book annie would kill him!

Posted By: Bailey

-

September 26th, 2011 11:02:10 am EDT

This Stephen King book was probably the best book I've ever read! Stephen has uniquely blended horror, love, and a tale only Stephen King could have come up with. It's a perfect mixture, the characters are believable and the story plays out with a nice flow! If you were to only read one Stephen King book, let it be Misery!

Posted By: M.M

-

September 23rd, 2011 9:34:36 pm EDT

This book was amazing it's a little slow in the beginning but once you get into it you can't put it down like many of stephen's novels. After reading it i watched the film and although it was good and quite similar i enjoyed the novel a lot more. It always seems like they can't fit every likeness into the films which is a let down but anything to do with stephen king is usually amazing.

Posted By: Im Only 11 And I Read SK

-

September 16th, 2011 4:28:36 pm EDT

I love misery and im only 11 im reading the stand right now

Posted By: Thelivingpicture

-

September 14th, 2011 12:21:03 pm EDT

This book was my introduction to Stephen King, and I can honestly say, I don't regret it. I went into reading the book with the same emotions I did when I watched the movie, Mad eagerness, but what I found was completely different. I found that some how, Annie Wilkes was new world of insane in the book, THEN I suddenly became disappointed in the movie (The movie itself was good though...) for removing Paul's thoughts, it really showed his true emotions, to show just how much he hated Annie, and truly showed how obsessed Annie was with Paul (From saying she loves him, to the extremely eerie 'Memory Lane' portion.) My point being, Misery is an wonderful book, how I must (rinse) and continue reading Night Shift.

Posted By: Anon

-

September 12th, 2011 4:59:51 am EDT

tomorrow is my 5th anniversary of reading this novel. i got it for my 12th birthday and finished it later that night after reading it non- stop for several hours. needless to say i am now hooked on Stephen King and have read almost all of his books.

Posted By: Guseva

-

September 11th, 2011 2:08:43 pm EDT

I love it very much!Great job.It was first book by him i read.He was best author ive ever seen.This book realy scary me.SK is realy king of horror, king of modern literature.

Posted By: Rapid Reader

-

July 20th, 2011 9:15:42 pm EDT

it was a great read, ive read alot of his books and this is probly my 2nd favorite one. i love the supense he pulls into the creation of a story within a story and how a man jumps from the light side of thinking to the dark of death itself. All in all it was a great book.

Posted By: Probably Your Youngest Fan

-

July 11th, 2011 6:20:18 am EDT

I loved the movie so much :O The horror kind of just built up and then went on from that certain stage, which I loved. The parts where she does those things to him and then when he fails to get her to drink the wine with the medication in it, my heart sinks D:I loved it, nonetheless and it was amazing. Another great job.

Posted By: Grapefruitossy

-

July 6th, 2011 3:45:49 pm EDT

The guy on the fake cover for Misery's Return looks like Steve himself. :)))

Posted By: Pnamajck

-

July 5th, 2011 6:24:29 pm EDT

was a good read . . . didn't really take off until around pg 170 . . . that's when the horror started to commence. i often found myself wondering . . . did paul really suffer so much injury in the accident . . . or did annie do this to him . . . so he couldn't escape ? this was never addressed in the book. i have read several sk novels . . . "under the dome" being my previous read. thus far, tommy-knockers gotta' be my all-time favorite. only wish he'd come up with sequel . . . sk left it wide open for this possibility. thanks for your literary avarice, stephen. (1st edition - 1987)

Posted By: Alex

-

May 28th, 2011 9:41:08 pm EDT

SK, after reading this, I'm your umber whhhhhuuunnnn fayun

Posted By: NumberOneFan

-

May 28th, 2011 4:28:05 pm EDT

This book was so scary. The chapter where Annie cuts off one of Paul's leg. Shivers.

Posted By: John Gordon

-

May 4th, 2011 5:35:25 am EDT

I found this book to be a very well written peace and it was a brillient work of art by the worlds best psycological horror author, The film was also brill!

Posted By: BabyFace

-

April 1st, 2011 12:08:20 pm EDT

This was my first Stephen King book. I knew he was a wonderful write, but I never got the courage to read one of his books because I'm to chicken shit. LOL. Well now that I have got the courage to read his books, I'm completly hooked. I want to read every one of his novels and then I'll read the essays and short story's. I want to start with his first novel "Carrie" and then read the second "Salem's Lot" and so on. Even though this book scared the crap out of me, and made me sleep with the light on for fear that some psycho was going cut my foot off with an axe. The way he described that scene was both horrible and glorious! I love you Stephen King!

Posted By: Zahira

-

March 30th, 2011 11:03:00 am EDT

I loved !!! Very intrerresting !!

Posted By: The Curse Writer

-

March 25th, 2011 11:52:17 am EDT

This book makes me afraid to go driving in a snowstorm. I'll also never look at Kathy Bates again. Its a well written book Well done Stephen. Your a Genius

Posted By: Foxx

-

March 7th, 2011 7:02:33 am EST

im 14 and i am amazed by both the book and the film best i have ever read. 10/10. im your biggest fan :)

Posted By: Emily

-

January 23rd, 2011 12:57:31 pm EST

***SPOILERS***

I am fifteen and I adored this book, I was amazed how you could create such horror in such a limited amount of space, I cant tell you how many times I actually said "Oh My God" outloud when reading - I was literally jumping up down with anticipation! I have to say on the last few chapters, when Annie "apparently" arose from the settee and chopped off pauls head, I SCREAMED with shock - it was the most terrible moment of my life! Great book, disturbingly brilliant.

Posted By: Smartical Partical

-

January 15th, 2011 11:02:04 pm EST

Misery is very good so far. I recommend it

Posted By: Janet

-

January 10th, 2011 11:03:59 pm EST

It was horrible....

Posted By: Blyan85

-

January 6th, 2011 5:07:12 pm EST

I finished reading Misery less than an hour ago. I started reading it the night before last, and have been in grip of suspense the whole time. I don't think any villain is as scary as Annie Wilkes. I enjoyed being back in the fictitious town of Sidewinder. Stephen King even mentioned the Overlook Hotel in this novel!

Posted By: Jacco

-

December 23rd, 2010 2:51:24 pm EST

I've only just started reading SK books (in Dutch, since i live in the Netherlands) and i find I can't let go of them for hours once I start. Misery is the 2nd SK book I ever read, the first one was The Mist (after seeing the movie). I'm 75 pages into Misery now, and all I can say is that to be able to write a book so GRIPPING you can't put it down, yet allmost the whole book happens in the same room, is a gift granted only to one person. Thank you SK, for writing enough tot last me for ages (i'm a slow reader)

Posted By: Anonymous

-

December 14th, 2010 1:05:25 pm EST

this was a great book, great but messed up..... I liked it

Posted By: Anonymous

-

November 29th, 2010 6:42:55 pm EST

"Misery" is an intense thriller that will grip you... and not let go.

Posted By: Anonymous

-

November 23rd, 2010 8:29:42 pm EST

One of the best books I've read! Just as good as Dolores Claiborne!!!

Posted By: Hihihihihihi

-

November 9th, 2010 4:21:26 pm EST

Loved this one! On about the same level as Pet Semetary. I can't wait to read his new book.

Posted By: Jddaman23

-

October 27th, 2010 10:18:44 am EDT

By far the best book I have ever read!!!

Posted By: Onyxofdarklite

-

October 23rd, 2010 4:23:30 pm EDT

Misery is one of my all time favorite King novels. I have read it quite a few times, and each time it only gets better.

Posted By: Brandon

-

July 13th, 2010 12:24:33 am EDT
The first Stephen King book that I ever read. It's amazing how King can take you across the world when the setting never leaves the one room. Annie's insanity is so pitiful... it's just a good book lol.

Posted By: Kirby

-

July 10th, 2010 5:41:05 pm EDT
Misery is one of the best Stephen King books i have ever picked up. It was bone chilling and sometimes made me sick to my stomach.

Posted By: Ziggy

-

July 6th, 2010 5:33:53 pm EDT
This book is on of the best horror novels I have ever read. Now I must (rinse) take a look at other books by this modern master of horror

Posted By: Elliot

-

July 1st, 2010 3:05:33 pm EDT
I just absolutely loved this book!! Then my stupid friend had to lose It little punk

Posted By: Leigh

-

June 29th, 2010 2:24:30 pm EDT
This is my favourite Stephen King of all time! I enjoy it more and more every time I read it!

Posted By: Brooks

-

June 22nd, 2010 3:44:56 pm EDT
Has to be one of the best books i ever read!!!Stephen king is god!!!

Posted By: Mary

-

June 14th, 2010 11:33:49 am EDT
I just wanna say that I almost could't breathe while I was reading Misery.!! I could't stop reading even I wanted to go to the bathroom :) (sorry for my bad english, I'm from Greece) Best wishes

Posted By: Dylan

-

June 7th, 2010 12:00:40 am EDT
MISERY is one of the best novels i have read in ages. Maybe even the BEST! I liked the craziness of Annie but at the same time the desperation of Paul. I felt sad after I finished it but deep down bottled inside me there was relief. Because i can now start the next Stephen King book his 2009 novel Under The Dome (will give my thoughts on that when i'm done.) Great work Stephen King you are truly the master of Horror.



Posted By: Josh

-

June 6th, 2010 4:15:11 pm EDT
Im in grade nine and decided to read this book as a book report novel... just have to say its the fricken best book iv ever read!

Posted By: Baaratt

-

May 7th, 2010 3:48:33 am EDT
Misery, what can I say about it? Well, 3 words: I Love it! Stephen king at his best! Loved the movie but the book is as always better!

Posted By: Anonymous

-

May 5th, 2010 12:54:11 am EDT
i love misery so much one time i find it in some bookstores but but they dont have misery its out of stock so one day i passed a bookstore full of old books but not pre owned i talked to the personnels there i said do you have misery by stephen king they said there in the second line of books i was so happy that i saw the book that ive been waiting for so now im in the part where paul sheldon burns the fast cars manuscript the movie convinced me to buy the book because the story is so different from other stephen king books goodluck stephen king :)

Posted By: Jes

-

April 18th, 2010 7:53:50 pm EDT
I Loved the movie. It was amazing! My friend just gave me this book. I LOVE it already!! Im 13 by the way. Great job!

Posted By: Angel

-

April 2nd, 2010 11:05:09 am EDT
Every few years, I go back to read Misery, and every read brings more terror, and enjoyment for me. I think it is time again, as I have just finished 'The Dome'. Misery is a remarkable work and probably my favorite King novel. (have read them all) Thank you,SK

Posted By: Sezzy

-

March 21st, 2010 2:34:59 pm EDT
I think this book is brilliant. This was the first Stephen King book I ever bought and read and I'm glad I chose this one. I am 15 years old and a budding writer but I think I'll never come close to Stephen King.

Posted By: Patrick

-

March 5th, 2010 6:11:51 am EST
misery was my first stephen king and it was the bests time of my life reading it i love their big fight in the end. i have read two other stephen kings and am starting on dreamcatcher but none come close to misery.

Posted By: Chen

-

February 28th, 2010 7:09:10 am EST
An amazing book. Once i've started reading it, i couldn't put it down. At first it was very difficult for me to read, since blood and pain discriptions like these, repulse me. But i kept on reading and when i've done i was amased. i read it two years ago, and still have the story vividly on my mind.

Posted By: Anonymous

-

February 25th, 2010 5:36:18 pm EST
I'm a young reader. Age12. And your book Misery in my thoughts was awesome. your description was so vivid that I coudn't put the book down. Even the characters were so real I could practicly see Paul Sheldon right by me and that evil moron Annie Wilkes as if they were real. I've read three other books by you and Misery was the best so far!

Posted By: Ophelia

-

February 15th, 2010 3:35:28 pm EST
This book is absolutely amazing...and rather repulsive at times (but aren't all Stephen King books?) It shall forever haunt me and I shall forever be terrified of the evil, crazy Annie Wilkes. Poor Paul! This book is not for prissy little pansies, I warn ye. But if you're up for it, you will not be dissapointed. 'Tis amazin'.

Posted By: Zach

-

February 2nd, 2010 6:01:40 pm EST
I LOVED this book. Definently the best I have read of Stephen's. Fantastic page turner. Annie's craziness kepy me guessing, and the Misery's Return pages kept me reading just that much longer, instead of putting it down. Fantastic story, and characters.

Posted By: Brady12

-

January 29th, 2010 12:40:32 am EST
A real page turner, start to finish. I finished it today. Usually I only read about 30 pages a day but around page 240 I just couldnt put it down. Man that Annie Wilkes was one pyscho beotch! I was ecstatic when she finally got what was coming to her. I was also "on the edge of my seat" sorta speak when there was a couple of plot twists that allowed the possibility that she wasnt dead. Cant wait to start another book.

Posted By: Joey

-

January 28th, 2010 10:03:31 pm EST
I finally got around to reading this one months after I bought it... Wow! I never thought I could enjoy someone's pain so much. Annie is so wicked it's not even funny. Also, this isn't like any other work of fiction; it talks about the craft of writing - how stories are thought and up and made. Definitely one of SK's best works. 5/5

Posted By: Ran

-

January 22nd, 2010 9:30:10 pm EST
yo i loved the book, the book is a hell of alot better than the movie, not to take from kathy cuss she awesome. The book had so many key point in it then the movie. the part when paul see his newspaper clip in the scrap book, that show have been in the movie and the AXE omg that would had been a good scene to see on film . stephen king should had fought for that scene to be in the film

Posted By: Ezra

-

January 18th, 2010 1:45:47 pm EST
dear mr. king my name is ezra, i am 12 years old and i love your books. my favorite books are misery and salems lot, fire starter was also very good. i just want you to know that your books are a huge inspiration to everyone and that you are the reason that i want to be an author. just thought you should know that- ezra

Posted By: Lilyette

-

January 13th, 2010 1:06:41 am EST
Awesome book! Very scary yet a good book to get when your just right in the mood. You should write more good stories like this! Thanks. :)

Posted By: Connor Goodsell

-

December 28th, 2009 8:43:06 pm EST
this book was the first stepthen king book i read and i just loved it its brilliant how twisted and dark it is how she starts off seeming nice but then she turns and wwe see how insane she is and the fatc that paul shelldon been able to read his thourghts and how scared he is as he tryes to escape this is a brilliant book to start out with

Posted By: Angelo

-

December 19th, 2009 9:16:10 pm EST
GREAT! JUST GREAT! LOVED IT, LOVED IT, LOVED IT! I loved the story plot so much! How crazy Annie Wilkes is, and Paul Sheldon trying to escape from his (number one fan) predator. It was a real page turner, and I couldn't put it down. I have scratched the surface of it about a week ago, and it was so hard to put it down! Great book! This is the second book I've read of yours. And I also like the title, too. Stephen, your books are all marvelous! In my opinion, the best scene in the book that made the it hard to put down is when Paul and Annie fight like cats and he tries to escape from her after burning his fake Misery manuscripts. -Angelo (7th grader)

Posted By: Justin Barnes

-

December 16th, 2009 6:23:52 pm EST
I've never read "Misery" yet! I'm too wrapped up in two of his other books ("The Dark Tower 1: The Gunslinger", and "The Stand") but I will get my hands on Misery very soon! "The Stand" is really good and "The Gunslinger" has my interest (just started it....around page fourty or fifty somethin!) I also just started THE STAND but it's really good so far and I think about it all the time (at school, etc.) I read the description for MISERY and I am like OMFG I NEED THIS BOOK RIGHT NOW!!!!! But I dont have it yet! So ppl, plz no spoilers in ur comments cause I already found one! And I wanna wait and read the book, THEN see the movie before anything else happens! So please, lable something above ur spoiler saying SPOILER ALERT!!! so ppl like me can stop reading that comment right away! Thanks, and I love S.K. I saw IT, own the movie, never had a chance to read it cause I can never find a good enough copy that wont fall apart when I touch it! I read THE SHINING, saw the movie before it tho, and It's TONS!!! better than the movie, so I hope THE STAND is rly good in the end (my teacher hooked me onto it, she said its AHHHMAZING!!!!!) I love S.K. so fingers crossed!!! Keep ur awesome ideas comin Stephen!!! ~Justin Barnes

Posted By: Kyle

-

December 13th, 2009 11:42:18 pm EST
I thought this one was very good. Just the relationship between Paul and Annie was scary. I knew how he was feeling, being trapped in her house while being immobile.

Posted By: Seanzo

-

December 3rd, 2009 3:29:17 pm EST
I just finished misery. It was the 2nd S.K book I read. The first was IT. It's impossible to decide which is better. They are both brilliant. Misery was a great tale. I got creeped out the policemen told paul annie wasn't in the room but then i realised she crawled into the barn and died. The movie was good, but it didn't capture the book properly. The book was just stunning. I'm going to read The Shining next. I heard that was brilliant. Thanks for writing such a brilliant book. "Your number one fan" (Creepy) Sean Flynn. Keep on writing.

Posted By: S.K. Rules

-

November 29th, 2009 5:42:37 am EST
First ever S.K. novel I ever read and one of my all time favs. S.K. knows how to keep the reader hooked from start to finnish. I want to be a writer and this is why is scares me so much.

Posted By: Gravedigger

-

November 5th, 2009 11:44:17 am EST
Damn Good, Finsihed It Around 2 Weeks Ago, Brilliant I Dont Get Why They Didnt Cut Paul's /James Caan's Foot And/Or His Thumb On The /Film. I Especially Loved Part3:Paul And Part !V:Goddess. Still The Second Best Book I Ever Read, The Best Being Cujo. You Should Read/Watch it if you havent already because it has a greta and clever amount of humor, give Cujo a try too.

Posted By: Capt. Trips09

-

October 24th, 2009 7:53:03 am EDT
Misery was one of my favorite Stephen King books. Annie Wilkes is alot like Norman Bates from Psycho.

Posted By: Dmartin

-

September 21st, 2009 9:10:04 am EDT
Stephen King is by far my favorite authors. People call me wierd for reading his books all the time because they are "twisted." Yes, maybe they are, but i love them. I have read at least thirty Stephen King and Richard Bachman books, and needless to say i love them.

Posted By: Nada

-

August 25th, 2009 6:40:45 am EDT
they are nice

Posted By: Chaos_theory

-

August 11th, 2009 10:31:31 pm EDT
Just finished the book. Loved it. Although, when it gets gory, it gets really gory. Maybe even a little to gory, and I'm the kinda guy who enjoys gore. Hope to try hire out the movie sometime soon. Brilliant.

Posted By: Ryan Stackhouse

-

August 11th, 2009 3:10:26 pm EDT
This is my favorite novel by The Master. My favorite thing about this novel, indeed all of King's work, is how reading it is like having the author tell you the story. It's absolutely amazing. This is one of my two favorite books.

Posted By: Zath

-

June 9th, 2009 10:37:20 am EDT
This was the first stephen king book i have read and by far the best book i have ever read. the pace of the story was perfect mixing in humor and decribtions of pain. Keepp up the good work stephen :D

Posted By: Nicole

-

June 9th, 2009 6:53:12 am EDT
One of my favourites! I'm only 13 but ever since reading this book all I ever want to do is become an author like Stephen King!

Posted By: Anonymous

-

June 8th, 2009 6:31:00 am EDT
This is a fabulous book, had me at the edge of my seat all along, where i could feel all that Paul was feeling. Annie's moodswings were amazing and the effects her psychotic episodes were thrilling. I'm only 16, and haven't read many books, but this is in my top 5 !

Posted By: Mitch

-

May 12th, 2009 8:51:19 pm EDT
this is the first book i read and suprisingly this is scaryier than the movie. which is suprising for me. just it is sadistic and i like it.

Posted By: Anonymous

-

May 8th, 2009 12:28:36 pm EDT
This is one of Stephen Kings best novels, IMHO. Though I read it several years ago for the second time, the characters are still fresh in my mind. Annie is one of his most perfectly rendered villains. She truly comes to life (and, by the way, Kathy Bates has now become her in my mind;her performance in the movie was awesome). The protagonist writer is sympathetic and very real as well. While I think this is an excellent novel, it also has one of the most horrific scenes I've ever witnessed in fiction--Annie running down the young policeman on a riding lawnmower while the narrator watches helplessly through a second story window. This is an example of how Mr. King can really push the envelop of his readers' tolerance for horror. Myself, I had to close the book for a time, but inevitably trusted his writing enough to get over my revulsion and finish this truly suspenseful novel. I remember the ending as being particularly satisfying.

Posted By: Pitbull

-

May 8th, 2009 9:40:35 am EDT
A truly dark and horrific satire on humanity and society's obsession with celebrity culture. The humour was dark and the pace pitch perfect. Misery's only downfall was its two-dimensional characters, not properly fleshed out or developed (The Shining is far superior)! Not one of his best, but still a gripping read.

Posted By: Quendy

-

April 28th, 2009 6:41:10 pm EDT
I love reading this book. I read it at least once every year. The movie is great as well. I think Kathy Bates was with perfect cast for Annie. She is great. Mr. King, please, please never stop writting! I have loved everything I have read thus far.

Posted By: Jenny

-

March 29th, 2009 3:34:47 pm EDT
Loved this book, couldnt put it down - which was quite annoying as I was awake until 3am reading it!

Posted By: Jordy

-

March 23rd, 2009 10:35:43 pm EDT
I love this book, the best book I have ever read!

Posted By: Clemwell Milan

-

February 14th, 2009 6:01:44 am EST
I had just recovered from my fever when I finished this book. So, naturally, I was not at the top of my energy yet. And have you any idea what Misery's done to me? Well, it's made me thought i was gonna be sick again. You're the man, Uncle Steve!

Posted By: David

-

February 3rd, 2009 1:45:03 pm EST
Misery is the first Stephen King's book I read and I think it's one of is best. Thank you for your stories, these books made me love reading.

Posted By: Val

-

January 25th, 2009 2:18:59 pm EST
Im 12 and this was my first Stephen King book. I thought it was a very good book..... I couldnt put it down. I cant wait to go pick up another book at the library.

Posted By: Scareah

-

January 16th, 2009 11:55:40 am EST
stephen should be pleased with this

Posted By: Misery

-

December 20th, 2008 4:17:53 am EST
Hi, Misery is a fluent movie and typical Stephen King style story. Thing that makes me impress at a movie or story is telling a subject that may come true,and of course I shouldn't be able to guess what is going to happen one step ahead. That's why I like Stephen King's style. Regards,

Posted By: Zach

-

December 18th, 2008 9:02:45 pm EST
im 13 years old. i just read my first stephen king book. misery. i just want to say one thing to stephen king... "I'm your #1 fan!" kinda creepie.. huh. I actualy loved that book, i mean "so vivid!" well, goodbye. im kinda busy... "now i must.....(i think you know where this is going)....rinse."

Posted By: StephenKingAddict

-

December 16th, 2008 5:51:52 pm EST
This one of King's best books in my opinion.

Posted By: Adam Barnett

-

December 6th, 2008 9:02:45 am EST
This is one of the most amazing books i have ever read. The characters are so well written and you really feel for then, also the idea was a really good one, i dont know how anyone could come up with it! I actually liked Annie, well sorta, lol. By the end i didnt know whether to be sad or happy for her. Also the ending was verrrry good and satisfying in a weird sort of way. This is such an amazing book!

Posted By: Arthur

-

December 2nd, 2008 7:54:14 pm EST
I really enjoyed reading this book over a 2 day period, it was so hard to put down. It made me scared as i have a ex- girlfriend who won't leave me alone and reading what some people are capable of when there "in love" is disturbing to me! I haven't had a decent sleep since.

Posted By: AmareS

-

October 31st, 2008 10:26:02 pm EDT
I finished reading this book about a month ago, and i was speechless. the first King book ive ever read, and I simply loved it! it's amazing how King describes details and made the characters and plot come to life. I highly recommend this book

Posted By: Nico Pliskin

-

October 14th, 2008 5:47:08 pm EDT
this is was the first stephen king novel i ever read and it is still my favorite to this day.

Posted By: Bookworm101

-

October 13th, 2008 7:57:24 pm EDT
Love this story. Scared the beejees out of me. A real life monster whom may live in your community. A must read. If I should ever meet Uncle Steve you can bet I won't tell him " I'm your # 1 fan ".

Posted By: Johnny

-

September 23rd, 2008 2:15:00 pm EDT
Annie for President anyone? I dont know how anybody else felt, but I thought Paul Sheldon got what was coming to him. He was a very dislikeable character in my opinion: selfish and smug, a real dirty birdie. Annie had bipolar depression and you can call her crazy, but she treated Paul extremely well and saved his life. Obviously something wasnt right in her mind to have committed the crimes she did, but as Mohammed Ali said, its not the action that makes someone a bad person, its the intent. She did those things because she thought she was doing what was right, whereas Pauls mindset was set at making choices that suited himself.

Posted By: TeaNana

-

September 7th, 2008 11:01:27 am EDT
This is an amazing book. I could barely put it down. It was very gripping and you felt as though you were there with Annie and Paul. I would definatly recommend it to all King fans.

Posted By: Cda19

-

September 3rd, 2008 1:12:26 am EDT
I saw the movie and I thought it was awesome!Such mystery and very entertaining.I loved it!

Posted By: Danilo Ruffo

-

August 27th, 2008 2:43:30 pm EDT
Best book ever written. No other words about it.

Posted By: Adam S. D.

-

August 26th, 2008 1:23:39 pm EDT
This was the best book i've ever read, my favorite book. Well ploted and well written. I'm not saying the all of your other books arent as good and I cant because I just started reading your books and have only read 5. But this book will keep me reading Stephen King -Signed Adam S. D.

Posted By: Harmony

-

August 14th, 2008 7:42:16 pm EDT
Great book! This was the first Stephen King book I read....many, many years ago. Unfortunately, I saw the movie first so the whole time I pictured Kathy Bates when I was reading it. It's always better to read the book first!

Posted By: Raphael

-

August 11th, 2008 9:06:02 pm EDT
One of his greatest works. I am amazed that he can weave such a complex story with only two major characters in one house. Brilliant, it has been my favorite book since I read it.

Posted By: El Greco

-

August 7th, 2008 5:10:46 pm EDT
Never had the chance to read the book, saw the film. Agree that this must be King's nightmare in writing...

Posted By: Doc

-

July 30th, 2008 11:56:32 pm EDT
This was the first book that I read of King when I was thirteen years old. I grabbed a copy at the grocery store and went into my room to read it. I didn't come out for two days. I was hooked. My first thought while reading it was "how could a person think up something so horrific"? My next thought was "I gotta read his next book." Been a fan ever since.

Posted By: Rjt65

-

July 24th, 2008 11:41:51 am EDT
This had to be nightmare of S. Kings come to paper. One of the great books that translated to an excellent movie.