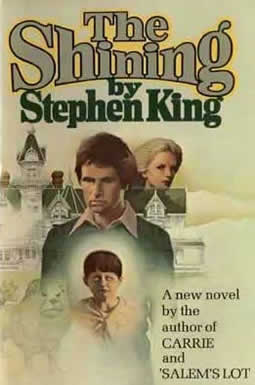 Fan submitted reviews of Shining, The (Novel):

Posted By: Nick Koshy

-

February 17th, 2013 2:10:13 pm EST

I had watched the 1980 movie long before I read the book. When I finally did, I began looking forward to the mini-series starring Steven Weber. And now, it is no surprise that I am looking forward to Doctor Sleep. The Torrance family saga has always been haunting, and even now, years down the line, I feel bad for the Torrances.

Posted By: Anonymous

-

December 29th, 2012 6:23:24 pm EST

One of the best books EVA! Both this and The Green Mile have established my love for reading. The Shining is a manifestation of what scares us most. And King's delivery of this is what separates him from others and their cheesy horror books.

Posted By: Aryaan/ Mahi

-

December 3rd, 2012 3:19:23 am EST

nice book

Posted By: Chad

-

November 6th, 2012 9:58:32 pm EST

I loved the movie! I even liked the remake. so I wanted to read the book. I only a couple hundred pages in and I fell like I'm missing some of the themes or symbolism like why is his friend named Tony? Part of the problem is some of the references are so dated I don't know what they are referring too.

Posted By: Anonymous

-

October 26th, 2012 11:21:16 am EDT

Wow such a great book! I love it! Im almost finished reading the shining and have only about twenty more pages left. I think my favourite part is when danny and wendy lock jack in the pantry and he is let out (by the spirit of the overlook!). And when wendy goes downstairs to check on jack he suprises her and chases her with a mallet. So scary!!! Also when danny goes into room 217. Thank you Stephen King i love your books! I cannot wait for the sequel! I love scary books and this is the scariest ive ever read! My friends say its not scary, but i think its VERY scary!!!!! You are the best author ever!!!

Posted By: Ben Albers

-

October 23rd, 2012 8:10:23 am EDT

I am currently writing an independent novel study on this book, and it would be the third time I've read the novel all the way through. Each time I read it it gets better, and better. Really creepy book, well written. So excited for Dr. Sleep!

Posted By: Anonymous

-

October 15th, 2012 6:48:03 pm EDT

talk about a book that sucks for school projects. hard to follow and analyze. i hated it, but if i were reading for pleasure itd be a good book.

Posted By: Joseph Molina

-

July 30th, 2012 7:02:00 pm EDT

This is possibly the best novel of King's earlier career. I just recently bought the first published edition of The Shining (difficult to find), and I loved this book to death! I always read this book when I go to bed, and sometimes get scared out of my wits by reading some creepy moments. I don't take it everywhere i go because it's a rare copy of it, and i don't want it to get damaged. I've read it multiple times, and I can't wait for the sequel King is releasing next year!

Posted By: Dave

-

June 26th, 2012 11:44:46 pm EDT

I tryed to read this book starting at chapter 20 the reality of the printed page was meant to cast to the eye someplace in the woods I imagine the misscommunication was the moral of the story plus the whole bit about the excesive amount money spread around the hotel but the real struggle in the story which I give a star to is the use of line on the typewriter table and main characters inability to keep it from pulling it towards the line unsucessfully for spillage.

Posted By: Cannonball

-

June 24th, 2012 4:44:07 pm EDT

One of King's top 5 novels. The sense of isolation is a big part of this book. But it 's really all about alcoholism, trust/betrayal and a man trying to salvage his family. Lots of symbolism in this novel. Stephen was in top form with this book. One of King's best for sure.

Posted By: Ka-Mai

-

June 12th, 2012 10:50:13 am EDT

***Dark Tower Spoilers***

I read about the sequel "Dr. Sleep" comming out. From what it says The True Knot feed off people who Shine or have the Touch if it does ya fine. So it is my opinion that these bad boys are some of the less savery Breakers of Algul Siento..Particuarly the ones that were pissed at Roland and his Tet for killing the guards and freeing them. Sounds to me like they found themselves a doorway and are back to feeding off telepaths. Now you may say that they fed of twins but thats the same thing cause they got some kind of mental connection. just a thought Im just a dumb ka-mai so what do I know lol

Posted By: Killer Croc

-

May 29th, 2012 10:02:39 am EDT

By far King's most frightining piece of work, scariest book I've ever read.

Posted By: Angei

-

May 4th, 2012 6:12:03 am EDT

the shining is a great book. i don't know any bad stephen king book, but my favrourite has to be cell.

Posted By: Smich

-

April 18th, 2012 6:37:06 pm EDT

I discovered and devoured this book in 1979 (pretty sure) as a paperback. I had never heard of "Stephen King" but I noticed that he had written Carrie and I was familiar with the movie; although I hadn't seen it. Everyone told me about the prom scene and I felt that I had no reason to see it, thus preserving my first John Travolta MOVIE experience: Saturday Night Fever. But I digress! I loved the character Jack Torrance, who I imagined I would grow to become. I had a similar personal life in the US Army as an intelligence officer. I drink myself to oblivion, I saw shit that may or may not have been there, I was a self-loathing, egotistical abuser (in every sense of the word). I blame Stephen King and his character Jack Torrance (later played by Batman's nemesis, The Joker) for further hewing my fragile excuse of a personality. Stephen became my alternative drug of choice and I caught up with his books. I subsequently bought hardback copies of his books. After Insomnia, I couldn't keep up with reading at a maniacal pace, i.e. at a pace as fast as SK could write. Oh by the way, the movie was a shock compared to the book with its directorial choices and screenplay distortions, including a shock near the climax. Regardless, I believe it's one of the best realizations of King's works. Great novel, Stephen! Hope you have a successful career...

Posted By: Anonymous

-

April 17th, 2012 2:33:21 pm EDT

I like this book, but I don't understand a lot about the shining as a special human ability. Was it really mentioned in the Bible?

Posted By: Len Magno

-

April 10th, 2012 6:08:54 pm EDT

My favorite Stephen King book. Read it like a 100 times and I never got tired of it. Can't wait for the sequel! :-)

Posted By: Gabe Herrera

-

March 31st, 2012 4:15:26 pm EDT

Hello! Stephen King, you are my idol! I am obsessed with your books. The Mist was the first one I read. It was truely like an incredible journey! The second one I read was The Shining. It was amazing! It is my favorite book in the world! The third book that i read was Cell. Oh my god, you must also be a computer genius to write a book like Cell! I couldn't understand half the things Jordan said (of course i am only 12 years old. 13 on April 4th!!!!)! Now I am reading Pet Semetary. I saw the movie when I was five years old, and I got so scared that I had to sleep in my older sister's room for like 6 months! The book though, now thats something not to be able to sleep about! Next I'm gonna read 'Salem's Lot! I'm not gonna see the movie until I finish it! I imagined that after he put the cell against his son's ear, that it didn't work, so he went looking for Tom, Jordan, Denise, and Dan. He was succesful! When Alice died in the book, I felt like Annie Wilkes in Misery! YOU KILLED ALICE!!!! YOU KILLED HER!!!! YOU WILL PAY!!!! I was practically in love with Alice! One day I really plan to meet you! Hope you keep writing the terrifying nevels that have stunned the whole earth! Also the short story books (I have read Just After Sunset and Everything's eventual)! Well, again, I don't mean to be an Annie Wilkes, but I'm your #1 fan! --Gabe Herrera, 12

Posted By: Anonymous

-

March 26th, 2012 6:18:51 pm EDT

I love this book! It's now my favorite book and movie! Although, I wish I had read the book before I watched the movie...

Posted By: Zach

-

March 25th, 2012 5:18:15 pm EDT

Finished the book today. The movie is great, but it never gave me nightmares like the book did. Would love to get my hands on a first edition. Shine on!

Posted By: John

-

March 15th, 2012 8:08:18 pm EDT

Great book. Reminds me of the "Amytiville horror" kinda with the man of the household going insane and on a murderous spree. It seems that this and King's previous two books ('Salems Lot & Carrie) Are non stop page turner's.

Posted By: RoddyTorrance

-

February 19th, 2012 10:50:28 am EST

I think the movie did very much skip over a key factor that King was trying to get across. Maybe Kubrick was specifically going for a more horror based concept of Jack jut going insane and on a murder spree. I still like the movie though, and the remake wasn't too horrible in it's own way. At least King did write the teleplay for it.

Posted By: Chris

-

January 31st, 2012 12:35:49 am EST

this book is amazing. i think stephen king is a phenomenal writer. i also would greatly enjoy meeting him one day!

Posted By: Anonymous

-

January 29th, 2012 7:44:14 pm EST

I literally can not read it in its entirety.

Posted By: Stacy

-

January 12th, 2012 1:14:51 pm EST

I've read this novel so many times I've worn out three or four copies. One of my favorite works.

Posted By: Bibi

-

January 8th, 2012 6:41:44 am EST

The Shining is a masterpiece, like all the Stephen Kingston books! i also liked the movie, but I think too much great scenes in the book were deleted!

Posted By: Stacy

-

January 6th, 2012 1:37:05 pm EST

I wish someone would make a new film adaptation of this. I'd like to see one focus more on Danny's talents and the supernatural qualities of the Overlook and how they played on each character's mind (and weaknesses). Something more psychological in nature.

Posted By: Heidi

-

January 5th, 2012 11:27:31 pm EST

Movie watched as young adult in Fishkill, NY growing up and it remains my favorite scarey movie of all time. Recently watched marathon and viewed the shining more than a few times with really good friend and we picked it apart. I recently got great advice from pal in Boston, READ the novel (which I always do first and make it a rule for my kids!! except here). In the end of the novel, why, "San Francisco here I come...."? Your fellow Mainer, Falmouth Heidi

Posted By: Marisa

-

January 4th, 2012 5:54:55 pm EST

I've watched many of Stephen King's films. Even at a young age I was a huge fan of Goosebumps but as I got older I saw my favorites Pet Semetary and The Shining. I'm about to begin reading this book and I am very excited being that the movie is based of the book. Can't wait!!!

Posted By: Anonymous

-

December 28th, 2011 3:35:17 am EST

Mr. King, I enjoy all of your work. I was under the impression for the longest time that you had written this novel after a stay at the Mohonk Mountain House in New York State. I live in that area and have enjoyed the novel and the region, but it disappoints me to learn from the horse's mouth that the novel wasn't penned after that resort. If you walk around the grounds, it fits the confines of the text wonderfully. Maybe that can be said for any of the great hotels of America's past, I'm sure they all have their own stories to tell that their owners may, or may not, want public. You keep writing these gems of modern-American terror, and we'll keep reading!

Posted By: Maya Duke

-

December 22nd, 2011 10:57:53 pm EST

Mr. King, My husband and I will be staying at the "Stanley Hotel" in Estes Park, CO on the night of the 24th of December. So we will be there for Christmas. I am a huge fan of the movie and never really knew, until very recently, that it was the inspiration behind the book "The Shining" that you, Sir, had written. I didn't even know that your book inspired the movie. But, I have heard so many good things about the book that it is on my list as the next book to ready after I am done with my Mary Higgins Clark book. I will let you know how I felt about it.

Posted By: Mirage

-

December 17th, 2011 5:26:41 pm EST

This was the first King book I ever read. Since this, I've been a big fan and I had to see the movie when it came out. I must say that the book is FAR better than the movie. Great piece of work here.

Posted By: Steve

-

December 3rd, 2011 1:08:31 am EST

What Kubrick didn't understand is that you can't rework a masterpiece like this novel. After reading this book, I will never watch Kubrick's movie again.

Posted By: Vitor

-

November 25th, 2011 7:30:35 am EST

besides I'm not a big fan of king's works, I must tell this book is great. the story itself doesn't captivate me, but on the way he has written it that shines the magic.

Posted By: Steve McCulloh

-

November 19th, 2011 8:31:31 am EST

I am reading this book right now and absolutely adore it, especially when Danny enters room 217! Oh god Stephen I am always mesmerized by your great and usually terrifiying, all this to say that the shining is quite the adventurous book and that stephen king is by very very very far the he is the BEST author that ever lived and he is by far the BEST author that will ever live!!! Love Ya!!!!!

Posted By: Pete

-

November 10th, 2011 2:34:42 pm EST

I find that the movie The Shining was really very good and creepy as hell. Id like to get the book and read it so i can compare it to the movie.

Posted By: Lovejc

-

November 3rd, 2011 5:17:35 am EDT

Reading this for the first time and am surprised there isn't more credit given to this work. Speaks volumes about the psyche and space of reality. Normally into historical texts and this one keeps me fixed, especially Danny. Not too thrilled about the vampires for Sleep Doctor, but am excited to read where this goes.

Posted By: Justin Shanahan Santos

-

September 19th, 2011 8:16:01 am EDT

The movie was fantastic. A very inspiring story. Stephens best ghost story that got me terrified of hotels.

Posted By: RBP

-

July 24th, 2011 3:30:52 pm EDT

I am a writer and a lifelong reader as well. I have read many, many books in my thirty years on this planet and none have come close to captivating me the way The Shining has. Filled with emotion this novel draws you in and does not let go of you even once the last page has been turned. Brilliant and so sad. The best Stephen King i have read. Kudos!

Posted By: Augusta65

-

June 18th, 2011 1:29:26 pm EDT

I can remember reading this in 1980 at the age of fifteen over the course a long weekend off during the school year. I remember, it was winter time, and it added to the sensation of my reading experience, wrapped under a heavy comforter, in my room, with the wind howling outside. It was the yellow jacketed edition in softcover with a horrific face in the title. To say that this story mesmerized me would be an understatement. And then the movie........how excellently done. This story will be reread by me annually, for the rest of my life.

Posted By: Cait

-

June 13th, 2011 7:30:57 pm EDT

My favorite book hands down. I finished it today and I can't stop thinking about the way things ended. I read online that Stephen said something about writing a book on Danny when he's 40, and I hope you're still considering it! I love your work shine on man.

Posted By: Charlotte98

-

June 12th, 2011 2:05:02 am EDT

"this inhuman place makes human monsters." I love that line, and also "the red death held sway over all." Having grown up in a haunted house, I am fascinated by this book. My favorite so far.

Posted By: Anonymous

-

May 31st, 2011 4:13:20 am EDT

this is my favorite so far.. but then again i have only read 2 books. The Dark Half is next xD *SPOILERS* i love how the topiarys cometo life and attack jack danny and mr. hallorann

Posted By: Cellsnatch

-

May 23rd, 2011 12:56:59 am EDT

This is my favorite book. I shared this with a class and everyone enjoyed the report.

Posted By: S.K.Rules

-

May 21st, 2011 12:15:19 pm EDT

I would like to apollogies for my earlier comment, I still like the book but I prefer Kubricks film better then the miniseries, even though it the miniseries was closer to the book. I remember Steven speilberg saying he didn't like the shining when it first came out but it grew on him and it's now one of his favourite pictures, this is how it was like for me.

Posted By: Anonymous

-

April 24th, 2011 11:59:14 am EDT

I Loveeeeeee this movie! Though iam debating whether to read the book - I have alot todo and don't have time to read much!

Posted By: VICTOR

-

April 16th, 2011 9:12:07 pm EDT

I AM IN THE MIDDLE OF THIS FRIGHTENING NOVEL AND I AM VERY SCARED OF HOTELS NOW. I WON'T BE ABLE TO LOOK AT A BATH TUB THE SAME WAY AGAIN. I *SPOILERS* I CAN'T BELEIVE GEORGE WAS IN THE BATHTUB WITH A KNIFE IN HIS CHEST!

Posted By: JC

-

April 12th, 2011 12:46:15 am EDT

Kudos SK! Such a horrifying tale of ghosts from the past and ghosts from within. =)

Posted By: LIL JOSE

-

March 20th, 2011 1:02:05 pm EDT

STEPHEN KING I LOVE U # 1 FAN I NEVER GOT TO READ THAT BOOK THE SHINING I READ EVERY OTHER BOOK!

Posted By: Wilson

-

February 12th, 2011 3:28:18 am EST

I absolutely loved this book because it was one of the first King books I read and ever since this one I was hooked.It was certainly an epic page-turner and scared me senseless while at the same time trapping me in and making me feel as if I was actually right there in the Overlook.I also felt very connected with every character and related in different ways with all of them.One of the best books I've read BY FAR.

Posted By: Marineboy

-

December 31st, 2010 9:16:09 am EST

The Shining was extremely brilliant. I just didn't want the story to end, the whole book was horrifying! Thank you Stephen King for this wonderful masterpiece

Posted By: Beambounder

-

December 29th, 2010 8:12:52 pm EST

My favorite part of this book is the description of how Jack Torrance is progressively spending more and more time with the old newspapers in the basement and that Wendy describes him as breathing moldy smells out. Un -washable mold inside him penetrating his body. This mirrors his descent into madness and mental decay.

Posted By: Bickleej

-

December 9th, 2010 1:31:14 pm EST

This is the third book I read on my Stephen King quest, and let me tell you, I now have a much greater disdain for Stanley Kubrick. Now having read the book, the movie was terrible. The book was phenomenol, though. I sure as heck can't stand near hedge animals without shivering a little.

Posted By: Jason

-

November 17th, 2010 8:02:05 pm EST

Of course I'd saw the movie when I was a kid(rumor has it that was the first movie my parents took me to at the mission drive in) but i wanted to see just how different the book was. This was my second King book and I loved it. The book was amazing and I finished it quick. Couldn't pull away from it and now I'm making my wife read it. If you haven't read the book, your missing out!

Posted By: NorieKing

-

November 14th, 2010 11:18:51 pm EST

I love this story. the first day I read it I was already hooked..very scary and mysterious book in my opinion.. keep up the good work,Mr. Stephen King. I'm your number one fan :-);Btw,my name 's Noriedette Baez from Laguna,Philippines

Posted By: Momnjune

-

November 7th, 2010 11:01:55 am EST

One of my favorites!! This book still scares the crap out of me, had a hard time sleeping each night when I read this before bed! Have read it 3 times. I love the movie too. Jack Nicholson is the perfect Jack.

Posted By: Simone

-

November 1st, 2010 6:03:56 pm EDT

I just read this book and L-O-V-E-D it! i dont mean to sound like an obbsesed fan but you are my new favorite author. i am currently reading " The Girl Who Loved Tom Gordon". I was talking to a friend who watched the movie instead of finishing "The Shining". she told me what happened in the movie and it wasn't an awsome ending. so now she is gonna finish the book! but Jack shouldn't die in a maze, the boiler exploding makes more sence because you forshadow throughout the whole book about the boiler exploding. (she creeps). :)

Posted By: Avada Kedrava

-

October 18th, 2010 1:30:08 pm EDT

creepy, creepy, creepy and disturbing but very great book

Posted By: The Boosh

-

October 5th, 2010 5:46:29 pm EDT
The movie was good but the book was absolutley astounding. King is an inspiration to most aspiring horror writers, including myself.

Posted By: Callum

-

October 4th, 2010 1:35:42 am EDT
WOW, Its a great book, and I've only read the first few chapters

Posted By: MPH

-

September 5th, 2010 10:19:37 pm EDT
i read this for the second time today and i read the whole thing over the course of six hours and it was delicious. not my fave. the stand misery then the shining i think. i tired. i dont wanna think dont make me eat your face.

Posted By: Anonymous

-

September 2nd, 2010 2:48:38 pm EDT
i read this book as a young teen...now i'm in my 40's and i still remember how "inside your head" this book was. amazingly scary. :)

Posted By: Anonymous

-

August 29th, 2010 10:36:48 pm EDT
superb reading

Posted By: Mimosa

-

August 13th, 2010 10:32:09 am EDT
I saw the movie before I read the book and I feel cheated because the incredibly weak adaptation completely warped the true intent of the story - which is an incredible piece of work. For me, the characters became somewhat personal because of my own father's struggle with the demons alcoholism. I loved that in the end good triumphs over evil. That Jack is not an evil man. Only a true master could weave a story that could both terrify and sooth the soul.

Posted By: Brady12

-

August 8th, 2010 11:12:44 pm EDT
Just finished this one today. Definetly a page turner. Cant wait to start another novel.

Posted By: Big Al

-

July 20th, 2010 11:18:18 pm EDT
This is one of the best novels ever written hands down. For anyone who wants to start reading Stephen King novels, this is should be one of the first ones you read.it is really good to read and I recommend you start reading his earlier novels before going into other ones. But that is my opinion.I just think his earlier novels are better.but i have to say that It and Christine are awesome as well and Cujo and Misery are good to.So whatever you people want to read first it is your choice.But reading his earlier books will give you a fresh idea on how he wrote his books in his earlier days. so the shining is one of his best books to read first.

Posted By: Kim

-

July 20th, 2010 10:09:08 am EDT
This was the first Stephen King book I ever read. I have read it many times since and it remains my favourite.I feel I can relate to it as for many years I was married to a man with deep rooted problems, and just like Jack he could be bad , but mostly he was just sad.

Posted By: Allison

-

July 14th, 2010 5:50:31 pm EDT
Tis book is one of my all time favorite novels by Stephen King. I am 15 years old and I've read pleanty of his books, and The Shining is definately a "turning point" book. It just seems that King took a different approach to, for example, the father-son relationships. You'll have to read the book to fully undersatand what I mean, and it would be worth your time to do so.

Posted By: Seanzo

-

July 13th, 2010 10:12:07 am EDT
WOW! this book was brilliant and scared me so much. The movie wasn't scary at all and it left out so much great things that were in the book. its the 3rd stephen king book i've read after IT and Misery. Great book from Stephen King!

Posted By: Kingreader

-

July 11th, 2010 4:03:34 pm EDT
Hello. This was my first Stephen King book and I loved it. I was hooked into it straight away.

Posted By: Artum815

-

July 3rd, 2010 11:07:52 am EDT
Cool!

Posted By: Artum815

-

July 3rd, 2010 11:05:51 am EDT
Super! Cool! I liked it very much! Ecpecially how Jack lose the human look. The very good novel.

Posted By: Aleksandra

-

July 2nd, 2010 5:06:25 am EDT
I am from Ukraine! I just finish to read this book!!It is the 10 book i have read from Stephen King-but it became my favourite one!!! Thank you very much for your work!!!!

Posted By: Brooks

-

June 22nd, 2010 3:47:42 pm EDT
My favorite book and movie in the whole world!!!thank you so much stephen king!!!

Posted By: Anonymous

-

June 16th, 2010 1:18:26 pm EDT
i just finished this book just about five minutes ago and it was really good.this is the sixth book ive read from stephen king and it was one of the best ones i like the most.honestly i started reading this book in january and it was really hard to get into like his other books but i picked it up again this past saturday and i finally got back into it.i really enjoyed this book alot



Posted By: S.K.Rules

-

June 12th, 2010 5:41:57 pm EDT
This book is so much better then the 1980 movie, because it gives you much more and the movie to me was a totaly weird, so glad theymade the TV version that is truer to the novel.

Posted By: Anonymous

-

June 2nd, 2010 2:26:40 pm EDT
I am 12 and thinking about reading the book or seeing the movie. I get creeped out VERY easy so I want to see how this goes

Posted By: Anonymous

-

May 29th, 2010 11:54:48 pm EDT
I am 12, and I have been reading Stephen King for a few months. I have read a few, even the one that King himself considers his scariest (Pet Semetary). It didn't scare me too much, and I heard that this one was scary, so I decided to start it. I love it so far! It is already creeping me out, and not much has even happened yet! Also, I have the first printing!

Posted By: Picklefiend2185

-

May 20th, 2010 9:35:33 pm EDT
This is by far my favorite King novel. I read it once every 9 months or so. Currently doing a project on it for school. I really hope he finishes "Doctor Sleep".

Posted By: Anonymous

-

May 3rd, 2010 9:24:29 pm EDT
Really good (especially the MOVIE not the TV MINISERIES) but at times a bit perverted for my taste.

Posted By: Lindsay

-

May 1st, 2010 12:10:35 am EDT
I was addicted to this book from the minute I started reading it. King does a great job mixing the horrors of reality and the paranormal.

Posted By: JakeSft

-

April 28th, 2010 4:32:12 pm EDT
"The Shining" is an amazing book. I couldn't stop reading it once i started. It kept me in suspense till i finished it. Great work! Hope to see a sequel, written in the same style.

Posted By: Matthew

-

April 28th, 2010 2:07:19 pm EDT
Absolutely his best book. I love it so much. The movie from 1980 wasn't so good, but the one from 1997 was much better. If u didn't see it just watch it and read this book. U will love it.

Posted By: Giggles666

-

April 11th, 2010 9:44:45 pm EDT
A classic, I read this once a year at least. Absolutely awesome, this is what King is all about in my humble opinion.

Posted By: Iago Sales

-

April 4th, 2010 11:23:48 pm EDT
The best book I have ever read!

Posted By: Eleanor

-

April 3rd, 2010 1:59:04 pm EDT
I loved it! It's been my favorite novel for years and still I can't get over how great it is! This is the 2nd S.K. book I've read, with Cujo being my 1st. DON'T READ ANYMORE IF YOU HAVEN'T READ IT YET. I liked the part where the crazy dog man was in the hall way, and blocked Danny's path. And the part where the wasps came back to life and stung Danny. And the part that was the most suspensful to me was when the elevator was making noises. Actually, maybee it was when Jack left the room and Wendy didn't know where Jack or Danny were. It's hard to decide. And the movie was so lame compared to the book, it almost makes me mad.

Posted By: Anonymous

-

April 2nd, 2010 3:29:44 pm EDT
the book was lame, as much of his work is now. The movie was 1,000 times better and more believable...hedge animals, get real. Another story like secret window that failed miserably to deliver like the movie.

Posted By: StephenKingfan

-

March 22nd, 2010 2:29:12 pm EDT
The book was great I couldn't stop reading it when I picked it up,the movie was great but not as great as the other Stephen King movies.Great book!

Posted By: Anonymous

-

March 11th, 2010 7:04:42 am EST
The movie didn't do this book justice. I had seen the movie some years ago and didn't understand some parts in the movie and decided to read the book. This is the first Stephen King book I've ever read and know understand why he's such a FANTASTIC writer!!! I will never see big hotels in the same light again!!!!

Posted By: Anonymous

-

February 11th, 2010 12:48:23 pm EST
I shall never look upon hedge animals in the same light again. Fantastic and chilling.

Posted By: Rowanmayfair

-

January 14th, 2010 6:02:56 am EST
the book is great any king fan will enjoy the book as much as i did its a MUST READ

Posted By: Roninite

-

January 3rd, 2010 2:51:45 pm EST
this was an amazing book by an amazing author and it is by far my favorite of all King's work. it was a hundred times better than the movie though the movie was pretty good

Posted By: MattG71

-

December 17th, 2009 12:39:27 pm EST
The first Stephen King book I read. I was fifteen, it was a summer night, my bedroom window open to let the air in. My door didn't shut completely, and creaked on its hinges when the breeze blew very softly, right at a very scary part. Damn near hit the ceiling. Thanks Mr. King, I love those moments.

Posted By: Majin_melmo

-

December 15th, 2009 12:48:44 pm EST
I must say all of Mr. King's stories are phenomenal but I do believe "The Shining" is the most special and important to me. I recently found out that Mr. King put a lot of his own anger into Jack Torrance when he was writing this, and I'm not surprised. The human element in "The Shining" is really touching, Danny's an amazing child I'd like to know for real. Humans are imperfect creatures, we have dark thoughts to hold back (some of us succeed, some of us don't) and this story is scary as hell because it digs into each and every one of us.

Posted By: Lemak

-

December 3rd, 2009 12:11:34 am EST
MY #1 Favorite book!!!!!!! Just wanted to say "Thanks" for taking the time to write this story and sharing it with us.

Posted By: Tiekstudio

-

November 12th, 2009 10:34:30 pm EST
I have read/listened to the shining many times and it gets better all the time. THe perfect build up to a climax. Why do so many hate the kubrick movie? yes it left allot on the table and changed the ending but it worked by keeping us in the dark about what jack torrence was really thinking.

Posted By: Erik

-

November 6th, 2009 11:51:49 am EST
I have read Carrie, Cujo, Christine, It, The Girl who loved Tom Gordon, The Talisman, and 'Salems Lot, and The Shining tops them all

Posted By: Stfunie

-

November 1st, 2009 12:49:54 pm EST
One of the best books I've ever read!! I agree with everything the person below me said. The movie adaptation is hokey enough, but once you read the book, it's very irritating to know that such a great movie could have been made from The Shining!! I was really sad for the book to come to an end, but I plan on reading it many more times!

Posted By: Joe

-

October 18th, 2009 4:25:34 pm EDT
This book is simply amazing. The Shining has to be the best book I've ever read. I just couldn't put the book down. It was my first Stephen King book I ever read and it really got me hooked. Also the movie starring Jack Nicholson DOES NOT do this book justice at all. It doesn't capture the story at all and the ending is completely different. Please take the time and read the real story..not the movie. (:

Posted By: R. Usher

-

September 21st, 2009 1:11:14 am EDT
I read this for the first time at the age of nine, and easily a hundred times in the eighteen years since. To me, "The Shining" is not simply a story, but a world to which I can escape. The Hotel is as familiar as my own home, the Torrances as if life-long friends. It got me to love reading and to start writing, and it will always be the novel I hold nearest and dearest to my heart.

Posted By: Aidanl

-

September 15th, 2009 2:40:17 pm EDT
The best book I ever read. The film is good but the book is far better in my opinion.Absolutly thrilling.

Posted By: Nikolai

-

September 11th, 2009 9:31:40 am EDT
Isnt this a movie?

Posted By: Ilecion

-

September 4th, 2009 7:25:24 am EDT
This was the first Stephen King novel i read. I was 12yrs old at the time and boy was i scared...in a good way. But I sure wasn't going back to those Enid Blyton etc. books after this one. A masterpiece, nothing less.

Posted By: Giuly

-

August 22nd, 2009 3:55:47 pm EDT
This is the first Stephen King's book I red. After that I have red all his books and I have not found a writer like him. No one can be compared to him. Giuly

Posted By: Ryan Stackhouse

-

August 11th, 2009 3:12:59 pm EDT
I love this novel. This is the first Stephen King novel I ever read and I was hooked. I've read everything since and love it all. Misery is my favorite, but The Shining will always be important and special for me.

Posted By: P_lukasiak

-

August 4th, 2009 6:31:58 pm EDT
Years ago (back in the 70s), a friend gave me The Shining to read. I was skeptical to say the least -- at that point I wasn't reading any "modern" fiction (concentrating on 18th and 19th century English authors like Dickens and Thackery) and was extremely skeptical of this piece of "popular" horror fiction. Boy, was I wrong.... How scary is this book? Its the only book that ever caused me to lose a day of work. I could not put it down once I got into it, and stayed up all night to finish -- and was so exhausted and freaked out that I called in sick to work that morning.

Posted By: KingLover

-

August 4th, 2009 1:52:03 pm EDT
I am only 14, though I started reading the horrorific books written by the wise King, when I was about 11. It has enhanced my vocabulary quite a bit, and has impressed my teachers. I LOVE STEPHEN KING!

Posted By: King Fanatic

-

July 31st, 2009 5:44:24 pm EDT
Seriously... STEPHEN KING is the most amazing author to have graced the planet. He is absolutely fantastic and the world's most loved writer. Literary genius and my favourite author of all time! Love this book, the first I ever read of King, and certainly not my only favourite of his!

Posted By: King Freak

-

July 14th, 2009 1:25:16 pm EDT
this movie seemed so like king

Posted By: Jana

-

June 9th, 2009 11:23:31 am EDT
My father gave me the book and said I should read it. Immediatly I fell in love with the style. I just started to read it in English because I live in Germany and it was hard work to get it in English. Thank you for the good job you've done!

Posted By: Bubu

-

May 28th, 2009 10:23:53 pm EDT
Hello, I live in Mexico and started reading IT a year ago and it just wouldn't do it for me. A little later I read On Writing in english and immediatly fell in love with Stephen King's style. I am now reading The Shining in english also and I can't keep my eyes off it. Translated books won't make justice on the wonderful work of this master. Thank you Stephen King for your marvelous job.

Posted By: Movieman

-

May 25th, 2009 11:40:55 am EDT
I am a huge fan of Stephen King. This was my first novel I have read of his at the age of 13. This is my number one favourite horror novel. When reading it, I was glued to the book and scared witless. I have read t 4 times. Thanks Stephen King you are a legend.

Posted By: Doc

-

May 24th, 2009 9:12:14 pm EDT
I recently won a bet where my mother (who hates horror) had to read "The Shining". I occaisionally asked her questions about it to make sure she was really reading it. She was so mad at me and to this day she has told me how she's constantly thinking about the hotel when she's alone at night. The scariest scene to me was when Wendy wakes Jack up because the hotel elevator is going up and down by itself. I won't tell you what happens, but it made the hair on the back of my neck stand up. Still have nightmares about it...thanks Stephen! ha.

Posted By: Hollypops

-

May 3rd, 2009 5:16:45 am EDT
my god this book is truly terrifying, especially the bit where jack has come out of room 217 and he can hear the doorknob rattling, kept me awake for hours :P

Posted By: Karcazz

-

April 28th, 2009 11:50:49 pm EDT
my favorite movie... the best Stephen King's novel!

Posted By: Sena TR

-

April 23rd, 2009 10:59:02 am EDT
I really like to read Stephen King books, but The Shining is not one of my favourites. The subject is interesting, but not much happens in the novel. It has more boring words than a real adventure. I think Stephen King could make it better by adding more details about the crimes that took place in the Overlook and maybe put Danny in some more troubles. But still I liked the novel. That 'shining' captured my interest and I even asked about it to my father who believes I turned insane =D

Posted By: Israr Ahmad

-

April 11th, 2009 3:40:11 pm EDT
I was reading Michael Chrichton's Andromeda Strain when i found The Shining in my school librabry last year in grade 12. And even though i haven't gotten around to finishing The Andromeda Srain, i do not regret reading this book. The plot was fascinating, the characters, original. I only regret to watching the movie before reading the book. I have yet, to read more of Stephen King's works, but i can sertainly say that The Shining is definatly one of the most finest novels i have ever read. I was inspired to make the Buick Electra as my protagonist's personal off-duty vehicle in my unfinnished novel.

Posted By: Chantelle

-

April 1st, 2009 5:47:00 pm EDT
THIS IS THE BEST BOOK EVER WRITTEN like omg :D like im 14,and like i have read manyyy books,but this one is my fave :D

Posted By: Starfire

-

March 19th, 2009 7:39:12 pm EDT
The first Stephen King novel and horror book I ever read and I love it! It inspires me as a young developing writer.

Posted By: Ferris32ian

-

March 17th, 2009 12:11:31 am EDT
This was my first ever horror story and Stephen King book, and it is amazing. After reading it the Kubrick seemed tike a TOTALY different and not-as-good story. The TV series was better, but it didn't have the cement ring part!!! Nooo!!! It's my favorite part!!! I'm really excited for the Cell movie, though.

Posted By: Alex

-

March 5th, 2009 7:03:51 pm EST
This had to be one of the sacriest, most thought-provoking novels I had ever read. It really was a very powerful and frightening exploration of how a family is torn apart by alcoholism, obsession and madness. I loved it. Stephen King's finest hour.

Posted By: Charlotte

-

February 19th, 2009 9:26:19 am EST
Best book I have ever read

Posted By: Bessie

-

February 3rd, 2009 2:33:53 pm EST
DAMN!!! this was one of the first books I read by SK and I absolutely adored it...the way he can grab your attention and never let go is the work of a true author.

Posted By: Andrew

-

January 31st, 2009 11:28:43 pm EST
Wow, this book was one of the best books I've ever read. I had seen the movie first and didn't want to read it yet knowing what happens, but it was different and way better than the movie by far. This book is in my top ten favorites.

Posted By: Anonymous

-

January 24th, 2009 1:32:32 pm EST
The Shining was awesome, I liked it as much as I liked the movie.

Posted By: Karcazz

-

January 18th, 2009 1:25:59 pm EST
The best book of Stephen King...

Posted By: Scareah

-

January 16th, 2009 11:58:43 am EST
Wow I am 12, and the book is so good

Posted By: Katetea

-

January 16th, 2009 5:19:53 am EST
Best book ever, my favorite.. scared me so much & couldnt read it before I went to bed... couldn't sleep then!! Such a great talent!

Posted By: Mark

-

December 18th, 2008 1:53:15 pm EST
Forget Kubricks misguided attempt at putting this beatiful but horrific masterpiece to celluloid, also King's Television miniseries was too watered down, ignore both attempts to put this on the screen they failed and succeded in equal measure. No the best way to enjoy The Shining is to read the novel, it was not until i became a father myself that i realised how horrific this novel actually is, the deep seated pathological hatred that nestles like a cancer in John torrance's fragile sanity is far more scary than the actual hotel itself. The book is a brilliant read, Greatest ghost story ever.

Posted By: Laura

-

December 18th, 2008 9:48:30 am EST
This was the first SK book that actually scared me. It was the hedge animals coming alive the frightened me to death just as much as Jacks insanity. Amazing!!

Posted By: Anonymous

-

December 13th, 2008 2:06:29 pm EST
this is one of the best books i have ever read!shortly before my thirteenth birthday, i began to read the shining, and after the first chapter, i was in love!i can't wait to watch the movie and see how this wonderful story translates to film!thank you stephen king! You rock man! :D

Posted By: Yousef

-

November 26th, 2008 4:43:10 am EST
Wow this is the best book i have ever read in my life! :D

Posted By: AmareS

-

October 31st, 2008 10:33:50 pm EDT
This my second most favorite book, behind Misery! incredibly well-written, well-plotted, and exciting book! On a scale of 1 to 10 , id give Misery 9.7 and The Shining 9.4. Two amazing books where Stephen King is at his best

Posted By: Silviu Marin

-

October 18th, 2008 8:05:50 pm EDT
Dear Mr. Stephen King, I must say that I haven't been much of a Horror fan 'till very recently, but when I first read "The Shining", meaning like 1 month ago, I knew then that I'll be reading even more of your creations. Oh, and it all started with the movie "Storm of the Century", you know. :-) So, THANK YOU for your in-depth knowledge of the human psyche and for your style in writing such masterpieces. Thank you! P.S. Read Mr. King's books, people, and leave aside the genius of the movie directors' from that of Mr. King's in his writing IF you wish to be fully surprised by it. :-) Silviu Marin from Romania, Bucharest, 26 / 27 years-old, social - educational editor / columnist

Posted By: Nico Pliskin

-

October 14th, 2008 5:45:25 pm EDT
wow. what an amazing book. i saw the movie first and i thought that was good but then when i was about 13 i read the book and i couldnt believe it. its a great book. it proves that the book is usually better than the movie

Posted By: HorrorReader

-

October 1st, 2008 5:46:10 pm EDT
I'm out of words. This is probably the best book ever written - amazing. Thank you Stephen, love you man :D

Posted By: Berk

-

September 25th, 2008 12:18:20 pm EDT
the book is awesome everyone should read this book.all my friends saw this book from me then all of them wanted to read it.it is my first stephen king's book but i will never forget the shining

Posted By: Anonymous

-

September 25th, 2008 12:00:13 pm EDT
This book is AMAZING!! I have never read something that i got into so much!! Its a MUST READ!!

Posted By: Dar8888

-

September 17th, 2008 1:36:23 pm EDT
The 1980 movie was awful. The novel, however, is a classic - one of Mr. King's best!

Posted By: Jk123

-

September 6th, 2008 8:57:17 pm EDT
i am only 14 but i know a good book when i read it.I have read some of your books and loved them but the shining is the best.this is the book that have got my friends(who i have been trying to get to read for years) to finally read a book from cover to cover.

Posted By: Cda19

-

September 3rd, 2008 1:16:10 am EDT
One word,GREATEST MOVIE EVER!I LOVED IT!It's a classic.

Posted By: ManW/NoName

-

August 16th, 2008 2:30:49 am EDT
I had read only The Girl Who Loved Tom GOrdon previous to reading The Shining, and the difference was drastic. The former I had found in the school library, and was always intrigued by King and his work, but had never worked up the courage to read any of it. The Shining, however, I bought, and the depth of character and story was astonishing for a modern novel. No, it was no Steinbeck, but it was a great book, and I have become, in the two days it took me to read it, an avid King fan. Congratulations on the achievement, Mr King! This may sound strange, but it was also the funnest book I had ever read. Childlike I know, but all I mean was that it was a pleasure to read and I couldn't put it down.

Posted By: El Greco

-

August 7th, 2008 5:04:00 pm EDT
A classic horror movie (never read the book). One that will always be in the top horror films and an example to the writers of future generations.

Posted By: Warren Piece

-

August 1st, 2008 6:50:01 pm EDT
The Shining is by far the most literary of any Stephen King novel I have read so far. By "literary," I mean that it is filled with symbolism, and human implications beyond what is happening in the plot. The simple example is the pressure boiler Jack has to dump every night to avoid an explosion. This metaphor for Jack's temper and aggression not only mirrors Jack's progressing instability, but also foreshadows the book's conclusion. The more complex, and most interesting metaphor is the Overlook's relation to the symptoms of addiction. The haunting of the hotel can easily be seen as a story of an alcoholic succumbing to drink after being sober for a long period of time. Every supernatural occurrence can easily be interpreted as a stage of addiction or withdrawal. For example Jack's insanity begins with the hedge animals moving. Wherever Jack looks, they are there taunting him, as an alcoholic is haunted by thoughts of drink. Jack then falls off the wagon at a party thrown by the Overlook's previous inhabitants. Afterwords, Jack is knocked unconscious when Wendy hits him over the head with a wine bottle, an action that screams hangover. The reason the Shining is such a good book is because these metaphors extend beyond a simple interpretation of an alcoholic's regression and show how one person's addiction affects his entire family. The Shining isn't my favorite Stephen King book I have read, but it is the best written.

Posted By: Puddintain

-

July 30th, 2008 8:57:26 pm EDT
Reminds me an awful lot of my own childhood. Danny Torrance is very close to my heart.

Posted By: Vllad23

-

July 27th, 2008 6:11:40 pm EDT
totally, the movie is known so well, but the book is what made it what it truly is, and you catch the true words of King from it, and what he really aimed at.

Posted By: Rjt65

-

July 24th, 2008 11:46:39 am EDT
Everyone is familiar with the first movie..but the book offers so much more. One of my favorite King novels.