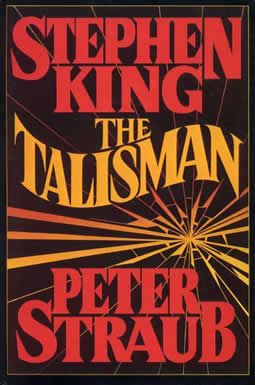 Fan submitted reviews of Talisman, The (Novel):

Posted By: Anonymous

-

January 31st, 2013 9:20:55 am EST

This is my all time favorite read. I've read it every couple of years since i was a teenager. I would recommend this to anyone who loves a book with a great adventure in it. Travellin Jack takes you along with him on the quest to save his mother and the Territories. I love it! Thank You Peter Straub and Stephen King for such an amazing story that i get to share with my children one day.

Posted By: Evie

-

October 21st, 2012 11:33:58 am EDT

I have read many Stephen King books, and I want to start reading Peter Straub. This book was SO GOOD, SO creative, and it had SO many details. (some very gruesome and unwanted) I can't wait to start Black House.

Posted By: Angela

-

September 14th, 2012 9:57:21 am EDT

I read this book about 25 yrs ago and still talk about it today. I thought it was just a fantastic book. Couldn't put it down from start to finish. I can tell you I have read a lot of books in the last 25 yrs that I can't remember but this is one I will never forget!

Posted By: Pamela

-

September 12th, 2012 9:03:59 pm EDT

Since 1984, when I first came across this book it has been a summer read every single year! I do not tire of it because every time I read it, I discover (ore perhaps rediscover) another favorite scene, quote, etc. Stephen King is the main reason I decided to become a writer. I published a few years ago and I'm still writing novels. But I don't know if I can write anything of this caliber, though if I did I'd definitely would give Mr. King accolades for his exemplary examples... :)

Posted By: William

-

July 27th, 2012 5:10:36 pm EDT

Simply put one of the best books I have ever read , just finished it , and am kind of depressed to start a new book . I simply know there is not going to be another book quite as good as this one out there. Could not stop reading it . A TRUE TRUE page turner. You will laugh , you will be on the edge of your seat , you will cry . Very Very well written and one of Stephens best . As well as Peters , although I see more of Stephens style here than I do Peter Straubs , not to take away anything from Peter. I may be wrong about this . But that is just one mans opinion .

Posted By: Richard

-

July 5th, 2012 5:50:39 pm EDT

I was not much of a reader but about 20 years ago, this book somehow found my hands. I could not put it down. I have since read 15 of SK's works (currently reading "On Writing"). His writing feels like a good old friend to me. I am sure some of you feel that. I will bet the Talisman will not dissapoint you if it should happen to fall into your hands. ciao Happy reading.

Posted By: Anonymous

-

June 24th, 2012 6:41:33 pm EDT

My dad basically made me start this book, I was always scared of SK's books, especially after IT. So, when I started reading I lost track of time, and next thing I know, I finished reading it in 2 days. It is my FAVORITE book ever.

Posted By: Hellboy74

-

May 28th, 2012 4:39:40 pm EDT

***SPOILERS***

This was one of the most influential books I have ever read. I spent my childhood being disappointed at the worlds terrors that was until I read this book. I shudder every time I hear the sound of lightning in the distance for fear that it is Morgan coming to this world in a vengeance. I cried when Wolf was killed by Osmond. And I wept for joy when the queen opened her eyes. Mr. King I thank you for writing this book.

Posted By: Gerrie

-

February 15th, 2012 7:10:52 pm EST

This was the first book I read by Stephen King. After this book I couldn't wait to see what he would write next. The story jumped between 2 worlds, but the boy never lost his purpose. Good Book!.

Posted By: Wolflady

-

February 3rd, 2012 11:50:00 am EST

I will never forget the first time I read this book....All I have to hear is Wolf Right here and Now...and it takes me back to the time in my life that I was reading this book. I now raise wolves and love them to death..Mr. King...You are the very BEST!!!

Posted By: Shamilah

-

January 18th, 2012 2:28:07 am EST

One of my favorites.. beautiful thoughts.. wonderful imagination... great characters. interesting story line..

Posted By: Mitamay

-

January 13th, 2012 7:13:11 pm EST

For each time ive been reading this book over the years there is always something new to be found. My wonderful favorite book! Please, please continue with the making of a movie...

Posted By: Michelle

-

December 24th, 2011 5:43:25 pm EST

I would like to think that what I have written here will reach the 'man' himself. I have just purchased The Talisman via audible after enjoying so many of Mr Kings book on audio due to the fantastic choices of narrators. Unfortunately whoever gave permission/employed Frank Muller to read this book has made a grave mistake. His voice is monotonous and his choice to 'whisper' practically every last word of each sentence borders on hilarity. A pity because the reviews are quite dire for what I'm sure could be a very intriguing novel poor narrator choice has lead to me switching off what waste of money....

Posted By: MoonCat

-

December 22nd, 2011 10:00:46 am EST

Just finished reading this book - had been greatly anticipating it. Really, REALLY liked it. It reminded me of The Dark Tower series on so many levels: the mulit-verse, the twinners, the creatures that resembled low men, flipping between worlds and of course the Black Hotel that is reminicent of the scary house Jake had to enter to find Roland again. Over all, an amazing book. Can't wait to start Black House tonight.

Posted By: Erin209

-

November 26th, 2011 6:15:36 pm EST

Amazing. I read 99% of the book in two days, then couldn't bring myself to read the last 20 pages for another two days. I guess I just didn't want it to end, or maybe I was afraid of how it would end.

Posted By: Taylor Dunn

-

November 18th, 2011 11:22:23 pm EST

I read this book when I was a child. I'm 32 years old and its still my favorite book. It is an amazing story! I wish they would make this into a film.

Posted By: Baddboyfilms

-

October 23rd, 2011 6:49:07 pm EDT

I read this book , took me a week. I found it to be amazing. All that Stephen king is and is know by all of his skills as a writer came out into the writings of this book. But also a change of taste was added to make this book spark up with a new kind of flavor in which made this book stand out beyond the rest of his writings of other side by side novels and without taking the reader off of the subject or what Stephen was in attempt to explain to the reader all the while, keeping the reader guessing and wanting to read more to find out what will happen next!.

Posted By: Carol Sypek

-

October 19th, 2011 7:39:22 am EDT

I've just finished reading for the 3d time, The Talisman, and Black House. Any chance of a sequel to these???

Posted By: Mickmac

-

October 16th, 2011 8:22:38 am EDT

I read this book when I was 17 and never forgot how much I loved it. I could never seem to find another copy of it for some reason, but I found it on the audio book site that I use and I am enjoying listening to the story. I am 45 now so its been a long time since I have Been in the territories. Its a mighty fine place to be in.

Posted By: Missumom

-

October 13th, 2011 9:20:20 am EDT

Mr King, I love this book. After my mother passed away in 2006 from Cancer, I read this book for the second time. After that last page, I fell asleep and had a dream that she was the queen and I was Jack and I saved her from that terrible disease. Although I woke up to the reality that she had died, I felt that I had reconnected with her one more time. Thank you for writing this incredible book.

Posted By: Tinman

-

October 6th, 2011 3:25:06 pm EDT

i highly rcomend this book, you"ll laugh you'll cry you will becom connected to jack in a way you havent felt since you lost that dog you loved so much as a chld, dear god! read this book!

Posted By: Brandon Japhet

-

September 22nd, 2011 1:11:22 pm EDT

I LOVE YOUR BOOKS....... your characters have an aspect of reality about them... you're stories are detailed to the point that when i read one i can imagine the place where the action is taking place, i can hear what they hear, see what they see, and even taste what they taste. keep writing books and live long stephen king!

Posted By: Brandon Japhet

-

September 22nd, 2011 1:08:16 pm EDT

my three favorite and only stephen king books are 3: the eyes of the dragon 2: duma key and 1: Black house.... I LOVE STEPHEN KING'S BOOKS!!!!!!!!!!!!!!!!!!!!!!!!!!!!!!!!!!!!!!!!!!!!- P.S. i am only 14

Posted By: Enid

-

September 10th, 2011 12:22:36 am EDT

Mr. King, I have read nearly every book you ever wrote, and in all these years, I still feel that this was the best work you ever did. Your characters are always flawless in concept and their actions, but in this book, you chose to take whoever read it, on a journey that they could identify with, as every person has a mother. I read this frickin thing 3 times, and I tell my children to read it when they need to escape. Perhaps I will read it again when my own life slows down and I need to get away. Thank you for your visions, and the people you so effortlessly created for my enjoyment.

Posted By: Anonymous

-

July 20th, 2011 1:22:53 pm EDT

The Talisman is an amazing story, and is my all time favorite book. It's the perfect "escape" book. IF they made it into a movie, they'd have to leave NOTHING out or I'd be very disappointed. The story would need to be told in all it's glory! I've read it twice, beginning to end, and want to read it again before the summer's over.

Posted By: Ann

-

July 20th, 2011 12:55:43 am EDT

Excellent book, especially for those that are more into the sci fi part of Stephen King's works... and along with Peter Straub, the connection between them in writing this has been astronomical to say in the least. I would love to see this as a mini series as what was done with "The Stand", and I did hear some talk about this being made into a movie, but I am not sure if anyone here knows, but in 2007, Stephen King was in a car accident and was severely injured and has been sort of out of commission for a while because of it. Also I heard that the expense of making The Talisman into a fairly lengthy movie or series would be quite expensive. Hopefully this project that's been on hold will be picked up again, also that Stephen King fully recovers from his traumatic accident...

Posted By: Egon Northeast Of Sweden

-

July 18th, 2011 1:47:51 pm EDT

A favorite book, love it and have read it many times. A masterpiece and hoping it will be a (good) movie, too. The story and the brilliant writing by mr King and mr Straub is timeless and I think that's why this book is so great to read over and over again. Such a great adventure and so much more underneath. Thank you, Stephen & Peter.

Posted By: Dawnkm60

-

March 20th, 2011 10:13:10 am EDT

I'm really not sure as to why I have read this book so many times but I've read this book at least 10 times & I plan on reading it again.

Posted By: Kikoluva

-

March 3rd, 2011 10:35:52 pm EST

This was my first favorite Stephen King book. I would love to see this made into a movie. I have gone back and re-read it twice.

Posted By: Red2011

-

February 24th, 2011 10:10:22 pm EST

I love this story. It's by far my favorite by King. It needs to be a movie!!!

Posted By: Darrell

-

February 16th, 2011 3:21:20 pm EST

to me, i loved this book and should be made into a full length movie. leaving out nothing.

Posted By: Bguy85

-

January 28th, 2011 5:35:22 pm EST

This novel takes you on quite an adventure. King and Straub joined forces and created one of the most enjoyable, and CREEPY, books I have ever read. One of the things I love about this novel is the use of hotels as a source of fear...especially the one at the story's conclusion.

Posted By: UwahX

-

September 1st, 2010 4:57:41 pm EDT
Without exaggerating: "The Talisman" is my absolute favorite book and I'm really someone who reads a lot. History has so many ups and downs and is not just cheesy. Jack evolved incredibly in this book. At the beginning he is just a 12-year-old boy and then towards the end he has seen and experienced so much ... I LOVE this book! I've read over and over again and will probably continue to do it. Thank you Stephen King and Peter Straub. I wish the book would never have come to an end and I wish also that "Black House would" directly to "The Talisman" connected. Thank you, thank you, thank you!

Posted By: Victoria

-

August 27th, 2010 5:15:46 pm EDT
This is one of my favorite books. I have it on tape and have listened to it twice. Great story and very well done Thanks

Posted By: Marman

-

July 29th, 2010 6:50:07 am EDT
I have just finished reading The Talisman....It is a great book, though not as scary as I thought it would be!Until the middle of it I couldn't read it much pleasantly but from the middle until the end I couldn't stop reading it!Great!I really liked it!Now it's the Black House's turn and I am curious to live the new adventures of Jack.....From what I have read from your reviews guys, I think that the next will be the Pet Cemetary, I hope to be available in Greece....

Posted By: Rolanddeschainswoman

-

July 10th, 2010 12:04:38 pm EDT
***SPOILER***
Very very awesome book. I don't know about anybody else, but i cried when Wolfe sacrificed himself for Jack.

Posted By: King_o_Hearts

-

April 16th, 2010 11:53:02 pm EDT
This book is amazing. So far I have 3 of yours that are my fav stories.The Talisman,The Long Walk, and now a new fav of mine The Ballad Of the Flexible Bullet. To be honest I hated reading novels then my mom was like try this and gave me a copy of The Long Walk and I must say I couldnt put it down. I was hooked.Like a crack fiend I came back for more lol.Next my mom introduced me to The Talisman and its been one of your novels after another for me ever since.Your On Writing was a page turner for me as well.I finished it in mere days lol.Keep up the good work Stephen!!

Posted By: Albss

-

January 13th, 2010 5:35:54 pm EST
A true classic, I have read this book about 6 times, so that says something. Get past the first 40 pages and you will never sleep again untill its finished. The trouble is you dont want it to finish, so no other option to start from the beginning and enjoy it all over again.

Posted By: Bonnie

-

January 3rd, 2010 8:15:50 am EST
I read this book for the 1st time when I was 15 years-old. I like it so much because it took me to other worlds that every summer I would read it again. Now I am 39 and I am giving my books to my kids to read. I have 6 copies of The Talisman in English and Spanish. Thanks for the art.

Posted By: DawnsSong

-

September 26th, 2009 10:30:15 pm EDT
I read my first Stephen King book at age 8 or 9 and it was his short story collection Night Shift followed by Carrie, The Shining and THEN one of my all time Favs: Pet Sematary so it was later in life that I went back and read some of the other books and stories and found that no matter what he wrote about it was amazing! The Talisman amazing! Black House too!

Posted By: Daia

-

September 26th, 2009 4:21:16 am EDT
this is one of my super fav ones!!!=) while i was reading i felt in love with jack!!!=) reading it i got scared,i got thrilled,i cryed too!!!!soooo exciting book!!!i love it!!! i love all of ur books!!!!really =) good job man XD hugs

Posted By: Chiweewee

-

September 15th, 2009 2:23:59 pm EDT
I read this when i was younger and now would like to introduce this book to my son. I will of course re read it first.. Awesome Story!

Posted By: Anonymous

-

September 11th, 2009 10:36:59 am EDT
We are a family of fans, my sister, my mother, and I. This is one of our favorites. What an adventure it takes us on!

Posted By: Corngie

-

August 12th, 2009 1:45:30 am EDT
this book is beautiful, made me laugh, made me weep, read it about 20 years ago, gonna read again

Posted By: Dany Malva

-

August 11th, 2009 5:53:12 am EDT
Amazing! I read it in Portuguese when I was 16... I got so involved that I finished reading it in 3 days! I couldn't stop, I'd make some coffee at 3 in the morning just to stay awake and keep reading! What can I say? It's simply fantastic!

Posted By: Anonymous

-

July 7th, 2009 7:49:35 pm EDT
Loved this book. He knows how to make stories real, alive.

Posted By: Karen

-

June 25th, 2009 12:48:08 am EDT
Mr.King ILove your books. Been reading them sice they first started coming out. Am looking for this one & others in hard cover.



Posted By: HG

-

June 23rd, 2009 8:39:34 pm EDT
Re-reading this for the third time in 25 years, and it's just as good as the first time I read it.

Posted By: Adam

-

June 7th, 2009 3:09:16 am EDT
I am 550 pages in and its pretty good so far. Its a roller coaster ride.

Posted By: Anonymous

-

May 18th, 2009 1:35:51 pm EDT
The feeling i get when i open this book is indescribable! this book will take your imagination to places it has not been..whether your 12 or your 20, you should read!

Posted By: StephenKing-fanatic

-

May 12th, 2009 5:25:15 pm EDT
The Talisman is one of the best books I have ever been introduced to..this book has turned my imagination around so many times ...and ever since, I am just hooked on anything hes ever written.. Now im currently reading The Stand for the first time. afterwards will read Black House-follow on story of The Talisman!!!

Posted By: Kviin

-

May 4th, 2009 8:49:33 am EDT
Thank you, Stephen for this beautiful and hopeful story.

Posted By: Beth

-

April 21st, 2009 3:45:26 pm EDT
This is the very first book I ever read by Stephen King or Peter Straub. I was 11 at the time; very precocious. I fell in love with these authors and have read almost everything each one has written (no lie). I have since named my son Jack after the protoganist and look forward to him growing up and reading this book, too. Love it!!!!!!!

Posted By: Thomas4

-

April 14th, 2009 7:00:24 pm EDT
My belief is that this is just the kind of book that should find a movie version...I have read this book four times now and over and over in my head i have already chosen a chast of characters... i have a thousand word limit so i must not expound....

Posted By: Anonymous

-

January 22nd, 2009 8:15:16 pm EST
excellent book, and enjoyed the sequel(i dont care what anyone says, i just finished black house today and i loved every page... except maybe the ending, but that leads to endless possibilities, maybe even an end all sequel that combines this series and the dark tower series, since *spoiler alert*roland has altered his path through getting the horn) *end spoiler alert* but anyway, reason im commenting is cause i heard they are actually making a tv production of this, it'll be a six episode mini series. =)

Posted By: Andy_Ro

-

January 7th, 2009 6:17:47 pm EST
This book made me into a true fanatic. I read this story while stationed overseas. Daily, I looked forward to getting back to my tent to read this novel. Then out of nowhere I found the follow on story, Black House...just wonderful!

Posted By: Michele

-

January 1st, 2009 1:29:15 pm EST
Excellent novel! I've read this a few times over the years and would LOVE to see this made into a movie!!??

Posted By: King Jacob

-

December 7th, 2008 8:17:44 pm EST
Awesome book. Makes me look forward to reading Black House.

Posted By:

-

November 28th, 2008 11:42:41 am EST
This is my favorite book. My mom has been a life long fan of Stephen King, and had been telling me to read this book for a long time (it's her favorite as well). I finally read it last year and I couldn't believe it. It was amazing. Now, I'm becoming a Stephen King fan myself. =]

Posted By: Lynnell

-

October 17th, 2008 1:30:20 pm EDT
I loved this book! I read it a very long time ago then lent it to someone else to read and they never gave it back. I would love to get a hold of it again.

Posted By: El Greco

-

August 7th, 2008 4:59:10 pm EDT
Beautiful adventure. An excellent story by King and Straub. Also loved the 2nd book 'The Dark House'.