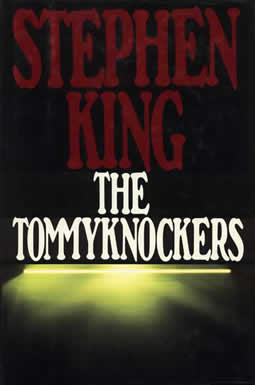 Fan submitted reviews of Tommyknockers, The (Novel):

Posted By: Doc

-

March 9th, 2013 12:08:50 pm EST

I've always liked the odd, yet somehow oridnary, structure of this novel. I can just feel that hot sticky summer in Maine with Bobbi Anderson as she sets out on an adventure with her dog Peter into the deep woods. King really knows Maine and in this novel, as well as Pet Sematary, Salems Lot, and The Dark Half, you can really feel the imminence and sense of place. I have only one reservation. King chose to be a little silly in this book as well as Needful Things, which I didn't particularly care for, but it didn't take away from the awesome story. It worked here, because humor seems to accentuate the otherwise dismal reality of obsession in our lives. And it probably worked in the end with Needful Things because King was using humor to show our own weakness when it comes to material posessions. Do we own them or do they really own us. I really felt sorry for Gardner in this book and was so mad at Bobbi for not fighting harder for their friendship, but (I won't give it away) there are some sweet moments between them at the end. The sound of that washing machine and the green light in the shed still give me the shivers.

Posted By: Anonymous

-

March 6th, 2013 9:30:23 am EST

I use to own a vhs of the tommy knockers, but my son let someone borrow it so never had it back would like to watch it again so this is why I'm looking it up on the internet to be able to watch it again

Posted By: Mich

-

October 5th, 2012 11:54:56 pm EDT

This was the first Stephen King book I read and it definitely started my obsession. It is such a detailed story, and the one thing i love about Stephen King is his ability to make you forget that it's supernatural - he's such a fantastic writer that you don't question it - aliens, spaceships, strange force fields? Nothing strange about that. And it scares the crap out of you. Definitely a must read to all fans.

Posted By: Trav021812

-

September 27th, 2012 9:22:29 pm EDT

Just finished Tommyknockers tonight. That makes my 43rd consecutive Uncle Stevie book. 'Knockers' is an absolute top shelfer in my minds eye. Gard 'ole Gard. It made me cry haha. Complete love and respect to you Mr. King. Looking forward to 43 more.

Posted By: Carlos Marks

-

August 7th, 2012 3:30:22 pm EDT

THE TOMMYKNOCKERS: ...To develop a talent for creating innovative devices under its increasingly malignant influence.____What if the spell (or miracle) is there but the one who put it (or performed it) is gone ?. Would that look like a malignant influence?

Posted By: Anton

-

July 13th, 2012 1:02:42 am EDT

This book beautifully combines drama, great visualizations, and an erie anticipation that makes you hesitate to push on, but reluctant to put it down. Well done.

Posted By: J.C.

-

July 10th, 2012 1:40:41 am EDT

I am not a big fan of Sci-Fi but have been long been a King fan, so I thought I would give it a chance. Less than 4 days later, the entire 747 page book was ravenously read. Yet another amazing book by an amazing author.

Posted By: Anonymous

-

May 7th, 2012 1:14:07 pm EDT

If you like the aliens in this book you should read Dreamcatcher or Insomnia they are two of my favorite books. I havent read the Tommyknockers yet ive only read about 20 pages of it where she finds the metal on her walk. Right now im reading Needful Things and its captivating a must read.

Posted By: Bengal

-

April 25th, 2012 4:58:37 pm EDT

Wow!...the imagination is a wonderful thing, it is limitless with King's mind...His reasearch and attention to detail meke his works "unimaginable"! LOL!

Posted By: Bengal

-

April 25th, 2012 4:49:16 pm EDT

I am down to the last less than 100 pages and I am hooked!

Posted By: Anonymous

-

March 20th, 2012 4:31:25 pm EDT

I have been drawn away from this book because on other websites and from reviews on websites like AMAZON I have seen that this book has rather, to be honest, terrible reviews. I am a huge, huge fan of Stephen King's but I ma not sure whether I should actually read it or not, the reviews on this website seem very promising though!!!!

Posted By: Zero

-

March 15th, 2012 2:14:53 pm EDT

This is one of my favorite books. I don't know how to explain it any better than that. You are an incredible inspiration to me Mr. King, and all I can do is... keep reading.

Posted By: Court123

-

March 1st, 2012 11:31:02 pm EST

one of my absolute favorites by stephen king! He definitely puts a twist to the phrase "tommy knockers." couldnt put it down!

Posted By: Molly

-

December 23rd, 2011 7:40:01 pm EST

This is definitely one of my favorites by King! I've really enjoyed his books that have a sci-fi aspect to them too, and couldn't put this one down. I loved Gard and the little boys Hilly and David. I haven't seen the TV mini series though, I'm afraid it will fall short of the book.

Posted By: Shanejbortz

-

December 23rd, 2011 6:01:20 pm EST

mr king i have read 99 percent of the books u have written and i tell you what they keep getting better and better every time thank u

Posted By: Arakune

-

December 13th, 2011 12:50:32 pm EST

I saw the movie, which my mother said was scarey, but I luaghed most of the time becuase the movie seemed to fail at being a "horror" film, but I am going to try the book. It seems to be very liked.

Posted By: Paul

-

December 1st, 2011 3:15:53 pm EST

I've just started this book, and already I love it. Stephen King never fails to deliver.

Posted By: Anon

-

September 12th, 2011 4:56:14 am EDT

this combines 2 of my favorite things in the world. Aliens and Stephen King novels. I had high expectations of this book and it delivered.

Posted By: Julaine

-

September 2nd, 2011 12:29:07 pm EDT

It's my favorite SK book!

Posted By: Anonymous

-

August 6th, 2011 2:40:23 am EDT

I h8 Ruth. Happy she dies ;p This book is awesome :D And scary :s and weird ;/ but still amazing :) go SK go!

Posted By: Austin316

-

July 13th, 2011 7:42:43 am EDT

One ver scary-ass novel I'mm from Italy I have almost all SK 's book I think he is the best writer in the world

Posted By: Vistaria

-

February 23rd, 2011 1:53:12 am EST

thanks a lot! now I have this creepy feeling inside me whenever I hear the word "Haven" anywhere.... From the "safe haven" that my mind used to think of, to "a hellish horrifying place filled with creepy monsters.."

Posted By: Sparkles

-

July 19th, 2010 5:59:46 pm EDT
Been an avid SK fan since I was 13. Tommyknockers is an excellent read,if a little convoluted in parts. Gard is one of my favourite characters of all. Despite his pathos in his alcoholism and remaining relatively sane amoung an alien invasion to which his best friend succumbs before his eyes, Gard retains his charisma with his hilarious antics and witticisms whilst drunk. And the flying Coke machine was legendery! A thoroughly entertaining read.

Posted By: E. Compton

-

June 18th, 2010 10:14:06 am EDT
I'm half way through it and love it. I also had a thought that it would be nice to have a short story (a pre Tommyknocker story) in the future about Rodes and Jingles, something about those two officers seems interesting to me.

Posted By: Mr. Dopey

-

June 11th, 2010 1:50:43 am EDT
I was a little weirded out by the Coca-Cola machine chasing him down the street, but overall I liked this book a lot. A little long, though, Stephen, by probably about three hundred pages.

Posted By: Heather

-

April 30th, 2010 12:58:45 pm EDT
Amazing book. Filled with so much thrillers and chills in it.

Posted By: Anonymous

-

March 29th, 2010 3:19:02 am EDT
I just finished reading this book. I thought it was great, good sense of humor throughout a very serious situation. I believe Stephen King issued a warning in the beginning of Pet Semetary - I personally thought this book had much more frightening and shocking concepts. I loved the references to some of his other works, i.e., The Shining, IT... What more could you want, love, sex, blood, and 'becoming'.

Posted By: Juju

-

March 23rd, 2010 1:42:24 pm EDT
this book is amazing... i wrote about it on my english mcas (10th grader here) and i love this book. they should make an updated movie on this because i would watch it over and over again... ;3

Posted By: Anonymous

-

March 9th, 2010 12:17:54 pm EST
The Tommyknockers should be published as an unabridged audio book.


[This title, read by Edward Herrmann, will be available May 2010.]

Posted By: RoseRed

-

January 30th, 2010 11:05:05 am EST
Talk about an awesome book...with plenty of thrills, chills, and spills, this is one amazing novel.

Posted By: Somy

-

October 18th, 2009 2:11:17 am EDT
one of S.K's many books i've read.a week after reading it,one day i woke up from my nap, with a headache and having dreamed of loosing three teeth.gave me real chills.

Posted By: Brady12

-

September 29th, 2009 7:32:32 pm EDT
This is another awesome novel. I like the nod to IT. Cant wait to start my next S.K. novel.

Posted By: Tomo

-

September 12th, 2009 11:56:23 am EDT
this book sounds good heard its really gory but the plot sounds good

Posted By: Boatgrl1975

-

June 20th, 2009 8:55:52 pm EDT
This was the first Stephen King novel that I ever read, and I've been hooked ever since. I was 12 years old and picked it up while staying at a friend's house after school. It didn't take long for me to get sucked in to the world of SK. I am proud to display my SK collection to anyone who peruses my book collection, however this novel will always be near and dear to my heart since it was my first.

Posted By: The_Max

-

June 16th, 2009 4:08:51 am EDT
I have a theory after reading this book. Could it be that the people in Haven ressurected the killed Pennywise like they did the aliens? Derry isn't far away from Haven and even if Pennywise didn't die in IT, the year doesn't seem to fit his periods of sleep/wake. maybe?

Posted By: David Squyres

-

May 12th, 2009 2:33:29 am EDT
Recently watched the mini-series and loved it. It got not so good reviews, but I thought it was great! Loved the idea of digging up a space ship. Started the book . . . again . . . and again could not get deep into it. If King gave us a re-edited work of this, like he did with the stand, I think it would snap.

Posted By: Andrew

-

April 9th, 2009 11:55:57 am EDT
I don't see the problem with this book. The Talisman was fantastic and I think one of the reasons people don't respond to it as well as The Stand and IT is because you never really know who the hero is. You have Gardener who is sort of the hero but it still digging up the spacecraft with Bobbi and then you have a few other rebels who try to stop things and end up getting killed. You never really knew who you had to root for but I still devoured it like all his other books. And when I found out it was all an unconscious metaphor for King's alcohol abuse, all it did was give me a greater understanding of the book and of the man himself.

Posted By: Steel

-

March 26th, 2009 1:57:53 pm EDT
Great read. As usual, King creates a tapestry of interesting characters and slowly escalating drama / tension. I thought the ending was good too (unlike some King stories where the ending left me disappointed).

Posted By: SweetSuzy

-

March 16th, 2009 8:02:21 pm EDT
just finished reading it,and i liked but its not one of my favorite like the dark half. i think one of the reason is that its more science fiction, contrary to desperation and the dark half, which was more unnatural horror. but more the fact that not much is going on in 200 pages, unlike the previous novels. but im talking rubbish, this is still a really good one, and i really enjoyed it, gard is best

Posted By: Corey

-

March 14th, 2009 6:37:35 am EDT
I'm sorry but I felt that The Tommyknockers weren't that good. It was hard to get into it.

Posted By: Nahyan

-

January 14th, 2009 3:43:17 am EST
Watched the movie. Was bored to death and decided to skip this novel. However i am currently reconsidering and might just make the effort to read it.

Posted By: Mark

-

December 18th, 2008 1:45:31 pm EST
i'm a huge H.P. Lovecraft fan, i think The Tommyknockers is a fitting tribute to the man who influenced KING first. To be fair to King his own work is genius as well, although i'm not a constant reader of his works, i most certainly am an Occasional one. as long as king can spin a good yarn i shall be there to read it, well from time to time. :-)

Posted By: Robot_man

-

September 29th, 2008 12:30:14 pm EDT
Loved this book. Really got me through my exams....

Posted By: Anonymous

-

September 16th, 2008 12:52:43 am EDT
this book is in incredibly imaginative and king is very odd but chanels it very effectively

Posted By: Ali

-

September 10th, 2008 10:01:34 pm EDT
I hate to be the party pooper but uhhhh Stephen King is really not all that... I meannnnn.... :-)

Posted By: Sylvanna Rayne

-

September 9th, 2008 10:46:19 pm EDT
This was the first Stephen King book I had the fortune of reading. I was about 11 or 12 ::Looks down at the other posts, seems to be a trend :D :: when I read it, and I swear that if King's comment on writing being like telepathy is not true, than nothing is. I was in a horrible situation at the time, and this book served as a gateway. The storyline applied to my life in its own personal way. Just like I knew there had to be something wrong with environment around me, so did the characters. It reminded me that I could be right in a world saying I was wrong. I hope Stephen King never forgets how vital his imagination has been in giving lonely souls a place of respite; One that takes them away but feels 'home' at the same time. 26 and still a dedicated reader - I'm with you Ali'sgirl!

Posted By: Ali'sgirl

-

August 24th, 2008 12:21:26 am EDT
this was the book that started the madness, i was 11 when i read the tommyknockers,my first king novel.now 25 and a dedicated reader of stephen king,

Posted By: Stresstreet

-

August 23rd, 2008 5:24:55 pm EDT
VOICES IN MY HEAD...

Posted By: Rjt65

-

July 24th, 2008 11:56:34 am EDT
Just finished (yet another re-read) this book. It gets better after every read.