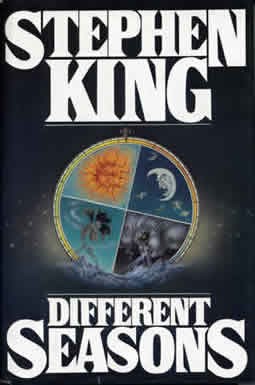 Fan submitted reviews of Body, The (Novella):

Posted By: Rosie

-

November 6th, 2012 6:41:19 pm EST

The Body is such a beautiful novel. I could read it again and again!

Posted By: Stu

-

December 12th, 2011 1:50:05 am EST

I started off a bit detach, by the end was completely tach

Posted By: Anonymous

-

November 29th, 2011 6:47:03 pm EST

The book was extremely good and the movie was also good but strayed a little from the story line in the book though some parts made me crack up laughing in both. Amazing book and we are actually doing this book in my Lit&Film class :D

Posted By: Friendship .

-

October 15th, 2011 9:31:07 am EDT

This book has a movie called stand by me . Or sould i say a great movie . I never read this book , but if what they say its true and the book is always better then the movie , i just cant wait to get started . The movie actually show's the meaning of true friendship of standing by each other , something that today is rearlly seen . Do yourself a favor and watch this movie and i gurntee you'll LOVE IT .

Posted By: Justin Shanahan Santos

-

September 19th, 2011 8:07:46 am EDT

I thought the move was fantastic. I haven't read the novella yet. I assume it doesn't go far away from the novella like typical movie adaptions do.

Posted By: Katydid

-

July 21st, 2011 9:59:50 am EDT

I absolutely loved "The Body"; one of Stephen's best short stories; and that's saying something coz they're all great! What makes this story a standout is i) Stephen's ability to write from a child's perspective; I don't know of another writer who stays in touch with his 'inner child' like SK, and ii) this story is not beyond the realms of real life experience; most of us knew kids like Teddy, Vinnie, Chris and Gordie when we were at school, and embarked on similar sorts of adventures, especially small town kids like myself. Loved every word of it - the film is great too - cast is terrific, especially the late River Phoenix as Chris.

Posted By: Alice Corbett

-

May 27th, 2011 10:11:22 am EDT

this is the best, for me... I just loved it. I had seen the movie on TV when I was a kid, and didn't even know it was based on his work... He's a genius, I really admire his technique

Posted By: Unique

-

November 15th, 2010 2:28:30 am EST

impressive

Posted By: Unique

-

November 15th, 2010 2:25:50 am EST

I think it is nice

Posted By: Woow

-

November 12th, 2010 4:31:20 am EST

FAIL FAIL FAIL FAIL FAIL FAIL FAIL FAIL FAIL FAIL FAIL FAIL FAIL FAIL FAIL FAIL FAIL FAIL FAIL FAIL FAIL FAIL FAIL FAIL FAIL FAIL FAIL FAIL FAIL FAIL FAIL FAIL FAIL FAIL FAIL FAIL FAIL FAIL FAIL FAIL FAIL FAIL FAIL FAIL FAIL FAIL FAIL FAIL FAIL FAIL FAIL FAIL FAIL FAIL FAIL FAIL FAIL FAIL FAIL FAIL FAIL FAIL FAIL FAIL FAIL FAIL FAIL FAIL FAIL FAIL FAIL FAIL FAIL FAIL FAIL FAIL FAIL FAIL FAIL FAIL FAIL FAIL FAIL FAIL FAIL FAIL FAIL

Posted By: Dave

-

October 20th, 2010 12:43:00 pm EDT

Usually Stephen King is called horror-writer, yeah He write mostly macabre stories this is King's speciality. He just can to make good horror stories, but he can just as good write horror as drama. Actually I think but not only me, that Stephen King is One of the greatest drama writers. I bought Defferent Seasons one hot july, I just wanted to read something different. And I was surprised well. This story remind me about my childhood ( not the part with the body ) , very strong feelings which make you to think about life and the hardest things you hide inside of you. Very touching and alive, when I was reading it I just cried at moment, that I do not really often. Incredible sad and interesting story by one GREAT man and writer

Posted By: Anonymous

-

October 6th, 2010 6:13:28 am EDT
Stephen King is Great writer! "The Body is a story which you have to read if you want to live through childhood and the problems which pesue maturity and mostly the real friendship!

Posted By: Anonymous

-

July 12th, 2010 10:50:33 pm EDT
I am 17 and about to go off to college. I saw Stand By Me and was completely captured and brought back to my youth. After this, I was dying to get the novella and when i got it, i read it in 3 days (the fastest I have ever read anything in my life). It captivated me from the moment I started it and I loved every page. It never got boring for me, and brought much more detail in than the movie and helped me understand the characters more and feel for them more. Absolutely AMAZING read, and one that will stick with me for the rest of my life!!!!

Posted By: Anonymous

-

July 11th, 2010 8:17:13 pm EDT
Stephen King rocks!!!!!

Posted By: Faith Dowell Too Hard To Find And Expensive

-

July 11th, 2010 8:15:00 pm EDT
I am 13 and have read just about every stephen king book there is, exept for the body.I have no idea while they didnt just call the movie the body I went crazy trying to look for stand by me as the book!When alas I found out by watching stand by me that its called the body .So I spent like 6 months trying to find the body plus the 1 looking for stand by me.I went to every book store in Indiana drove, my parents crazy,and texted for the first time trying to find this godly book.So this is so off course but I texted chacha,its like a number to text for answers to longly wonderd questions and askd him where in the world could I find The body by the mastermind behind the curtain Stephen king. He replied Try amazon.com.So I did,and it was 70.00 dollars for paperback and 140.00 dollars for hard cover used!!!!!!!!!!!So I told my dad that and he was like "well try ebay" so I did and the longing to my life right there and it was only $1.99 I just about peed my self!So I spent all day trying to find out about how to bid on ebay,now I doneven know if im even going to get it!Although who ever put that this book was lame he better b happy that he did read it and he is so wrong none of stephen kings books are lame! Also to the 12 year old that said he was going to find it and read it liked your story you sound just like me so when I am done he can read mine!!!!!

Posted By: S.K.Rules

-

July 4th, 2010 11:04:24 am EDT
I loved this novela mostly because I can relate to it (no the looking for a dead body part though). great read.

Posted By: Anonymous

-

June 15th, 2010 4:18:42 am EDT
LAME LAME LAME LAME LAME LAME. i had to read it at school so BORING BORING AND GAYGAYGAYGAYGAYGAY LAME!

Posted By: Cantwaittoreadit!!

-

April 9th, 2010 6:35:03 pm EDT
I am 12 years old and i love to read ! this movie was amazing ! i little bad (lol) but amazing ! If you havent seen the movie, GO TO THE FREAKIN BLOCK BUSTER AND GET IT !!! But Gordie's story really touched me . I really emotionally connected with him . He was wonderful ! anyway, i love to read and i am gifted in reading and writing so im gonna get this book and read it ! Some people might think the boys and their journey for the dead boy is stupid and/ or pointless . But it's much more than that . It is a truely thought prevoking story and very heart felt . If you put yourself in Gordie's postion or Chris's postion you'll find yourself crying through the movie )= and the fact that Gordie is completely invisable in his parents eyes or that Chris is a "no good Chambers boy" in the eyes of his community would be really hard to live with . The fact that these boys look to each other as a comfort zone is touching to me . And he is so right when he says "i've never had friends like the ones i had when i was twelve . jesus, does anyone ?" If I could cry on the shoulder of one of my friends and have them comfort me, i better be pretty upset about something . Its wonderful when they feel as though noone else is there to listen and understand them, they've got the gang! =)

Posted By: Anonymous

-

January 17th, 2010 2:38:52 pm EST
When I read this book I loved it since the very firts page, I love the characters!! very good book, the movie (which I saw after reading the book) is also good, but the book is much better

Posted By: Anonymous

-

January 6th, 2010 1:37:35 am EST
When i was twelve my brother was born, a life altering event. Now I am twenty-four and he is twelve and our parents are about to get a divorce, a life altering event. I am the "intelectual," he is the "leader." Its always interesting to hear stories that put me and my brother in the same age group. Ive been watching this movie for ten years, just tonight I saw it from beginning to end for the first time. I look forward to reading the short story. I will recommend that my bro reads it too (he can discover the movie on his own).

Posted By: Marino

-

August 27th, 2009 2:32:08 pm EDT
When I saw the movie and in the ending credits i found out about a book i was thrilled i loved the movie and i cant wait to read the book expecting it to be 100 times better =)

Posted By: Siobhan Riley

-

August 3rd, 2009 12:31:23 pm EDT
Having watched the movie and read the book, I can assure you that you will grow an emotional bond with one of the characters. This book is entertaining to read, for all ages. One of my favourite reads recently.

Posted By: Stephen McCall

-

May 31st, 2009 3:39:26 pm EDT
I have seen this movie many times and loved it! The only problem is I want to read the book, but i can't find it anywhere! So will someone please help me!


[You may be looking for the wrong title. This novella is not a stand-alone book; it is part of Different Seasons.]

Posted By: Quendy

-

April 28th, 2009 6:32:21 pm EDT
I haven't read the book yet, but can't wait. I have seen the movie 'Stand By Me' numerous times. I love the movie, even before I found out it was based on a book by King.

Posted By: Victoria Schmitt

-

April 20th, 2009 10:46:50 am EDT
Its a interesting aventure Story, my first King Story. But its a little bit too boring. My teacher looked my with big eyes asking me abaut. We read it at englisch lesson.

Posted By: Pauluk

-

April 19th, 2009 9:29:47 am EDT
Well, first I saw the movie. I didn't know it was based on SK's work. Only end titles let me know about it. So, I extremely wanted to read THE BODY. So I did it and I love it.

Posted By: Anonymous

-

December 27th, 2008 3:49:52 am EST
help me!!!! i really want this book buti cant find it ANYWHERE!!!! i saw the movie and it just makes me want to read the book, i can only find audiobooks or books on the movie but i want the actual book, so i can read it at school in my spare time. like after im done with an assingment, please help! thanks
[NOTE: The story is part of the book titled Different Seasons. You should be able to find it under that title.]

Posted By: Rjt65

-

July 24th, 2008 5:38:52 pm EDT
The Movie was (Stand by Me) based upon this short novella/story from the Different Seasons compilation. But his fans know the character development and decision making is as important to SK stories as horror themes. this story really explores what it is like to be 12 years old. agreat tale of friendship and issues with Big bad brothers!