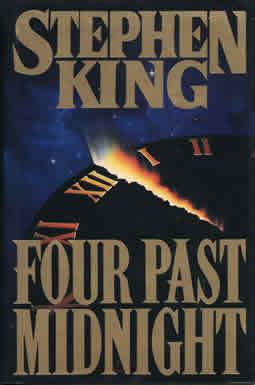 Fan submitted reviews of Secret Window, Secret Garden (Novella):

Posted By: Ernie

-

November 18th, 2012 10:43:21 am EST

I've got to get the book now. The movie left me with the impression that everything was what a writer might go through in his own mind to write such a story so that nothing was actually real. Instead of method acting, I guess sort of a method writing. The secret window being where he kept his own sanity or vice versa, his writing.

Posted By: Annie

-

June 18th, 2012 5:15:47 pm EDT

I saw the film "Secret Window" with Johnny Depp first and then decided I would hunt down the novel since i enjoyed it so much. The story was the same for the film and the novel, right down to some of the dialogue! I was really shocked at the ending of the novel since it differed to the one in the film, however, it was a good twist and I enjoyed it nonetheless.

Posted By: #1 Reader

-

April 4th, 2012 11:20:34 am EDT

I thought that stephen kings novel, Secret Window, Secrte Garden, was a very interesting story. It explains, very well, the insanity of a well known author, Mort Rainey.and how he thought that John Shooter was a real, and fysical human, but really he was just a figment of his own insanity, an imagination. I thought that the story was a very well thought up one indeed. The general climax, the idea, the suspence, is what makes it a very good story. And it also makes it very essy to tell that its indeed a Stephen Kings novel. I liked the ending the best. After all that is the most important part, is the ending.

Posted By: Ms. Lovett

-

June 15th, 2011 9:35:14 pm EDT

I ABSOLUTLY LOVE ALL OF STEPHEN KINGS WORK ....... HE IS ONE OF MY FAVORITE AUTHORS........

Posted By: Gemy

-

May 26th, 2011 2:48:53 am EDT

was a very nice movie i've been watching it for more than 4 times i love all of his work actually is so talented

Posted By: Bguy85

-

February 5th, 2011 2:19:12 pm EST

I just finished reading this novella. At the beginning of "Secret Window, Secret Garden," there is an introduction by Stephen King. The introduction was where the novella's conclusion was given away, in my opinion. It was the only explanation that made any sense. I still enjoyed reading it though.

Posted By: S.K.Rules

-

November 28th, 2010 9:35:58 am EST

-*SPOILERS*- I read this story (I had seen the movie before it) and enjoyed it but I felt it reminded me of shawshank, the movie was better and the story gave the ending away, like on shawshank when andy gets a roommate and he says there's a draft in this when the speak to Tom greenleaf he asks himself and the other guys asks him if maybe he imagined him. The movies were better.

Posted By: Toni

-

November 11th, 2010 8:55:53 am EST

I have not read the book, but I have seen the movie more times than I can count! I love all of your work and think that you are brilliant! I wonder how you come up with some of your ideas because they leave me on the edge of my seat. You keep cranking out brilliance and I would be more than happy to keep reading/watching.

Posted By: Anonymous

-

August 3rd, 2010 8:38:03 am EDT
I saw the movie adaptation of your writing the Secret Window starring Johnny Depp on tv Sunday and I was captivated. Mr. King, I have read and seen films of your work before, but this was really spellbinding! You are truly one of the most gifted authors of our time! A fellow New Englander

Posted By: Alex

-

February 16th, 2010 4:52:13 pm EST
@ Marco - This short story is the second story in the book 4 Past Midnight

Posted By: Marco

-

November 12th, 2009 3:52:23 pm EST
I only have seen the movie "Secret Window" ("Das geheime Fenster" in German) and I loved it, Johnny Depp was godlike. But the story was even better. I would love to read it, but I can't find it. Greetings from Germany!

Posted By: Librarygrl

-

August 11th, 2009 5:11:12 pm EDT
Hello- In preparing a book order for my library today, I read a review of Travis Thrasher's GHOSTWRITER. The first thing I thought of was the movie "The Secret Window" which of course is based on SK's short story. Not sure if there's plagiarism here or not but the premise is awfully close. You can read a review for yourself on Amazon: http://tinyurl.com/o2gsbc Michelle in Milford, NH

Posted By: Deleeches

-

September 15th, 2008 7:37:31 pm EDT
I unforunately had to have my ending spoiled but the reading is great, ive busted out laughing in class and gasping. this book is a total rollercoaster and great for school projects