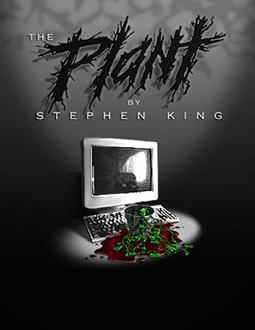 Fan submitted reviews of Plant: Zenith Rising, The (Other Project):

Posted By: Kate626pa

-

July 5th, 2012 10:23:09 am EDT

I couldn't put them down was staying to finish each installment of the plant awesome

Posted By: Vic From NC

-

July 3rd, 2012 8:53:52 am EDT

I just want to know when this will be finished I was one of the few who actually paid for this online would have to the whole story

Posted By: Kim

-

May 30th, 2012 2:00:01 pm EDT

Finish it already!!!!!!!!!!!!!!!!!!!!!!!!!!! I enjoyed this story and have resented it hanging in space for these 12 years! Get it together please and finish it. I started reading SK with Salem's Lot (when it was first published) so I qualify as a Constant Reader for sure. Best regards, Kimetha Howard

Posted By: Amylyn63

-

May 27th, 2012 10:41:49 pm EDT

i had downloaded this when it was originally released, is he ever going to finish this and can i download it again...if so do i have to pay again if possible to download. I enjoyed what he had written and was hoping one day he would finish. Thank You Amy Besse

Posted By: Joe4truth

-

March 27th, 2012 8:48:57 am EDT

I started writing a book about plants too. Have some good ideas . Over tens years ago I was writing about the same subject and discovered your writing. If you are interested on a new idea for the story, let me know. Thanks for all your writing that you do.

Posted By: Renato Barbieri

-

February 27th, 2012 3:33:54 pm EST

Loved it. Couldn't put it down. What a cracker! And then? And then there were none. I refuse to believe that our dear Stephen will let us all, Constant Readers, looking at the skies, hoping for a miracle: "The Plant" will be finished; I pray for this every night! You said it yourself, Mr. King: "It's not finished; it's on hiatus". OK. We've all been very patient, but it's been a long hiatus, don't you agree? Publish it as en ebook on Amazon, complete or in instalments, I don't care, as long as I get to read it from beginning to end. Real end!

Posted By: GyGeek

-

December 14th, 2011 9:48:32 pm EST

Bought all parts hoping to read it when it was done. Still haven't read it.

Posted By: Baumifer

-

December 13th, 2011 2:01:55 am EST

Mr. King, I was looking at your site today to see if there were any new posts for 'The Plant' e-book. It seems that this project has been trunked for now. Do you have any plans to continue 'The Plant?' Or are there not enough honest people left in the world? I am one of your Constant Readers; I would be remiss to say that I am your 'number one fan.' I have been reading your novels and short stories for over twenty years and you have inspired me to put ink to paper myself. I started writing my own book this fall; I look forward to seeing where this adventure takes me. I have yet to find an agent or a publisher...all in good time. I look to you and Stephen Donaldson as writers to aspire to follow. Thank you for everything that you have written over the years. Sincerely, Jennifer M. Anderson-Copeland, CPA

Posted By: No One

-

August 26th, 2011 8:50:00 pm EDT

Would it kill you to finish this as a gift to your loyal fans? or has the quality of your life been so diminished by the 25% of the people who took the first installments free (50% when you doubled the price) that you must punish your fan base by dangling this unattainable carrot in front of their face for all eternity (well, at least till you shuffle off this mortal coil). Finish it, gift it to your fans. It can only add to your already highly-esteemed literary status. Throw a dog a bone already.

Posted By: Anonymous

-

August 26th, 2011 8:39:19 pm EDT

It's a great build-up... does it have a good ending? Will it ever become a completed work? Enquiring minds want to know! I was reading "The Plant" when I came to discover it would not be completed... so I stopped reading it. Though quite captivated, it seemed pointless to continue something that was discontinued so abruptly. I have had hopes over a number of years that I may one day return to a complete version of this novella. This part of your website... is just a reminder of the nagging void your unfinished has work has left in my brain and... ...This "Community Thought:" has not yet been completed. If the inspiration does return, at some time in the future it may be finished; but then again... maybe not.

Posted By: Sierra

-

April 23rd, 2011 10:31:34 pm EDT

welll I just lovee stephen king, but iam haveing a hard time sticking with it what should i do?

Posted By: JDSwanny

-

August 11th, 2010 8:34:02 pm EDT
I paid for all six installments, $9 (the last three installments were $2), and I had to pay to print it myself as well (this was before eReaders) ... for a book you've never finished. I still haven't forgiven you. ;-)

Posted By: Hot4king

-

July 15th, 2010 12:40:42 am EDT
I was just out of high school when these installments were being released. I read them at my desk (pretending to work). If I remember correctly, they were $1? I think about this often. It might be the most influential story I have "started to read" (not sure if it is because we were left hangin or because it was THAT good). I can only hope this story speaks to you again SK. Anyway, thank you for all you have done for me The Dark Tower and the Tallisman changed my life.

Posted By: Jzap

-

January 27th, 2010 7:52:34 am EST
stephen kings the greatest eva,just finished the book christine and went out to get another king book, i ended up buying the girl who loved tom gordin and its a crazy book,i like it.

Posted By: Dave

-

August 10th, 2009 12:23:26 pm EDT
I was recently cleaning out some old shelves and found my dusty copy of "The Plant". As I recall this was Stephen's way of saying "up yours" to the publishers by selling directly to his "dear readers". I think he went he left this project to work on the Talisman sequel which was great news...at the time. While I admire the senitment...but by not finishing The Plant it seems like the reader ultimately got cheated. Please finish this before I run out room to store the first 6 installments!

Posted By: Deb

-

August 5th, 2009 11:15:32 pm EDT
i bought and paid for the entire 6 parts and really wish you would finish this - I even put each page in plastic savers and put in a notebook so it would not get ruined.

Posted By: Kristy

-

February 21st, 2009 7:49:23 pm EST
I have all the parts that were available sitting in a tote, collecting dust, and would love it if you would finish.......

Posted By: Molly

-

October 14th, 2008 6:42:27 pm EDT
I was 7 years old when the parts were downloadable. Of course, eventhough I was exposed to the internet, I was not exposed to Stephen King. I've read so many thoughts about this being Mr. King's best work. I've read so many of his short stories and novels. I WANT TO READ THE PLANT! Please finish it, Stephen. Or let the parts be downloadable again? One of the youngest fans, Molly

Posted By: Vanessa791

-

September 21st, 2008 2:57:42 pm EDT
PLEASE finish this asap!!! I paid for the 1st 5 downloadable installments several years ago thru SK's honor system, but somehow missed the 6th installment & really want to get the entire finished product. I have been waiting patiently, Steve. It has been 8 years now!!! Your "Biggest Fan" >;-)

Posted By: Raistlin

-

September 8th, 2008 10:57:07 am EDT
Where can I download the first chapters of this book??




Posted By: Jo

-

September 6th, 2008 11:02:13 am EDT
Am I reading this right? There is a Hardcover? I have it all downloaded on an old Rocket EBook, but can't locate the charger!

Posted By: Eileen

-

August 19th, 2008 7:59:36 pm EDT
Please ask Stephen King to finish this story. I have been waiting a long time to find out what happens. Thanks

Posted By: Pixzy

-

August 12th, 2008 5:01:18 pm EDT
8 years ago, Stephen said he would get back to "the Plant" in 2 years. "The Plant is not finished on line. It is only on hiatus." I have just re read the 6 parts I have, and think it is one of King's best stories. I really wish he would finish it. I don't care if it is online again or in book form, I just want to see how it ends. I think he owes us readers that much.