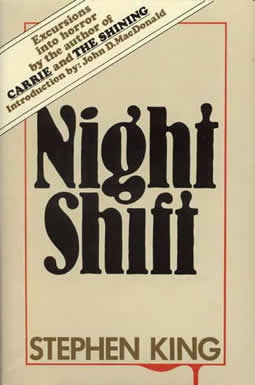 Fan submitted reviews of Boogeyman, The (Short Story):

Posted By: Dom

-

November 21st, 2012 10:29:58 am EST

I totally agree with Fen, I've always been a Stephen King fan, but none of his stories really terrified me. They are creepy, dont get me wrong, but not terrifying. This one is.

Posted By: Cannonball

-

July 17th, 2012 10:11:55 pm EDT

This short story has a great twist ending. It will linger inside of you for a very long time after reading it. It reminds me of the stories from the E.C. horror comics of the 1950's. Very creepy.

Posted By: Fen

-

April 24th, 2012 8:02:01 pm EDT

I always laughed at the idea of "real" monsters since I know they aren't, and knowing that kept me unafraid of them (Besides It, which I will not read for a long time). The Boogeyman, however, caught me off guard, namely from Andrew onwards, and my heart stopped at the end. This is my 14th King book and the first one that legitimately terrified me.

Posted By: Echo

-

February 14th, 2012 7:48:05 pm EST

One of the few short stories by _anyone_ that has ever scared me. I make sure all my closets are shut tight now!

Posted By: Jboy

-

October 20th, 2011 4:53:26 pm EDT

I read this book in 6th grade and from then on end I still keep my closet light on.

Posted By: Leigh

-

October 17th, 2011 4:46:34 pm EDT

All I can say is that I read this book when I was a teenager; when I finished reading "The Boogeyman" I was in my bedroom on the 2nd floor - I was so scared I screamed until my mother ran upstairs to see what was wrong, and my CLOSET door had been open!!!! To this day, and I'm 46 now, i CANNOT sleep with the closet door open, my kids all laugh at me, they're 22, 20 and 15, and they all know how scared I am to this day of the Boogeyman, all cuz of STEPHEN KING!!! Keep 'em coming!!!

Posted By: Anonymous

-

May 10th, 2011 2:22:59 pm EDT

As the daughter of a literature teacher, I read a lot at an early age. I was 10 when I read this story and now, more than 3 decades later, I *STILL* will not go to sleep unless every closet door in the house is closed and latched. What better incentive is there to read this story???

Posted By: Adrian Z.

-

May 5th, 2011 8:42:33 pm EDT

Embarrassing to say this but...I'm 16 and I check my closet and behind my bed every night for, well...monsters! (don't judge me who hasn't done this once or twice.) not totally because of this book but because we've all heard of the stories of monsters lurking in our bedrooms, waiting for you to fall asleep then...well you know...anyways I forgot about checking my closet for a little while and then I read this story....started doing it again....no monsters....yet.....

Posted By: Livvy

-

March 1st, 2011 7:35:37 pm EST

Synopsis: A monster follows a man, killing people in his life.

Posted By: Tabatha

-

February 2nd, 2011 1:24:55 pm EST

This story is the reason why I am a grown woman and am still afraid of the dark and why I have to make sure closet doors are shut all the way. The first time I read The Boogeyman I was completely terrified, but I couldn't stop reading it. Even now, knowing how it affects me, I still come back to it from time to time and get freak out all over again.

Posted By: S.K.Rules

-

July 3rd, 2010 10:15:49 am EDT
really creepy storie this one had me in chills. great read.

Posted By: Misery Knight (Seb Shaw - HND Media Student)

-

April 19th, 2010 4:35:47 pm EDT
My favorite story so far from the night shift collection, but it is by far the creepiest, darkest and scariest... A new fan of Mr. King and I am to read all of his books, and see of the movies... over and over and over....

Posted By: Fat Bottom Girl

-

October 17th, 2009 10:33:33 am EDT
someone had the bright idea to let me read this when i was 11,scared the shit out of me,to this day my closet is spotless and the door left open so nothing can sneak up on me. i dont have to tell you the fear i had when my kids were babies. thank you mr. king for terrifying me for the last 27yrs. i love ya

Posted By: Sib

-

October 13th, 2009 9:56:23 am EDT
My thoughts about this story are different. i never really like these types of story till my teacher Ms. Doyon started making us read them in english class im a senior. this story was well written had a lot of character to is which i really liked a lot hope you have more work like this. lauren sibley

Posted By: Scott

-

September 11th, 2009 11:58:53 pm EDT
I've read a lot of Stephen King, HP Lovecraft, Clive Barker...and this scared/disturbed/horrified me the most. Goes to show that you don't need excessive blood & guts to scare people.

Posted By: Soko

-

September 8th, 2009 2:01:17 pm EDT
The best

Posted By: Gordomungo

-

September 7th, 2009 9:04:45 pm EDT
very scary one of stephen kings best short stories

Posted By: Rachel

-

June 14th, 2009 12:44:34 pm EDT
Killer short story! One of my favorites by King. Ending ruled!!!!

Posted By: Bernie

-

May 15th, 2009 1:32:46 am EDT
I read this when I was quite young. Afterward, during the day of course, I cleared my closet of everything and kept it open constantly.

Posted By: C.S.

-

April 12th, 2009 11:57:50 am EDT
This is definitely one of the creepiest stories I've read, and I love the ending!

Posted By: Amanda

-

March 2nd, 2009 7:09:10 am EST
This short story is one of my absolute faves from King! I'm not scared that easily but damn this story always gives me the chills!

Posted By: Vicky_Sue

-

February 13th, 2009 2:32:16 pm EST
When I read it ( I was about nine years old at the time), I couldn't sleep for a week or so. And after that I slept with lights on for a month. Never will I put closet in my bedroom.

Posted By: T

-

January 2nd, 2009 9:48:40 am EST
I can't sleep. Never again. Read the whole Night Shift book. Ever. T- 12 yrs old.

Posted By: Deane Shafortock

-

October 1st, 2008 3:47:53 pm EDT
I was so terrified when I read the ending...it gave me a couple of uncomfortable nights alone in my bedroom.

Posted By: Tmq13

-

August 3rd, 2008 1:23:29 am EDT
The scariest damn story I've ever read! It has traumatized me. I'm still scared of the Boogie-man in the closet at 30!