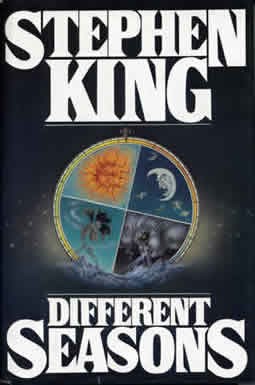 Fan submitted reviews of Different Seasons (Story Collection):

Posted By: BrettC

-

December 24th, 2012 1:15:52 pm EST

This collection is a superb classic, I loved "Rita Hayworth and Shawshank Redemption" the most (I believe almost everyone does), after all, it DID inspire one of the most beloved movies of all time! In case Mr. King is reading this: thank you so much for blessing us with such joy.

Posted By: Blanche

-

December 22nd, 2012 12:47:03 am EST

I read this book for the first time in summer of 1985, I wanted so much for "The Body" to be turned into a movie and poof a few short months later, there it was, on the big screen! I love this as much as To kill a Mockingbird, both written and the movie version. My little one Annabel (aged 9) also loves it and watches it back to back as often as she can. I am happy to see that A Winter's Tale will also be coming to the silver screen, hope it is as good as the other three stories.

Posted By: Pervez

-

October 19th, 2012 6:53:59 am EDT

I like your books and thinking

Posted By: BrettC

-

September 23rd, 2012 3:58:00 pm EDT

i have this book in an original, barely used, hardback from the year it was first published, i have already read it and it was amazing! the film adaption of rita hayworth and shawshank redemption was very well-done film and one of the greatest films ever made! i still would have suffocated if i tried to crawl through 500 yards in a smile pipe full of poop...

Posted By: Jbosu28

-

July 22nd, 2012 1:48:19 pm EDT

This book was a very memorable. I read it well serving a 6 month jail sentence in county jail. I won't mention my crime here but it was non-violent and Ive since turned my life around. I remember reading the story that shawshank redemption was based on. I had seen the movie before but in jail the story took on new dimensions and the message of hope in the face of discouraging odds helped me get through that dark time a better person.

Posted By: Scott McAdams

-

July 7th, 2012 10:05:27 pm EDT

Miami South Beach, 1984- Sunday at the beach, 25 yr. old doing a solo. Cooler 8-10 Heinekins "Different Seasons" softback. Read 3 of 4 offerings without pause, and mused " I just KNOW that these could will make great movies, and someone else will make them . If only..." Soon, prediction realized for the first two. Later, "Apt Pupil" pops up on screen. Fine productions, these, that almost (but not quite) fully exhibit the phenomenal writing prowess of Mr. King. "Red was here too."

Posted By: John

-

March 15th, 2012 8:16:08 pm EDT

AMAZING. This book truly shows that Stephen King is not just a horror writer but a truly great author in different areas as well. Amazing book.

Posted By: JJ

-

December 26th, 2011 10:09:05 am EST

Just had to look it up because my husband and I could not recall the fourth story. I am reading Four Past Midnight now for the second time. I really love the intros. King's voice when he writes to "constant reader" make me feel like we could sit down on the back porch and shoot the shit all day. Thanks for being a storyteller.

Posted By: John G.

-

November 29th, 2011 11:38:31 am EST

Excellent work. This one helped me to fill in several hours while detained in a juvenile facility. Not a terribly proud thing to say in public, yet so very true. Mr. King saw me through many a day behind bars, and razor wired fences.

Posted By: Vallarfax

-

September 3rd, 2011 8:11:04 pm EDT

This collection was worth reading. I am personally attached to the stories. My favorite novella in this book? ALL of them. Keep 'em coming! :)

Posted By: Vince LoGreco

-

June 13th, 2011 11:50:28 am EDT

This is the book that introduced me to Stephen King. I have re-read it countless times and have recently found a hardcover of it at my local library sale. It is the most prized book in my entire collection. The Body and Rita Hayworth stand out as the shining stars of this book.

Posted By: Bigrick

-

May 14th, 2011 11:37:01 am EDT

Best book ever..ive read it about 20 times over the years..it never goes old...and 2 out of the 3 movies are great..Shawshank Redemption is still my favorite all time movie

Posted By: CrimsonPortugal

-

May 11th, 2011 5:15:39 pm EDT

A Marvelous colection of four novellas, every novella is bigger than life. This collection of novellas is a must-read for any person who recognizes what true literature is. Different Seasons showcases Stephen King at his best, showing that Stephen King isn't about cheap scares. 10/10

Posted By: Oana

-

May 10th, 2011 6:32:30 am EDT

I've never read something better than Stephen King. I'm just a kid but he definitely caught me in his web. I'm saving pocket money just to buy his books. Amazing..

Posted By: Anonymous

-

December 13th, 2010 10:40:34 pm EST

Apt Pupil is one of the reasons Stephen King is taking more and more room on my shelves - the darkness and descending plot of a young boy corrupted and an old man trying to forget his past, is absolutely a masterpiece.

Posted By: Anonymous

-

October 16th, 2010 10:33:42 pm EDT

the best by far of not only SK but of any other writer in his rank. I love these novellas and one of the reasons why I will continue to read SK for ever.

Posted By: Anonymous

-

October 7th, 2010 2:38:17 am EDT
This is one of my favorites. All of the stories in it are wonderful. I espacially like The Body. Stephen King is my favorite authors. He can write horror books like no one's business and can also write non-horror the same. I love you StepheN King, keep up all the great work.

Posted By: Treenat

-

July 26th, 2010 6:10:51 pm EDT
When I tell people that the amazing movie Shawshank Redemtion , is the masterpiece work of none other than the Master, Stephen King, people are surprised, alot of people think that his novel's are only about crazy clown's, and car's with bad temper's, but Stephen does have a softer side, which is why he is my number one Author of all time's. Keep up the great work, I've been an avid reader for 30 yr's, my fist book being Firestarter at the tender age of 9.

Posted By: S.K.Rules

-

July 3rd, 2010 9:43:24 am EDT
great collection of novelas my favs are the body and shawshank, which proves S.K. can write great story without it being horror (apart from the breathing method).

Posted By: Amanda

-

November 17th, 2009 5:11:13 pm EST
While I have read[and own] most of stephen king's books,this one somehow has remained unread. I will be finding it soon.

Posted By: Marc

-

September 27th, 2009 3:29:04 pm EDT
While I have not read many of Stephen's novels and having not liked the ones I did read, I was delighted by "Different Seasons." Specifically, "Apt Pupil" is a finely constructed and insightful character study that reveals the ugly face behind the fascade of smug American normalcy. My other favorite is "Shawshank," which is rich in character development and subtext. A bravura collection!

Posted By: Wolfgang

-

August 4th, 2009 5:33:12 am EDT
One of my favorite books. Ever. Each story is a masterpiece. And, in a fashion, there's more than four stories ... "The Revenge Of Lard Ass Hogan" is the funniest thing I've ever read. Personally, I think Rita Hayworth & The Shawshank Redemption is far superior to the movie too, as is Apt Pupil - the most shocking in the collection with a memorable ending. The Breathing Method is the only (slightly) low note after its intriguing premise.

Posted By: Anonymous

-

June 26th, 2009 4:50:35 am EDT
I loved this collection inspiring the most ingeniously written movie script ever. Thanks a heap =D

Posted By: Viking

-

April 19th, 2009 12:37:14 am EDT
Sorry for my english, This book was very good. I could stop reading it. All those novels were like a suite of only one story. I really appreciate ready that book. I am a big fan of yours. I read almost all your books. You always find the way to surprise me. I am 52 years old and I read a lot and I mean a lot of books about strange, macabre, and dective stuff. But, the way you wrote those story is a lot different of all I ever read before. There's only one other guy who was able to give me the same kind of sensation and it was Edgar Allan Poe and it was not in each book that he wrote because some of them were not that good. The way I see it, right now, you don't have competition. You are the only one that could describe a scene and give goose bump to somebody only because he is ready one of your book. Keep up the good work! Viking from Montreal, Quebec, Canada

Posted By: Britt

-

April 13th, 2009 10:28:35 am EDT
Even though there is only four short stories I think this is his best collection. I enjoyed every one of them so much that I can't even pick a favorite!

Posted By: PepperLouis

-

March 19th, 2009 10:24:25 pm EDT
This is a great collection of short stories. Three of the four wonderful stories were made into wonderful movies. However I believe that the story that shines the most is The Breathing Method. It is hands down the best of the collection im my opinion. It is a story within a story. I did not want it to end. I wanted to know more about the club and what was creeping around upstairs. Read it and you will not be dissapointed.

Posted By: Brodie

-

December 20th, 2008 11:27:22 pm EST
i personally thought the best novella in this was Apt Pupil, i found guite terrifing, ever since the bit where he puts the stray cat in the oven. I loved all the other storys. The shawshank was brilliant

Posted By: Katydid

-

December 9th, 2008 10:01:46 am EST
My 19 year old daughter asked me, while she was home on Thanksgiving Break, "where can I find the book 'Shawshank Redemption'?" I had to tell you that she wouldn't be able to find it. That it's actually a short story in a collection, not a book itself. Guess what one of her Christmas gifts is going to be?? I've been reading novels by Stephen King since "Carrie" came out as a movie. I've loved every one of them I've read and I still make a trip to my local library to pick up a Stephen King book. Thanks and Happy Holidays!

Posted By: Char

-

November 18th, 2008 9:29:53 pm EST
I loved this book. I was so pleased to see 'Rita Hayworth & Shawshank Redemption' and the 'The Body' become 2 of the greatest movies ever. Now I am including "The Mist" in that. I still have't read 'The Mist', but I am going to.

Posted By: Faysal

-

November 17th, 2008 10:37:13 am EST
omg! words cannot describe this book.. stephen king really showed his talent with this book.. i especially loved "the body"

Posted By: Dana

-

September 17th, 2008 5:45:55 am EDT
Great book. The first story left me speechless!