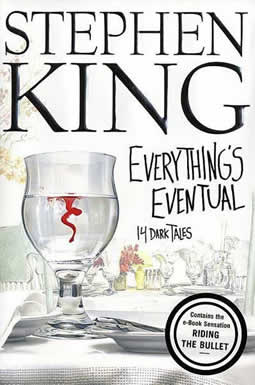 Fan submitted reviews of Everything's Eventual (Story Collection):

Posted By: Bailey

-

January 7th, 2013 7:56:06 am EST

Hello, my name is Bailey. I'm 15 years old. I love love LOVE Stephen King! I just got this book the other day and have read, so far, only Autopsy Room 4. I would like to comment on that story for just a moment: the story is wonderfully scary, told in a way only Stephen King could possibly have done, without a single detail being spared. It came to an unusually satisfying ending. I look forward to reading more of this book.

Posted By: Case99

-

December 26th, 2012 12:15:55 pm EST

The most wonderful thing about Mr. King is that he skillfully hides true literature under the cover of "pulp" horror stories. This collection was no different than the norm for King. I felt that the story "Lunch at the Gotham Cafe" pretty much summed up this theme for me....a truly heart breaking story about a divorced couple hidden under the veil of a psycho-killer yarn. In my opnion Stephen King is a true master of literature that will be remembered and respected right up there with Faulkner,Steinbeck,Hemmingway, and any otber old douche that comes to mind. I am 35 now, and have been reading king since i was about 10 (among a great many other authors), but i still look forward to any new piece King writing i can come across. I was not dissapointed with this collection...it was hands down one of the best i have ever read. Thanks again Mr. King!!!!

Posted By: Allie

-

June 28th, 2012 11:04:21 pm EDT

I always prefer to read his short stories as I too, as King stated in his intro, love being able to sit and bundle up and finish a story in one sitting. The short and sweet ones are I find, the most compelling to complete. I will never tire of his mind!

Posted By: Becca

-

May 21st, 2012 10:57:38 am EDT

Let me tell ya. This book is amazing, it really is. I am one of your young fans. Proud to be one infact! I'm 16 and love all of your books that I've had the chance to read. Thank you for making pho nominal books!

Posted By: Kemonea

-

March 30th, 2012 7:29:57 am EDT

I saw your name and was immediatly compelled to read this wonderfuly haunting book. i adore every last story in this collection. I myself enjoy reading ghostly tales, and writing them as well. Autopsy room 4 and 1408 have given me a flood of ideas.Thank you for these wonderful stories and influencing me even more to write. (Maybe i'll write something as wonderful as your marvoulus works)

Posted By: John

-

March 15th, 2012 8:10:03 pm EDT

Mr. King's short story collections never dissapoint, and this one is no different.

Posted By: Frank

-

February 14th, 2012 1:34:52 pm EST

I just opened Everything's Eventual to continue my journey through the wonderful world of Stephen King. Though the request he made in his Introduction is now 11 years old, I felt compelled to post here, as he requested. Because I must do what Mr. King "demands"? No, of course not! But because I was moved to do so! As is the same with millions of fans world-wide, I love his writing...it allows me to leave "the real world" behind for a while, and enter his. If anyone simply skips any of his "introductions" in his books, you're doing yourself a disservice. Mr. King, I've said it many times throughout this website, you are indeed a Master at your craft...short stories, novels...whatever you lend your talents to. I for one thank you for allowing us to escape into your wonderful works of art! Now this Constant Reader needs to get back to your book :-)

Posted By: Cloak

-

November 9th, 2011 9:41:42 pm EST

It is eventual, that is all that I can say about this book. Each story that I have read so far, has been more than wonderful, something great, and that I wish that I will never forget. There was not a single story within the book that I could say was my favorite, because they all were, because they all are, so instead of having a favorite short story the whole book is my favorite so far my Stephen King. It was simply eventual every stoery, even page, every word. Though I was sat at the thought on how many thins are now a lost art, but when things are lost they are ment to be found no matter how hard one must try to find them. If there is any book that I would read over, and over again till my death, it would be this book, as Stephen King would want it, it will make you laugh, make you cry, and at time both at the same time. Just another 'eventual' book by the greatest person I have come to known. and Stephen if you are readinf this, why don'y you try once again to make a lost art found? I would love to hear more about your feelings and thought, that was something, another thing that I had to enjoy about this book. your are not alone with what you said in the begining, even I would be disssapointed to know how many people achually read 'riding the bullet' and when I finish this I will explain how great it is. So enjoy this thought and a few rambleing from a 13 year old reader who has a goal to read all of your work, I am on my way, 11 down, a wonderful more amout to go.

Posted By: William

-

October 23rd, 2011 1:55:39 pm EDT

Mr. King, I am a 13-year old reader (and writer) from Kennebunk, ME. I read this exquisite collection of short stories for an English book report and was amazed. I absolutely devoured the book in about a week, reading in the morning, in the day, in free periods, after school, and sometimes even at night. I love the combination between the scary grotesque stories and the more wordy ones, not to copy what you said in your introduction. Even at 13, and only a few of your books down, I consider myself as your fan from a town about an hour away from Bangor. I absolutely love this book and all of your short stories, and will be avidly reading until I cannot anymore!

Posted By: Kohon

-

August 17th, 2011 12:15:32 am EDT

Very good storys. You did it again Mr.king

Posted By: Mitsi

-

August 4th, 2011 7:55:01 pm EDT

Dear mr King. I thing I'm your biggest fan in Greece and I have read everything that is published in greek. I must say I prefer reading novels. The bigger the story the better for me and I loved the "under the dome", which was satisfying long. However this collection of short stories is really awesome.I hope all of your work will be eventually translated to greek some day.

Posted By: Laura

-

July 9th, 2011 3:56:22 am EDT

***SPOILERS***

Dear Mr.King, Eight grade.My first S.K. novel: The Shining. My mother said I shouldn't so naturally I devoured it. I've since (now 47 years of age) read them all. And right now, I am in the middle of Everything's Eventual, and a tad pissed. Why did you have to kill Jenna? There was something so lovely about her. Am hoping at some point she will re-appear in the D.T. series. Oooo...I just realized I sound like the woman in Misery. ha! My all time favorite is The Stand. Not sure why, but to this day it stands high amongst the rest. Gerald's Game...you are twisted Mr. King, and I love you for it! That book, well....it gave me the creeps on many levels. I'd give my right boob if you would come to one of the book stores in Albuquerque, NM. Keep that young boy's heart on your desk. With great admiration. Sincerely, Laura

Posted By: Faceless Stranger

-

July 5th, 2011 6:36:01 pm EDT

autopsy room four. . . . ugh... had me waking up in the middle of the night screamin "i'm not dead yet" Score one for you Mr. King

Posted By: Anonymous

-

July 2nd, 2011 8:57:53 pm EDT

I really liked this book as well as all of his books .I have read all of them so far.

Posted By: EDGAR

-

May 24th, 2011 5:37:58 am EDT

IM READYNG THIS BOOK ON pdf FILE BUT ITS AMAZING, VERY GOOD STORYES. iN CHILE WE READ A LOS OF YOUR BOOKS STEPHEN.

Posted By: JC

-

May 8th, 2011 10:57:34 am EDT

L.T.'s Theory of Pets really captured my heart in all of the short stories in the book. I almost shed a tear after reading of what might happen to L.T.'s wife in the end. Brilliant collection!

Posted By: S.K.Rules

-

April 10th, 2011 3:21:12 pm EDT

I found some of the stories in this collection a bit depressing only some thought like Gotham cafe, a collection I won't be in a hurry to read again apart from maybe 1408, the man in the suit and the road virus heads north.

Posted By: Eli

-

February 5th, 2011 9:38:11 am EST

I loved this book, specially The Man in the Black Suit and 1408, although I saw the movie before...(the story is much better than the movie!, as always does...). The most scary was The road virus heads north...I would love to see a picture of the authors real painting!

Posted By: Delilah

-

December 25th, 2010 5:11:06 am EST

I love this book! He seriously scared the wits out of me! I liked the phrase where he said, "If you want to learn something, go to school. I want your heart". I immediately felt his hands holding my heart in his palm. Some of it though, like, legends or history about a part of a community, that other countries might not know of, was a bore and I skipped it- no offence to their fans but I just never heard or can even relate to it.

Posted By: Jisleyne

-

November 28th, 2010 7:20:17 am EST

Maravilhoso!

Posted By: Jap

-

November 12th, 2010 3:18:18 am EST

I've read this. I'm from Philippines. I think Riding the Bullet and Man in the Black Suit are the best. The Lunch at the Gotham Cafe and That Feeling - You Can Only Say it in French is also scary.

Posted By: Pokey

-

October 29th, 2010 12:45:42 pm EDT

i was reading everything's eventual and found the it was put together wrong. it jumps pages and goes back and forth.

Posted By: Elmo

-

October 11th, 2010 9:15:53 am EDT
The first read this wonderful short stories. ever! Among them, The Death of Jack Hamilton, and All That You Love Will Be Carried Away.. I really thought that was the best.

Posted By: Sonya Finkey

-

October 10th, 2010 5:44:51 pm EDT
I landed here in search of more of the gunslinger, Roland Deschain. I care what happened to him, where he's going after all that, after getting to the top of the Dark Tower and back to the desert. It has to have changed.

Posted By: Ressie Cup

-

October 8th, 2010 5:32:56 pm EDT
You are my favorite writer and without your famous words Everything Is Eventual I would not have made it through some very dark times in my life. When people ask me wat my dreams are my # 1 answer is co-write a book with you. Ur # 1 fan 4 lyfe!

Posted By: Sarah

-

October 6th, 2010 2:26:30 pm EDT
hi my name is sarah martinez. you are absolutely my favorite writer. i have read many of your books some twice. i still havent read a ton of them though.



Posted By: HEIZ MacAIRAN

-

October 4th, 2010 11:41:43 pm EDT
oH my! LUNCH AT GOTHAM CAFE is just the thing im lookin for! a nutty Maiter D' from Hell with his huge and sharp butcher knife out to slice and dice the restaurant's guests! bwaaanhahahha! Awesome!

Posted By: Heiz MacAiran

-

October 2nd, 2010 4:14:38 am EDT
i love this book from the catchy yet discreetly goric cover- to the smart title- to the juicy contents. 1408 gave me the chills more than it did to me with the movie version with John Cussack. RIDING THE BULLET scared me yet pinched my heart more than it did to me with the movie version with Jonathan Jackson. i just finished THAT FEELING YOU CAN ONLY SAY WHAT IT IS IN FRENCH...still reading on the next shorties and i just cant put the book down.

Posted By: Anonymous

-

April 28th, 2010 9:25:10 am EDT
1408 was a great short story that made a great, but different movie. riding the bullet was also very good

Posted By: GinaGina

-

January 29th, 2010 11:21:35 pm EST
This is the second of King's short stories I have read, Skeleton Crew being the first. I enjoyed it very much. I love reading the short stories maybe some more than the novels. I think they did a very good job with the movie 1408, very scary.

Posted By: Jeeyo

-

January 15th, 2010 11:27:01 pm EST
i loved the first story. it was purely exhilarating

Posted By: Arielle

-

December 11th, 2009 8:58:26 pm EST
I love all of the beautifully written short stories. I will definetely read Sam the Cat and The Hotel Eden as you suggested. Thank you Mr. King.

Posted By: Erikthewarm

-

December 9th, 2009 10:13:36 am EST
I arrived here looking here for the release of "Everything's Eventual" film release date. IMDB was not forthcoming though they did have a trailer.

Posted By: Sash

-

November 21st, 2009 1:10:20 am EST
This is the most engaging book i've ever read so far its my favourite. all the stories are chilling but very entertaining. My mind wandered with every character, connecting with them, feeling until the last story. thank u mr, King.

Posted By: AAMCOMIKE

-

August 28th, 2009 2:53:36 pm EDT
LOVE THE 14 STORIES-EXCELLENT OLD SCHOOL ANGLE- WRITE ON!!!!

Posted By: Michael

-

August 1st, 2009 3:33:49 pm EDT
I loved all the short stories in Everything's Eventual some more then others, but still all pretty good. Gothem's Cafe was my favorite out of the short stories. I'm not going to comment on all the stories, but I'll just say they were all worth reading

Posted By: Rasmus

-

July 17th, 2009 7:25:00 am EDT
I think this is amazing. It has been some time now since I red it but I still go back in my memory and remembers the events, the stories and the characters and smile. This book is a masterpiece and the fore- and afterwords make it a supreme piece of work. Thank you Stephen!

Posted By: Anonymous

-

July 16th, 2009 10:49:14 am EDT
I like it

Posted By: Rui

-

May 15th, 2009 5:24:05 am EDT
One of my most favorite short story collections. i managed to go through the entire book in one sit in that's how captivated i was by this book. I especially loved riding the bullet, it reminded me a little of Salems Lot to a certain extent. I love all Stephen King books, but this was stands out as the one that hooked me the most.

Posted By: Padrino

-

May 10th, 2009 5:29:20 am EDT
What an "Eventual" Collection!! This collection will sure keep you away from all the Skippers of this world! Which is definitely" Eventual"!

Posted By: Farrahmack

-

March 11th, 2009 6:43:16 pm EDT
I Loved this collection of stories. They were terrifyingly entertaining. Tip don't read them at night they will scare the hell out of you.

Posted By: Torey

-

February 26th, 2009 7:15:17 am EST
I'm having so much FUN reading these!! As I have insomnia, and have loved your stories. Ofcourse Riding the Bullet is great, sounds like a dream like state. Autopsy Room Four (creepy) made my stomach knot loved that one. I'm currently reading Lunch at the Gotham Cafe', I have just started thsi book. Your letter to us in the start was informative, good, comical, you keep it up, this is one who won't stop reading! I have so much to say I can't put it all here.

Posted By: Irene

-

February 1st, 2009 2:31:31 pm EST
My favourite tale is "The Little Sisters Of Eluria". I think Stephen King is the most talented writer in the world.

Posted By: Tom Passed It

-

January 15th, 2009 2:46:41 pm EST
A note to Mr. King: Dear Mr. King, OK - you won. I was so involved in your short story "Lunch at the Gotham Cafe" that I lost all track of time & location and rode past my train station before I knew it. You may say, 'So What? Big deal!' But then you wouldn't understand. I'm a born & bred New Yorker and I've never 'lost sight' of my train station at any time during my 35 years of riding NYC Mass Transit. Real N.Y.'ers never do. Sure, sometimes we fall alseep - heck we often fall asleep - but a real NY'er has the ability to 'self-rouse' at least 1 station stop prior to his own. We don't miss our stops, especailly the ones on the way home. Well, you won! I was so caught-up reading that the soon to be ex-wife had knowingly kicked 'our hero' in the butt, almost throwing him into the clutches of our Mad Maitre 'de au Coney Island, that I hadn't noticed my stop approaching. Then, I was in such disbelief that she wouldn't give a glint of acknowledgment that he had, indeed, saved her life, I didn't notice that the doors had opened (and closed) at my station. By then, since I was as shocked as he was by her tone & attitude, I found myself one stop - and many blocks - past my home station. And then JUST to see if she'd walk right into Guy, I said to myself, "I don't care, I finishing the story before I get off this train" - and I did just that. So, you won. You were able to get a New Yorker to break a routine. There's no medal or ribbon to receive, but you won none the less. By the way, I tend to NOT read the introduction or forward of a book I'm about to start. I usually wait until I've read the story/stories and then go back. (I have my reasons) So, after reading the rest of the stories, I did go back to read your forward and there you mentioned that if I, as one of your 'constant readers', had a thought or opinion I should let you know via stephenking.com I hurrumffed to myself noting that I've never written a "Fan Letter" and never would. Fan is just another "F" word not to be used in mixed company. So, I figured why write an "F'ing" letter. Although, if pressed, I'd have to say I'm a real "F"! So I'll say it again - - - You Won! I'm a fan and I took the time to write. I'll justify the writting of this "F'ing" letter by reminding you that you asked to be contacted with our opinions. Thanks for that - I'll be able to tell myself that what i really did was answer a question or give you a helping hand. Feel free to write back with any other questions you might have - I wouldn't mind. You seem pretty cool. By the way, I agree, there aren't enough "Short Story Books" being published, these days.

Posted By: Trouble

-

December 22nd, 2008 6:43:44 pm EST
Everything's Eventual, the story in this collection from which the book is named, will make you stop and think and read it again. Although I loved all of them, buy the book just for that one alone.

Posted By: Think42

-

October 23rd, 2008 12:26:46 pm EDT
I have just gotten into these stories, and so far they are great! But the most interesting and important (personal view of course) is the introduction. There is a moving bit of information here that is sad and hoping all at the same time. If King is 10% of the feeling he writes on the "almost lost arts" then he is a great person for seeing short stories and radio plays as just as important and fulfilling as any other media.

Posted By: Kelli731

-

September 19th, 2008 8:57:40 pm EDT
I love this book... My favorite story is "Autopsy Room Four"... There is something so funny and creepy about that short... Freaks me out and makes me laugh all at the same time... Thanks Stephen for having this short stories published...

Posted By: Karlee

-

September 2nd, 2008 12:23:53 pm EDT
I absolutely loved this book. I have read it twice already and I am fascinated by it's depth and just everything about it. My favourite of the stories was The death of jack hamilton. I hope to see more collections like this one!