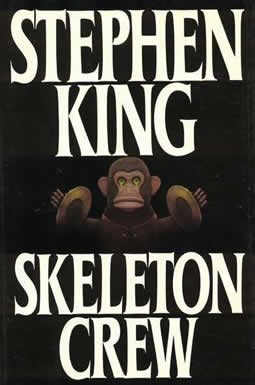 Fan submitted reviews of Skeleton Crew (Story Collection):

Posted By: Anonymous

-

August 20th, 2012 7:08:37 pm EDT

My daddy loves Stephen King! He said that the first timed he read his first SK book, he was only 10.. Now that he's told me all about the great books that he's read and all the great movies that he saw, he's got me intrested in reading some of his books.. I saw a few movies made by Mr. Stephen and I thought that they we great. Like one example of one of his great movies was The Stand! I so want to read that book my daddy won't let me read it! I hope he'll let me read this book.. Another book that I want to read is, The Eye of The Dragon... My daddy found that book for my Uncle to read and he loved just like my daddy.. He said that it was nothing like he thought it would be like! Someday, I hope that I can say the same about that book! Hope that soon I will be a fan of Mr. Stephen King!

Posted By: Church_came_back

-

June 11th, 2012 9:11:05 pm EDT

im reading it right now. the monkey was really good! so was the mist!!!! the jaunt was really good!!!!! but the end was so creepy. its weird how its like 300 years in the future and you age when you go through the portal! it was sooooo good though. i dont understand here there be tygers and cain rose up they kinda made no sense. and the wedding gig didnt have a strong story but its still really really good book!!!!!

Posted By: John

-

March 15th, 2012 8:10:59 pm EDT

another great short story collection

Posted By: Jeily

-

October 8th, 2011 1:03:33 pm EDT

I like!

Posted By: MindlessMax

-

July 18th, 2011 2:31:22 pm EDT

The Story Beachworld is a story that, to me has got to be made into a short movie(like about 10-15 minutes). If no one else will I guess I will do it.

Posted By: Magpy

-

July 7th, 2011 9:44:09 am EDT

I first read Here There Be Tygers when I was 7, and I've read Stephen King ever since. All of his original works has interested me, and probably doesn't help that my parents had every single book written by him! I congratulate King on his excellent work over the many years, and yould like to say how much of an influence his writing has been on my own personal author career.

Posted By: Norie

-

November 28th, 2010 8:55:09 pm EST

This is one of my favorite books of Stephen King so far. I enjoyed the novelle The Mist,it was very gruesome and fantastic,one hell of a read,I might say,keep up the good work

Posted By: Jackie

-

November 17th, 2010 12:26:42 pm EST

For the last few years I've used "The Reach" in my English classes, from the Maine Speaks anthology, and students absolutely love it. It's a fabulous piece to use as an illustration of an extended metaphor (the island symbolizing life, the mainland symbolizing the afterlife, and the reach as the crossing over, or the moment of death). Students like the story at first for its spooky imagery, and (of course) because here in Lisbon High School, the students view you with something of a proprietary air, and feel you're "one of their own." When they realize the fine detail and the craft that you've put into the piece, though, they really begin to love it. As Stella imagines the roads stretching on forever, and can almost grasp that concept of infinity, they are thrown back to the feeling of lying in the dark, trying to imagine the infinite darkness that may come after death... "what if, when you die, there's just a lot of... nothing?" Like Stella, they can almost - but not quite - do it. I've not yet read the rest of the stories in this collection, but based on my encounters with "The Reach," I intend to do so. Thanks for this thoughtful and thought-provoking piece. If you have any other recommendations for short stories that would work well in a high school English classroom, I'd love to use them!

Posted By: Joe Michaels

-

July 14th, 2010 9:20:51 pm EDT
The first SK book (Skeleton Crew) I read was in 1987 while recovering from my 1st heart attack in the hospital. I have always been a fan of horror and supernatural. In my opinion, you are THE best writer of this genre that ever lived. No ass kissing, just fact. I am a retired disabled cop of the NYPD. I have many stories to share if you are ever interested. In addition I have several supernatural stories passed on to me by my grandparents from Europe. When I initially read THE MIST in Skeleton Crew I said; This HAS to be made into a movie. It took a long time; but finally it happened. I read the short story and your writing placed me into the story in a small upstate town called Callicoon, NY. The market store name was Pecks and up the mountain pass was a small village of homes. It was so uncanny. Anyway, I just purchased Nightmares and Dreamscapes and look forward to reading it on vacation next week. Thank you once again for your writing genius.

Posted By: Dontay1982

-

July 14th, 2010 12:44:20 am EDT
my wife has this book and i looked under the dust cover and it is signed is this a rare book or just like the others

Posted By: LOSTie

-

July 13th, 2010 7:35:02 pm EDT
So far I have read "The Mist," "Here There Be Tygers," "Cain Rose Up," "Paranoid: A Chant," "The Raft," "The Reaper's Image" and "Survivor Type." My favorite is The Mist. The Gross one was Survivor Type. The Shocking one was Cain Rose Up. I also loved The Raft, very thrilling. But overall, I LOVED all of them. I did not much get the Tygers and A Chant....but Cain Rose Up just kept me on the edge of my seat!!!

Posted By: Kiba

-

April 30th, 2010 2:16:57 pm EDT
Awesome. Simply awesome. I have read survival type, gramma, and the mist. I will certainly continue reading to the end!

Posted By: Scooby_doo Lover

-

August 12th, 2009 4:00:09 pm EDT
Man, I am reading this book. And yeah, I just started this book, but I feel like I am right there when this is all going down. I love the movie the Mist. Keep up the good work Stephen King.

Posted By: Rex13

-

June 27th, 2009 12:26:57 pm EDT
I loved this book I would have to say my favorite stories were The Jaunt, The Mist, the Word Processor of the Gods, and Survivor Type An excellent read

Posted By: Leomar

-

June 3rd, 2009 6:29:07 am EDT
the best and the scariest story in here would be "Gramma"..on page 464, if i'm not mistaken... i really got scared of George's grand mother....

Posted By: Doc

-

May 24th, 2009 9:19:01 pm EDT
Have you ever heard a song on the radio and remembered where you were when you first heard it, or it brought back a memory? That's how it is with Stephen King's books for me. I won't go into all of the fond memories this book brings back for me, but the thrills it brought me were priceless. My favorites are "Uncle Otto's Truck" , "Mrs. Todd's Shortcut" and "The Reaper's Image". Every single story in this book gave me chills up my back. No lie.

Posted By: Jazz Cat Of Newbury

-

April 6th, 2009 12:03:30 pm EDT
This is simply my favorite collection of short stories. My favorite would have to be Caine Rose Up. I love the story but it scared me so much that it felt like my intestines were slipping through my belly button. It kept me on the tips of my toes and made my heart race. Thanks Steve.

Posted By: Lallo

-

March 2nd, 2009 3:08:06 am EST
I read The Mist on a train.I was so lost in it that when I looked out the widow to see what stop I was at noticed that the fog had lifted. Then I remembered that the fog was only in the book.

Posted By: Drick

-

February 2nd, 2009 10:58:05 am EST
The Monkey is the best shor story from that book. It was an excellent story. I've always been scared by Toys, they all look so scary.... The whole book's good. I haven't read all the short stories but I liked a lot Survivor Type. I started reading The Mist but I've seen the movie and I stopped reading this one, but The Mist is great as well.. Very Good Book

Posted By: Constant Reader

-

January 21st, 2009 12:54:28 pm EST
I have read many of your short stories. I can't remember which one had the story about the couple picking each others pets. Well to this day I will not pick a pet for anyone, or have one picked for me. I even told my husband when our son gets a pet he will pick his own. He now has a Dog & a Cat. He picked the cat. We kinda rescued the dog. This just shows that your stories have a BIG impact on people!

Posted By: Jeanneb

-

November 13th, 2008 7:42:07 pm EST
I read Skeleton Crew so many years ago - my husband was away and I read "The Mist" in bed before going to bed. I had a night terror and called a friend to come over and check to see if I survived. Today I look out my window and it is totally fogged in and I have a flashback to that story. It was the scariest, most realistic imagery I have ever read. King is truly the King of Imagination. I gave Skeleton Crew away the next day and never finished reading the other stories. Amazing!

Posted By: Nico Pliskin

-

October 14th, 2008 5:57:36 pm EDT
the mist is one of the best stories i have ever read in my life.

Posted By: Luna

-

September 11th, 2008 4:49:53 am EDT
A good collection from Stephen King, Skeleton Crew is a mixed bag of horror. While not everything was to my liking, several gave me chills. The novella "The Mist" is not normally my type of horror, but I enjoyed it for how it was told. I found "The Monkey," "The Reaper's Image," "Uncle Otto's Truck" and "Gramma" pretty creepy, while "Survivor Type" was totally gruesome. "Word Processor of the Gods" was one of my favorites, loved the idea of a word processor that can change things in the real world. "The Ballad of the Flexible Bullet" was another standout for me (another story involving a writer), and "The Reach" was a lovely and poignant finish to the collection.