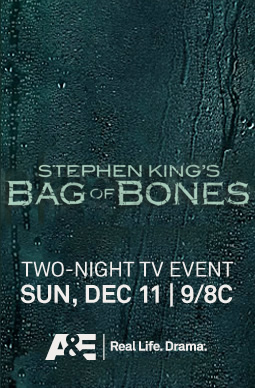 Fan submitted reviews of Bag of Bones (TV Program):

Posted By: Desi

-

January 25th, 2012 9:00:35 am EST

I fell in love with Bag of Bones once I saw it. I also love Cujo it's just a classic! But Bag of Bones is my number 1.

Posted By: StarGirl

-

January 15th, 2012 11:44:43 pm EST

I was impressed! A lot better than people have made it out to be. I thought the flashback scenes were done with style (especially the fair); the acting is fairly good; loved the dream sequences; there have been some common sense changes (ie: Jo dies differently in the mini-series, probably to give it an more 'exterior' cinematic quality, as opposed to the literally insular death she got in the book - kind of how DePalma exteriorized Carrie's mother's death in his film); the score was good and so were the songs; production design and cinematography are top notch... My downside issues aren't with the Garris direction at all (I think he's hit his stride with this and his last Masters Of Horror effort), but with some script choices. Ie- things are a little spelled out too much in the end and in the last twenty minutes Prosnan has a tendency to 'speak out loud too much', but it's not too detrimental. It could still do with another edit, but all in all, thumbs up from me!

Posted By: Alice Lover

-

January 12th, 2012 8:08:45 am EST

you rock lol

Posted By: Anonymous

-

January 8th, 2012 10:17:41 am EST

This has been bugging me so I have to get it off my chest...I was actually disappointed in the tv-take on this book. I understand that to do the book justice the mini-series would have had to be 8 hrs long, but so what. The hack job that came out of this was painful to watch and funny at times. The acting was pretty poor and the changes to the story were unnecessary in my opinion. Just a way to speed things along and make it more interesting for the people that haven't read the book. I should know better by now then to expect a tv/movie version of any book to be good, but I keep hoping and watching anyway. Lesson learned.

Posted By: Tazzle

-

January 2nd, 2012 1:31:51 pm EST

I am almost finished reading Bag of Bones and am loving it. I've read allot of your books and I enjoy every second. I have a problem..:( I was working when the tv miniseries was on. I wouldnt of dared watch it not having finished the book(that would of ruined everything) I feel, in most cases, that the book is always better than the movie. (not that the movies are not good) So I try to make sure I read the book first. I am a reader. Movies are not important to me, but I do watch occationally. This is one movie I do want to watch, but cant because I had to work:( Is there any way someone out there in this world can point me to where I might find This movie? I must have it. I am willing to purchase it. Any ideas?? I do love SK writing, and will feel like something is missing if I dont get to watch Bag Of Bones !!

Posted By: Mostronano

-

December 25th, 2011 6:01:39 pm EST

LOVED the book....HATED the movie

Posted By: Heidi

-

December 16th, 2011 11:23:51 pm EST

I'm sorry but I was sooo disappointed :( They chopped and changed so much I didn't even feel like it was the same story. Think I'll just keep reading my books because Hollyweird just can't do Steve justice!

Posted By: Rock Tony

-

December 15th, 2011 3:23:33 pm EST

I can't beleive they did this to such a good book! They copied some conversation pieces verbatim, but basically rewrote the story, adding loads of boring bits to pad it out??? With the right script it shouldn't need padding. It is a travesty to be avoided

Posted By: Anonymous

-

December 14th, 2011 2:42:17 pm EST

why would you change the way jo dies and the fact that the house was bought over a brochure ... what is going on... the should re do the whole tv mini serie. All facts are scramble.

Posted By: Kassyo

-

December 13th, 2011 7:52:10 pm EST

well i am a constant reader and i loved bag of bones as a book...when i found out that it was going to be a mini series i was super excited just to be horribly let down... i know they could only incorporate so much in the time that they had but it was put together by someone who never read the book....two thumbs down

Posted By: Tina

-

December 13th, 2011 2:59:29 pm EST

Bag of Bones has finally come and I watched and shook my head no so many times. I am so disappointed with this movie and I cannot imagine that SK could be pleased with it. They changed the whole story line. Wow! If they have to change the whole story line to make it appealing for TV....is it worth it. So SK, when you publishing that version of Bag of Bones?

Posted By: Dltjr

-

December 13th, 2011 9:42:08 am EST

I was disapointed by the conculsion of the Movie to the Bag of Bones Novel. The end was childished and incomplete, Reason: This entire movie was based on his writers block as well as a curse. As I followed along striaght to the end: Cures Cured; The End!!! I found the writers block and over coming it a major part for the end, yet nothing more added or said. I must say I have not read the Novel, I may not now!

Posted By: Elloree

-

December 12th, 2011 11:06:24 pm EST

Bag of Bones was a "whole mess". One of the best by far i have saw this year..Way to go to Mr. King, you really out did your self on this one,

Posted By: Amer

-

December 12th, 2011 7:02:58 pm EST

Stephen King is my favorite writer, I always admire his books and when I saw the preview for the Bag of Bones, I was very excited and counting hours till the show.

Posted By: Terry

-

December 12th, 2011 3:12:26 pm EST

Never was sold on Mick Garris' adaptations of Mr King's books. And part one of Bag of Bones only reinforced that. Too many unnecessary changes--Jo died in Derry of an aneurism, she didn't walk in front of a bus in NYC--stupid unnecessary change. Mike was not a top-tier writer competing with Grisham, etc--again, unnecessary change. Mike & Jo bought Sara Laughs, it wasn't inherited. For that matter, I don't recall anything in part one about the cabin being called that name. Mike, Mattie, and Kyra are too old in the movie--a main point in the book was Kyra not being able to pronounce her or her mother's names. Sara Tidwell was from the turn of the century, not the 1930's and was NEVER recorded. I could go on, but I think Mick Garris should not be allowed to adapt another King book. EVER.

Posted By: BrendasBasics

-

December 11th, 2011 6:47:06 pm EST

Bag of Bones is one of my faves, I hope they do it right. I felt it was just the right mixture of scary...and hope..:) But I'd be curious to know what Mr King thinks since he isnt doing the screenplay. I really liked his version/mini-series of The Shining.

Posted By: 'Sher The Love'

-

December 7th, 2011 8:15:14 pm EST

Have almost of Stephens books except one. Rereading Bag of Bones which is one of my favorites....Looking forward to seeing the series. IT was the hardest one for me, maybe it was the clown??? I love clowns, it's even difficult to watch the movie. Whatever. I Love all that Stephen King has to offer us. Thank you sooo much Stephen for your animation and creativity. You draw us ALL in to your multifacitaed wolrds!!! Love you much..Sher

Posted By: Kathryn Mullaney

-

December 6th, 2011 12:52:09 am EST

I've been a Constant Reader for about 35 years...and I am looking forward to another TV mini-series of a book I read and liked. I wonder many times how somebody could possibly make a movie from one of his books, since they are so complex. A mini-series makes much more sense. I am looking forward to seeing this on the small screen, or ANY screen! All I have done to date is scroll it through my head!

Posted By: Melissa

-

November 20th, 2011 6:57:45 pm EST

I cant wait!!! I'm so excited!!! :) :) I love Stephen king and bag of bones is my favorite movie. When I heard I screamed and jumped with excitement! :)

Posted By: Steve

-

November 3rd, 2011 3:25:55 am EDT

I am going to be in this movie hopefully in the fair ground scenes in 1939 taking place at the lake. I was a background performer. Pierce was a very nice guy and funny on set. Cant wait to see if they kept the footage they shot here in hammonds plains nova scotia.

Posted By: Les

-

October 31st, 2011 10:32:50 pm EDT

More than any other, this is the SK novel I cherish the most. It led me to reevaluate his talent as a writer and read many more of his novels. Because of this, I hoped any adaptation of this novel would be given "special" treatment. I am immensely pleased it will be given a mini-series format and I suspect the casting of Mr. Schallert as Max Devore is a brilliant stroke. While Michael Noonan's voice will always resemble Mr. King's in my subconscious, I have high hopes for this mini-series. If it is a fair adaption, A&E earns my life-long gratitude.

Posted By: Cheryl Black

-

October 29th, 2011 12:03:33 am EDT

I have been a huge fan most of my life, I am looking forward to watching the min series.... I hope it doesn't stray too far from the book.

Posted By: Heidi

-

October 25th, 2011 10:43:48 pm EDT

Was so stunned when I saw the preview on A&E! Cannot wait! Hope they stay true to the story (my first thought was Brosnan is a little old to be playing Mike) and the movies never compare to the books. Steve is one of those writers who can get into your head and really crawl around to bring you into a story better than any movie can!

Posted By: Devil Dog

-

October 25th, 2011 1:37:00 am EDT

I have followed Stephen's Work from the Beginning, and Another Great Story emerges in "Bag Of Bones". Another Masterpiece from the Master. I used to live near Bangor, ME where Stephen Lives, Have met him, and followed his Great Deeds to his Local Community and Charities. Stephen King has and will always be the "Mind Bender" of Masters... M. Barker Sr.

Posted By: Fanatic Stephen King Fan

-

October 19th, 2011 3:45:03 am EDT

This book was as all of his works that I have read & movies I have seen, the most wonderful, exciting, exhilariting, captivating [& words I can't even continue on with] reading that I have read. It's written so beatuifullty, as is all of his works. I have loved Stephen King ever since I read my first book, which was Carrie. I now only read Stephen King, no one else compares to his writing & his books-to-movies are so fasinating to me. The details int he books are transformed into reality of the screen. He is the most prolific, wonderful, absolutely grand writer of this decade & more. I can't say enough to describe how much i love Stephen King. Hopefully, one day I will get to meet him in person & he will sign one of my 40 books that i have in my Stephen King collection of books. Before I die, I wish that I have read & seen everything that he has ever written. I am so in love with this man it's not even funny & I don't mean romantically I just mean plain ole "Love Him"

Posted By: Robin

-

October 18th, 2011 8:45:03 am EDT

I am so excited about this movie! I love the book and hope the movie stays as true to the book as possible.

Posted By: Michelle

-

October 17th, 2011 6:44:58 pm EDT

I can't wait for this....I read the book for the first time over the summer and loved it! Hope it will give the book justice; they rarely do after reading any of his books first though.

Posted By: Lori

-

October 13th, 2011 7:46:04 pm EDT

I re-read this book a few years ago and wondered why it had not been made into a movie...when I read my email tonight, I was elated to see that it has been! It is a hauntingly beautiful love story. I cannot wait to see the mini-series!

Posted By: Kathy

-

October 13th, 2011 3:17:05 pm EDT

Goody Goody! Another SK Movie......or another SK ANYTHING! LOVE IT. I Just watched The Green Mile last night and reading / watching anything by The King always, always leaves me pining for more! The trailer looks awesome and I love that it seems to follow the written story closely (artistic license nuttin, don't mess up the story!!!) Thank you Mr King for keepin it comin! Lookin forward to the new novel in a couple weeks too! Now if only I could get my Roland, Jake, Suzanna/Detta and Eddie fix......*sigh

Posted By: Thilan

-

October 13th, 2011 1:26:46 pm EDT

while reading the book i imagined a world.... and got scared the shit out of me... will Mick Garris brings what i have imagined?

Posted By: Martha

-

October 13th, 2011 11:54:18 am EDT

I loved the book and would love to see the movie, but I can't afford cable. It seems a shame to offer it on a cable station only and not make it available elsewhere. How soon will it be released so I can obtain it through Netflix? Please?

Posted By: Anonymous

-

October 11th, 2011 1:35:33 pm EDT

It's about time! Awesome! This is something I'll be eagerly awaiting, ever since I read the book I just knew it would make a great movie or mini-series. Whoo-hoo!!!

Posted By: Glenda

-

September 28th, 2011 11:43:47 am EDT

Absolutely amazing! this is one of my favorite books of all time. PLEASE, make sure its a good adaptation, because the movie IT was horrible. P.S. no Pierce Bronson...although he's a good actor, i cant see him as Mike Noonan. Thanks!!!

Posted By: 1123sfg

-

September 17th, 2011 2:48:28 pm EDT

of all of his books that i've read, this story was the best. and i have all his books! just waiting for the next one to come out.

Posted By: David B

-

August 25th, 2011 8:12:41 am EDT

This is going to be phenomenal! This is absolutely one of my favorite King novels and i can't wait to see this A&E adaption. I think Pierce Brosnan will do a great job of portraying Michael Noonan. Hes a very sophisticated character but i think at least physically he fits my mental description of Noonan. Can't wait!

Posted By: Katieb152

-

August 21st, 2011 8:30:45 pm EDT

Bout time!!! This is my favorite book by King. I know years ago a movie was gonna get made but it was never done.

Posted By: Wordslinger

-

August 12th, 2011 3:04:57 am EDT

I am actually excited about this. I didn't see Pierce Brosnan as Mike but I can deal with it since they are taking the time to do it over 4 parts instead of just cramming it into an hour and a half like some might choose. Here's hoping that the story keeps the uneasy on edge feel of the novel and doesn't stray into tacky laughable cliches.

Posted By: Number 1 Fan

-

August 9th, 2011 5:55:05 pm EDT

For the constant readers, which I am a faithfull and loyal reader. This is a great read. You would have never thought that Steve had it in him to write such a fasinating love story, with ghost and all. I love the book cant wait to see miniseries

Posted By: Dave

-

August 6th, 2011 9:42:07 am EDT

Awesome. BoB is one of my favorite SK books in recent times. I only hope that four hours is enough. I'd love to see the cast breakdown but Pierce Brosnan? Really? With a British accent???

Posted By: The Kid

-

August 3rd, 2011 5:27:31 pm EDT

Yessss! Cannot wait for this....nothing more fun than the build-up to an SK miniseries!