Simon & Schuster Audio has announced that Will Patton is the narrator for the audiobook version of DOCTOR SLEEP. Patton is a beloved audiobook narrator who currently stars in the TNT series Falling Skies. Check out this behind-the-scenes picture of Patton in the studio as he tackles the epic sequel to The Shining.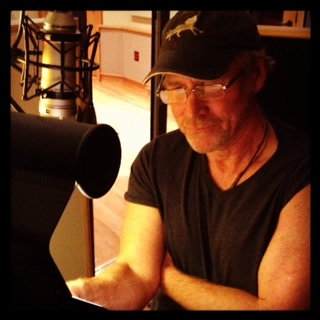 More Information on Doctor Sleep
Dark Tower fans finally have a reason to Keep Calm with our new designs.

Keep Calm #1 is a bold red design that features the menacing eye of the Crimson King with text reading "Keep Calm and All Hail The Crimson King"

Keep Calm #2 features Roland's crossed revolvers with text reading "Keep Calm All Things Serve the Beam"

Whether you follow the White or follow the Red, it's your duty to Keep Calm... and check out our snazzy new designs in the store. As always, all proceeds from sales benefit The Haven Foundation.
The Crimson King Miscellaneous Merchandise
----
The Beam Miscellaneous Merchandise
There is a 20-city Ghost Brothers of Darkland County concert tour coming up soon, and tickets are still available for many venues. The series of events will kick off on October 10th and continue through November 6th.

USA Today has posted a feature on the tour and can be viewed by following the link below.

Please visit AEG Live's site for links to all ticket purchases.
More Info on The Ghost Brothers of Darkland County
Can't see the images? Click here to view online.

StephenKing.com. If you no longer wish to receive these monthly (or so) emails, please unsubscribe by following this link: # and you will be immediately removed.