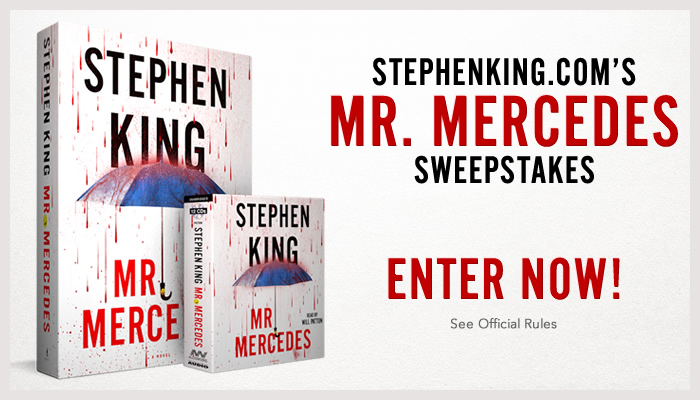 You could be one of the first people to read Mr. Mercedes or listen to the Mr. Mercedes Audiobook!

Enter for a chance to win a Mr. Mercedes Hardcover or CD Audiobook delivered to you on publication day, June 3rd, 2014. 40 winners will be chosen at random to receive a hardcover or audiobook edition of Mr. Mercedes.

The Mr. Mercedes Sweepstakes runs from Friday, May 9th at 12PM EDT through Sunday, May 25th at 12pm EDT.

Enter Now!

Official Rules

Visit the Mr. Mercedes Promo Page

Not in the US? Click here to update your information.

Step inside the mind of Mr. Mercedes—exclusively on StephenKing.com!

Can't see the images? Click here to view online.

StephenKing.com. If you no longer wish to receive these monthly (or so) emails, please unsubscribe by following this link: # and you will be immediately removed.