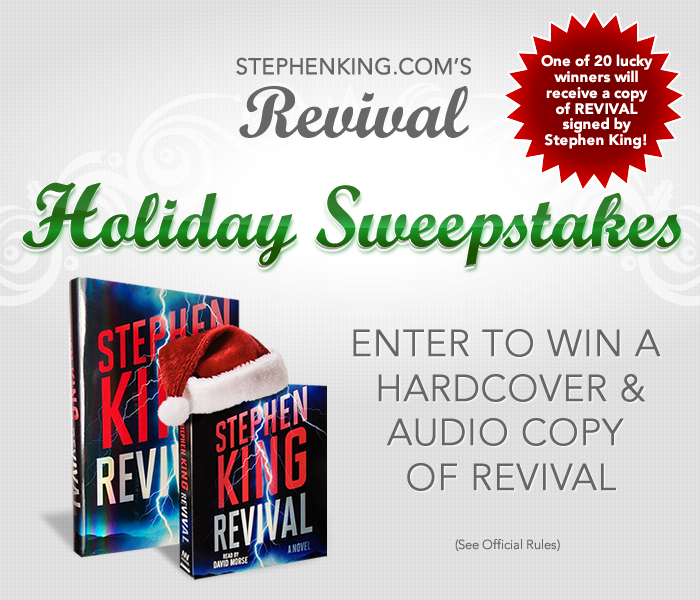 At StephenKing.com we believe it's best to give AND receive. So enter the Revival Holiday Sweepstakes and capture the true essence of the season. Of the entries, 20 people will be chosen at random to receive a hardcover and an audiobook edition of Revival — one to keep and one to give to a loved one. Plus! One lucky winner will receive their hardcover copy of Revival signed by Stephen.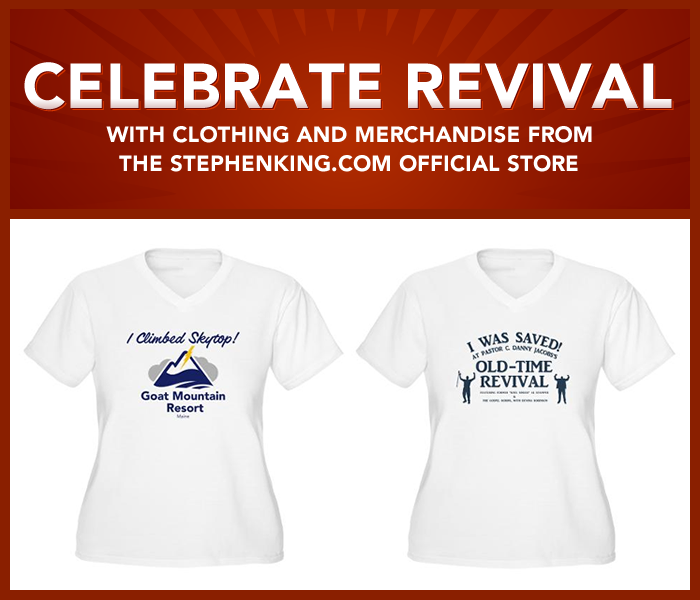 Just in time for the holidays, StephenKing.com is pleased to announce that clothing and merchandise based on Revival is now available on the StephenKing.com Official Store.

As always, all profits go directly to The Haven Foundation.

Happy Holidays from all of us at StephenKing.com. Wear them in good health!

Dark Screams: Volume One - Now Available
Dark Screams is now available from most eBook sellers.

Stephen King, Kelley Armstrong, Bill Pronzini, Simon Clark, and Ramsey Campbell are the first contributors to a mind-bending new series of short-story collections that push the boundaries of horror and dark suspense to the bleeding edge. From Brian James Freeman and Richard Chizmar of the acclaimed Cemetery Dance Publications, Dark Screams: Volume One reaches across genres to take readers beyond the precipice of mortal toil and into the glimmering void of irreality and beyond.

WEEDS by Stephen King
When a meteorite lands on his property, Jordy Verrill envisions an easy payday. Unfortunately for Jordy, this is no ordinary rock—and the uncompromising force inside has found its first target.

THE PRICE YOU PAY by Kelley Armstrong
Never pay more than you owe. Sounds like easy advice to follow. But for Kara and her childhood friend Ingrid, some debts can never be repaid... especially those tendered in blood.

MAGIC EYES by Bill Pronzini
Edward James Tolliver has found a weary sort of asylum among the insane. He knows he's not one of them--but how can he tell anyone about the invaders without sounding that way?

MURDER IN CHAINS by Simon Clark
Imagine awaking to find yourself in an underground vault, chained by the neck to a murderous lunatic, a grunting goliath who seems more animal than man. What would you do to save yourself?

THE WATCHED by Ramsey Campbell
Little Jimmy gets a glimpse of the cold truth when he finds out that it's not always what you see that can get you into trouble; it's who knows what you see.

Can't see the images? Click here to view online.

StephenKing.com. If you no longer wish to receive these monthly (or so) emails, please unsubscribe by following this link: # and you will be immediately removed.