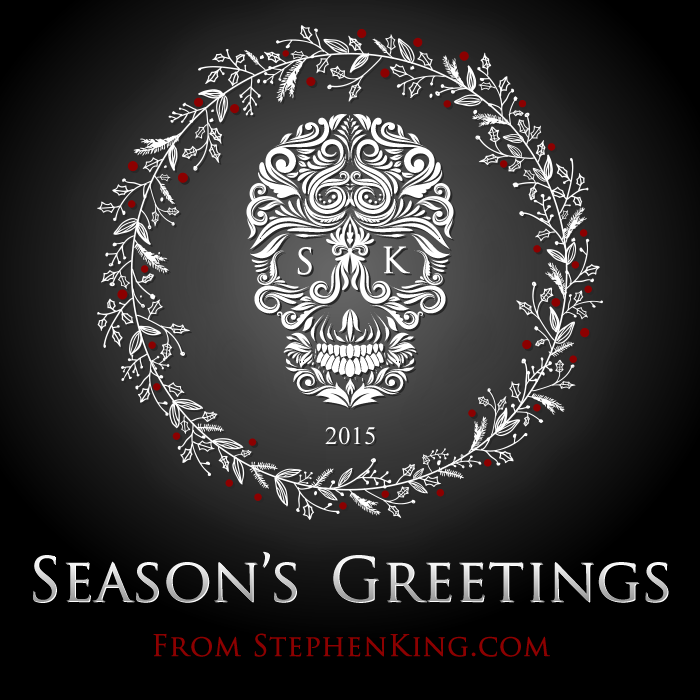 Happy holidays to all my Constant Readers. Have a great New Years Eve and Day, and thank you for the support you gave me this year, and all the years before. You guys are the best!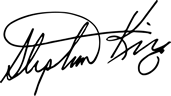 ----
It's been a crazy year on StephenKing.com. In one year, we've seen three major releases, two #1 listings on The New York Times Bestsellers list, a National Medal of the Arts Award and now a major Hulu Original Miniseries from JJ Abrams looms on the horizon.
How'd we get here!? Let's take a look at this past year.
Be sure to visit The Bazaar of Bad Dreams promo page where you can get news, listen to exclusive audio clips as well as watch the teaser and the extended holiday trailer.
----
Our year began last February when casting for JJ Abrams's TV Adaptation of 11/22/63 was revealed. With James Franco as Jake Epping and JJ behind the scenes, the news kicked off a virtual year-long countdown until the show debuts on Hulu in February 2016.
April showers brought news that Mystery Writers of America would award the prestigious Best Novel - Edgar Award, to Stephen for Mr. Mercedes.
By mid-Spring, S&S Audio announced they would release Drunken Fireworks as a stand-alone Audiobook Edition before its release in The Bazaar of Bad Dreams. It was also revealed that CBS and PlayNow would run the audio short story free to users of their platform for a limited time. Stephen had this to say about the progressive release concept:
"Great stories are often better when told out loud," said King. "This event is a cool way for more people to discover just how fun listening to my stories can be."
On June 2nd, Finders Keepers was released. The sequel to Mr. Mercedes did not disappoint. With killer reviews and a #1 listing on the New York Times Bestsellers List, Finders Keepers took the constant reader on a brutal journey with our old friend Detective Hodges. Hodges's wise-cracking sidekicks try to keep things light but make no mistake… Finders Keepers has a dark edge that bleeds.
In a whirlwind week in September, Stephen appeared with Lee Child in a Jack Reacher Q&A event hosted by The Harvard Book Store. You can watch the event and their genuinely comic banter on YouTube.'
The following day he flew to Washington where he received the highly respected National Medal of Arts from the National Endowment for the Arts. In a traditional White House ceremony broadcast on the White House's website, Stephen was presented the award by President Barack Obama .
From Washington he traveled to NYC to appear on The Late Show with Stephen Colbert as part of their premiere week shows. Don't miss the segment available on YouTube as well as "Writing tips from Stephen King." - Not to be missed content.
In early November, The Bazaar of Bad Dreams was released in all formats and debuted on the New York Times Bestsellers List as the #1 Hardcover release for November 12th. Visit The Bazaar of Bad Dreams promo page where you can get all the latest news, listen to exclusive audio clips as well as watch the teaser and extended holiday trailer.
More About The Bazaar of Bad Dreams
In late November, our friends at Hulu dropped the first teaser for 11/22/63. You can watch the 30 second teaser on the 11/22/63 page on Hulu.com. You will not be disappointed.
What a remarkable year! And with the Holiday Season fully upon us, we look to 2016 and the release of more brilliant Stephen King content.
Watch for rereleases of classic Stephen novels in eBook and Trade Paperback editions all year long. Christine, IT and Misery kick off the rerelease series starting in early January. More to come on that...
JJ Abrams's highly anticipated adaptation of 11/22/63 launches in February on Hulu, with End of Watch and the Mr. Mercedes Trilogy Boxset coming in June.
Finally, keep an eye out for the film adaption of Cell starring Samuel L Jackson and John Cusack next summer with the movie adaption of IT not far behind.
Of course, we at StephenKing.com know that's probably the tip of the iceberg for 2016. Nevertheless, we'll keep you posted.
Cheers! And Happy Holidays from everyone at StephenKing.com.

Can't see the images? Click here to view online.

StephenKing.com. If you no longer wish to receive these monthly (or so) emails, please unsubscribe by following this link: # and you will be immediately removed.