Road Rage:


Throttle




Author:

Stephen King, Joe Hill


Artwork:

Nelson Daniel, Phil Noto
Note: Stephen King and Joe Hill have contributed only to Road Rage #1 and #2. Therefore the IPT will only track those two issues.

The Tribe is more than a motorcycle club – it's a family. Literally, since club leader Vince rides alongside his son Race, as well as fellow Viet Nam vet Lemmy and a passle of others. They've been together a long time, these two generations of riders. But never before have they seen the kind of trouble they're about to run up against.

War is easy—lines are drawn, sides are chosen. But when the club is attacked on a lonely highway road by a trucker with unknown but quite murderous intent, their hard-scrabble existence becomes one of pure survival. And not all of 'em are going to make it through.

In Throttle, Stephen King collaborated for the first time with his son, novelist & Eisner Award-winning comic book writer Joe Hill, to bring the Tribe to life in their prose tribute to Richard Matheson's Duel. And now King and Hill are collaborating with IDW Publishing, home of Joe Hill's acclaimed comic-book series Locke & Key and The Cape, to bring the story to vivid four-color life in the form of Road Rage.

The four-issue Road Rage, which shares the title of the joint audiobook versions of Throttle and Duel, adapts both stories to comic-book form. Throttle is up first, adapted by IDW Chief Creative Officer and Zombies vs Robots co-creator Chris Ryall and artist Nelson Daniel (The Cape). The story, which unfolds over two gritty issues starting with Road Rage #1, will be released in both print and digital form on February 15 and be accompanied by variant covers from acclaimed artists such as Phil Noto and Tony Harris, as well as a temporary Tribe tattoo of your own, too. Just, if you apply that tat to your personage, be damned careful not to run afoul of any trucks out on the open road…

Road Rage: Throttle Hardcover is now available in Comic Shops and will be available at major retailers nationwide on August 21st.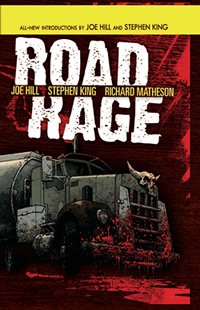 Additional Resources:

Road Rage Promotional Site on StephenKing.com

Road Rage: Throttle on StephenKing.com
View Production Assets and Drawings
Road Rage #1: Throttle Cover Artwork:
| | | | | | | | | | | | | |
| --- | --- | --- | --- | --- | --- | --- | --- | --- | --- | --- | --- | --- |
| | | | | | | | | | | | | |
| | | | | | | | | | | | | |

Road Rage #2: Throttle Cover Artwork:

Please Note: The second printing of issue #1 is now available.
When ordering Road Rage #1 use the Diamond Code: DEC11 0367
When preordering Road Rage #2 use the Diamond Code: FEB12 0377