New Stephen King Novel
From Hard Case Crime

COMING JUNE 4TH 2013
Called "the best new American publisher to appear in the last decade" by Neal Pollack in The Stranger, Hard Case Crime revives the storytelling and visual style of the pulp paperbacks of the 1940s, 50s, and 60s. The line features an exciting mix of lost pulp masterpieces from some of the most acclaimed crime writers of all time and gripping new novels from the next generation of great hardboiled authors, all with new painted covers in the grand pulp style. Authors range from modern-day bestsellers such as Pete Hamill, Donald E. Westlake, Lawrence Block and Ed McBain to Golden Age stars like Mickey Spillane (creator of "Mike Hammer"), Erle Stanley Gardner (creator of "Perry Mason"), Wade Miller (author of Touch of Evil), and Cornell Woolrich (author of Rear Window).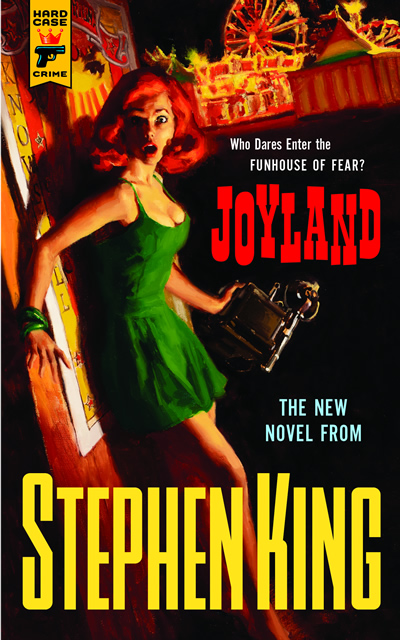 Stephen King commented, "I love crime, I love mysteries, and I love ghosts. That combo made Hard Case Crime the perfect venue for this book, which is one of my favorites. I also loved the paperbacks I grew up with as a kid, and for that reason, we're going to hold off on e-publishing this one for the time being. Joyland will be coming out in paperback, and folks who want to read it will have to buy the actual book."
King's previous Hard Case Crime novel, The Colorado Kid, became a national bestseller and inspired the television series "Haven," now going into its third season on SyFy.
"Joyland is a breathtaking, beautiful, heartbreaking book," said Charles Ardai, Edgar- and Shamus Award-winning editor of Hard Case Crime. "It's a whodunit, it's a carny novel, it's a story about growing up and growing old, and about those who don't get to do either because death comes for them before their time. Even the most hardboiled readers will find themselves moved. When I finished it, I sent a note saying, 'Goddamn it, Steve, you made me cry.'"
Nick Landau, Titan Publisher, added: "Stephen King is one of the fiction greats, and I am tremendously proud and excited to be publishing a brand-new book of his under the Hard Case Crime imprint."
JOYLAND will feature new painted cover art by the legendary Robert McGinnis, the artist behind the posters for the original Sean Connery James Bond movies and "Breakfast At Tiffany's," and by Glen Orbik, the painter of more than a dozen of Hard Case Crime's most popular covers, including the cover for The Colorado Kid.
Since its debut in 2004, Hard Case Crime has been the subject of enthusiastic coverage by a wide range of publications including The New York Times, USA Today, Time, Playboy, U.S. News & World Report, BusinessWeek, The Los Angeles Times, The Chicago Sun-Times, The Houston Chronicle, New York magazine,the New York Post and Daily News, Salon, Reader's Digest, Parade and USA Weekend,as well as numerous other magazines, newspapers, and online media outlets. The Chicago Sun-Times wrote, "Hard Case Crime is doing a wonderful job publishing both classic and contemporary 'pulp' novels in a crisp new format with beautiful, period-style covers. These modern 'penny dreadfuls' are worth every dime." Playboy praised Hard Case Crime's "lost masterpieces," writing "They put to shame the work of modern mystery writers whose plots rely on cell phones and terrorists." And the Philadelphia City Paper wrote, "Tired of overblown, doorstop-sized thrillers…? You've come to the right place. Hard Case novels are as spare and as honest as a sock in the jaw."
Other upcoming Hard Case Crime titles include The Cocktail Waitress, a never-before-published novel by James M. Cain, author of The Postman Always Rings Twice, Mildred Pierce, and Double Indemnity, and an epic first novel called The Twenty-Year Death by Ariel S. Winter that has won advance raves from authors such as Peter Straub, James Frey, Alice Sebold, John Banville, David Morrell and Stephen King.
For information about these and other forthcoming titles, visit www.HardCaseCrime.com
About Hard Case Crime
Founded in 2004 by award-winning novelists Charles Ardai and Max Phillips, Hard Case Crime has been nominated for or won numerous honors since its inception including the Edgar, the Shamus, the Anthony, the Barry, and the Spinetingler Award. The series' books have been adapted for television and film, with two features currently in development at Universal Pictures and the TV series "Haven" going into its third season this fall on SyFy. Hard Case Crime is published through a collaboration between Winterfall LLC and Titan Publishing Group.
About Titan Publishing Group
Titan Publishing Group is an independently owned publishing company, established in 1981, comprising three divisions: Titan Books, Titan Magazines/Comics and Titan Merchandise. Titan Books, recently nominated as Independent Publisher of the Year 2011, has a rapidly growing fiction list encompassing original fiction and reissues, primarily in the areas of science fiction, fantasy, horror, steampunk and crime. Recent crime and thriller acquisitions include Mickey Spillane and Max Allan Collins' all-new Mike Hammer novels, the Matt Helm series by Donald Hamilton and the entire backlist of the Queen of Spy Writers, Helen MacInnes. Titan Books also has an extensive line of media and pop culture-related non-fiction, graphic novels, art and music books. The company is based at offices in London, but operates worldwide, with sales and distribution in the US and Canada being handled by Random House. www.titanbooks.com
Contacts
US media: Katharine Carroll, 914-788-1005
UK media: Sophie Calder, +44 (0)20 7803 1906
E-mail: media@hardcasecrime.com