Stephen King's bestselling, now iconic novel Carrie, first published in 1974, has been firmly ingrained in the world's pop culture landscape for nearly four decades. On September 25th, 2012, the next chapter is written as the first-ever cast recording of Carrie's musical adaptation will be released on Ghostlight Records.
NEW! Watch "I Remember How Those Boys Could Dance" Music Video

Watch the "In" Music Video | Download a Short Teaser Video
Carrie: The Musical – Premiere Cast Recording takes King's story of a troubled teenager with special powers -- whose tortured social life is a symptom of, and made more unbearable by, her religious fanatic of a mother -- and sets it to a pop/rock score that is intense, stirring, profound and, ultimately, heartbreaking. One can virtually see the show in the mind's eye while listening to the song-cycle.
Featuring fan favorite songs such as "In", "And Eve Was Weak", and "The World According To Chris", the recording immortalizes the recent Off-Broadway revival featuring the knockout vocal performances of Tony Award® nominee Marin Mazzie (Ragtime, Kiss Me Kate, Next to Normal), breakout star Molly Ranson, and the incredible cast of the 2012 MCC Theater production.
Carrie: The Musical, which originally appeared on Broadway in 1988, features music & lyrics by Academy Award® winners Michael Gore (Fame, Terms Of Endearment) and Dean Pitchford (Fame, Footloose), and a book by Lawrence D. Cohen, who also penned the classic film's screenplay. The cast album will be released on September 25th and is available for pre-order through Ghostlight Records' website.
Please note: Stephen is not personally involved with the musical production of Carrie but thought fans would appreciate knowing about the CD release.
"Carrie has real weight and emotional conviction… Being serious is the real daredevil challenge... The show has guts." - Time Magazine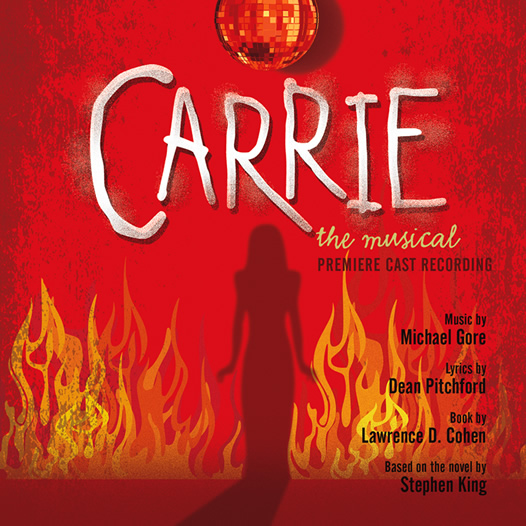 Order on GhostlightRecords.com
Use code KINGFAN for pre-order to receive
10% off and free domestic (U.S.) shipping.
Order on Amazon.com Order on iTunes