Welcome to Experience Revival, a StephenKing.com exclusive web page made possible by our friends at Simon & Schuster Audio.

Between November 11th and December 23rd, we'll be releasing seven carefully selected audiobook excerpts from the first several chapters of Revival. Read by David Morse of The Green Mile fame, the Unabridged Audiobook Edition of Revival is sure to frighten and perhaps inspire even the most diehard of Stephen's fans.

Please note: Some of the audio excerpts that we have chosen contain mature subject matter intended for adults.

Make sure to visit the StephenKing.com's Revival Promo Page for more information. We also invite you to take part in the Prepare for Revival Social Experiment on PrepareForRevival.com.

Week 1:
Jamie Morton meets Charles Jacobs
Week 2:
Jamie's recollections of country life as a child, Charles explains that "electricity is one of God's doorways to the infinite."
Week 3:
Con's injury, the Morton family turmoil and the miracle
Week 4:
Jamie recalls his time with the Methodist Youth Fellowship, Jacob's Ladder, Holy Voltage and the Jacobs family
Week 5:
The accident, Laura Morton's illness and her recollections of the accident, Laura gives the news to Charles
Week 7:
Jamie recalls his teenage years with friends and family - Jamie and Astrid visit Skytop during a summer thunderstorm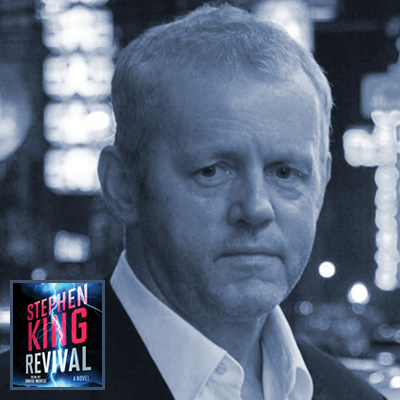 The Unabridged Audibook Editon of Revival is read by veteran actor David Morse. David's acclaimed performances can be seen in The Green Mile, Dancer in the Dark, Proof of Life, The Crossing Guard, The Hurt Locker, World War Z, and The Odd Life of Timothy Green. Morse portrayed George Washington in the HBO mini-series John Adams (Emmy Nomination), and has appeared on Treme and House (Emmy Nomination), but is best known for his role as Dr. Jack "Boomer" Morrison on St. Elsewhere. Morse made his Broadway debut in On the Waterfront, starred in The Unavoidable Disappearance of Tom Durnin, and received an Obie Award for his performance in How I Learned to Drive.

Listen to David comment on his reading of Revival using the player below.