New Releases:

 



 

The Outsider




Release Date: May 22nd, 2018





An unspeakable crime. A confounding investigation. At a time when the King brand has never been stronger, he has delivered one of his most unsettling and compulsively readable stories.

An eleven-year-old boy's violated corpse is found in a town park. Eyewitnesses and fingerprints point unmistakably to one of Flint City's most popular citizens. He is Terry Maitland, Little League coach, English teacher, husband, and father of two girls. Detective Ralph Anderson, whose son Maitland once coached, orders a quick and very public arrest. Maitland has an alibi, but Anderson and the district attorney soon add DNA evidence to go with the fingerprints and witnesses. Their case seems ironclad.

As the investigation expands and horrifying answers begin to emerge, King's propulsive story kicks into high gear, generating strong tension and almost unbearable suspense. Terry Maitland seems like a nice guy, but is he wearing another face? When the answer comes, it will shock you as only Stephen King can.





 
Coming Soon:

 



 

Castle Rock




Release Date: July 25th, 2018





A psychological-horror series set in the Stephen King multiverse, Castle Rock combines the mythological scale and intimate character storytelling of King's best-loved works, weaving an epic saga of darkness and light, played out on a few square miles of Maine woodland. The fictional Maine town of Castle Rock has figured prominently in King's literary career: Cujo, The Dark Half, IT and Needful Things, as well as novella The Body and numerous short stories such as Rita Hayworth and The Shawshank Redemption are either set there or contain references to Castle Rock. Castle Rock is an original suspense/thriller — a first-of-its-kind reimagining that explores the themes and worlds uniting the entire King canon, while brushing up against some of his most iconic and beloved stories.





 

 



 

Elevation




Release Date: October 30th, 2018





The latest from legendary master storyteller Stephen King, a riveting, extraordinarily eerie, and moving story about a man whose mysterious affliction brings a small town together—a timely, upbeat tale about finding common ground despite deep-rooted differences.

Although Scott Carey doesn't look any different, he's been steadily losing weight. There are a couple of other odd things, too. He weighs the same in his clothes and out of them, no matter how heavy they are. Scott doesn't want to be poked and prodded. He mostly just wants someone else to know, and he trusts Doctor Bob Ellis.

In the small town of Castle Rock, the setting of many of King's most iconic stories, Scott is engaged in a low grade—but escalating—battle with the lesbians next door whose dog regularly drops his business on Scott's lawn. One of the women is friendly; the other, cold as ice. Both are trying to launch a new restaurant, but the people of Castle Rock want no part of a gay married couple, and the place is in trouble. When Scott finally understands the prejudices they face – including his own -- he tries to help. Unlikely alliances, the annual foot race, and the mystery of Scott's affliction bring out the best in people who have indulged the worst in themselves and others.  

From Stephen King, our "most precious renewable resource, like Shakespeare in the malleability of his work" (The Guardian), Elevation is an antidote to our divisive culture, as gloriously joyful (with a twinge of deep sadness) as "It's a Wonderful Life."





 
Latest News:

New Short Story
Posted: May 17th, 2018 12:22:56 pm EDT
Stephen has written a new short story, "Laurie," which is available now as a free download exclusively on stephenking.com. You may download and/or print the story for yourself or to pass along to others, but may not charge any money to share it.

2018 PEN America Literary Gala
Posted: May 23rd, 2018 4:06:50 pm EDT

Upcoming Appearances and More
Posted: May 17th, 2018 4:09:36 pm EDT
May 18th
Entertainment Weekly
The May 25th issue of Entertainment Weekly contains an excerpt from THE OUTSIDER, and it will be available May 18th. Read an excerpt of THE OUTSIDER online  and in the magazine.
 
May 22nd
CBS This Morning
Stephen's interview is expected to air at 8:40 am ET but this is a best guess and could be before or after that time. Check your local listings for information about when CBS This Morning airs in your area.
PEN America Literary Gala
Stephen will be conferred with the 2018 PEN America  Literary Service Award.  PEN America's Literary Gala will be livestreamed on their Facebook page from 8-10 PM ET here.

May 23rd
The Late Show with Stephen Colbert
Check your local listings for information about when The Late Show airs in your area.

The Stephen King Library
Posted: May 17th, 2018 4:20:29 pm EDT
THE OUTSIDER will not be available through The Stephen King Library  or any of Bookspan's clubs, and neither will any Stephen King books coming down the foreseeable road. Stephen King Library members should get their books for future releases elsewhere and by other means.
The Stephen King Library can be contacted through their website.

THE OUTSIDER Reader Announced
Posted: April 13th, 2018 12:00:00 pm EDT
Simon & Schuster has announced that award-winning narrator Will Patton will return to read the audiobook edition of THE OUTSIDER, available on CD and for download on May 22nd, 2018.
Listen to some of Will's past performances

May 22nd
Posted: April 2nd, 2018 10:00:00 am EDT
Circle May 22nd on the calendar: Morgan Freeman presents the PEN America Literary Service Award to Stephen King AND The Outsider  hits bookstores!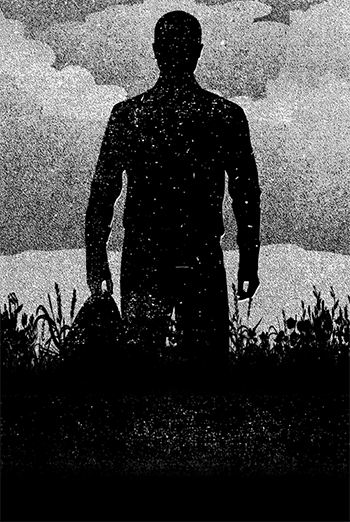 FLIGHT OR FRIGHT edited by Stephen King and Bev Vincent
Posted: March 12th, 2018 1:11:28 pm EDT
An Original Cemetery Dance Trade Hardcover and eBook Coming This September!
Also Available As An Audiobook From Simon & Schuster Audio!
Also To Be Published by Hodder & Stoughton In the UK!
Fasten your seatbelts for an anthology of turbulent tales curated by Stephen King and Bev Vincent. This exciting new anthology, perfect for airport or airplane reading, includes an original introduction and story notes for each story by Stephen King, along with brand new stories from Stephen King and Joe Hill!
Click here for more details and to order your Trade Hardcover or Slipcased Artist Edition

New Novella Announced
Posted: February 6th, 2018 4:01:50 pm EST
Elevation, a new Castle Rock novella has just been announced. The book will be in stores on October 30th, 2018.
Unofficial News:
First Look at IT


Posted: July 14th, 2016 2:03:50 pm EDT





EW.com has posted a first look at IT in the July 13, 2016 issue. Andrés Muschietti's motion picture adaptation of Stephen's notoriously frightening novel hits theaters September 17, 2017 starring Finn Wolfhard, Bill Skarsgård, Javier Botet.