Over 350 million books sold.

Forty New York Times #1 Bestsellers.

One lousy band.

Now go behind the scenes to hear their stories firsthand.
In 1992, a cadre of the world's bestselling authors formed a garage band called the Rock Bottom Remainders. For two decades the band played proudly (and terribly) to sold out crowds across the country and raised more than $2 million dollars for charity. Last summer, they hung up their guitar picks, drumsticks and leather whips, mourning the tragic passing of their beloved founder, Kathi Kamen Goldmark.
Now, for the first time, these authors share the behind-the-scenes, uncensored story of their two decades of friendship, love, writing, and the redemptive power of rock'n'roll in a first-of-its-kind interactive nonfiction e-book: HARD LISTENING: The Greatest Rock Band Ever (of Authors) Tells All by Stephen King, Scott Turow, Mitch Albom, Amy Tan, Matt Groening, Dave Barry, Roy Blount Jr., James McBride, Ridley Pearson, Greg Iles, Sam Barry, and Roger McGuinn, edited by Sam Barry and Jennifer Lou (Coliloquy : to be released on June 18, 2013; available for iBooks, Kindle, Kobo, Android, and NOOK).
HARD LISTENING, with its collection of essays, stories, musings, group email exchanges, candid conversations, compromising photographs, and audio and video (semi-musical) clips, as well as interactive quizzes, is unlike anything else available when it comes to the e-book experience. Fans will delight in its direct access to the brilliant, wacky minds of these popular and talented authors. There's plenty of teasing, riffing and ragging on each other, but at the heart of the book are these writers' innermost sentiments about the friendships formed, the love found, and the tragedy of losing to cancer the person who brought them together, Kathi Kamen Goldmark.
Of particular interest to fans of The King: Stephen King's contributions to the book include a new essay, a new short story, and several candid email exchanges. There is also a featured writing contest, in which several of the authors (including King) contributed short stories written in the author's style. Readers then get to vote on which piece was actually written by King before seeing the results.
*All author proceeds from the sales of HARD LISTENING will be donated to offset the late Kathi Kamen Goldmark's medical bills.
---
ROCK IN THE NEW YEAR WITH STEPHENKING.COM'S
HARD LISTENING SWEEPSTAKES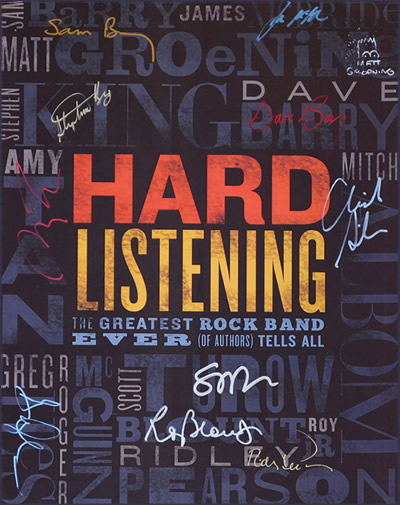 ---