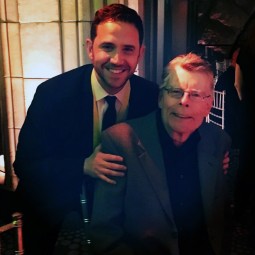 Posted: March 11th, 2020 7:54:41 pm
Last week Stephen King received a Lifetime Achievement Award from the Audio Publishers Association in recognition for his achievements in the audiobook industry at the 2020 Audie Awards. In his acceptance speech, King said of audiobooks: "I listen to my own books – the reason why is because you can hear everything you did right and everything you did wrong. This is the most honorable form of storytelling there is." And there was even more reason to rejoice – the audiobook edition of THE INSTITUTE read by recent Tony Award-winning actor Santino Fontana (Tootsie) took home the award in the Thriller/Mystery category.
Check out a video tribute from just a few of the talented narrators who have given voice to Stephen King's work over the years.
March 11, 2020