Dropping 1/9/2021
Slim Scary || The Rap Bottom Remaineder
Building on the success of his collaboration with John Mellencamp, The Ghost Brothers of Darkland County, and calling upon his years of performing with The Rock Bottom Remainders, Stephen is now lending his vocal verbosity to a whole new genre. Stephen takes on the persona of Slim Scary in his solo musical debut, The Rap Bottom Remaineder, and your ears may never be the same.
Since 2001, Slim Scary has been looking for the perfect beat, but he only recently found the blueprint. Raising hell and ready to step in the ring, the infamous Slim Scary is strictly business while goin' off in his 36 chambrays (purchased from Paul's Boutique). Liquid s-words will flow when this album drops.
Listen to a sample of the upcoming album below and gird your loins for 1/9/2021.
What People Are Saying
"Baffling." – Entertainment Weekly

"Erm…" – Harper's

"Nobody asked for this." – Variety

"Please don't mention my name." – John Mellencamp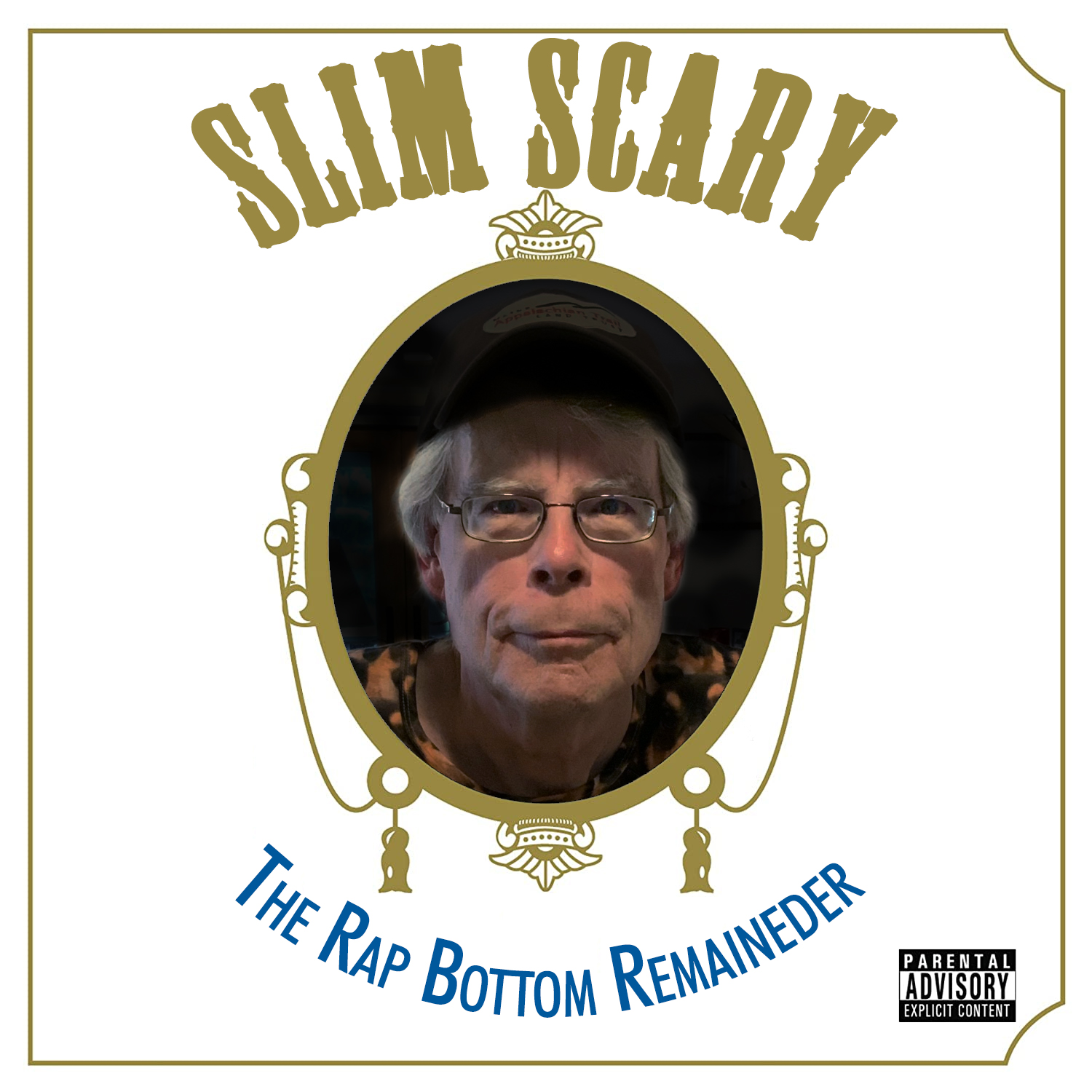 O.P.P. (Other People's Paperbacks)
Regulate(rs)
Writin' Dirty
Drop It Like It's A New Short Story
Up Maine Crew (Isn't Anything to Fuck With)
Everything is Everything's Eventual
Captain Trippz
Straight Outta Castlerock
Bonita Adverbum
Writer's Delight
Supernatural Murder Was The Case
It Takes Eight (Books to Finish The Dark Tower Series)
Tabby Said Knock You Out (feat. Joe Hill & Owen King)
How I Could Just Kill A Character
My, Myself, and IT
Shawshank Sweat Box
Northernwritalisticujomuzik
Still Not An Actor
B.R.E.A.M. (Bachman Rules Everything Around Me)
For a Limited Time
Listen to an Album Preview