Bluray.com has this listed on their site and I saw it on Walmart.com on dvd and BD as well.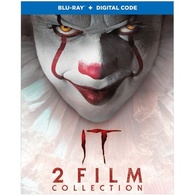 It: 2-Film Collection Blu-ray Release Date December 10, 2019. Blu-ray reviews, news, specs, ratings, screenshots. Cheap Blu-ray movies and deals.

www.blu-ray.com
It isn't the seamless version some are waiting for, its the original cuts on two separate discs. The price also isn't that great, think the cheapest I've seen it for is thirty dollars. But for those who don't have Chapter 1 or 2 physically yet, this is a decent purchase. I imagine people will be selling the digital codes for cheap on Ebay since there really isn't any rules against that yet but it would mean having to start an MA account since now that UV is gone, Vudu makes one open an MA account anytime they redeem codes unless its a Lionsgate film, think Lionsgate is still not allowing MA to access their library.